A.J. Green has been an elite talent since entering the league, and the Cincinnati Bengals have long been searching for another receiver to complement him. The meteoric rise of third-year wide receiver Tyler Boyd has given the Bengals the option they have always wanted opposite of Green, and the two have formed one of the most lethal wide receiver tandems in the NFL this season.

Andy Dalton has looked more comfortable than ever, and his two trusty receivers are a big reason why. Boyd currently has an overall grade of 85.2, which ranks 10th among qualifying receivers. When targeted, Boyd has generated a passer rating of 136.3, good for the best mark among active receivers with at least 40 targets.
The former Pittsburgh wide receiver has most notably dominated from the slot. Boyd's 431 slot yards on the season ranks third among all wide receivers, and his 2.00 slot yards per route run ranks sixth among receivers with at least 100 routes run from the slot through Week 8.
Boyd's impact isn't limited to the slot, either.
Even though he runs almost three quarters of his routes from the slot, three of his five touchdowns have come when he has lined up outside of the slot, and his yards per route run outside of the slot is .11 yards higher.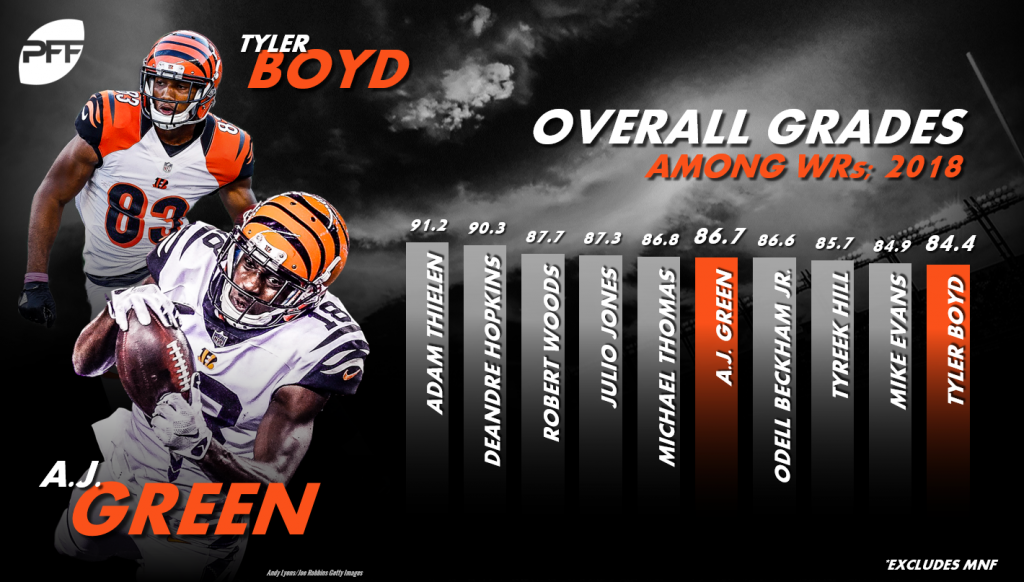 Boyd has also been a solid threat to go deep, as he has reeled in all four of his catchable deep targets for 134 yards and a touchdown. He has been more than just a complementary piece in this offense, racking up 620 yards and 232 yards after the catch, both of which rank 13th among all wide receivers.
Because of Boyd's ability to pick up yards after the catch and his sure hands (just one drop this season), Dalton has trusted him on the most important plays of the game. Among the 26 wide receivers with 15 or more targets on third and fourth downs, Boyd's 60.9 percent first down conversion rate is tied for the third-best mark with Julio Jones, and he has yet to drop a pass on third or fourth down all season.
No play demonstrates the trust that Dalton has in Boyd better than a critical conversion on a game-winning drive in Atlanta. With just 22 seconds left on the clock, down five points and looking at fourth and six to go, Dalton didn't force a ball to Green like he perhaps would in years past.
Instead, the veteran quarterback saw Boyd running an excellent whip route and trusted Boyd so much that he was willing to throw the ball well behind the sticks and let his receiver make a play after the catch. Boyd displayed his excellent route running, sure hands and ability to make plays after the catch in the most critical of situations, demonstrating his emergence as a legitimate threat and well-rounded receiver.
To no one's surprise, Green continues to be the life-blood of the Bengals' offense and produce like one of the best receivers in the game. The veteran receiver has an 86.7 overall grade and has caught six touchdowns, which rank seventh and tied for third, respectively. He has produced 687 receiving yards and a 104.4 passer rating when targeted while averaging 2.45 yards per route run– a mark which ranks 10th among qualifying receivers.
Green is still Dalton's most-trusted weapon, as his 14 red-zone targets are tied for the most in the NFL this season. He has also converted third- or fourth-down targets at a rate of 52.9 percent, which ranks 12th among qualifying wide receivers. Like Boyd, Green has not dropped a single pass on third or fourth down.
Green has elevated his game this season by adding a dimension to his game and shredding teams from the slot. He's only running 29.6 percent of his routes from the slot this season, yet four of his six touchdowns have come from a slot alignment. He's also averaging 4.35 yards per route run from the slot, which is easily the highest in the NFL, and amassed 361 slot yards — the seventh-most in the league.
The former Georgia Bulldog demonstrated how dangerous he can be from the slot on the play below.
Against the Baltimore Ravens, Green did his thing and snagged a short slant through traffic. He then proceeded to break a tackle and take it the length of the field into the end zone in impressive fashion. Moving Green around the formation has yielded great success, and the veteran receiver has shown that he can play the slot as well as any receiver in the NFL.
Boyd and Green have both been top-10 wide receivers in the NFL this season, and they have added both consistency and explosiveness to a Bengals offense that has been seriously lacking in both in recent years. Green's excellence and Boyd's consistent high-level play have firmly entrenched these two as one of the best receiving tandems in the league.