A big-play threat with an absurd combination of vision, patience and short-area quickness, Florida State's Dalvin Cook entered the 2017 NFL Draft as PFF's No. 9 overall player in the class. He was as elusive as they come and had the patience needed to thrive in zone-blocking schemes at the next level.
Fast forward two years, an ACL tear and a hamstring strain later, and Cook has recorded just 660 career offensive snaps and 59 rushes in outside zone concepts. All of that potential, all of that ability has been plagued by injuries and, in turn, left Minnesota Vikings' faithful and Cook truthers alike left wanting.
Trade the sideline, constant rehab, etc. for a clean bill of health in 2019 and Cook may just lay claim to top running back honors.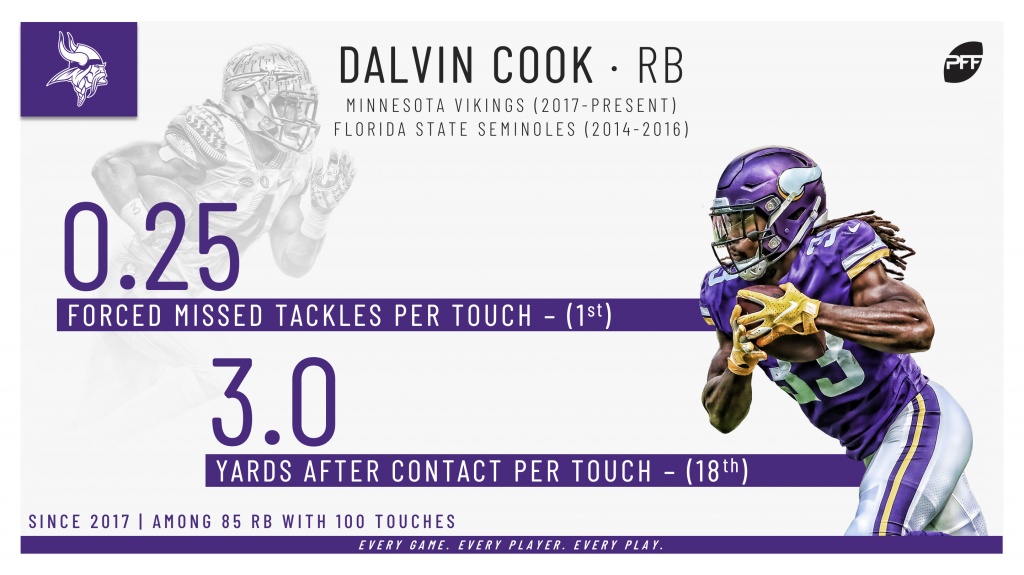 STILL VERY, VERY GOOD
What we've seen from Cook, though he's been a shell of himself at times, is encouraging. In his two injury-plagued seasons in the NFL, the former Seminole standout has averaged 0.25 forced missed tackles per touch, a mark that leads all 85 NFL backs with 100 or more touches since 2017. He also ranks 18th among the same group of backs in yards after contact per touch (3.0).
Recovering from his latest ailment (hamstring) down the stretch of last season (Weeks 13-17), Cook earned an 87.4 overall grade and an 86.9 rushing grade, respectively ranking sixth and third among backs with 100 or more offensive snaps in the five-week span. He and Tennessee Titans' Derrick Henry ranked tied for first in forced missed tackles per rush (0.26) in said span, and Cook ranked tied for fourth with longtime NFL great Adrian Peterson in yards after contact per rush (3.6).
All of his rushing successes are just par for the course for Cook. Of the 165 FBS backs with 1,000 or more offensive snaps played in the PFF College era (2014-18), he ranked tied for seventh in overall grade (92.2) and fourth in rushing grade (93.4). He also ranked tied for fifth in forced missed tackles per rush (0.27) and seventh in yards after contact per rush (3.9) among qualifiers in the same five-year span.
The 5-foot-10, 210-pounder is efficient in the passing game, as well. And that dates back to his days in Tallahassee. Fla. He averaged 11.1 yards after contact per reception and logged a whopping 106.8 passer rating when targeted across 97 career targets at the college level.
Much of the same has followed Cook to the NFL, as his 9.5 yards after the catch per reception average over the past two seasons ranks tied for 11th among the 87 running backs with 25 or more targets in the two-year span. And he ranks second in forced missed tackles per reception (0.43) among backs with 30 or more receptions since 2017.
Cook's receiving grade, however, hasn't been nearly as impressive largely because of his drops. While he has caught 52-of-63 targets for 395 yards, 16 first downs and two touchdowns, the six drops on his record have taken a toll on his two-year receiving grade (66.7).
IMPROVED USAGE/SITUATION EXPECTED
With Stefon Diggs and Adam Thielen rostered, Cook's low two-year target rate (targets/routes run – 21.0%) isn't too surprising, but that is bound to increase to Christian McCaffrey/Saquon Barkley levels if he can stay healthy. And improved usage should also be matched in the running game with Gary Kubiak and Kevin Stefanski pulling the strings on the offensive side of the ball.
Kubiak and Stefanski are expected to lean on outside zone as the team's primary run concept in 2019, creating a dream scenario for Cook. Of the 40 NFL backs with 50 or more attempts in outside zone since 2017, Cook ranks fifth in rushing grade (80.1) and tied for second with New Orleans Saints' Alvin Kamara in yards per carry (5.4). And Cook's 79.3 career rushing grade in outside zone concepts at Florida State ranks tied for sixth among qualifying backs in the PFF College era, rushing for 704 yards and nine touchdowns across 128 attempts (5.5 YPC) in the process.
Calling outside zone is only half the battle, of course. The Vikings' front five can get away with more than others with Cook's impressive ability to make defenders miss, but rushing production – as we've said ad nauseam – is still severely dependent on the blocking ahead.
Minnesota's two-year run-blocking grade (60.4) ranks tied for 16th in the NFL. Only three of the team's linemen tenured in 2017 or 2018 earned single-season run-blocking grades above 65.0: Joe Berger (68.4, 2017), Riley Reiff (68.3, 2018) and Mike Remmers (66.6, 2017).
Enter NC State's Garrett Bradbury, a highly talented zone-blocking center with the wit and athleticism necessary to thrive at center in the NFL. No center has logged more reps in outside zone concepts at the college level since 2014 than Bradbury, and his career run-blocking grade in outside zone concepts (92.0) ranks second among qualifiers in the PFF College era (2014-18).
Adding Bradbury in the first round and Oklahoma's Dru Samia – a gritty, aggressive guard prospect – in the fourth round are two reasons to have faith in an improved Minnesota run-blocking offensive line for Cook in 2019. Offensive tackle Brian O'Neill, the team's second-round pick from a year ago, should also take a step forward in Year 2.
FINAL THOUGHTS
Nothing is guaranteed with Cook. Significant injuries have struck in two consecutive seasons, and betting on the Vikings' offensive line improving isn't a sure-fire bet by any means. All of the ifs are big ifs.
However, the optimistic view of Cook and the Vikings' current situation is a sight to behold. A healthy, rejuvenated Cook running rampant in the beauty that is Kubiak's outside zone offense behind a Bradbury-led offensive line is a dream that, if turned reality, will shock the NFL.