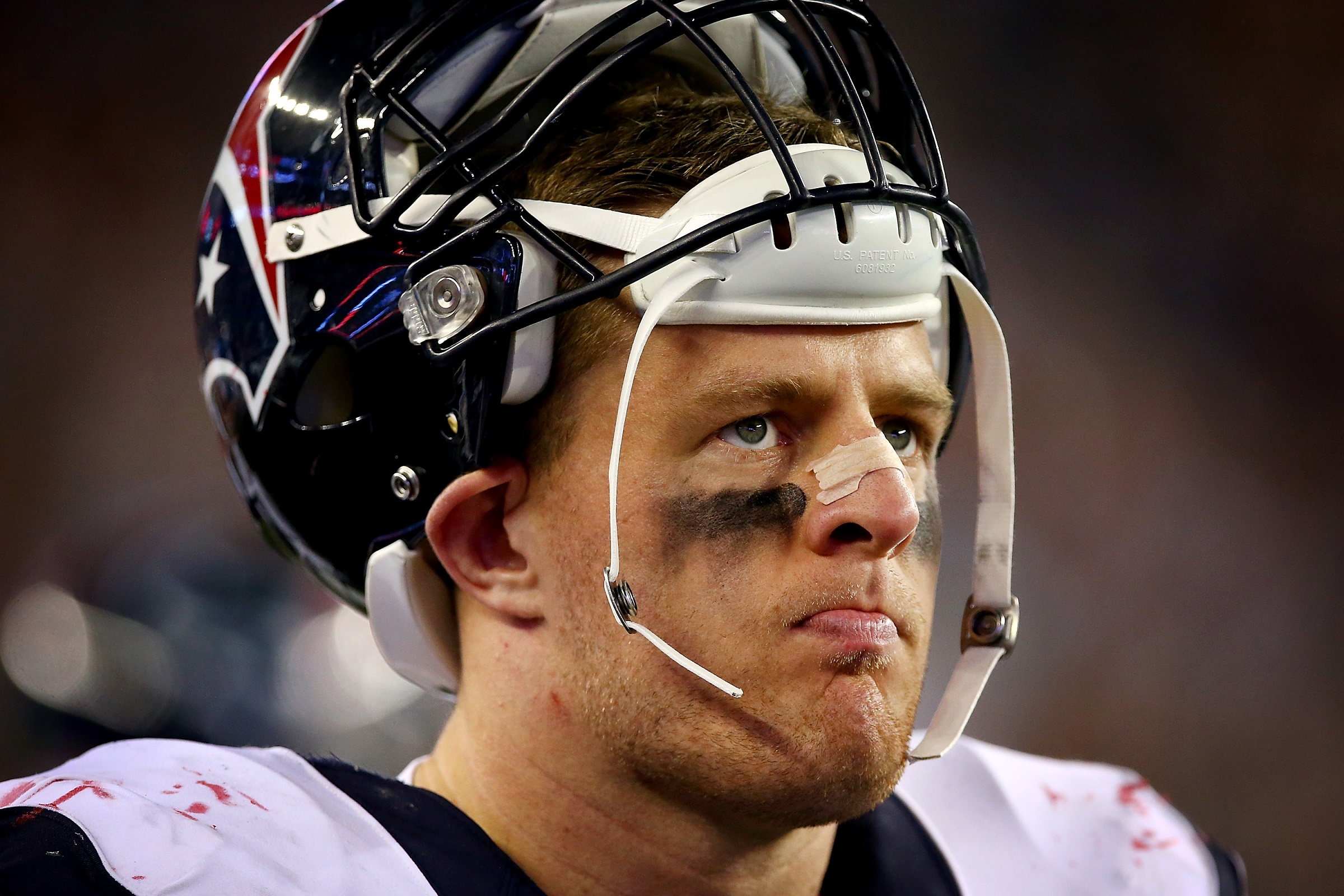 FOXBORO, MA - SEPTEMBER 22: J.J. Watt #99 of the Houston Texans looks on during the first half against the New England Patriots at Gillette Stadium on September 22, 2016 in Foxboro, Massachusetts. (Photo by Adam Glanzman/Getty Images)
Hey there football fans! Here are five things from yesterday that you need to know to start off your week:
J.J. Watt will play in the Texans' preseason opener. The star defensive lineman will look to get some work in after missing most of last season.
Watt struggled with injury throughout last year. After missing the entire preseason after surgery, he managed just 157 snaps in the regular season before he was sent on the season-ending IR. By Watt's exceptionally high standards, he had poor year, producing just nine quarterback pressures on 88 pass-rushing snaps and achieving a PFF overall grade of just 52.7, the lowest season grade of his career.

Over the last few years, Watt has been one of the best defensive players in football. From 2012 to 2015, he earned PFF overall grades of 97.9, 99.5, 97.9 and 94.9, respectively, and he led all 3-4 defensive ends in pass-rush productivity (the PFF metric that measures pressure on a per snap basis with weighting towards sacks) in every year. Over the course of his career, J.J. Watt has accumulated 424 quarterback pressures on 2875 pass-rush snaps, and averages a sack, hit or hurry once every 7 pass rushing snaps.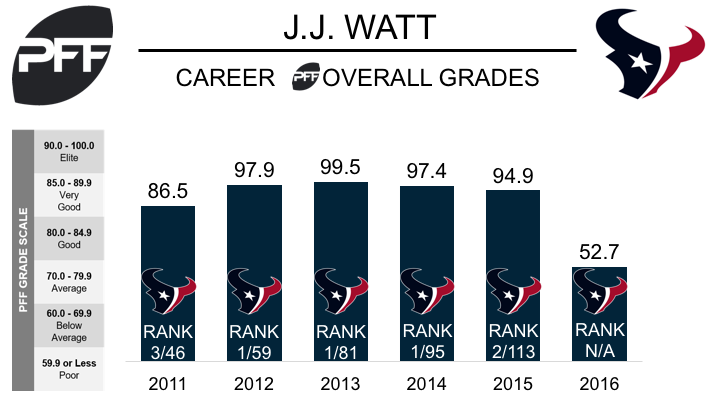 Jay Cutler signed with the Miami Dolphins. Cutler will postpone his retirement, instead taking a one-year deal. Ryan Tannehill partially tore his ACL.
Cutler played just 274 snaps in 2016, and earned a career low in passing grade (47.1), overall grade (47.1), and his adjusted completion percentage of 71.4% was his lowest since 2012. He announced his retirement in May of 2017, choosing to join Fox Sports as a game analyst.

The 34-year-old signal-caller has now postponed his retirement to reunite with his former offensive coordinator Adam Gase in Miami. Cutler played under Gase for the 2015 season, and under Gase's tutelage, Cutler improved his passer rating from 88.6 to 92.3, his adjusted completion percentage from a clean pocket went from 75.8% to 76.1%, and he cut his interceptions from 18 to 11.

One of Cutler's best attributes throughout his career has been his willingness to stay in the pocket and make throws while under pressure. Of the 42 quarterbacks that have at least 400 passing attempts while under pressure since 2006, Cutler's adjusted completion percentage of 62.3% ranks 17th and his passer rating of 71.7 ranks sixth.
CB Bresaud Breeland left practice with an injury. The Washington cornerback has an indeterminate timetable for his return.
Breeland stood out during the 2015 season, where he graded very well against the run. On 311 snaps against the run, Breeland produced 13 stops (solo tackles that constitute a 'win' for the defense), for a run stop percentage of 4.2 percent that ranked fourth of 97 qualifying cornerbacks. He ended the season with a run defense grade of 87.2, the second highest grade among the league's corners.

In coverage, Breeland allowed 1.35 yards per coverage snap (above the NFL average of 1.24), and his coverage grade of 79.6 ranked 25th among the league's cornerbacks.

However, he saw a drop in production in 2016. His run defense grade dropped dramatically to 51.8, and his run stop percentage of 2.1 percent ranked 16th of 94 qualifying cornerbacks. In coverage, Breeland put up slightly better numbers, (allowing 1.15 yards per coverage snap), but saw a drop in coverage grade, and ended the season with a coverage grade of 49.7. Once he recovers, Breeland will be looking to return to 2015 form as he enters the final year of his rookie contract.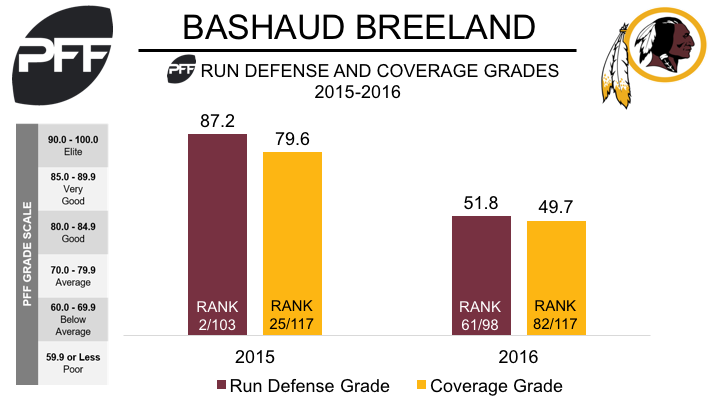 The San Francisco 49ers' Malcolm Smith will miss the year. The former Super Bowl MVP tore a pectoral muscle.
Smith's best season was 2013 with the Seattle, when he played 631 snaps and his 83.0 overall PFF grade ranked 16th of 56 qualifying linebackers. After signing with Oakland in 2015 and becoming a three-down linebacker, Smith's performance suffered and he posted a 46.3 grade in 2016, 68th of 88 linebackers.

Smith struggled in coverage, allowing six touchdowns in 2016, the second-most of any linebacker. His 1.16 yards per cover snap last season ranked 38th out of 51 linebackers with at least 200 snaps in coverage.
Deone Bucannon should be ready for the regular season. He is still recovering from offseason ankle surgery.
Along with the entire Cardinals team, Bucannon is coming off a letdown season. His overall grade of 61.8 ranked 47th out of 86 linebackers, and wasn't up to the standard of his 14th ranking 82.7 grade in 2015.

Despite taking a step back with overall play in 2016 Bucannon was still one of the best linebackers in coverage. His 84.6 coverage grade ranked eighth among linebackers and his 0.75 yards allowed per cover snap ranked sixth. He didn't allow a touchdown into his coverage all season.