Jimmy Garoppolo isn't the only player primed to lead the San Francisco 49ers back into Super Bowl contention.
DeForest Buckner, the 6-foot-7, 300 pound interior defender from Hawaii, was the youngest player to earn a top five pass-rush grade at his position in 2017 as he ranked third with a 89.6 mark, behind only Aaron Donald (99.9) and Fletcher Cox (90.3). His stellar play as a pass-rusher vaulted him into a tie for sixth in overall PFF grade at his position and made him the only player under 25 years old to rank in the top 10 at his position.  
Buckner is paying off the investment the 49ers made when they took him seventh overall in the 2016 draft after his junior year at Oregon and finds himself at No. 43 on the PFF 50 (the top 50 players heading into 2018).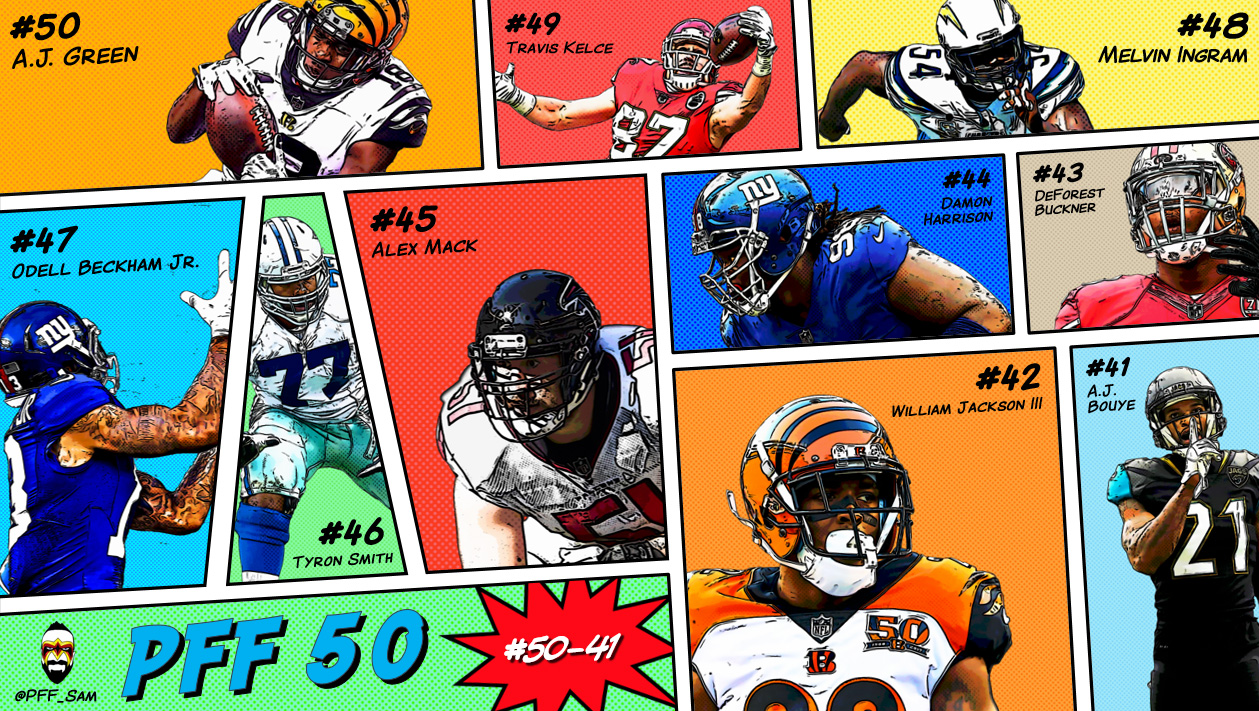 Holding up the pass-rush without help
While the 49ers struggled mightily to find an edge rusher last season, Buckner led the defensive front to a respectable opponent adjusted pass-rush grade that ranked 15th and mustered the 12th-highest pressure rate (though they were the eighth-slowest team in doing so). Buckner was no slouch against the run either, he finished the season with an 82.6 run-defense grade.
While he has demonstrated great ability, he has also been incredibly available. Buckner's 1,873 snaps are the most of any interior defender over the last two seasons and he's missed just one game entirely. This is in stark contrast to the rest of his teammates along the defensive line. Last season, Buckner played 867 snaps and earned an overall PFF grade of 90.4 (tied for sixth), while the only other linemen to play more than 350 snaps were Solomon Thomas and Earl Mitchell, neither of whom earned a grade above 60.0. For comparison, there were 186 defensive lineman (both interior defenders and edge defenders) who played 350 or more snaps last year. Since Buckner joined the team, Arik Armstead has played the second-most snaps by a 49ers defensive lineman at 638, over 1,200 less than Buckner.
Buckner was on the field for 79.5 percent of the San Francisco defensive pass plays and when he was not on the field the defense suffered. With Buckner on the field, the 49ers ranked 11th in pressure rate at 36.5 percent but without Buckner's presence, they notched a pressure rate of just 28.1 percent, which would be the lowest in the league. Without Buckner, the 49ers pass-rush also saw their sack rate drop by over 1.0 percent despite blitzing slightly more often.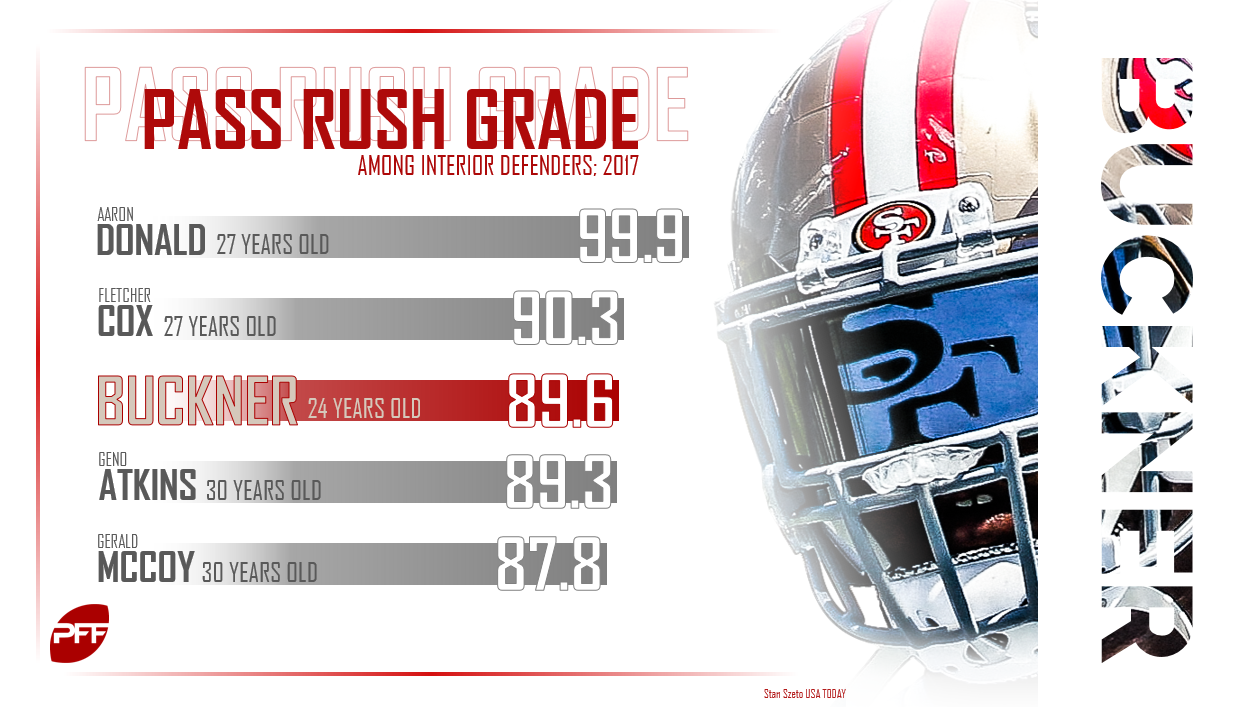 Pass-rush stud
This past season, Buckner came into his own as a pass-rusher, ranking third in PFF pass-rush grade and racking up 52 pressures. Buckner rushed the passer from the interior (between the tackles) on 63.8 percent of his pass-rush snaps and from an edge position on 36.2 percent of his pass-rushes. Buckner created the most havoc for opposing quarterbacks when he lined up at defensive tackle on the offense's right side (140 snaps). There he earned a positive PFF play grade on 19.3 percent of his snaps, over 6.0 points higher than when lined up on the other defensive tackle position (141 snaps). The only player to earn a higher percentage of positive PFF grades when lined up at defensive left tackle (offensive right side) was the aforementioned Donald, PFF's highest graded pass-rusher in 2017, at 22.6 percent (minimum 100 snaps).
Regardless of where he rushed from, Buckner made good things happen – he ranked fourth among interior defenders by earning a positive PFF grade on 12.5 percent of the team's pass-rush snaps, a testament to his durability and effectiveness.
In total, Buckner earned a 90.4 PFF grade before turning 25, which should create plenty of optimism on the defensive side of the ball for the 49ers.