The San Francisco 49ers found themselves in an unfortunate, yet familiar situation over Memorial Day weekend, as starting safety Jimmie Ward fell awkwardly during OTAs and broke his collarbone for the second time in his career.
But instead of signing an undrafted free agent (Ward is expected to return for at least part of training camp), the team moved second-year cornerback Tarvarius Moore back to safety — the position he played in college at Southern Miss.
Moore was the 49ers' third-round pick in 2018 and was a favorite of senior analyst Steve Palazzolo. The former Golden Eagle was deemed by PFF as one of the draft class' hidden gems that year, possessing freaky 4.32s speed and an imposing 6'2″ frame. During his final season in college — where 522 of his 831 defensive snaps came either in the box or at free safety — he earned an elite run-defense grade of 90.2 that ranked first among the 123 draft-eligible safeties and an 82.9 coverage grade that ranked tied for 18th.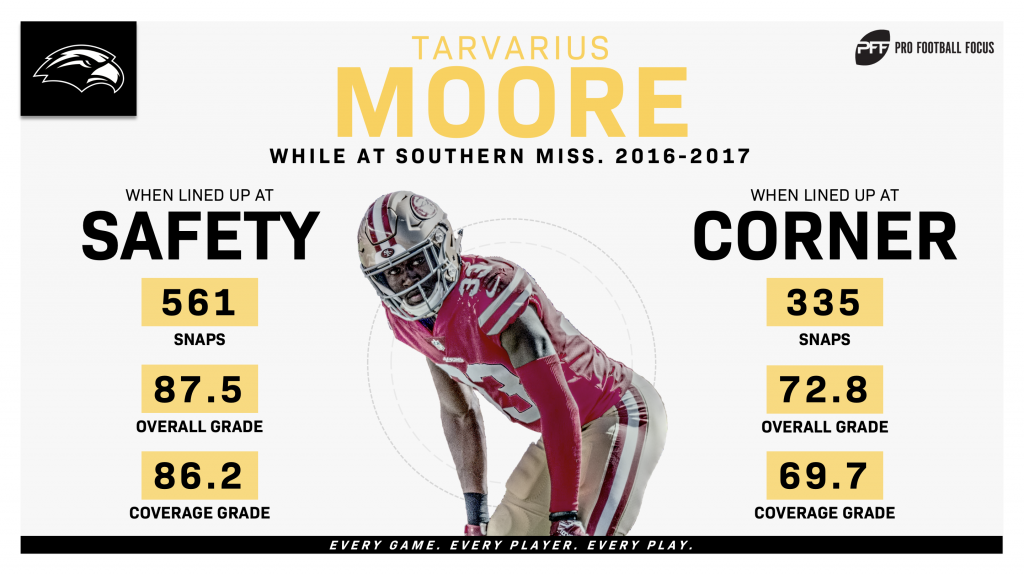 Yet head coach Kyle Shanahan and defensive coordinator Robert Saleh opted to move him outside to cornerback for his rookie year. The team had a need at the position after they switched to a Seattle Seahawks-style defensive approach, and they saw Moore's size and speed as a physical match to Richard Sherman, who they had acquired in free agency.
The switch did not go well for Moore last season. He earned a 52.1 overall defensive grade on 232 snaps, and his coverage grade was far below his impressive college numbers, at 49.7 for the 2018 season.
It's not just Moore that struggled, the entire secondary was a problem. San Francisco had the worst coverage grade in the NFL at 37.5, which was a bottom-10 mark of the PFF era (2006 – present). Something had to change.
This offseason, pretty much everything has changed for the 49ers on defense. Saleh confirmed this week at OTAs that the team will be transitioning to a "Wide 9" alignment up front — a scheme that will be made all the more formidable by the additions of Nick Bosa and Dee Ford, the latter being the NFL's highest-graded edge rusher from a season ago.
On the back end, the team is abandoning their predominantly single-high approach in favor of a system where their safeties are interchangeable, but despite their struggles a season ago, general manager John Lynch did not sign any free agents or draft any safeties to accommodate the switch. Instead, the team opted to stick with the young players on their roster.
This is where Tarvarius Moore comes in.
During his time in college, Moore played 665 of his 1,022 defensive snaps at either free safety or in the box — roles in which he excelled. From his snaps at safety over that two-year stretch, Moore earned an 86.2 coverage grade and allowed just nine completions on 24 targets for 173 yards and one touchdown, logging five interceptions and two additional forced incompletions in the process. He allowed a passer rating of just 37.7 on throws into his coverage — the third-best mark among players with at least 20 targets in coverage from the safety position.
In stark contrast, Moore earned a coverage grade of 69.7 on his coverage snaps as a cornerback, and he allowed 18 receptions from 27 targets for 162 yards and a passer rating of 82.6. And while he didn't allow a touchdown in coverage from these snaps, he didn't manage to log an interception, either.
Moore's skill set is tailor-made for the defensive approach that the 49ers would like to run in 2019. He has the size and skills to support the run and has the speed to cover deep. Now that he's being given the chance to play his natural position, the former Southern Mississippi safety has the chance to break out in 2019.