With Week 10 of the 2016 NFL season upon us, Director of Analytics Nathan Jahnke digs through the Pro Football Focus database to bring you 32 unique pieces off PFF data you need to know for the upcoming matchups.
Kansas City Chiefs at Carolina Panthers
1. Jaye Howard has recorded 13 run stops this season, tied for fifth-most among 3-4 defensive ends.
In 2015, Chiefs DE Howard had a breakout season, and was one of the best defensive linemen in the league at stopping the run. He hasn't been as dominant in 2016, but still has been an asset to Kansas City's defense. This week he faces a run-first Carolina team that has been improving in the passing game. Howard's job will be to make sure the Panthers' running attack doesn't find its rhythm.
2. Mario Addison has recorded a QB pressure on 16.4 percent of his pass-rushes, third-best among 4-3 defensive ends.
While Panthers DE Mario Addison isn't the starter for Carolina, the team has used him in clear pass-rushing situations over the past few seasons. In general, that has worked well for them, but it has worked especially well in recent weeks. Over the last three games, Addison has recorded three sacks, three QB hits, and five QB hurries. Most of the time when he is rushing the passer, Eric Fisher will be the man tasked with stopping him. Fisher has been playing well recently, with no sacks or hits allowed in his last three games, and just three QB hurries. Something will have to give between these two players currently performing at high levels.
Denver Broncos at New Orleans Saints
3. Todd Davis is the only inside/middle linebacker with 30 or more tackles in the run game with no missed tackles.
In 2014, Broncos LB Todd Davis was an undrafted rookie; two years later, he has worked his way up to a starter in one of the best defenses in the NFL. Davis has helped Denver's defense against the run, making a solid 19 stops and an additional 12 tackles, with no missed tackles, there. This week he faces a Saints' team who now has a running-back-by-committee, and neither back has consistently played well. If Davis and the rest of the Broncos' defense can stop the run, they can focus on rushing Drew Brees and rely on their cornerbacks.
4. Zach Strief has a pass-blocking efficiency of 97.5, second-best among right tackles.
The long-time Saints right tackle has consistently been a strong run blocker, but at times he's been very good at pass protection, as well. This is one of those years, as he's allowed just one sack, two hits, and eight hurries over eight games. This week, Strief will face his toughest test of the season in Von Miller. Through Week 9, Miller has recorded 49 QB pressures—10 more than any other 3-4 outside linebacker.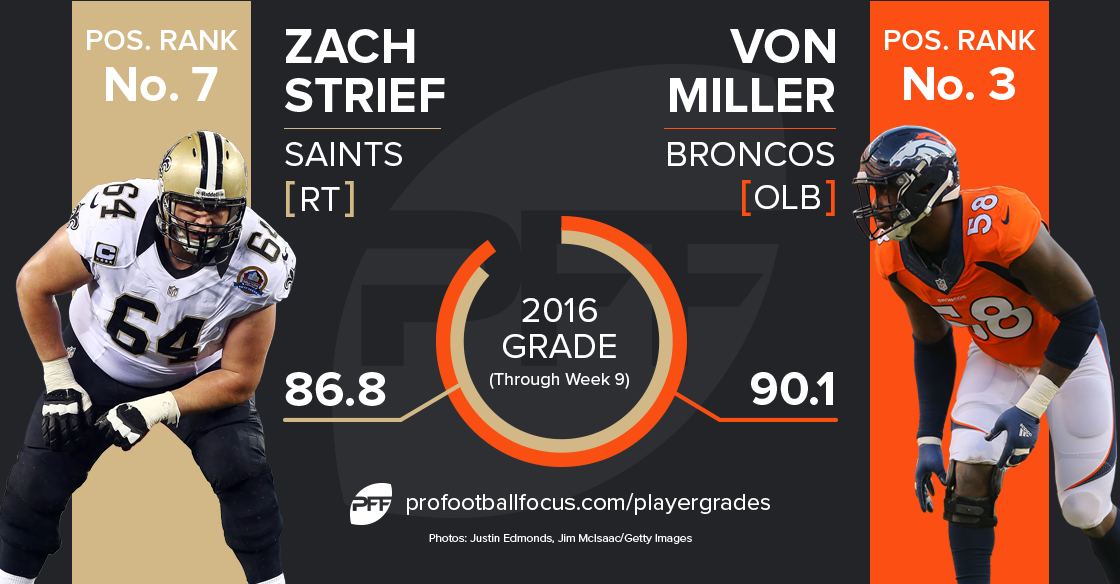 Los Angeles Rams at New York Jets
5. Todd Gurley has forced nine missed tackles on receptions, tied for sixth-most among running backs.
While Los Angeles running back Todd Gurley hasn't found nearly as much success in the run game as he did during his rookie season, he has become more of a factor in the Rams' passing attack, averaging more than five targets over his last five games. While Gurley still isn't making big plays in the passing game, he's at least been able to make defenders miss tackles. While the Jets' defense hasn't been known for missing tackles, they have one of the lowest-graded coverage units in the NFL. While New York should be able to limit Gurley as a rushing threat, if they give him some space in the passing game, he could have his best performance of the season.
6. Matt Forte has recorded 405 yards after contact, tied for fifth-most among running backs
In his first year with the Jets, running back Matt Forte has been finding success on the ground, despite having the second-worst run-blocking offensive line. This week, Forte may have more trouble than usual going up against Aaron Donald, as well as William Hayes, Michael Brockers, and Dominique Easley. Chances are that Forte will get contacted early on most of his runs, and it will be up to him to make the most of those carries.
Green Bay Packers at Tennessee Titans
7. Jordy Nelson is averaging 2.91 yards per route run when lined up in the slot, the best mark among receivers.
With Randall Cobb hurting and Green Bay's increased use of four-WR sets, we've seen Jordy Nelson playing in the slot more than he used to. On the season, Nelson has played in the slot 22.7 percent of the time, and it might be worth playing him there more based on how well he's been doing. He's been targeted on 20 of his 78 slot route, leading to 15 catches for 227 yards and two touchdowns. Brice McCain is the Titans' slot cornerback, and he's surrendered 304 yards in the slot, second-most among slot cornerbacks, and five touchdowns, which is the most. Week 10 could see a big day from Nelson, or any other receiver the Packers use in the slot.
8. Brian Orakpo has recorded 37 QB pressures this season, fourth-most among 3-4 outside linebackers.
Whenever Titans OLB Brian Orakpo has been healthy, he's been a defender quarterbacks have to worry about. Orakpo is on pace for one of his best seasons yet, based on how often he's hurrying quarterbacks and how often he's taken them down. This week, he will have a tough time disrupting Aaron Rodgers due to Packers LT David Bakhtiari. In eight games, Bakhtiari has only allowed 10 QB pressures. If Orakpo can be the first pass-rusher to frequently beat Bakhtiari, he'll greatly disrupt the Packers 'offense.
Atlanta Falcons at Philadelphia Eagles
9. Brian Poole has surrendered 0.60 yards per coverage snap when lined up in the slot, the lowest average for cornerbacks with 175 or more slot snaps.
So far, Atlanta CB Brian Poole has been one of the most impressive undrafted rookies of the 2016 season. He has taken over the Falcons' slot cornerback role and has avoided surrendering big catches. Poole doesn't have as many big plays as the Falcons might like, and he has surrendered a few touchdowns, but over the past five weeks, he has not allowed a catch for more than 12 yards. This week he will face Eagles WR Jordan Matthews, who has seen 25 targets and 17 catches over the last two weeks.
10. Carson Wentz has recorded an adjusted completion percentage of 78.4, seventh-best among quarterbacks.
Eagles rookie QB Wentz took the league by storm to start the year, and has since slowed down, but has still been very good—as long as Philadelphia's offensive line is doing its job. Wentz has completed 152 of 216 attempts without pressure, with 15 of those incompletions being dropped passes by his receivers. When he is under pressure, Wentz's adjusted completion percentage drops to 56.3. The Falcons have had an average pass-rush, thanks to Vic Beasley and Dwight Freeney. If the Eagles' tackles can hold off Atlanta's edge rushers, Wentz should have a strong performance.
Minnesota Vikings at Washington
11. When Cordarrelle Patterson is targeted, Sam Bradford has a QB rating of 122.1, ninth-best among wide receivers.
In Week 4, Minnesota WR Cordarrelle Patterson started seeing a bigger role in the Vikings' three-WR sets. While he's yet to have a game of 70 or more receiving yards, Minnesota's offense has been efficient when getting him the ball. This week, he faces a Washington team where he will often match up with the weak link at cornerback: Bashaud Breeland. Breeland has allowed a passer rating of 119.2 this year into his coverage, so there's certainly the potential for Patterson to have a big game.
12. Josh Norman has eight pass breakups this season, tied for third-most among cornerbacks.
While Washington CB Josh Norman hasn't been as dominant as he was in Carolina last year, he is still having a good season as a whole. Norman has only allowed 52.4 percent of passes thrown his way to be caught. He is coming off of back-to-back games where he's surrendered over 75 receiving yards into his coverage—after allowing over 75 yards just three other times in his career. If there is a game to get Norman out of his recent slump, it may be against Minnesota, as the Vikings' offense has been struggling recently.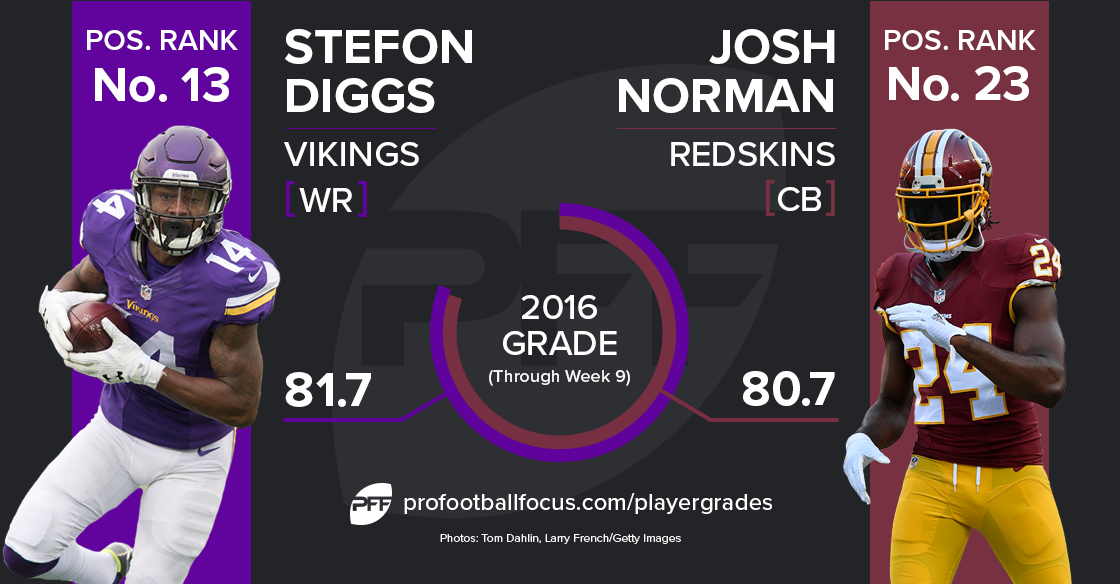 Houston Texans at Jacksonville Jaguars
13. A.J. Bouye has surrendered 7.8 yards per catch this season, the lowest average for all cornerbacks who have been thrown at more than 20 times.
Currently, Houston's A.J. Bouye is PFF's highest-graded cornerback. He's only allowed a 52.5 percent catch rate when quarterbacks target him, and even when he does surrender a catch, he's not allowing many yards. Bouye hasn't allowed a touchdown yet this year, and also has seven passes breakups. His only problem is that he also hasn't recorded an interception yet this season. This week, Bouye faces Jaguars QB Blake Bortles, who has 10 interceptions thrown on the year. Week 10 might be one of Bouye's best chances at getting his first pick of the season.
14. Brandon Linder owns a pass-blocking efficiency mark of 98.6, tied for fifth-best among centers.
The Jaguars drafted Brandon Linder in 2014 and put him at right guard, where had one of the better seasons you'll see from a rookie offensive linemen. Linder misses most of the 2015 season due to injury, and this year, he returned as Jacksonville's center. In seven games, Linder has only allowed six QB pressures. This week he faces a Texans' defense that doesn't have a dominant interior pass-rusher, though the Texans do like blitzing with Benardrick McKinney, or putting outside linebacker John Simon on the inside to rush. Linder will have to make sure the Jaguars handle the blitz and protect Blake Bortles, which is something he has been able to do so far.
Chicago Bears at Tampa Bay Buccaneers
15. Cornelius Washington owns a pass-rushing productivity mark of 10.7, second-best among 3-4 defensive ends.
Bears DE Cornelius Washington is in his fourth season with Chicago after being drafted in the sixth round in 2013. He has earned a role in the defensive-line rotation, and has 154 snaps on the season—a career-high for him, even though we're only at the halfway point. Washington has graded out well recently in pass-rushing terms, and is coming off of his best game yet with one sack, one QB hit, and two QB hurries. This week he faces a Buccaneers' offensive line that's below-average in pass protection.
16. Mike Evans averages 2.42 yards per route run, third-most among wide receivers with at least 300 routes.
In 2016, Buccaneers WR Mike Evans has built on what he did during his first two years in the league, and has entered the conversation concerning the top wideouts in the game right now. In 2014, he played very well, and in 2015, it seemed like he took a step back while becoming a bigger part of the offense. In 2016, Evans has remained at the center of Tampa Bay's offense, with 11 or more targets in each of his last seven games. He's also dropping fewer passes, scoring more touchdowns, and committing fewer penalties—all problems in 2015. This week, Evans faces an average Chicago secondary that doesn't have a cornerback that can successfully match up with him.
Miami Dolphins at San Diego Chargers
17. Cameron Wake owns a pass-rushing productivity mark of 15.7, best among 4-3 defensive ends.
Even though Dolphins DE Cameron Wake hasn't been on the field as much as in past years, he has been as good as ever rushing the passer. He has six sacks, two hits, and 23 hurries on the season, including five sacks coming in the last three games. This week he faces a Chargers' team with Joe Barksdale at right tackle. Barksdale has surrendered seven sacks on the year, tied for the most among offensive linemen. Wake could be in store for a big game in Week 10.
18. Melvin Gordon has forced 25 missed tackles total on his carries this season, fourth-best among running backs.
After a disappointing rookie season, Chargers RB Melvin Gordon has been among the most-improved players in the NFL. After not scoring a rushing touchdown in 2015, he has nine after nine weeks this year, tied for the most in the NFL. He is doing well despite sub-par run blocking in front of him, mainly because he's been able to make defenders miss. This week, Gordon faces a Miami team whose strength is fighting the run, thanks to players like Ndamukong Suh, Mario Williams, and Andre Branch. The Dolphins have faced some of the better rushing attacks in the league this season, but have been inconsistent when it comes to stopping them.
San Francisco 49ers at Arizona Cardinals
19. Vance McDonald is averaging 1.93 yards per route run, ninth-best among tight ends.
After not seeing many targets early in the season, 49ers TE Vance McDonald has seen six targets in each of the last two games. He had his best game of the season last week with a three-catch, 84-yard, and one-touchdown performance. Against cornerbacks like Patrick Peterson and Tyrann Mathieu, the 49ers will need a passing target they can rely on. Since it will be difficult for the wide receivers to have a good game, they may continue to turn to McDonald in Week 10.
20. Calais Campbell has recorded 24 total QB pressures, tied for fourth-most among 3-4 defensive ends.
Cardinals DT Calais Campbell is running on eight straight years now of strong grades as a pass-rusher. While he only has two sacks on the season, he has been doing a great job of getting pressure on opposing QBs week in and week out. In Week 10, he'll face the 49ers O-line. In Week 5 versus San Francisco, Campbell recorded his two sacks—look for him to add to that total on Sunday.
Dallas Cowboys at Pittsburgh Steelers
21. Zack Martin has a pass-blocking efficiency 97.8, tied for seventh-best among guards.
The Cowboys have a reputation for fielding the best offensive line in the NFL, mostly due to their strong run blocking. However, they have also played well in pass protection this season. Dallas RG Zack Martin, for example, has yet to allow a sack or QB hit this season, and is averaging one QB hurry surrendered per game. This week he will see a lot of Pittsburgh's Stephon Tuitt. While Tuitt hasn't recorded a sack yet this year, he has four hits and 18 hurries. Martin's goal on Sunday will be to limit Tuitt's impact.
22. Since Week 6, Ross Cockrell has surrendered 0.25 yards per coverage snap, the best mark among cornerbacks.
The Steelers would like Ross Cockrell to be their top cornerback, and in recent weeks, he hasn't disappointed. Cockrell has allowed five of nine passes thrown his way to be caught for just 24 yards over his last three games. This week, his biggest challenge will be stopping Dallas wide receiver Dez Bryant. Since Bryant has returned from injury, he's only caught five of 15 passes thrown his way, but he's tallied 132 yards on those five catches. The Steelers will struggle to stop the Cowboys' run game, so they'll really need Cockrell and the rest of the secondary to play well and at least limit yards through the air.
Seattle Seahawks at New England Patriots
23. Cliff Avril has 18 combined sacks and QB hits this season, the most among 4-3 defensive ends.
After a slow start to the season, Seahawks DE Avril has been consistently pressuring quarterbacks over his last five games. In that time, he has recorded nine sacks, five QB hits, and 18 QB hurries. With Michael Bennett ruled out again, the Seahawks will need Avril to have a big game to get pressure on Brady. He will most often face Patriots right tackle Marcus Cannon. Cannon hasn't surrendered a sack since Week 1, and has allowed just three QB pressures over the last two games. Avril might have more difficulty getting pressure than usual in Week 10, based on Cannon's recent pass protection performances.
24. Tom Brady has an adjusted completion percentage of 87.4, the best mark in the NFL.
Patriots quarterback Tom Brady has the highest completion percentage in the NFL, but his accuracy has been even more impressive. Of his 36 incompletions on the season, 11 of them were intentionally thrown away, and another six were dropped. This week he faces a Seattle secondary that hasn't been as dominant as in past years, although they still certainly are a top-10 unit. Brady will need to continue his dominant play to get the best of Seattle's secondary.
Cincinnati Bengals at New York Giants
25. A.J. Green leads the league in both deep receptions (throws traveling 20+ yards in the air) and deep receiving yards, at 10 and 379.
Ever since A.J. Green was drafted, he has been among the better wide receivers in the NFL; this is the first year, though, that Green is in the conversation for the No. 1 wide receiver in the league. Part of the reason why is because he's been so successful at making big plays for the Bengals. This week he faces a Giants' team who allowed four deep passes for 153 yards just last week to the Eagles.
26. When Janoris Jenkins has been the primary defender in coverage, opposing quarterbacks have an NFL passer rating of 54.7, fourth-lowest among cornerbacks.
Among the group likely to be tasked with stopping A.J. Green is Giants CB Janoris Jenkins. Jenkins is coming off of three very good games, where he's allowed just five of 17 passes thrown his way to be caught, and has five passes breakups. On the year, Jenkins has surrendered just a 51 percent catch rate, so if he is on Green, the Bengals' wideout may not find his usual success.
More stats to know
27. Marquette King has recorded 25 punts that have pinned opponents inside 20 yards, the most in the NFL.
Recently, Oakland Raiders punter Marquette King has received attention for his dancing, but he's been dancing due to some amazing punts. In fact, King currently owns the highest grade for any punter this season.
28. Washington kicker Dustin Hopkins is averaging 72.0 yards per kickoff, a league-best mark.
This has led to 35 of his 44 kickoffs to be touched back. That is the third-highest percentage of kicks to be touched back for any kicker this season.
29. Through Week 9, Jerrell Freeman owns the highest grade among NFL linebackers.
With 92.1 overall grade through Week 9, Bears linebacker Jerrell Freeman currently sits atop the likes of Luke Kuechly, K.J. Wright, Bobby Wagner, and Jordan Hicks entering Week 10. Given his performance to date, Freeman may be prove to be one of the best free-agent signings of this past offseason.
30. Ryan Fitzpatrick is getting rid of the ball faster than any other NFL QB this season, on average.
The New York Jets quarterback is averaging just 2.25 seconds from snap to pass attempt this season, slightly faster than Drew Brees (2.27), Alex Smith (2.29), and Case Keenum (2.40) through Week 9.