[Editor's note: This update piece was originally posted on Wednesday, February 27 and has been updated with each day's take from the 2019 NFL Scouting Combine. For more, follow @PFF_College on Twitter.]
Pro Football Focus and its team of analysts will be providing daily updates live from the 2019 NFL Scouting Combine in Indianapolis from February 27, 2019, through March 4, 2019. With eyes on the 2019 NFL Draft, the Combine is the next step for NFL teams looking to further their scouting reports on the top players across every position.
That being said, here are our analysts' takeaways from the week of action.
Wednesday, February 27
---
The first day of the 2019 NFL Scouting Combine kicked off with player interviews and exams and without much available for the media members, was a day for the players to potentially interview with teams and give their first impression on who could potentially be their future employers. While some measurements took place, nothing much was learned from the official starting date of the combine. — @PFF_Cam
Alabama offensive tackle and OT1 on the PFF draft board Jonah Williams measured in with what would be considered subpar arm length, however, we don't think that would be an issue as he could potentially join a long list of once-elite offensive tackles who actually had shorter measurements than he did at the Combine. Senior Analyst Mike Renner took a further look into Williams' success at overcoming what would be considered less-than-ideal arm length. — @PFF_Mike
Thursday, February 28
---
Today's big news came when Kyler Murray, No. 1 on our draft board and former Oklahoma QB and Heisman winner, measured in at over 5-foot-10, even is just barely at 5101. His weight of 207 may have surprised some but his rushing ability shouldn't as he had the second-highest rushing grade of any quarterback last season and by far the best passing grade.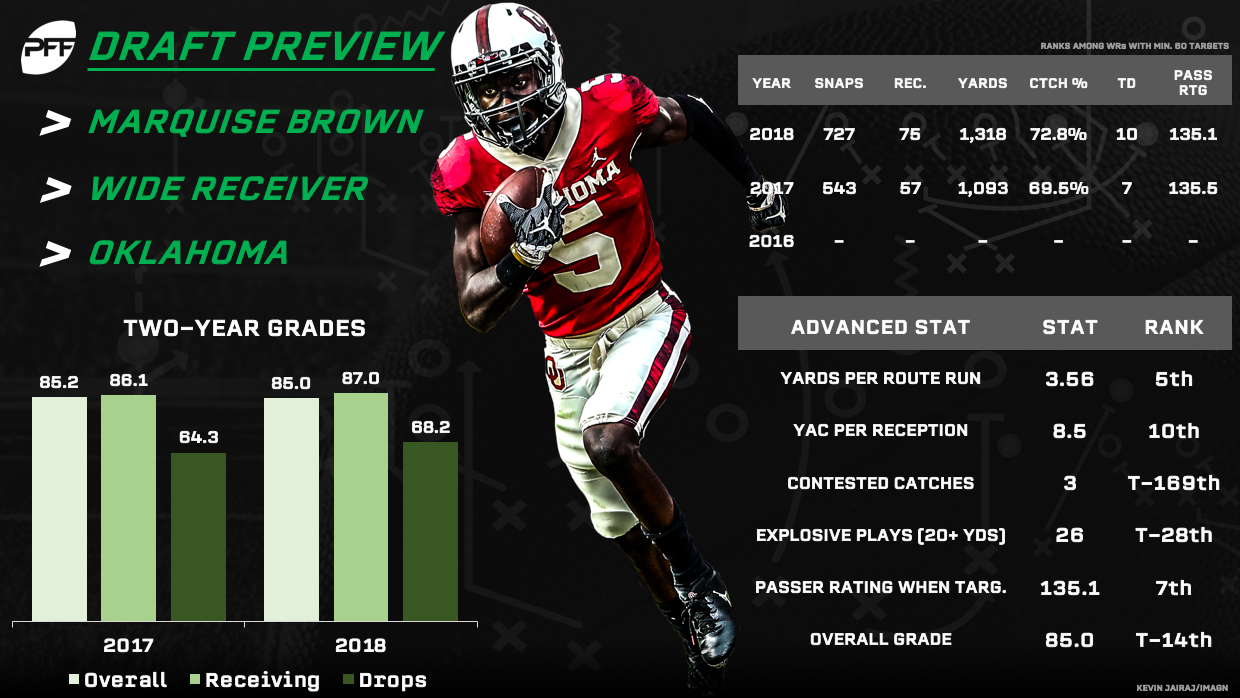 Fellow Oklahoma standout WR Marquise Brown clocked in at 5-foot-9 and just 166 pounds, in news that could be considered disappointing yet again this offseason after a lisfranc injury will keep him from any workouts. Still, Brown is one of the draft class' premier talents at the receiver position and perhaps the fastest, even if sadly we won't be able to see him in the 40-yard dash. — @PFF_Cam
Friday, March 1
---
Saturday, March 2
---
Sunday, March 3
---
Sunday, March 4
---