With more teams dropping out of the playoff race every week, we here at PFF have started looking forward to the upcoming NFL draft. While a lot can change roster wise between cuts and free agent additions, these are what we've identified as each team's biggest needs heading into next offseason.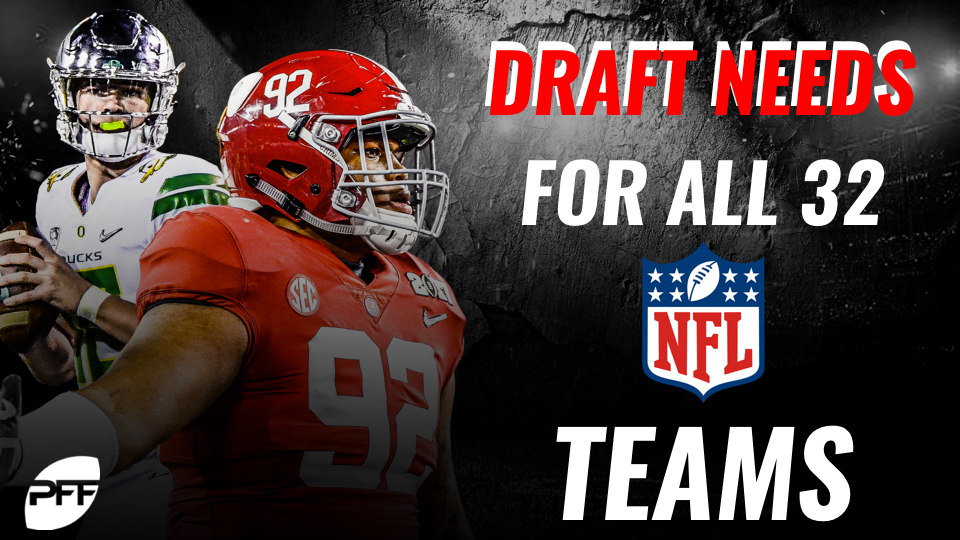 Edge defender, safety & cornerback
While the 49ers have spent three first-round picks on their defensive line in the last four drafts, edge rush still remains a glaring weakness on their defense. Last year's top-five pick, Solomon Thomas, has a grand total of 43 total pressures in his two-year career. Seven edge rushers have at least that many in 2018 already. They'll be firmly in the Nick Bosa sweepstakes, but Alabama safety Deionte Thompson and LSU cornerback Greedy Williams would be worthwhile consolations.
Offensive tackles, wide receiver & cornerback
The good news for the Cardinals is they could draft pretty much any position outside of quarterback or running back and it would fill a need. That just so happens to also be the bad news, as it's the reason they'll be drafting at or near the top of the draft. Only one player on their entire roster has a grade above 80.0 so far this season (Patrick Peterson). That means they'll truly be drafting best value available.
Edge defender, linebacker & wide receiver
The only position that really seems off-limits for the Raiders in the upcoming draft is offensive tackle, where they spent a first- and a third-round pick a season ago. Quarterback could even be a possibility with how much Jon Gruden wants to build the roster his way. No position on the roster has been weaker though than their pass-rush, where they've graded out as dead last in the NFL.
Edge defender, tight end & wide receiver
There are a number of holes on this team, but one has to think the upcoming draft will be rife with offensive talent to surround Sam Darnold. The young quarterback hasn't garnered a rapport with any of his receivers so far, as Quincy Enunwa leads the team averaging 1.55 yards per route – the 49th best of any wideout in the league.  
Quarterback, cornerback & offensive tackle
Technically, Eli Manning is still under contract for the 2019 season, but his release or retirement seems like a formality at this point. The question then becomes: a. whether there will be any franchise-type quarterback in this draft? And b. will the Giants be drafting high enough to take him? In PFF's latest draft board, only Oregon quarterback Justin Herbert made our top 20 prospects.
Wide receiver, offensive tackle & interior offensive line
The Bills are yet another team with a young quarterback that simply needs an influx of talent around him. They currently don't have a single starting receiver or offensive lineman with a grade above 65.0. With LeSean McCoy a likely cap casualty with a $9 million cap hit in 2019, everywhere could stand to be upgraded.
Edge defender, safety & quarterback
The defensive line was supposed to be massively upgraded with the additions of Jason Pierre-Paul, Vinny Curry and Vita Vea last offseason. That hasn't been close to the case, as the Bucs are second to last in team pass-rushing grade. With big cap numbers in 2019, it's feasible both Pierre-Paul and Curry will be elsewhere next season. That's not been their only issue defensively, though, as even though they've invested a lot of draft capital in their secondary of late, none has proven themselves as of yet.

Quarterback, wide receiver & tight end
You can draft all the weapons you want for Blake Bortles offensively, but it's not going to fix what ails the Jaguars' offense. The time has come to move on from the QB they drafted third overall in the 2014 draft. That being said, whoever they do line up behind center is going to need a little help. While receiver will obviously help, production has been non-existent from the tight end position as well, where they've combined for all of 440 yards this season.  
Defensive interior, offensive tackle & wide receiver
The Browns made a concerted effort to surround Baker Mayfield with talent last offseason, and I imagine that trend will continue into 2019. Rookie undrafted free agent Desmond Harrison showed some promise at left tackle when on the field, but he still has a ways to go before he's starting quality as his 57.1 overall grade would indicate.
Edge defender, cornerback & tight end
With Ziggy Ansah set to become a free agent once again after his year on the franchise tag, adding to the Lions' pass-rush seems like priority number one. With Ansah out most of the season, starters Devon Kennard and Romeo Okwara rank 40th and 49th out of 58 qualifying edge rushers in pass-rushing productivity, respectively.
Edge defender, guard & tight end
The right guard position has been a thorn in the Falcons' side for some time now, and with Andy Levitre's contract coming up this offseason (and the fact that he's on IR), left guard may be added to the list of needs as well. Ben Garland has actually played alright in limited action on the right side filling in for Brandon Fusco with a 74.9 overall grade, but Wes Schweitzer has earned a 59.1 overall grade filling in for Levitre.
Cornerback, offensive tackle & running back
The Eagles' strategy of throw a bunch of middling picks at the cornerback position and see what sticks has come back to haunt them this season with nothing sticking so far. To make matters worse, their highest-graded cornerback, Ronald Darby, is a free agent after the season. Jalen Mills is their next highest-graded corner on the roster with a 57.2 overall grade.
Quarterback, defensive interior & tight end
Yet another team that will likely fall victim to the quarterback numbers crunch. There's no chance they'll be selecting high enough at this point to nab one of the top quarterbacks unless they trade up next April. The good news is their second-biggest weakness – defensive tackle – has the most top-end talent in the draft. Alabama's Quinnen Williams, Mississippi State's Jeffery Simmons, Houston's Ed Oliver, Clemon's Dexter Lawrence, Ohio State's Dre'Mont Jones and Clemson's Christian Wilkins are all likely be top-half of the first round type talents. One or more will certainly be available when the Broncos pick.
Edge defender, safety & guard
The Packers haven't been terrible on the edge for lack of trying. Both Clay Matthews and Nick Perry have contracts paying them upwards of $10 million a year, but neither has come close to living up to them of late. Matthews ranks 75th out of 98 edge-rushers this season in pass-rushing grade while Perry clocks in at 91st. Matthews will be off the books after this season while they'll have to bank on injuries being the reason for Perry's ineffectiveness up to this point because he still has a good deal of dead money left on his deal. Florida State's Brian Burns, Florida's Jachai Polite and Kentucky's Josh Allen are all slated to go around where the Packers are currently picking, and any would be an upgrade.
Cornerback, wide receiver & defensive interior
After penciling in offensive line here every single year, I'm happy to finally cross that off their list. Defense will be their focus this offseason, as there is only so much scheming one can do around talent deficiencies on the back end. Of their corners with at least 200 snaps, only Pierre Desir has a coverage grade above 65.0, and he's set to be a free agent after the season.
Quarterback, interior offensive line & defensive interior
Another team poised to make a switch at the quarterback position, the Dolphins may look for a more proven commodity like Derek Carr or Jameis Winston via trade with where they'll be slotted to draft. Either way, they'll have to shore up the interior pressure first for whoever is behind center. Josh Sitton is under contract for next season, but at 33 coming off multiple injury-plagued seasons in a row, he might not be the answer. Ted Larsen and Jesse Davis currently rank 76th and 68th out of 78 qualifying guards, respectively, in pass-blocking efficiency.
Tight end, wide receiver & defensive interior
Simply adding Amari Cooper isn't enough to make the Cowboys' stable of receiving weapons look respectable. While a receiver would help a lot, they may be the only team in the league with tight end as their biggest need. One, because they use them a lot (Geoff Swaim's 512 snaps are more than any receiver), and two, because Dak Prescott has targeted them a lot in the past. Swaim's 1.04 yards per route this season ranks 26th out of 32 qualifying tight ends.

Edge defender, wide receiver & defensive interior
With both Derrick Morgan and Brian Orakpo hitting free agency, this one is fairly obvious. Harold Landry will fill one's shoes, but it still leaves another hole. The defensive interior may be as big a need, though, as Jurrell Casey has been carrying the unit on his own. His 54 pressures this season are 13 more than all the other interior players on the roster combined.
Edge defender, defensive interior & tight end
While they could still improve along the offensive line, they've improved enough over past seasons that it's not as necessary as it once was. Defensive line is where they've fallen off the most from their peak, as they're now simply Frank Clark and a bunch of guys. After Clark, the next best pass-rushing grade up front is Jarran Reed's 62.2.
Linebacker, offensive tackle & tight end
With how valuable the linebacker position is, it's rare for us here at PFF to call that a team's biggest need. At the same time, when you're as inept as the Bengals have been there, it needs to be addressed. They've combined to allow a passer rating when targeted of 111.5 this season. LSU linebacker Devin White is currently on top of our board at the linebacker position and would add some much-needed athleticism to the Bengals' defense.
Edge defender, interior offensive line & linebacker
This may very well be the end of the road for Terrell Suggs, who is a free agent at season's end. His 65.6 overall grade would be the lowest we've ever given to him in a single season. Za'Darius Smith has come on strong opposite Suggs, but this was a defense that had an embarrassment of riches as pass-rusher just a few seasons ago.
Offensive tackle, interior offensive line & linebacker
Offensive tackle, guard, center, you name it, the Vikings will take it at this point. Alabama tackle Jonah Williams, Kansas State tackle Dalton Risner and Mississippi tackle Greg Little are the only offensive linemen likely to declare that we have as first-rounders at the moment and with the premium on the position, Minnesota may have to jump up to secure one.
Wide receiver, interior offensive line & cornerback
Josh Doctson never quite turned into what the Redskins had hoped when they drafted him in the first round a few years back. His 62.5 overall grade this season is the highest of his career. This is a good draft to be in need of receiver though as it's a deep class. Stanford's JJ Arcega-Whiteside, Arizona State's N'Keal Harry, Mississippi's A.J. Brown, Oklahoma's Hollywood Brown, and Buffalo's Anthony Johnson all ended up in the top 32 on our latest draft board.
Offensive tackle, interior offensive line & cornerback
If the Texans first and maybe second pick in the upcoming draft isn't offensive line, Deshaun Watson might have a legitimate case against the Texans' front office for gross negligence. Houston's offensive line is second to last in pass-blocking efficiency, and that's with the Texans tackles receiving help nearly every snap. It's too glaring a need not to be seriously addressed.
Safety, offensive tackle & interior offensive line
Both Mike Adams and Eric Reid will be free agents come next offseason. While the Panthers have often chosen to rotate through veterans at the safety position in the past, the draft also offers some intriguing options. Maryland safety Darnell Savage and Washington safety Taylor Rapp are two names that could still be available for the Panthers in the second round that could step in right away.
Offensive tackle, edge defender & cornerback
Of every team in the NFL, the Bears were the most difficult to find obvious needs for. Right tackle Bobby Massie and slot corner Bryce Callahan will both be free agents at year's end, so both those positions need to be addressed. If they can re-sign both, there's really nowhere else that is a glaring weakness that they have to draft.
Defensive interior, safety & linebacker
With Joey Bosa and Melvin Ingram, the Chargers' pass-rush is always going to be ferocious. If they could just add one threat on the interior though, it could take this defense to the next level. Darius Philon currently leads all the Chargers defensive interiors with 17 total pressures ( Ingram has 43 for comparison).
Edge defender, cornerback & tight end
The impending free agencies of Trey Flowers and Jason McCourty means both those positions need addressing, but the more underlying needs are far more interesting. Quarterback is obviously a position New England will have to replace in the coming years, and most were surprised they didn't at least take a flyer in the mid-rounds last year. Tight end, though, may be even more immediate than quarterback after yet another injury-plagued year from Rob Gronkowski where he didn't even look like himself when fully healthy.
Linebacker, cornerback & tight end
The Steelers' defense hasn't come close to replacing Ryan Shazier. His athleticism and play-making ability were game-changers in that defense. Shazier broke up six passes and picked off three more last year while Jon Bostic and Vince Williams have combined for two pass breakups and one interception this year.  
Edge defender, linebacker & safety
If you watched Monday night, these needs aren't too surprising. Basically, any position on the defensive side of the ball beside the one Aaron Donald plays is up for grabs. With Lamarcus Joyner set to hit free agency yet again after a year on the franchise tag, safety needs to be addressed, as well.
Cornerback, linebacker & edge defender
The Chiefs are in almost the exact same boat as the Rams. Best player available on the defensive side, every single round. With Dee Ford and Orlando Scandrick hitting free agency at the two most premium defensive positions – Kansas City should be keen to address those first.
Linebacker, cornerback & tight end
The Saints won't be picking until late in the second round next year, but that's not the worst thing in the world given where their needs lie. Some athleticism at linebacker and a pass-catching tight end would go a long way for New Orleans. It's a deep class for athletic tight ends with Iowa's Noah Fant, UCLA's Caleb Wilson, and Alabama's Irv Smith up near the top.