After succumbing to injury in the last two seasons, John Brown was finally able to stay on the field, playing 729 snaps and seeing 94 targets, both of which were the most he's seen since 2015. Unfortunately, Brown was unable to truly capitalize on his opportunity, earning just a 64.7 overall grade and failing to earn a grade of over 70 in all but two games.

Pro Football Focus will be running through 50-plus pending/soon-to-be free agents between January 7, 2019 and March 8, 2019 to offer a detailed analysis of the top players bound for new contracts and (possibly) new teams in 2019. We want to house all of the important grades, advanced stats and key analysis for each player, so you know exactly what your team is getting in free agency.
To review all of our free agent profiles in one place, please visit this page.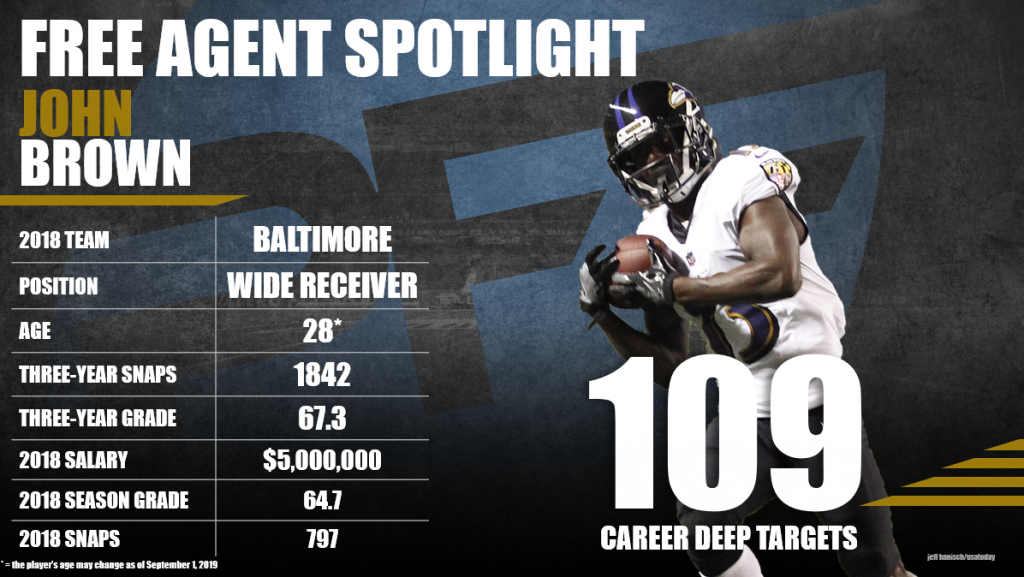 Though Brown only produced a 64.7 overall grade on the season, he still showed that he was a capable vertical threat, as evidenced by his robust average of 17.0 yards per reception (tied for seventh among wide receivers). While capable of hitting the home-run for an offense, Brown has struggled to remain efficient when running his routes, averaging just 1.49 yards per route run, a mark which ranks 50th among receivers this season. The five-year veteran has also struggled with drops, producing the seventh-worst drop rate among wideouts and dropping seven of his 49 catchable targets this season. Brown can provide the threat of going deep for an offense in need of a receiver capable of stretching the field, but he will need to improve his efficiency and ability to secure his catchable targets to make a larger impact.
Subscribe to Pro Football Focus' ELITE subscription to research John Brown's grades, advanced stats, snaps and more in Premium Stats 2.0.