It appears that Ezekiel Ansah's six-year stint with the Detroit Lions is coming to an end after battling a shoulder injury throughout a majority of the 2018 season. Ansah played 80 games for the Lions (seven in 2018) and amassed 52 sacks and 271 total quarterback pressures. The BYU-alumnus has been linked to various teams but will be turning 30 before the 2019 season begins, bringing his long-term viability into question.

Pro Football Focus will be running through 50-plus pending/soon-to-be free agents between January 7, 2019 and March 8, 2019 to offer a detailed analysis of the top players bound for new contracts and (possibly) new teams in 2019. We want to house all of the important grades, advanced stats and key analysis for each player, so you know exactly what your team is getting in free agency.
To review all of our free agent profiles in one place, please visit this page.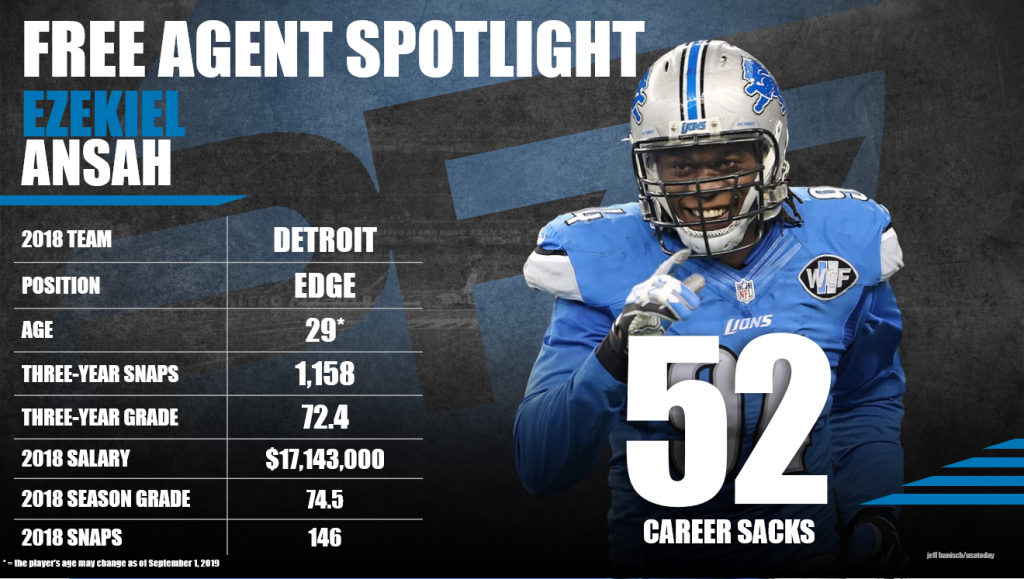 Ansah's ability doesn't stop with his pass-rushing prowess. He has displayed his run-stopping ability, as he's earned a 69.0-plus run-defense grade in four of his six seasons. The edge defender's most prolific season occurred in 2014 when he caused 64 quarterback pressures (T-8th) and earned an 82.5 overall grade (6th). Ansah will have to turn back the clock following an injury-riddled year where he earned a 74.5 defense grade, but there may not be a surplus of suitors with the pass-rusher-heavy class entering the NFL Draft this year.
Subscribe to Pro Football Focus' ELITE subscription to research Ezekiel Ansah's grades, advanced stats, snaps and more in Premium Stats 2.0.