Dante Fowler Jr. played seven games for the Jacksonville Jaguars before being traded to the Los Angeles Rams for a 2019 third and 2020 fifth-round pick. The former first-rounder participated in less than 30 snaps each game this season for the Jaguars prior to averaging 53.1 snaps a game for the Rams. Fowler has been a valuable addition for Los Angeles in their playoff run, earning a 69.7 grade through the NFC Conference Championship game as well as a sack in each game.

Pro Football Focus will be running through 50-plus pending/soon-to-be free agents between January 7, 2019 and March 8, 2019 to offer a detailed analysis of the top players bound for new contracts and (possibly) new teams in 2019. We want to house all of the important grades, advanced stats and key analysis for each player, so you know exactly what your team is getting in free agency.
To review all of our free agent profiles in one place, please visit this page.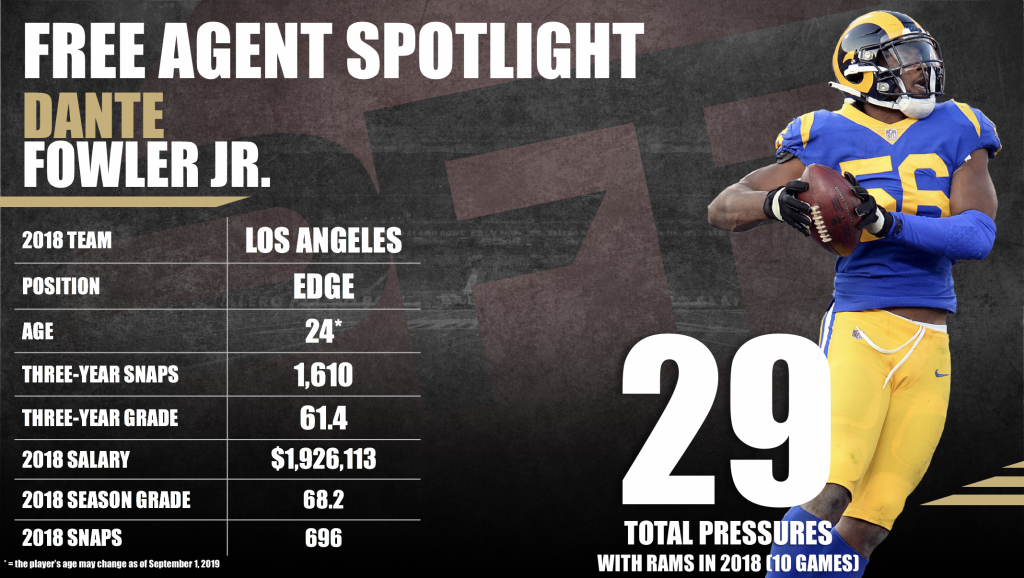 Fowler earned an above average grade (60.0-plus) for the first time in his four year career this season (68.2). The Florida alumnus saw an 80.0-plus grade just once this season (Week 1, 94.9), but he has complemented Ndamukong Suh and Aaron Donald nicely as a cheap, serviceable edge defender. Fowler has earned 29 quarterback pressures and four sacks in his 12 games played with the Rams, more than double any other Rams edge defender in that span. Although Fowler hasn't quite lived up to his first-round pick potential, he is a young developing pass-rusher who has averaged seven sacks a season over his three healthy seasons.
Subscribe to Pro Football Focus' ELITE subscription to research Dante Fowler Jr's grades, advanced stats, snaps and more in Premium Stats 2.0.