In his first four years in the NFL (2014-17), Bashaud Breeland flashed some potential playing slot cornerback for the Washington Redskins, earning 74.0 and 68.8 overall grades in 2015 and 2017, respectively. The Carolina Panthers bit on Breeland in the form of a three-year, $24 million deal last offseason, but the deal fell through when he failed his physical with a non-football related foot injury. The 26-year-old Clemson product later signed a one-year, $880,000 deal with the Green Bay Packers.

Pro Football Focus will be running through 50-plus pending/soon-to-be free agents between January 7, 2019 and March 8, 2019 to offer a detailed analysis of the top players bound for new contracts and (possibly) new teams in 2019. We want to house all of the important grades, advanced stats and key analysis for each player, so you know exactly what your team is getting in free agency.
To review all of our free agent profiles in one place, please visit this page.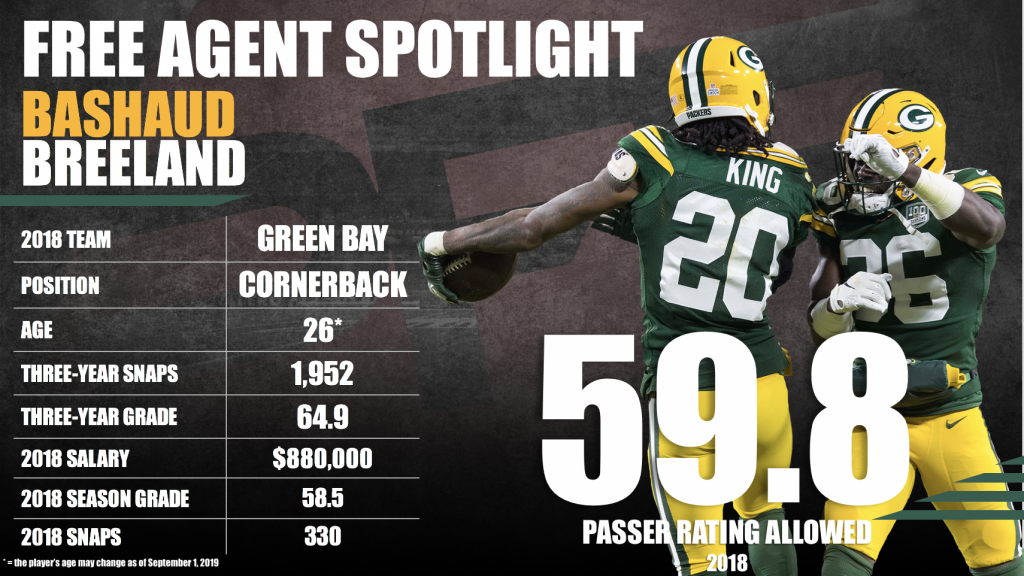 Breeland's seven-game, 330-snap tenure in Green Bay wasn't spectacular. He logged one game grade above 90.0 (Week 14) but failed to stand out otherwise.
Subscribe to Pro Football Focus' ELITE subscription to research Bashaud Breeland's grades, advanced stats, snaps and more in Premium Stats 2.0.