Anthony Barr bounced back from two down years and produced an overall grade of 71.4 this season, which is his highest-graded season since 2015. It was a mixed bag for Barr this season, as he produced a career-high run defense grade (74.7) and an impressive pass-rushing effort but failed to produce many defensive stops (his 20 defensive stops is tied for 58th out of 62 qualifying linebackers) while struggling dropping into coverage.

Pro Football Focus will be running through 50-plus pending/soon-to-be free agents between January 7, 2019 and March 8, 2019 to offer a detailed analysis of the top players bound for new contracts and (possibly) new teams in 2019. We want to house all of the important grades, advanced stats and key analysis for each player, so you know exactly what your team is getting in free agency.
To review all of our free agent profiles in one place, please visit this page.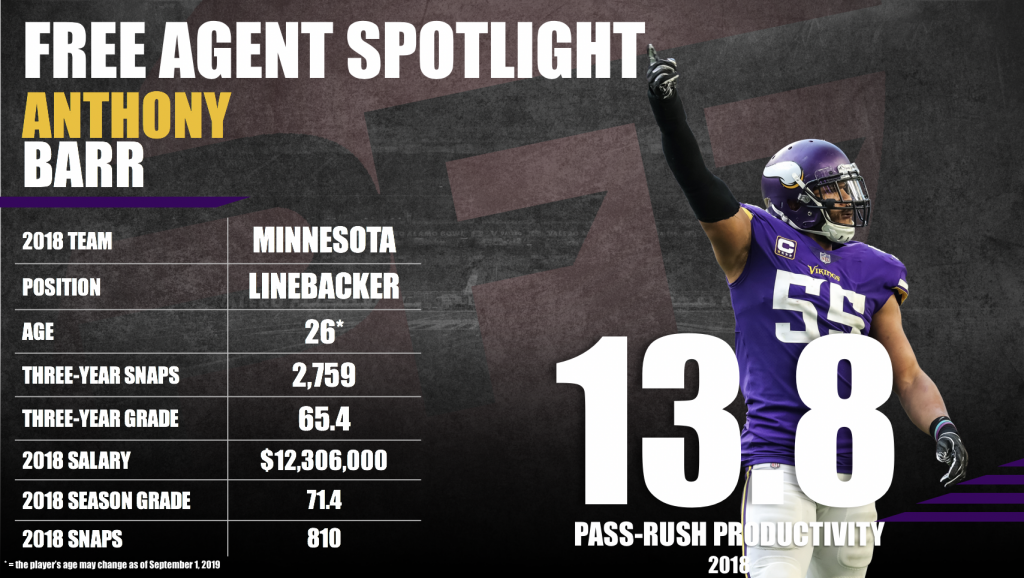 Barr put forth his best year since 2015, but there are still areas where he could improve. When in coverage this season, Barr earned a 59.9 grade, allowing just 0.52 yards this season (second among linebackers) but also yielding three touchdowns and a passer rating of 125.3 on 30 targets while failing to intercept or defense a pass. It was also troubling to see him have a drastic drop in his defensive stops, as his previous career-low mark was 32 in 2016. The bright spot for Barr this season was his exceptional efficiency as a pass-rusher, where he earned a 79.7 grade (seventh-best among qualifying linebackers) and produced a pass-rushing productivity of 13.8, which ranks first among linebackers this season. Barr will test the open market, and the team that signs him would be wise to help him play to his strengths and put him in a position to maximize his production.
Subscribe to Pro Football Focus' ELITE subscription to research Anthony Barr's grades, advanced stats, snaps and more in Premium Stats 2.0.