Special teams are an important aspect of winning football games in the NFL. At Pro Football Focus we are uniquely positioned to evaluate the kicking game, as we extend our grading of every player of every play of every game to this aspect of play in addition to offense and defense. Last season, we created a rating algorithm to rank special teams units based upon these unique grades, and during the offseason we updated the method. We plan on providing these rankings every quarter of the season, with the picture painted by these rankings likely clearer with each passing quarter. Below is the third such installment of these rankings.


1. 
(previous ranking: 12)
At least something has gone well recently for the Cowboys, with both sides of the punting game coming up big. Chris Jones has given up the least amount of return yards (58) among qualifying punters this season, while Ryan Switzer has generated a long kick return (for 61 yards) and a long punt return (for 83 yards and a touchdown) the last three weeks.
2.
(previous ranking: 1)
The Vikings have possibly the league's best collection of core special teamers in the league, with C. J. Ham (10 total tackles), Ben Gedeon (nine), Eric Wilson (nine), Kentrell Brothers (seven), Marcus Sherels (six) and Jayron Kearse (six) all grading positively through the season's first 13 weeks.
3. 
(previous ranking: 9)
Perennially one of the league's best special teams units, the Rams have the league's highest-graded returner in Pharoh Cooper (averaging 28.7 yards per return on kicks and 12.6 on punts), one of the best core special teams players in Cory Littleton (four special teams tackles), the league's third-most accurate kickers in Greg Zuerlein and a punter with the second-highest net average in the league in Johnny Hekker (44.5).
4.
(previous ranking: 4)
Kicker Cody Parkey and the Dolphins kickoff team are allowing the league's lowest average starting field position among qualifying kickoff men (20.8), with special teams ace Michael Thomas (nine solo tackles) leading the coverage units.
5.
(previous ranking: 5)
Justin Tucker has made 5-of-7 kicks beyond 50 yards this season, and has developed the analytically-justified art of the short kickoff (his average distance is just 65.8 yards). These strategic kicks have helped the Ravens hold their opponents to an average starting field position of the 23.8-yard line so far this season.
6.
(previous ranking: 2)
Jake Elliott has been one of the league's better stories this season, making 15 of his 17 field goals beyond 40 yards after taking over for Caleb Sturgis in Week 2.
7.
(previous ranking: 3)
The Chicago Bears probably wish they held on to Robbie Gould, as he continued his strong season against them last week with five field goals. Although all of his kicks Sunday were from less than 40, he's been great beyond 40 this year as well, going 14-of-15 on those kicks through 13 weeks.
8.
(previous ranking: 6)
Free-agent acquisition Stephen Hauschka is our second-highest graded kicker through the league's first 13 weeks, and his average starting field position of 23.6 allowed on kickoffs provides value to a Bills team still in the thick of the AFC playoff race.
9. 
(previous ranking: 8)
Newcomer Derrick Coleman has been one of the most-productive coverage men in the NFL this season, generating 10 tackles (third in the league) on both punts and kickoffs.
10. 
(previous ranking: 11)
Ancillary players have been making an impact on the Patriots for the entire Bill Belichick era, and 2017 is no different. Brandon King (eight total tackles), Nate Ebner (8), Matthew Slater (five) and Johnson Bademosi (five) have all graded well, helping the Patriots overcome the fact that Ryan Allen has the lowest grade among punters so far this season.
(previous ranking: 13)
Kicker Matt Prater (7-of-10 from 50-yards and beyond) is the highest-graded kicker in the league from the perspective of field goals and extra points, while Jamal Agnew is tied with Tarik Cohen for the highest grade among punt returners, averaging 16.8 yards per return (with two touchdowns).
(previous ranking: 16)
New punter Rigoberto Sanchez has picked up right where Pat McAfee left off, grading out as our fourth-highest graded at the position through 13 weeks. His 43.9 net average is fifth in the league, dropping 24 of his 66 punts inside of the 20.
(previous ranking: 7)
Everything seems to be trending the wrong way for the Chiefs, including their once-elite special teams. This is not due to the effort of rookie kicker Harrison Butker, who has made 24-of-26 field goals since taking over in Week 4 and produced 40 touchbacks on 51 kickoffs.
(previous ranking: 25)
They don't punt very much, but when the Saints do they have the second-highest graded player in the league at the position in Thomas Morstead. He is averaging 48.1 gross yards per punt on the season, while somehow only producing two touchbacks on his 41 kicks.
(previous ranking: 23)
While their kickers and punters have not been elite, Cincinnati has gotten good production out of some of their core special teams guys. Clayton Fejedelem has missed only one tackle as a coverage man, while having the second-most solo special teams tackles in the league.
(previous ranking: 20)
The Steelers have struggled returning kicks and punts this season, with just a 5.4-yard average return on punts and an 18.2-yard average return on kickoffs. They recently installed Martavis Bryant on kickoff returns, only to have a touchdown called back via a hold on J.J. Wilcox against the Bengals Monday night.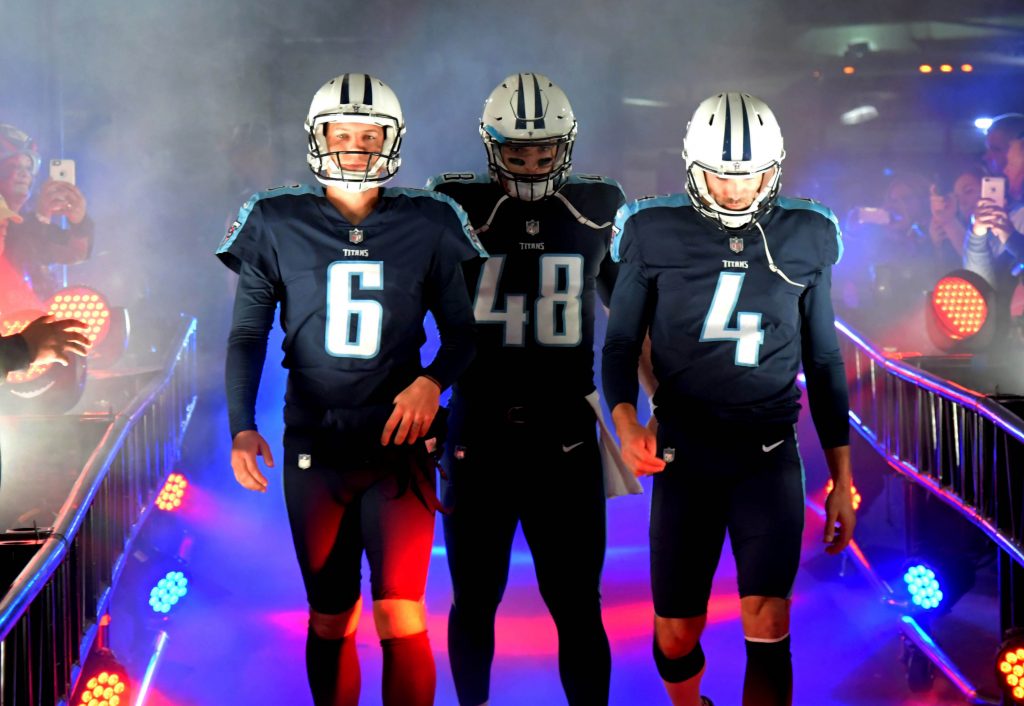 (previous ranking: 10)
Punter Brett Kern is setting the standard for punters this season, averaging 51.4 gross yards (first) and 45.4 net yards per punt (first). This has translated to the highest PFF grade among punters through 13 weeks.
(previous ranking: 21)
While the Bills have had success with Stephen Hauschka, the Seahawks might be regretting acquiring Blair Walsh in his stead. Walsh has a negative grade on field goals and extra points this season, missing seven total kicks so far (including his only kick deeper than 50 yards).
(previous ranking: 14)
Return man Kaelin Clay was acquired off waivers from the Bills on October 24th. While he started slowly as a returner early on, his 60-yard return for a touchdown in New York against the Jets helped open that game in the Panthers' favor in Week 12.
(previous ranking: 20)
The Bucs have had a difficult time kicking field goals and extra points early in the season, but midseason acquisition Patrick Murray (14-for-16 on field goals) seems to have stabilized things, and he has earned the eighth-highest grade among kickers on field goals and extra points since Week 7.
(previous ranking: 17)
Rookie Tarik Cohen's grade as a punt returner is tied for the highest in the NFL through 13 weeks. His electrifying, change-of-direction 61-yard return last week against the 49ers helped keep the Bears in a game where they struggled offensively.
(previous ranking: 15)
Coverage man Rontez Miles has produced at least one special teams tackle in all but two games since Week 4, and is fourth in the league with nine solo special teams tackles on the season.
(previous ranking: 26)
Special teams largely cost the Jaguars a game against the Los Angeles Rams early in the season, and the Jags have had to use two placekickers so far.  However, punter Brad Nortman has been one of the league's highest-graded punters this season, generating field position for which their top-tier defense has continued to take advantage.
(previous ranking: 24)
Punter Marquette King continues to lead the way, averaging 49.2 gross yards and 44.1 net yards per punt, while grading out as the league's third-best player at his position through 13 weeks.

(previous ranking: 19)
The Browns haven't done much well this season, and special teams as a whole are no exception. That said, rookie kicker Zane Gonzalez has made an analytically-sound approach to the new kickoff rule, averaging a distance of just 61.7 on 43 kickoffs and yielding an averaging starting field position of just the 22.3-yard line.
(previous ranking: 26)
Veteran punter Shane Lechler has continued his brilliant career into this season, posting our sixth-highest grade for punters while averaging 48.9 yards per punt. The Texans, as a whole, have been snake bitten by allowing the second-most return yards on those punts (401), however.
(previous ranking: 30)
Now that they sit at 6-6, it's shame that they've had a difficult time figuring out the placekicker spot all season. Missed kicks by Younghoe Koo cost them two games to start the season, and Nick Novak was allowing an average starting field position of the 26-yard line before he recently went on injured reserve.
(previous ranking: 28)
With just a 38.4 net punting average, the Giants' Brad Wing is the second-lowest graded player at his position through 13 weeks.
(previous ranking: 29)
Kick returner Trevor Davis has graded well this season (he's fifth among all return men), but some of his decisions regarding taking the ball out of the end zone have been questionable at best, giving Green Bay's now-shaky offense poor field position on too many drives.
(previous ranking: 22)
Things have snowballed on the Broncos this season, and that extends to their special teams units. Isaiah McKenzie has the fifth-lowest overall grade among return men this season, and his sixth fumble of the season last week resulted in a safety for the Dolphins.
(previous ranking: 32)
While rookie safety Budda Baker leads all special teams players in solo tackles (12), punter Andy Lee has also allowed the most punt return yards in the league with 416.
(previous ranking: 31)
Special teams have been an issue all season for Washington. From giving up a punt return touchdown in their last game, to converting only 93.5 percent of their extra points between two kickers, to averaging only 8.7 yards per punt return and 23.4 yards per kickoff return through 13 weeks.