Depending on how you want to look at the New York Giants' recent history, they are either one of the NFL's best teams, or a below-average one. The Giants are the only team over the last decade with multiple Super Bowl championships, but they've also only made the playoffs once in the last seven years, and are coming off three straight seasons with a losing record. They have made plenty of changes to try and turn their most recent luck around, but there are still parts of this team that resemble their Super Bowl-winning rosters.
[More: Be sure to check out PFF's ranking of all 32 NFL QB situations, offensive lines, running back units, receiving corps, secondaries, and defensive front-sevens. Catch up on all the team previews here.]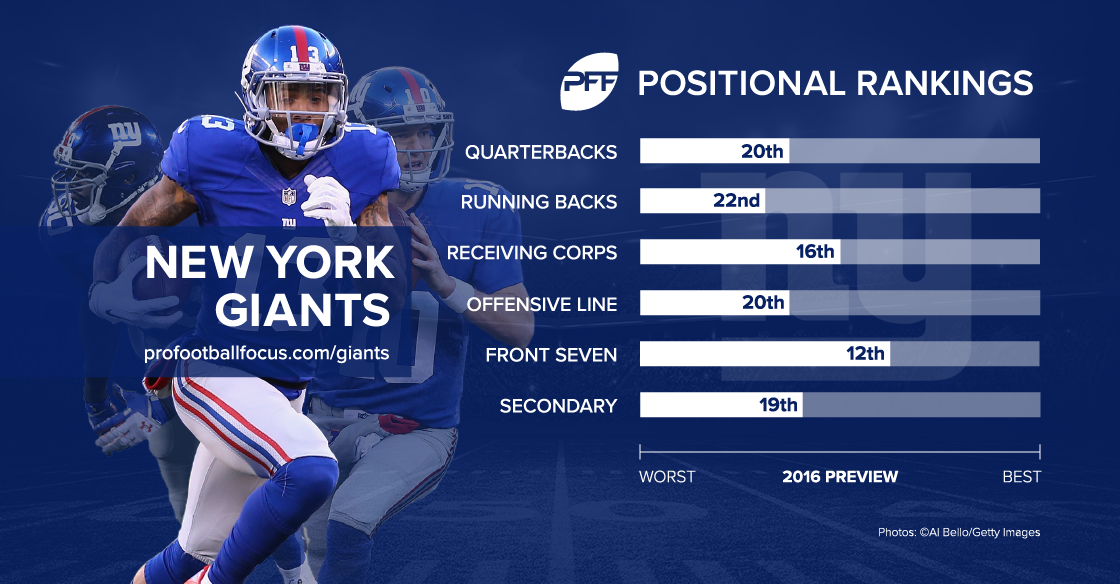 If we ranked the teams by how good their quarterbacks have been at their best, the Giants would be a bit higher than 20th in this category. In terms of PFF passing grade, Eli Manning's play has declined each year since 2011. For a 35-year-old quarterback on such a downward trend, it would be tough for Manning to turn things around in 2016. If you just looked at his 2015 total yards and touchdowns, though, you may believe Manning is as good as ever. However, he recorded a career-high in passing attempts last season, which helped inflate those statistics. In reality, his 7.2 yards per attempt was the second-lowest mark for him over the past seven years. His average depth of target went down from 9.2 in 2014 to 8.1 in 2015. You would expect his completion percentage to increase with shorter passes, but that also declined (from 63.1 percent to 62.6 percent). There are still plenty of teams that would be better off with Manning than their current quarterback, but in order for the Giants to become a playoff contender once again, other positions need to step up around him.
Running backs: 22

nd
While the Giants have no single top-10 unit heading into the 2016 season, they also have no unit that ranks in the bottom 10. Their lowest-ranked position group, however, is at running back. Over the course of the 2015 season, Rashad Jennings graded well, but his play varied from one week to another. He averaged a decent 4.4 yards per carry, but has yet to break a carry for more than 40 yards with the Giants, and has only forced 40 missed tackles over his two years in New York. Shane Vereen was signed last offseason to be the Giants' receiving back, and he recorded the sixth-most receiving yards for running backs in 2015, but on a per-play basis, he was just above-average. In terms of depth, it's plausible that any one of Andre Williams, Paul Perkins (UCLA), Orleans Darkwa, or Bobby Rainey ends up with significant playing time. This unit shouldn't be a liability, but it also hasn't been an asset recently.
Receiving corps: 16

th
Basically the only reason the Giants are above-average in this group is Odell Beckham Jr. His 2.43 yards per route run was third-best among WRs with 400 or more routes run last season. The only other Giants wide receiver last year that had a yards per route run mark above 1.00 was Rueben Randle, who is now with the Eagles. New York's new No. 2 wide receiver will likely be second-round pick Sterling Shepard (Oklahoma). Based on his college film, he should have a productive career, but promising rookie receivers have been hit-or-miss in their first pro season. Victor Cruz returns from a year-and-a-half absence, but his best play was in 2011— like Eli Manning—and it's unclear if he can remain productive after so much time off. If Beckham Jr. were to get hurt, this group could easily become one of the worst receiving corps in the league.
(PFF Fantasy Insight: Beckham is the No. 3 receiver in our staff consensus rankings, but that jumps to No. 1 in dynasty drafts. Jeff Ratcliffe recently ran through why Rashad Jennings is a fantasy value at running back.)
Offensive line: 20

th
The Giants' O-line has a clear strength on the interior. In his first year at center, Weston Richburg earned an overall grade of 89.0, third-best for NFL centers. In his first year at left guard, Justin Pugh graded well in both run-blocking and pass-protection. His pass-blocking efficiency of 97.5 was 10th-best for all guards. What drags this unit down, however, is the worst pair of offensive tackles from 2015. As a rookie, Ereck Flowers recorded a pass-blocking efficiency of 90.8, the worst among all NFL tackles. We have seen OTs have terrible rookie years and then play well in their sophomore season, so there is hope that Flowers can improve. At right tackle, Marshall Newhouse wasn't much better; his 92.9 pass-blocking efficiency was sixth-worst. Newhouse has graded below-average in all five seasons of his NFL career in which he saw playing time, so there is a little less hope that he will bounce back in 2016.
Front-seven: 12

th
The Giants' defensive line was an area that needed addressing in free agency. New York had 14 different players with at least 20 snaps last season, and none with more than 750. They addressed it in a big way by adding Olivier Vernon (Dolphins) and Damon Harrison (Jets). In the second half of the season alone, Vernon recorded 57 QB pressures, more than any Giants player had all of last year. Harrison notched 51 stops, 19 more than any other Giant last year. Pair that with Jason Pierre-Paul and Johnathan Hankins, who both played well despite missing half of the season, and you have arguably the best defensive line in football. What drags this front-seven group down is the linebackers. Jasper Brinkley graded well in run defense last season, while J.T. Thomas graded well in coverage, but outside of those two, the group didn't perform well in 2015. They added players via free agency and the draft, though none of their ILB additions have graded well in the past. Having such a good line in front of them should only help their play, however.
Secondary: 19

th
Similar to the Giants' front-seven, the secondary has a relatively-strong part mixed with a weaker one. Dominique Rodgers-Cromartie leads the group after another great season. For the eighth straight year, he recorded at least six passes defended in 2015, and only allowed one touchdown. He will be joined by Janoris Jenkins (Rams), who recorded 10 passes defended last season, tied for 12th-most in the league. While there are better cornerback pairings, this one is pretty high up on the CB-duo list. New York's problem, however, is at safety. Landon Collins had a forgettable rookie year; he allowed 620 passing yards, which was the most among all NFL safeties. It's a wide-open competition across from him, with inexperienced players vying for the spot.