Only a few plays away from playing in yet another Super Bowl last season, the New England Patriots should find themselves right in the mix once again in 2016. There is certainly one large obstacle to overcome in quarterback Tom Brady's four-game suspension, but the roster is still talented enough to overcome his loss and they head into the season as the AFC East favorite. Backup quarterback Jimmy Garoppolo will be throwing to the best all-around receiving corps in the league while the defense is strong in the back-7 with versatile defensive linemen up front. As is usually the case in New England, their Super Bowl hopes rely heavily on earning home-field advantage in the playoffs, and that's where an early mishap due to Brady's suspension could come back to bite.
[More: Be sure to check out PFF's ranking of all 32 NFL QB situations, offensive lines, running back units, receiving corps, secondaries, and defensive front-sevens. Catch up on all the team previews here.]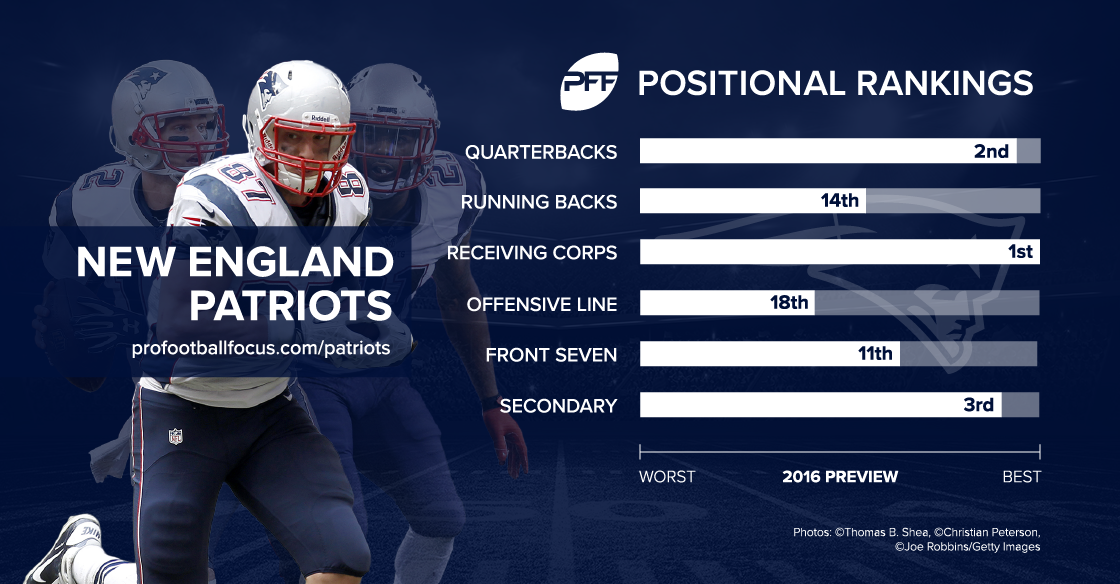 Brady still one of the best; Garoppolo has a chance to shine
Quarterbacks: Second in PFF's season preview rankings
Given head coach Bill Belichick's history of flipping backup quarterbacks for draft picks, the league may be looking at Garoppolo's four-game stretch as a showcase for the third-year player. He's been a mixed bag during his preseason action, as evidenced by last year's first game against the Green Bay Packers in which he struggled to a -4.5 overall effort before following up with an excellent +2.5 grade against the New Orleans Saints in which he showed great command of New England's quick-hitting offense. If he continues to improvement his decision-making, he should be a competent option during the first quarter of the season.
Brady is still the guy, however, and New England's long-term hopes will still rely on the veteran's right arm down the stretch. He was excellent last season, taking great care of the football (led the league with turnover-worthy plays on only 1.69 percent of his dropbacks) and finishing number three overall in our QB rankings including the playoffs. With his top playmakers returning, Brady has the pieces in place to lead the way to another championship as he heads into his 17th year in the league.
Return of Dion Lewis adds explosive element to offense
Running backs: 14th
Before going down to injury in Week 9, Dion Lewis was playing the best football of his career, as his cutting ability and shiftiness added a dangerous element to the New England offense. If he returns to form, he's just another playmaker to keep an eye on, whether running the ball or catching it out of the backfield. LaGarrette Blount brought his usual efficiency to the table while posting the 16th-best elusive rating in the league at 50.0. He went down due to injury as well in Week 14, and the Patriots struggled on the ground in his absence. Don't sleep on third-year RB James White, who did little as a runner but emerged as a top receiving weapon down the stretch, finishing fourth in the league at 91.9. Free-agent addition Donald Brown adds another element of depth as the Patriots will likely implement their usual committee approach that changes week-to-week.
Best receiving corps is led by Gronkowski
Receiving corps: First
It might not be the most well-rounded receiving corps, but tight end Rob Gronkowski is the league's biggest mismatch and he's showing no signs of slowing down. The league's top receiving tight end the last two seasons, Gronkowski lines up all over the formation, creating conflict for opposing defensive coordinators as they find a player capable of matching Gronkowski's strength and speed. The Patriots add another big-bodied tight end in Martellus Bennett, who is just one year removed from a top-five overall effort among the league's tight ends. Like Gronkowski, he can catch the ball and block at the point of attack, allowing New England to create even more mismatches against opposing defenses. As for the receivers, Julian Edelman's value was evident after he went down to injury, as his ability to get open quickly is crucial for Brady and the offense to work efficiently. Not to be forgotten is the wide receiver position on the other side, most recently held by the departed Brandon LaFell. It's not as flashy of a spot in New England's offense, but Brady's best passing attacks have featured a receiver capable of 60-catch production on that side. Look for free agent signing Chris Hogan to compete with draft picks Malcolm Mitchell and Devin Lucien. Danny Amendola rounds out the receiving corps as a dependable slot receiver.
Health and experience should improve offensive line play
Offensive line: 18th
Patriots fans' most recent memory is the thrashing the offensive line took at the hands of the Super Bowl champion Denver Broncos, but that is not an indicator of what New England's offensive line will look like in 2016. Left tackle Nate Solder has been a solid option throughout his career, finishing as a top-16 tackle in both 2012 and 2013. His return puts Sebastian Vollmer back at right tackle where he's one of the league's best. Both players were injured last season, with Vollmer struggling when asked to flip sides in Solder's absence. In the middle, the Patriots have a smorgasbord of options, with at least five potential starters with less than three years of experience as well as former first-round guard Jonathan Cooper who has fewer than 1,000 snaps to his name since 2013.
Chandler Jones' production to be replaced by committee approach
Front-seven: 11th
The Patriots' trading Chandler Jones to the Arizona Cardinals was the biggest non-Deflategate news of the offseason, and even though he's not an elite pass rusher, it leaves an every-down hole on the defensive line. Jabaal Sheard was the Patriots' best defensive linemen last year on a snap-for-snap basis while the usually dependable Rob Ninkovich took a step back last season. The Patriots will look to rejuvenate former St. Louis Rams DE Chris Long's career where a part-time role may get him back to his strong pass rushing ways, while 2015 fourth-round pick Trey Flowers is primed for a breakout season. On the interior, Terrance Knighton will add valuable snaps while second-year DT Malcom Brown did fine work against the run last season after a slow start.
At linebacker, Jamie Collins (fifth-best linebacker grade) and Dont'a Hightower (seventh-best linebacker grade) might be the league's best tandem, as Hightower's powerful style complements Collins' athleticism in both the run and blitz game. Free agent Shea McClellin brings yet another former first-round reclamation project to New England though he's yet to put together an extended period of strong play despite multiple position switches throughout his career.
Secondary has the pieces in place for Patriots' man-heavy scheme
Secondary: Third
One of the biggest stories of last offseason was the Patriots' decision to let CB Darrelle Revis walk in free agency, and while he certainly would have made the secondary even better last season, CB Malcolm Butler showed that he's capable of playing like a No. 1 corner. He paired with sure-tackling Logan Ryan (only eight missed tackles on 178 career attempts) as both players finished among the top 25 corners in the league. The Patriots do a fine job of playing to the strengths of their safeties as Devin McCourty is one of the better free safeties in the league and finished seventh overall among all safeties while Patrick Chung (sixth overall among safeties) does most of his work close to the line of scrimmage and covering tight ends. The slot cornerback position is up for grabs and second-round pick Cyrus Jones may be the favorite heading into camp.