Losing offensive coordinator Adam Gase was one of the only negatives of the Bears' offseason. How costly his departure proves is dependent on replacement Dowell Loggains. Hiring from within – Loggains was the Bears' quarterbacks coach last season – at least ensures continuity on the offensive side of the ball. Much depends on his ability to get the most out of highly inconsistent Jay Cutler. Meanwhile, a revamped front seven, combined with John Fox's defensive mind, should ensure an improved stop unit in 2016.
[More: Be sure to check out PFF's ranking of all 32 NFL QB situations, offensive lines, running back units, receiving corps, secondaries, and defensive front-sevens. Catch up on all the team previews here.]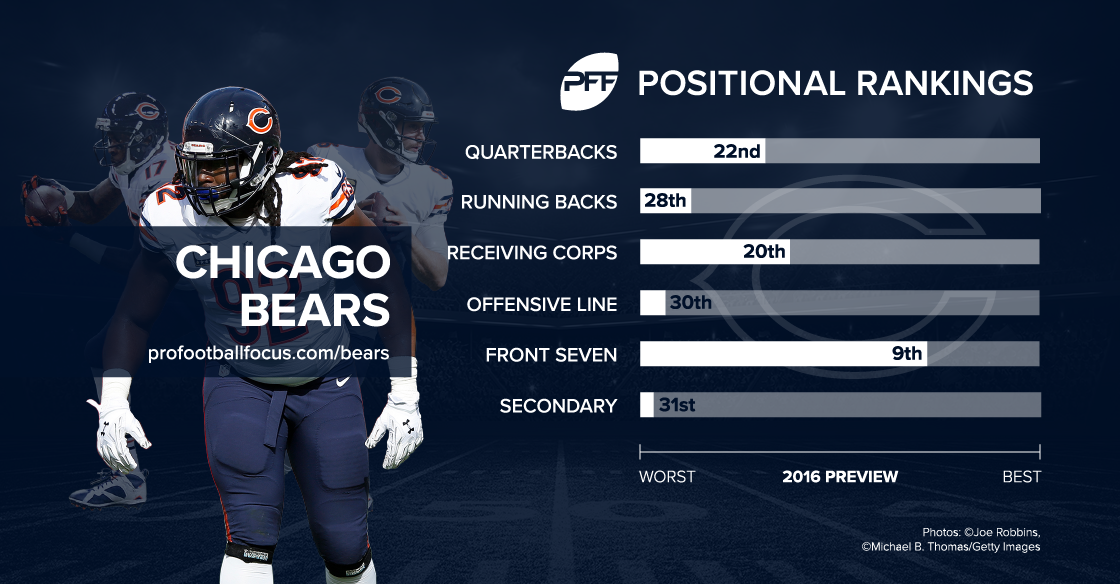 For Cutler, consistency is key
Quarterbacks: 22nd in PFF's season preview rankings
Cutler is not just inconsistent from season to season but from game to game. At his best, few quarterbacks can match his level. The problem is the frequent, debilitating mistakes. Still, Cutler has the potential to carry the offense when he is zoned in. He is one of the few quarterbacks who can make plays against the rush, finishing with a league-leading 12 touchdowns and an adjusted completion percentage of 69.5 against pressure in 2015. Loggains and Gase also succeeded in making Cutler slightly more patient with his decision-making. The test is whether that improvement can be sustained over the long-haul.
Lack of dynamism hampers backfield outlook
Running backs: 28th
The backfield is probably the most underwhelming of the Bears' units. Jeremy Langford lacks the quickness to consistently break tackles, finishing with just 1.8 yards after contact per attempt and seven broken tackles on 148 carries in 2015. Rookie Jordan Howard is also far from dynamic, but does possess the power to consistently generate positive yardage on the ground. The Bears also lack a legitimate threat on passing downs. Promoting Jacquizz Rodgers from a pure special teams role might be the best option.
Durability essential for pass-catchers
Receiving corps: 20th
Chicago was decimated by injuries to its receiving corps in 2015. Kevin White was unable to get on the field at all, while Alshon Jeffery appeared in only nine games. When healthy, Jeffery was one of the league's most productive receivers, bullying defensive backs with regularity. He ended the year as our third overall receiver (94.2 grade) despite missing so much time. The emergence of a legitimate threat opposite him would really benefit the Bears' offense. White certainly has the potential to fill that void. In the slot, impressive Western Michigan product Daniel Braverman (+27.3 receiving grade) will compete with Eddie Royal coming off a poor season.
Quality a concern up front
Offensive line: 30th
The Bears' guard play should improve next season, despite the release of productive veteran Matt Slauson. Kyle Long is an adequate tackle, but has the potential to be an elite guard. He ranked 14th overall at the position back in 2014. Chicago also got younger up front with the selection of Cody Whitehair in the second round of this year's draft. He was one of the better value picks of the day, falling to the back end of the second round. The rest of the unit, however, is less impressive. Charles Leno Jr. struggled early last season, but looked to be developing toward the end of the year. From Week 9 onward, he graded as our 22nd overall tackle, suggesting he can be at least competent in 2016. The outlook is less promising at center and right tackle. Hroniss Grasu recorded a 40.2 overall grade (32nd) in his rookie year, while unrestricted free agent Bobbie Massie from Arizona managed only a 47.0 mark (45th).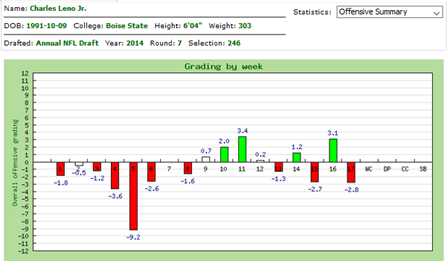 Optimism surrounds Bears' improved front
Front-seven: Ninth
Despite transitioning to a 3-4 front, Chicago's stop unit ranked only slightly worse than average last season. Since, John Fox and Ryan Pace have added defensive ends Akiem Hicks and Jonathan Bullard, along with linebackers Jerrell Freeman, Danny Trevathan and Leonard Floyd. Each of their additions in free agency (Hicks, Freeman and Trevathan) graded among the top 20 players at their respective positions. Combined with Bullard, easily our top-graded FBS run defender, the Bears' should be much more stout against ground games in particular. Floyd, meanwhile, should offer a legitimate pass-rush threat opposite the continually excellent Pernell McPhee. The former Raven ended the year as our 10th overall edge defender. The transition is nighing completion.
Secondary lacks depth and playmakers
Secondary: 31st
After investing so many resources in the front seven, the secondary was somewhat neglected. The Bears have some pieces in place — Kyle Fuller and Adrian Amos specifically — but have gaping holes at the other cornerback and safety spots. Fuller and Amos were both solid a year ago, recording overall grades of 77.3 and 78.5, respectively. On the perimeter, Tracy Porter looks cooked at this point in his career (graded 78th amongst corners a year ago). Rookies Deiondre' Hall, Kevin Peterson and Taveze Calhoun will all compete for playing time. Calhoun, an undrafted free agent, did not generate much buzz in the draft process, but was very solid in the SEC at Mississippi State last season. The first-year players may well get a chance to see the field if Porter continues to struggle. At the other safety spot, Chris Prosinski is pencilled in to start. Although far from terrible a year ago, he is more suited to a backup and special teams role.