To get you ready for the 2016 NFL season, the PFF analysis crew is assembling team "cheat sheets" to catch you up on the latest changes, grades, and rankings of note involving your NFL team.
The Tennessee Titans flashed plenty of potential last season under the leadership of rookie QB Marcus Mariota. This offseason, head coach Mike Mularkey has made it clear that he wants his team to establish itself as a pound-it-down-your-throat, smashmouth football team capable of winning games at the line of scrimmage. Do the Titans have what it takes to take a step forward in 2016?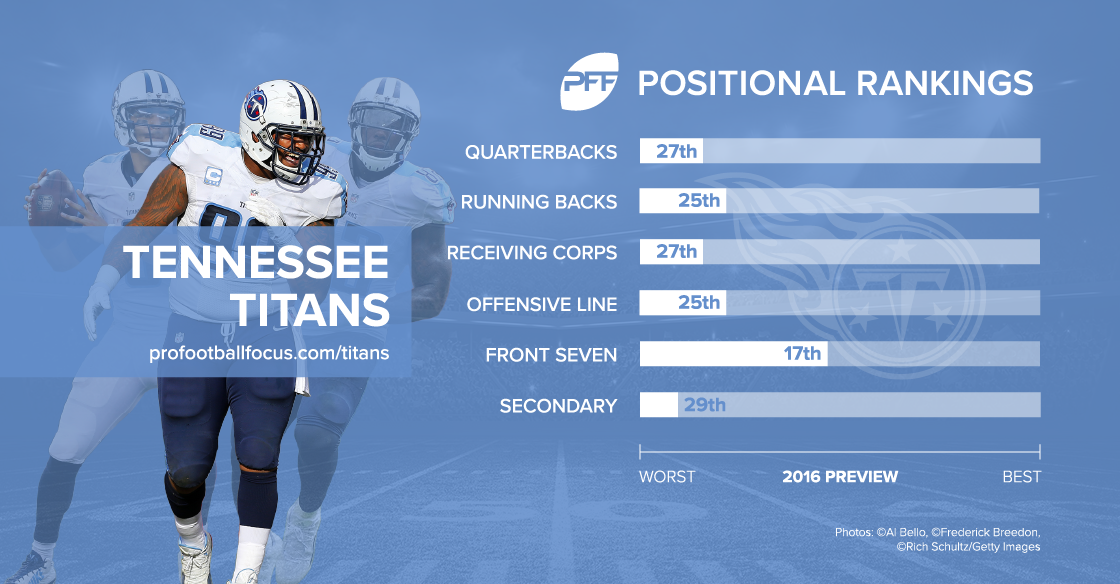 Three biggest things to know 
1. The front-seven is this team's best position group
Lead by Jurrell Casey, the front-seven is easily the most complete, established position group on the Titans. Casey was our fourth-highest-graded 3-4 defensive end last season (surrounded by J.J. Watt, Fletcher Cox, Mike Daniels and Muhammad Wilkerson in the top five) and he ranked seventh in 2014. Brian Orakpo is also still quite a productive pass-rusher (ranked 12th among 3-4 outside linebackers last year in pass-rush grade) and if Derrick Morgan can rebound to the level of play we saw from 2012-2014, this unit could be a sneaky above-average front-seven.
2. Effectiveness of the O-line is in question
Tennessee has struggled on the offensive line in recent years, but the unit flashed some signs of life last season, and the team continued to invest in the unit this offseason. Taylor Lewan was underwhelming out of the gates but last season he finished the season with the 14th-highest grade among tackles; Chance Warmack had a solid eight-week stretch to finish last season after a miserable start to the year; and Quinton Spain showed flashes in pass-protection. The Titans then spent their first-round pick on Jack Conklin and went out and acquired center Ben Jones from Houston. This unit has plenty of room for growth and will be one of the more interesting offensive lines to monitor this season.
3. Receiving corps outside of TE Delanie Walker lacks depth
Marcus Mariota and Delanie Walker clearly had a connection last season: Walker was our second-highest-graded tight end last season in terms of overall grade, and his 1,088 yards nearly doubled Dorial Green-Beckham's 549 (Green-Beckham, who they no longer have after a preseason trade), which ranked second on the team. After Walker though, the depth chart practically falls off of a cliff. Kendall Wright is still there — he showed plenty of ability just a few years ago (was our 16th-highest-graded receiver in 2013) but his play has declined in each of the last two seasons – and they went out and acquired Rishard Matthews and Andre Johnson. Matthews is a solid complementary receiver (34th-best overall grade in 2015) but he's not taking this group to the next level and it's tough to imagine much out of Andre Johnson after last year's failed stint with the Colts. Rookie Tajae Sharpe rounds out the group, having burst onto the scene in preseason.
Key arrivals and departures
Top three draft picks: OT Jack Conklin (Round 1, pick No. 8, Michigan State), DE Kevin Dodd (Round 2, pick No. 33, Clemson), DT Austin Johnson (Round 2, pick No. 43, Penn State)
Signed in free agency: WR Rishard Matthews (MIA), S Rashad Johnson (ARZ), C Ben Jones (HST), CB Brice McCain (MIA), LB Sean Spence (PIT), LB Nate Palmer (GB) 
Left via free agency: LB Zach Brown (BUF), CB Coty Sensabaugh (LA), S Michael Griffin (MIN)
Acquired by trade: RB DeMarco Murray (PHI) 
Departed via trade: WR Dorial Green-Beckham (PHI)
Rookie to watch
Derrick Henry, RB, Alabama (Round 2, pick No. 45)
It will be especially interesting to watch Derrick Henry, because not only did the Titans invest a second-round pick in him, they also went out and traded two draft picks to acquire RB DeMarco Murray from Philadelphia. Last season's Heisman winner is clearly talented as a runner (second-highest run grade among draft-eligible RBs last season; 76 missed tackles led the class) but he's a downfield runner in a similar mold to Murray, and he graded negatively last season both as a pass catcher and protector.
Highest-graded player of 2015
Delanie Walker, TE, 89.7 overall grade 
Walker trails only Rob Gronkowski in terms of overall grade among tight ends, and they're the only two tight ends to have a player grade north of 90.0. Marcus Mariota's friend in the middle is truly the complete package from the tight end position. In terms of grading, Walker ranks fifth in receiving (90.5) and fourth in run-blocking (83.0) and last season he was tied for third with Greg Olsen, with an average of 2.24 yards per route run.
Breakout player watch
Taylor Lewan, OT
Lewan has shown steady progress throughout his first two NFL seasons. As a rookie in 2014, Lewan turned in an above-average overall grade but in a limited snap count of 359. Last season, Lewan saw his playing time jump from 359 snaps to 920 snaps and his overall grade rose with it, he finished as our 14th-highest-graded tackle. Lewan had a rough four-game stretch last season from Weeks 5 through 8 — if he can avoid an extended slump like that in 2016 he could very well vault himself into the top-10 conversation.
Projected lineups
Nickel defense (2015 season grades shown)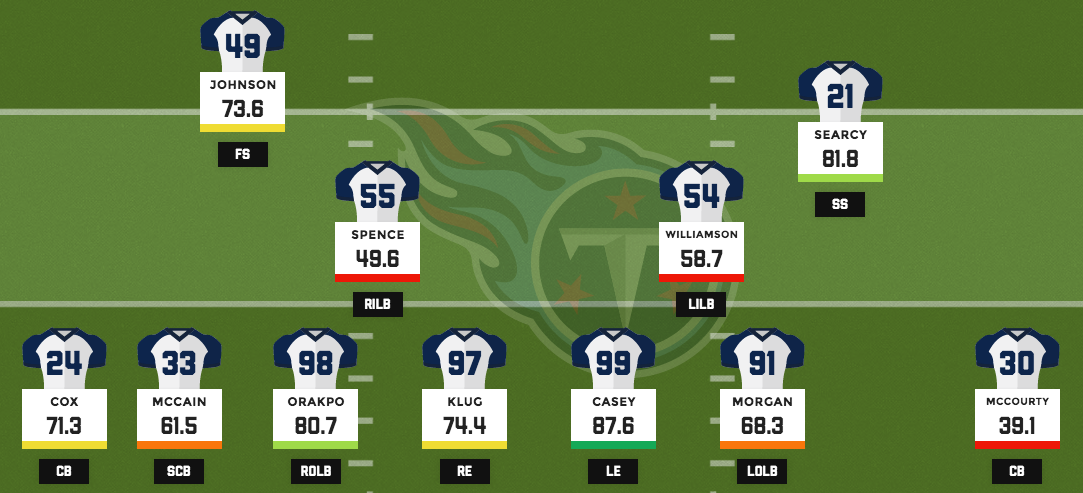 Offense with three receivers (2015 season grades shown)