To get you ready for the 2016 NFL season, the PFF analysis crew is assembling team "cheat sheets" to catch you up on the latest changes, grades, and rankings of note involving your NFL team.
The defending Super Bowl champions finally named their starting quarterback last week, with 2015 seventh-round pick Trevor Siemian (250th-overall pick, six spots ahead of Mr. Irrelevant) defeating Mark Sanchez for the honor of leading the Broncos' offense when they open the season against the Panthers next Thursday. As the Broncos proved last season, however, the talent level on this offense makes the Broncos an exception to the rule that a team can only go as far as their quarterback can take them. In spite of some high-profile departures on the defensive side of the ball, the Broncos are still well-placed to mount a strong defense of their AFC West and NFL crowns, even if they get pedestrian quarterback play for the second year in a row.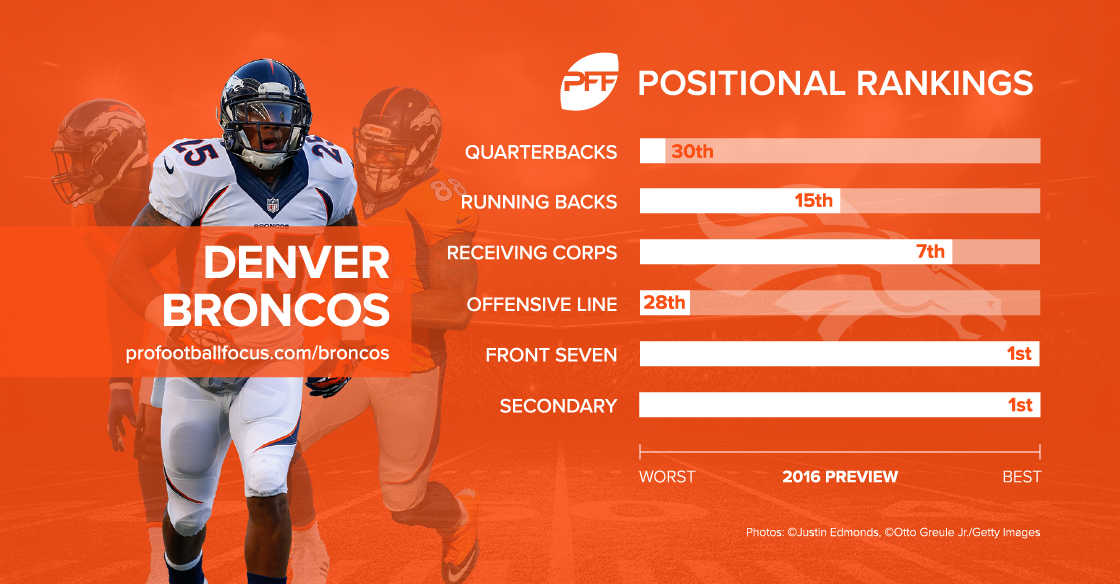 Three biggest things to know
1. QB Trevor Siemian to start, but the countdown to Paxton Lynch has started
While Trevor Siemian may have won the starting job to start the season, we should be under no illusions that the conclusion to Siemian versus Mark Sanchez merely starts the countdown clock to rookie Paxton Lynch's first start. Lynch has been the Broncos' highest-graded quarterback this preseason—admittedly in second-half action rather than against starters—and some of his throws against the 49ers harked back to some of his best throws for Memphis last season. This offers optimism that Lynch's game is quickly transitioning to the NFL, and if Siemian does not impress in his first few starts, the calls for Lynch to take the helm will grow louder by the week.
2. Stable secondary will ensure the defense overcomes the losses up front
The Broncos may have lost Danny Trevathan (Bears) and Malik Jackson (Jaguars) in the front-seven, but they return their secondary intact, and it is their secondary working in synergy with Von Miller and DeMarcus Ware that makes this defense tick. The ability of Aqib Talib, Chris Harris, Jr., and Bradley Roby to lock down entire receiving corps man to man—as they did against the Packers and so many others last season—offers the Broncos amazing defensive versatility. That, paired with a devastating pass-rush, is kryptonite to any pass-first offense in the NFL. Replacing Jackson and Trevathan will not be a trivial task, but the outstanding players—particularly in the secondary—will ensure that the task is not an insurmountable one.
3. Expect growing pains on the offensive line again
The Broncos' offensive line improved as the 2015 season went along, and with new starters at four of the five spots for 2016, expect growing pains to be the order of the day for the Denver O-line again this season. Free agents will feature at both tackle spots in the shape of Donald Stephenson and Russell Okung, while at guard, Michael Schofield appears to have claimed the starting RG spot in the last two preseason games, and will bracket center Matt Paradis, who is the only starter from the Super Bowl run to stay in the same spot. There is talent here, particularly in the run game meshing with the Broncos' zone-running attack, but expecting an entirely new unit to mesh and be solid straight away may be too optimistic.
Key arrivals and departures
Top three draft picks: QB Paxton Lynch (Round 1, pick No. 26 overall, Memphis), DE Adam Gotsis (Round 2, pick No. 63 overall, Georgia Tech), S Justin Simmons (Round 3, pick No. 98 overall, Boston College)
Signed in free agency: OT Donald Stephenson (Chiefs), OT Russell Okung (Seahawks), DE Jared Crick (Texans)
Left via free agency: LB Danny Trevathan (Bears), DE Malik Jackson (Jaguars), G Evan Mathis (Cardinals), QB Brock Osweiler (Texans)
Left via trade: OT Ryan Clady (Jets)
Cut: G Louis Vasquez, TE Owen Daniels, P Britton Colquitt
Rookie to watch
Adam Gotsis, DE, Georgia Tech (Round 2, pick No. 63 overall, Georgia Tech)
The Australian's senior season was cut short by injury at Georgia Tech, but prior to that, Gotsis had come up with some strong pass-rushing games against the likes of Notre Dame (one sack, one hit, two hurries), Clemson (two hit, one hurries), Pitt (two hits, two hurries), and Florida State (one sack, three hits, two hurries). It's performances like those that the Broncos will need from Gotsis to replace the production of the departed Malik Jackson, especially in light of preseason injuries to Derek Wolfe and Vance Walker. Gotsis may be more Antonio Smith than Malik Jackson in terms of his play against the run, but if he can provide the inside presence as a pass-rusher that the Broncos need to replace Jackson, then they will be more than happy with his rookie impact.
Highest-graded player of 2015
Von Miller, OLB, 93.2 overall grade
How do you replicate, or even build upon, a season that culminated in a Super Bowl-winning performance? If ever there was a player who you weren't afraid of suffering from a Super Bowl hangover, it's Von Miller. Aside from an injury-shortened 2013 season, Miller has hit double-digits in sacks and hits in each of his five seasons, and last season racked up a career-high 105 pressures as he powered the Broncos' Super Bowl run with 23 pressures (six sacks, one hit, 16 hurries) in Denver's three playoff victories. Miller is freshly-minted with his new six-year contract, but don't expect his on-field production to suddenly drop off.
Breakout player watch
Matt Paradis, C
One of the Broncos' best players at the end of the 2015 regular season was C Matt Paradis; his playoff performances were merely solid and didn't match his Week 15–17 run, though, where he was comfortably the highest-graded center in the league. Against the Chargers in Week 17, Paradis earned his highest single-game grade of his career as the Broncos averaged 9.6 yards per carry on runs in the A-gap (either side of Paradis) to help drag themselves over the line as top seed in the AFC. Paradis' mobility is an excellent fit for the Broncos' rushing attack, and if he can sustain his late-2015 form, he could emerge as one of the best centers in the league.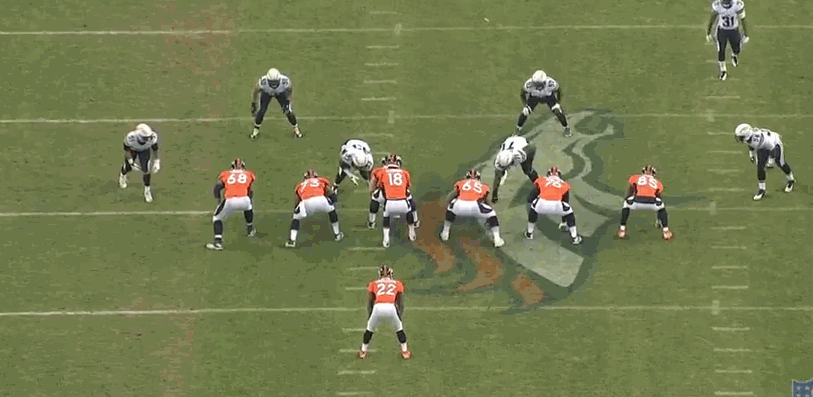 Projected lineups
Dime defense (2015 season grades shown)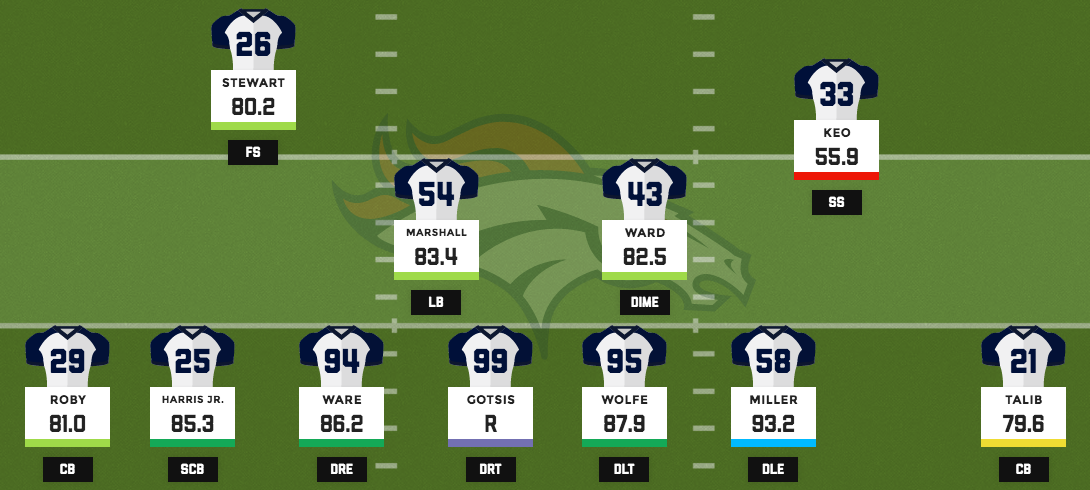 Offense with three receivers (2015 season grades shown)