It's been quite a roller-coaster of an offseason for the Buffalo Bills. Just a couple of months ago, upstate New York was buzzing with optimism after Rex Ryan declared that the Bills had won the offseason. Since then, a slew of injuries and suspensions have ravaged the team; on the plus side, though, the Bills locked up apparent franchise QB Tyrod Taylor to a long-term extension.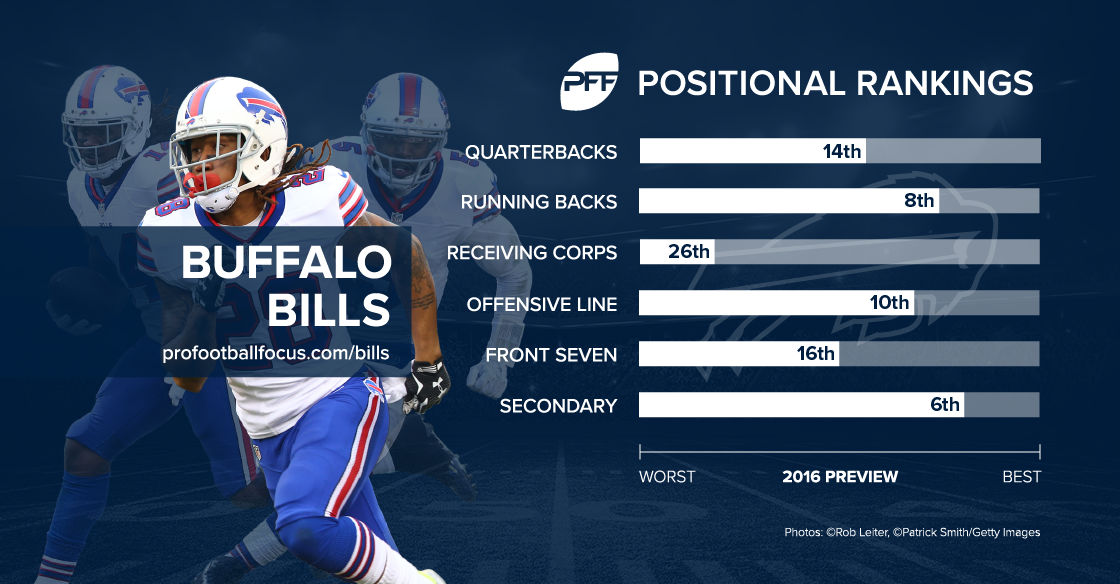 Three biggest things to know
1. The Bills' secondary is one of the best in football.
Both Ronald Darby and Stephon Gilmore earned top-10 overall grades among NFL CBs last season. Corey Graham was one of the better safeties in the league last year in run defense (7.6 run-stop percentage was ninth-best among safeties), and Buffalo gets Aaron Williams back after a 2015 season lost to injury.
2. The front-seven has taken a massive hit.
Buffalo knew early on that they'd be without first-round pick Shaq Lawson for a large chunk of the 2016 season. Even with that knowledge, PFF analysts still had this position grouped ranked as the 16th-best front-seven in football. Since that ranking, though, the Bills have also lost rookie Reggie Ragland for the season to injury, and they've potentially lost Marcell Dareus to a four-game suspension.
3. The O-line is a strength on the left, and a weakness on the right.
PFF analysts have Buffalo's offensive line ranked 10th in the league entering the 2016 season. The left side of the line is about as good as it gets, with LT Cordy Glenn, LG Richie Incognito, and C Eric Wood, all returning. On the right side of the line, it will be necessary for John Miller to show improvement from year one to year two, and Jordan Mills is unlikely to be a long-term solution for the RT position.
Key arrivals and departures
Top three draft picks: DE Shaq Lawson (Round 1, Pick No. 19 overall, Clemson), LB Reggie Ragland (Round 2, Pick No. 41, Alabama), DT Adolphus Washington (Round 3, Pick No. 80, Ohio State).
Signed in free agency: OL Fernando Velasco (Panthers), LB Zach Brown (Titans), RB Reggie Bush (49ers), CB Sterling Moore (Buccaneers), S Robert Blanton (Vikings), TE Jim Dray (Browns)
Left via free agency: DE Mario Williams (Dolphins), LB Nigel Bradham, CB Leodis McKelvin (Eagles), WR Chris Hogan (Patriots), RB Anthony Dixon (UFA), CB Ron Brooks (Eagles), S Bacarri Rambo (UFA)
Rookie to watch
Adolphus Washington, DT, Ohio State (Round 3, pick No. 80 overall, Ohio State)
Buffalo got tremendous value when they nabbed Washington with the 80th-overall pick, it would not have surprised us one bit had he gone much earlier in this spring's draft. Washington figures to see quite a bit of playing time right from the get-go, and if his first preseason game was any indication, he should be an immediate factor.
Highest-graded player of 2015
Richie Incognito, LG, 90.0 overall grade
Incognito enjoyed a renaissance season in Buffalo in 2015, finishing 11 games last season with above-average grades, and he only had two games with below-average marks. The veteran guard also didn't miss a single snap last season.
Breakout player watch
Sammy Watkins, WR
Watkins enjoyed a semi-breakout last season in 2015 as one of the most dominant WRs in football from Week 9. Over that stretch, Watkins, was our fourth-highest graded receiver in terms of overall grade, and was second—trailing only Antonio Brown—in receiving grade. If Watkins can maintain that level of performance for an entire season, he'll vault himself straight into the conversation for best receiver in the game.
Projected lineups
Base defense (2015 season grades shown)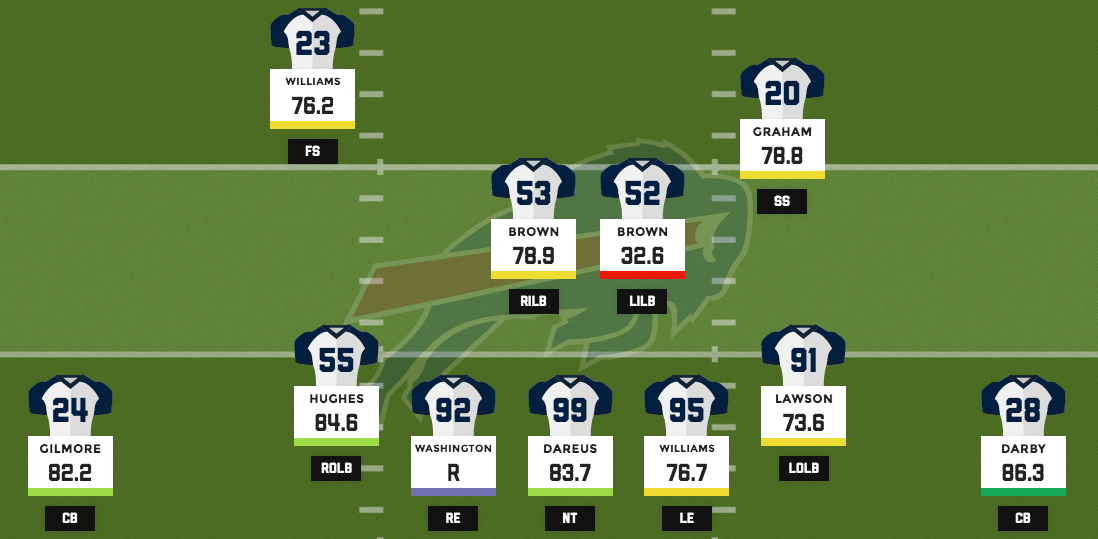 Offense with three WRs (2015 season grades shown)