New faces emerge in NFL locker rooms every offseason yet newly-signed free agents and rookies can underwhelm in their debut seasons with new teams. The select few that do hit the ground running can help a team on the cusp of significant success take that final stride.
Philadelphia Eagles' Chris Long, Alshon Jeffery, Nick Foles and rookie Corey Clement all made immediate impacts in their debut seasons in the City of Brotherly Love, all playing key roles in the team's Super Bowl-winning season. Long and Jeffery both recorded 81.0-plus overall grades in 2017, while Foles and Clement both exploded in Super Bowl LII.
Of course, not all of the NFL's most impactful newbies will take home the Lombardi this upcoming season, but many will have similar impacts to that of Jeffery, Foles, etc. in 2018. Here's a look at 20 NFL talents we expect to see an immediate impact from in their new uniforms this fall.
The product of consistent production and grading across four years, the former undrafted free agent guard signed a five-year, $66.5 million ($30 million guaranteed) with the Jacksonville Jaguars this offseason, setting league highs in total value, average per season and guarantees, per Spotrac. The 6-foot-6, 325-pound Ohio State product earned 82.0-plus overall grades in each of his four seasons with the Carolina Panthers and capped his consistent start with a career-high 88.8 overall grade in his contract year this past season.
Norwell will look to pick up right where he left off in Jacksonville, where he'll be paving the way for sophomore running back Leonard Fournette and keeping quarterback Blake Bortles upright. Both of the Jaguars' guards (A.J. Cann and Patrick Omameh) earned sub-55.0 overall grades in 2017, leading to a below average marks in pass protection and up-the-middle running. Norwell, who steps in for Omameh at left guard, will serve as an immediate upgrade.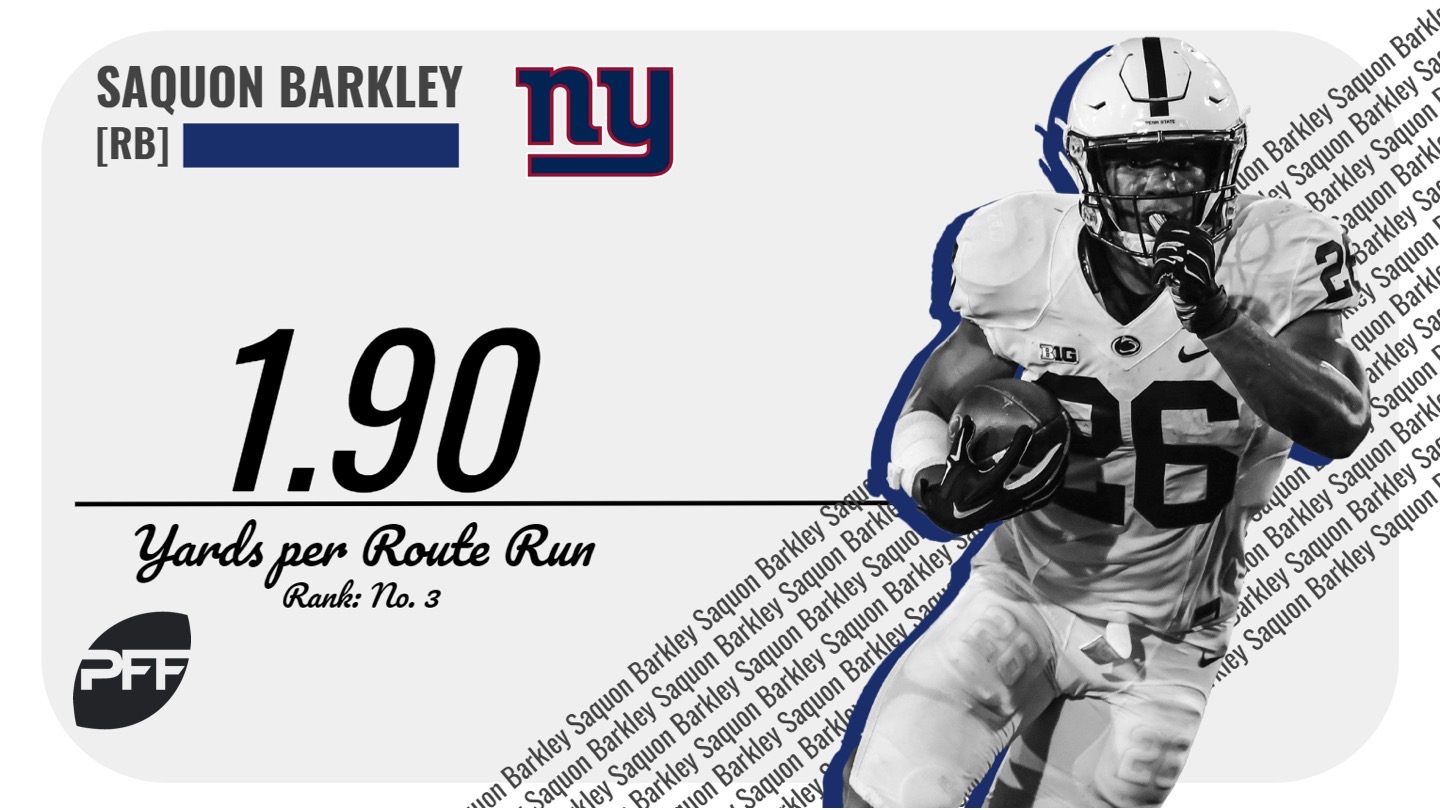 Few members of the 2018 draft class enter their rookie seasons with the same lofty expectations as former Penn State phenom Barkley. This year's No. 2 overall pick will be tasked with dragging a Giants rushing attack, formerly ranked 22nd in yards per carry, from dark depths of the league back to the limelight. Fortunately for Giants faithful, Barkley has start talent and ability to do just that.
Barkley was leaps and bounds ahead of his peers in the draft class, as he earned 86.0-plus overall grades in all three of his collegiate seasons and continued to trend in an upward direction through his final year on campus. In 2017, he broke 35 tackles and averaged 3.4 yards after contact per carry on his 200 carries en route a career-high 89.9 overall grade. He also was one of the most efficient pass-catching backs in football, as he led all FBS running backs with at least 40 targets in yards per route run (1.90).
Barkley is a home run waiting to happen with a profound ability to impact all areas of the game early in his career.
After an underwhelming rookie season (45.5 overall grade), Fuller enjoyed a breakout 2017 season as he improved his overall grade a whole 44.5 points to an elite 90.0 with the Washington Redskins. He allowed a passer rating of just 55.0 when covering the slot last season, ranking No. 1 among all cornerbacks with at least 25 targets in the slot.
Traded to the Kansas City Chiefs this offseason, Fuller will look to have a repeat performance with his new team this upcoming season as the Chiefs sent Marcus Peters to Los Angeles earlier this spring.
Another product of what is quickly becoming a factory line for NFL defensive backs at Ohio State, Ward joins Marshon Lattimore, Gareon Conley and Malik Hooker as the latest Buckeye defensive back to enter the league with lofty expectations. Selected by the Cleveland Browns with the fourth overall pick, Ward has all the tools necessary to potentially follow Lattimore's footsteps in Year 1 of his NFL career.
Easily one of the best cover corners in the 2018 class, Ward earned a 91.4 overall grade and 91.0 coverage grade in 2017. He also allowed 0.75 yards per coverage snap this past season, ranking 16th among qualifying FBS cornerbacks.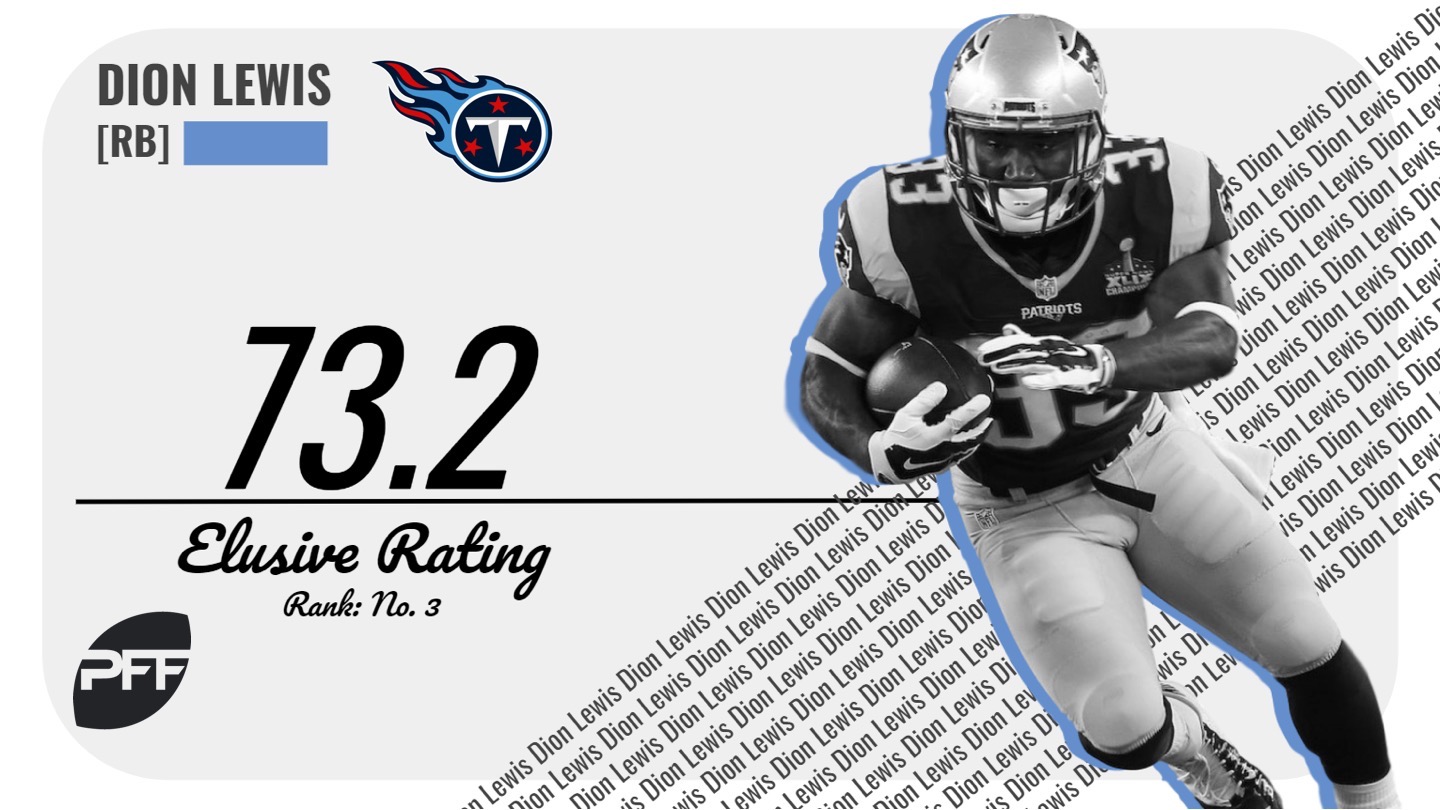 A two-headed monster is forming in Nashville, as Lewis signed with the Titans on a four-year, $19.8 million deal to join the 6-foot-3, 238-pound bruiser Derrick Henry in the backfield. Lewis, a six-year veteran whose career has been riddled with injuries, finally had a clean bill of health in 2017, and positive results ensued.
At 5-foot-8, 195 pounds, Lewis slashed defenses with his quickness and explosive burst. He led all qualifying running backs in elusive rating (73.2) and ranked third in yards after contact per attempt (3.17) while tying for fifth in forced missed tackles on the ground (42) in 2017.
Lightning and thunder, respectively, Lewis and Henry have all the tools necessary to become one of, if not the, top rushing attack in the NFL in 2018.
New Lions center Ragnow, a three-year starter for Arkansas, checks all the boxes for an elite interior offensive lineman. He is a road grader with high-end experience paving the way for a ground-and-pound attack, as evidenced by his 93.9 and 92.5 run-block grades in 2016 and 2017, respectively. He is no slouch in pass protection either, as he ranked second among qualifying FBS centers in pass-blocking efficiency (99.6) and earned a career-high 88.3 pass-block grade in 2017.
One of several marquee pieces added to the Rams' roster this offseason, eight-year veteran interior defensive lineman Suh is a proven game-wrecker with consistent strong production in this league. Now paired with the league's top player regardless of position in Aaron Donald, Suh has a seemingly limitless ceiling in 2018.
Fueling his 90.9 overall grade, Suh was exceptional both as a run defender and rushing the passer, as he ranked second in run-defense grade (92.4) and 12th in pass-rush grade (83.9) among qualifiers at his position in 2017. Trading South Beach for Hollywood, Suh will definitely see fewer double-teams across the board, setting the stage for a potential career year.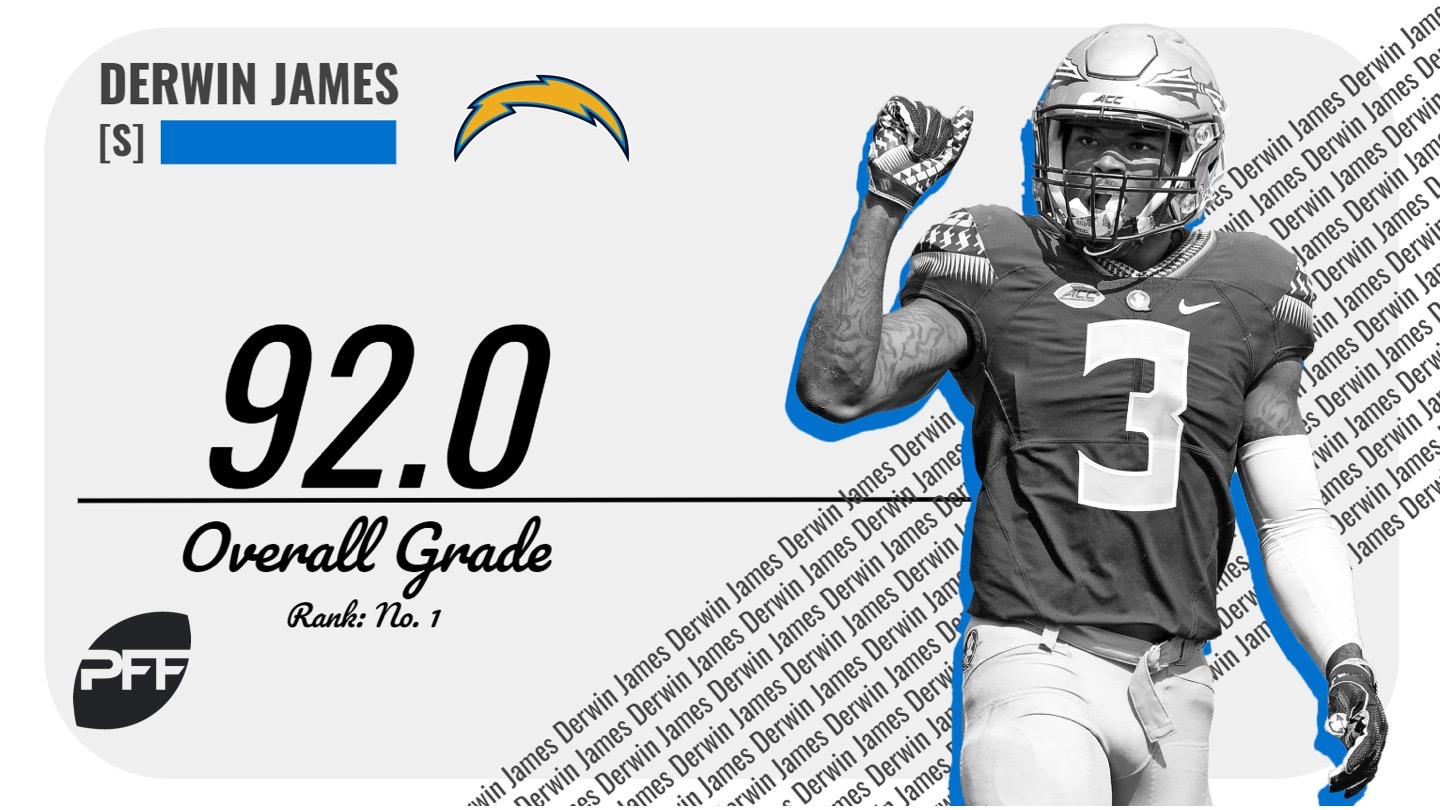 James, the former Florida State standout, is everything an NFL defensive coordinator can ask for in a safety, as he brings size (6-foot-2, 215 pounds), positional versatility and game-changing ability to the table. James is a Week 1 starter for the Los Angeles Chargers and could quite possibly be the steal of the draft having came off the board at No. 17 overall.
James was our highest-graded safety in the nation as a freshman (2015) and junior (2017) in his three-year stint with the Seminoles, and all signs are pointing to similar finishes for James in the NFL.
The departure of future Hall of Fame offensive tackle Andrew Whitworth has seen the Bengals struggle to find a suitable replacement and, in turn, suffering in pass protection. Glenn, who was traded to the Bengals this offseason, is expected to be the team's answer at left tackle.
Prior to his injury-riddled 2017 campaign, Glenn earned 82.0-plus overall grades with the Buffalo Bills for four consecutive years (2013-16), including a career-high 85.3 mark in 2015. He ranked 12th among qualifying offensive tackles in pass-blocking efficiency (96.3) in 2015.
A high-floor prospect, former Notre Dame guard Nelson is a sure-fire NFL starter that can almost single-handedly turn what has been an underwhelming Colts offensive line back in the right direction. The 6-foot-5, 300-pound Nelson ranked first in run-block success percentage (94.6) and sixth in pass-blocking efficiency (99.0) among qualifiers in 2017.
Joining veterans Ryan Kelly and Jack Mewhort, Nelson will play a key role in improving Indianapolis' rushing attack and keeping Andrew Luck (if healthy) off the turf.
The Honey Badger has fallen off a bit since his elite (92.8 overall grade) 2015 season with the Arizona Cardinals, but the five-year veteran still can add value to the Texans' defense as a play-making cornerback/safety hybrid. In 2017, Mathieu ranked fourth in pass-rush productivity (17.1) and 30th in yards allowed per coverage snap (0.93) among qualifying cornerbacks.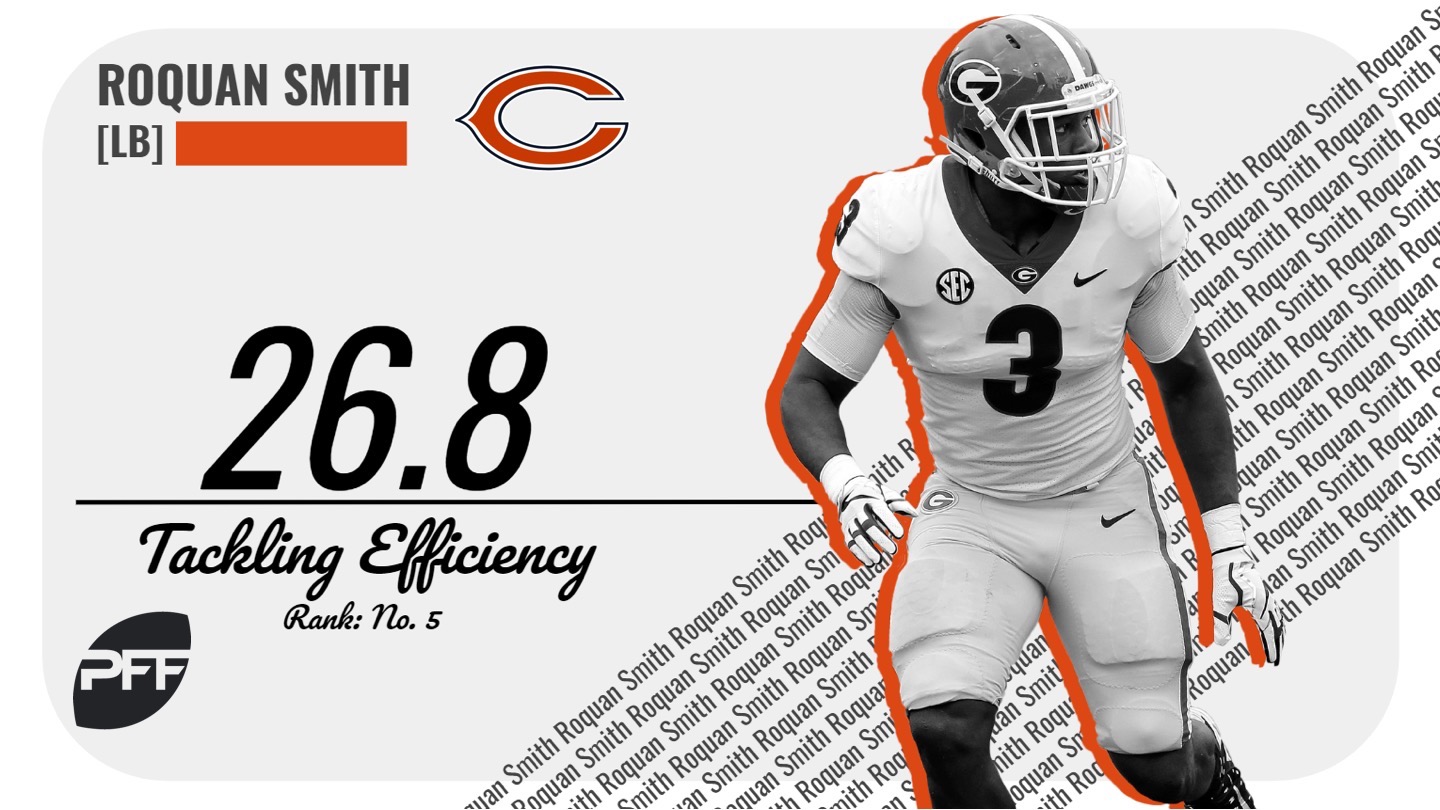 Smith, a standout in Athens with Georgia a year ago, possesses the elite athleticism, range and speed to excel as a three-down linebacker in today's pass-happy NFL. In addition to his 86.1 run-defense grade, Smith earned an elite 90.6 coverage grade in 2017.
Sitton, a 10-year veteran guard and former fourth-round pick, has flown under the radar as one of the league's premier talents. He has now earned an 85.0-plus overall grade for nine consecutive seasons, all while playing at least 700 offensive snaps in each of the nine seasons. Trading Chicago for Miami, Sitton's consistency and veteran presence should have an immediate positive effect on the Dolphins' locker room and offensive line as a whole.
Former Colorado State wide receiver Gallup was the most well-rounded wideout in this year's draft, and even saw stints as our No. 1 receiver in the class and he can excel in a multi-faceted role in the Dallas Cowboys' offense. Gallup averaged a whopping 3.19 yards per route run en route to a 92.0 overall grade in 2017.
With Dez Bryant, Jason Witten and Brice Butler all out of the building, Dallas' offense will likely lean on Gallup for a significant number of targets this upcoming season.
In addition to bolstering their backfield with a former New England player, Tennessee pulled the trigger on another former Patriot in four-year veteran cornerback Butler. Though his career in Foxborough had an unfavorable ending, Butler still put together streaks of outstanding play in New England. If he can return to his 2016 form (88.1 overall grade) in Nashville, Tennessee's defense will benefit significantly.
Hernandez has reportedly been as physical as he is talented in his limited experience practicing with his new team, a testament to his menacing approach to the game. Hernandez is a true mauler in pass protection and the run game, as evidenced by his 91.0 and 86.1 grades in each of the two facets, respectively, from a season ago.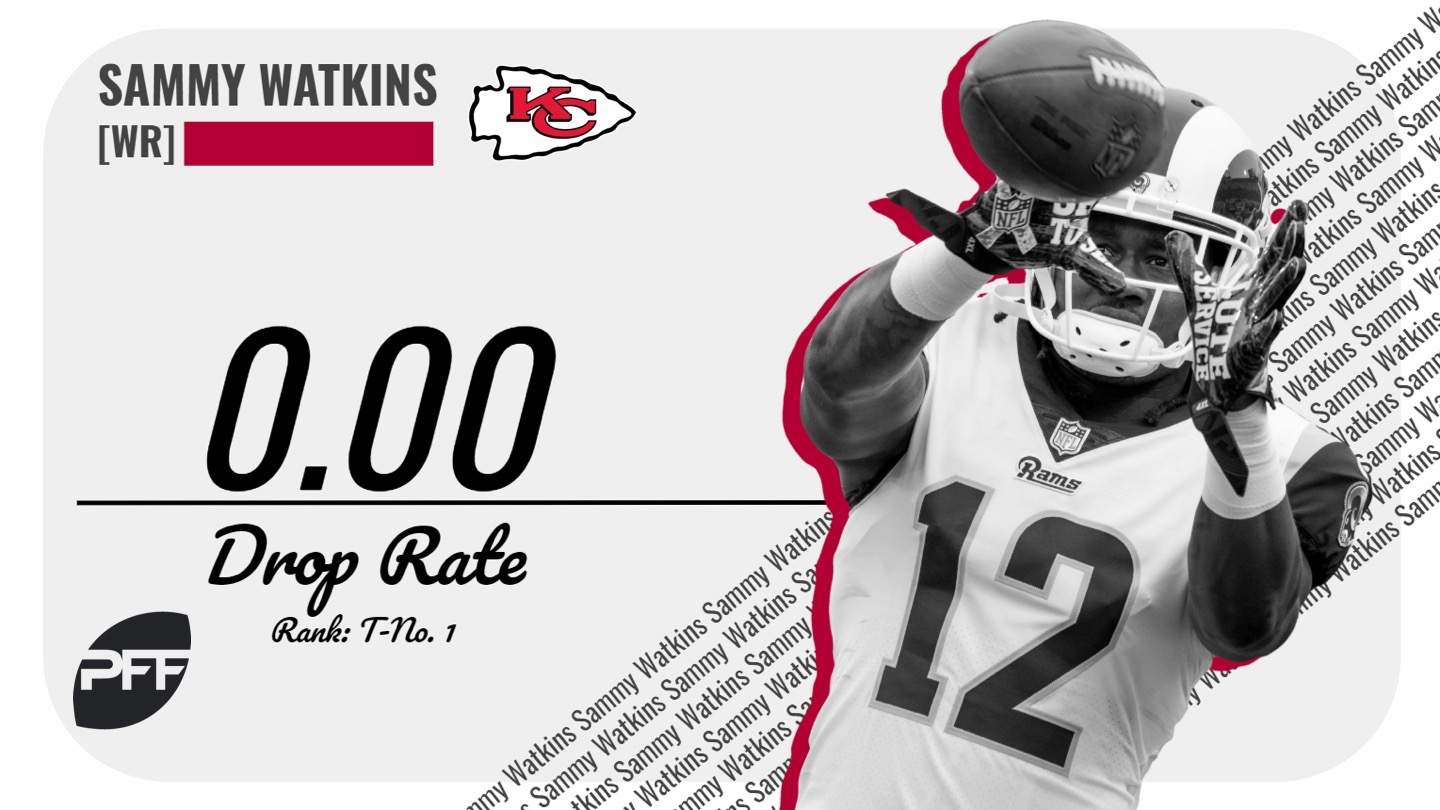 Watkins had a resurgence under Sean McVay's tutelage with the Rams in 2017, as the former No. 4 overall pick recorded a 122.0 passer rating when targeted and did not drop a single one of his 39 catchable targets this past season. Running slants and post routes, Watkins earned a 128.9 and 143.9 passer rating when targeted, respectively, both of which were at least 40.0 points above the league average.
Now paired with the Chiefs' strong-armed quarterback Patrick Mahomes, Watkins has enough speed to stretch the defense and take full advantage of Mahomes' cannon. The two should get off to a hot start in 2018.
Slotted as our No. 3 overall cornerback entering the 2018 NFL Draft, Fitzpatrick is a proven playmaker with great versatility in the secondary. The former Alabama product earned 81.0-plus overall grades in each of his three seasons in Tuscaloosa and allowed just a 66.5 passer rating when targeted in his career.
Fitzpatrick has the traits and skillset to play outside cornerback with the Miami Dolphins, but his limited experience at the position could force him into a hybrid slot cornerback/safety role early in his career, certainly a place he can thrive.
Though he is coming off a torn Achilles injury, the 30-year-old Sherman will look to return to his previously dominant form with the 49ers after being released from the Seattle Seahawks this offseason. Sherman earned a career-low 82.7 overall grade before going on the Injured Reserve nine games into the 2017 season. Although a career low, Sherman's season grade last year still saw him rank tied for 33rd in overall grade at the position while the highest-graded 49ers cornerback finished 41st (Ahkello Witherspoon).
*Overall grades are from the player's final collegiate season