In a numbers-driven league, touchdowns, interceptions and sacks are oft-used to objectively evaluate player performance. Of course, Pro Football Focus goes beyond the box score to provide advanced statistics and grades that more accurately convey how a player has performed in any given game, season, career, etc.
Here, we've looked past box-score totals and unearthed the hidden gems in the PFF databases that are key stats to know following Week 7 of the 2018-19 NFL season.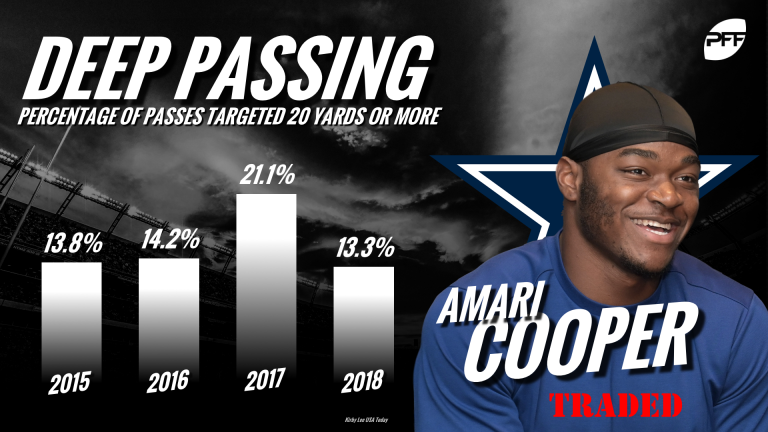 Cowboys can solve Amari Cooper's up-and-down play
New Dallas Cowboys wide receiver Amari Cooper has 19 games in his four-year, 52-game career where he has 30 or fewer receiving yards. Though drops have played a role, the root cause lies in his usage, as he averaged just 4.15 targets per game in the 19 poor performances as opposed to a 9.1 target average (more than double) in the other 33 games.
In Cooper's career-best season (2016), he was targeted on a career-high 24.6 percent of his routes run. Dallas would be smart to target their newest wideout moving forward.
Shaquill Griffin is limiting the deep ball
Through Week 7, Seattle Seahawks cornerback Shaquill Griffin leads all 40 cornerbacks with at least 15 targets of 10-plus air yards into their coverage in passer rating allowed (26.5) on such passes. Tennessee Titans' Adoree' Jackson lands at a close second, as well, at 27.5 through seven weeks.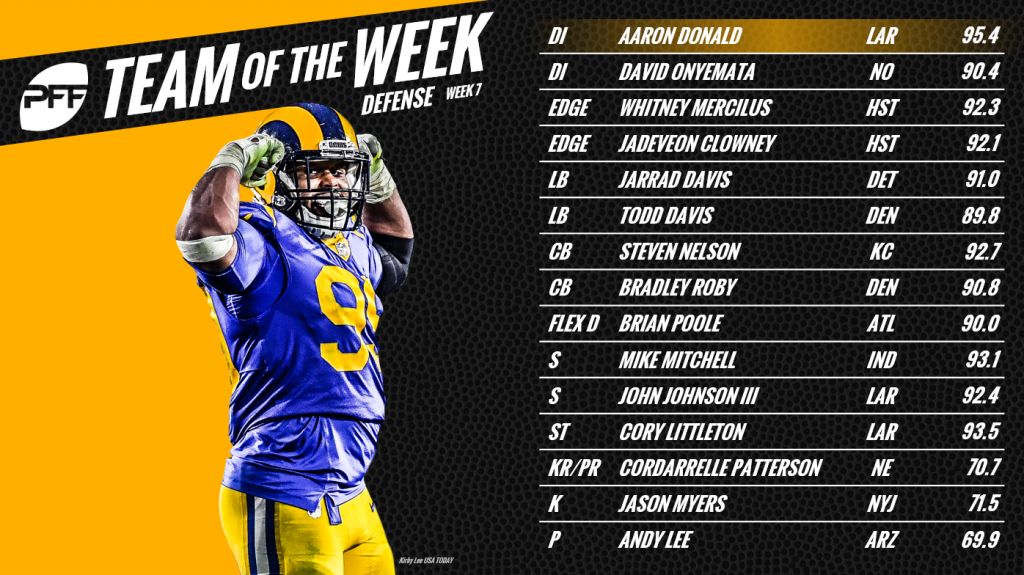 Aaron Donald did Aaron Donald things in Week 7
Nobody dominates on the interior like Aaron Donald, but his performance on Sunday was something special, even for him. From 30 pass-rush snaps, he racked up four sacks, a hit and a hurry, while dominating against the run. He finished the game with seven defensive stops and had one of the most incredible plays of the weekend, ripping the ball loose and recovering the fumble all in one motion.

Demario Davis finding new life in New Orleans
Among NFL linebackers with at least 15 solo tackles in the run game, New Orleans Saints' Demario Davis, a seven-year, 29-year-old veteran, ranks first in average depth of tackle in run defense (1.40).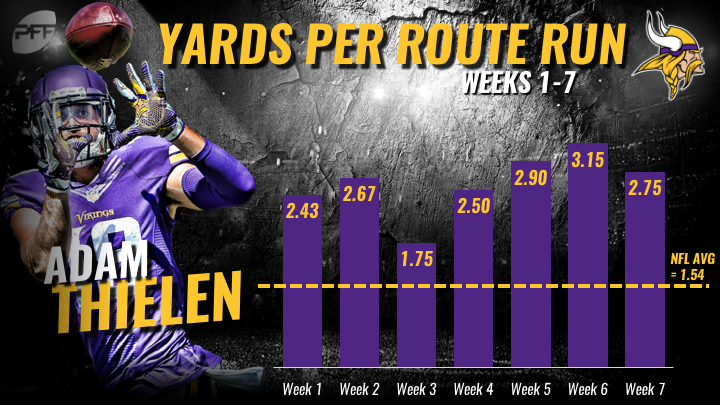 Thielen isn't just the best WR in Minnesota; he's the best in the NFL
Owning the league's top receiving grade (90.6) through Week 7, Minnesota Vikings wide receiver Adam Thielen has generated a passer rating of 118.7 and averaged 2.54 yards per route run, which is on pace to better his previous career-best of 2.33. He also leads the league in first down receptions (43) and ranks second in yards after the catch (243).
Minkah Fitzpatrick is getting the job done in the slot
Among the 15 rookie defenders with at least 10 targets in coverage this season, Miami Dolphins cornerback Minkah Fitzpatrick ranks first in passer rating allowed when targeted (50.4) and tied for fourth in forced incompletion percentage (14.8).
Don't press DeSean Jackson at the line of scrimmage
Tampa Bay Buccaneers wide receiver DeSean Jackson has caught 17 passes for 393 yards and three touchdowns across the 91 receiving snaps he's been pressed at the line of scrimmage. His 4.32 yards per route run against the press leads all qualifying receivers this season.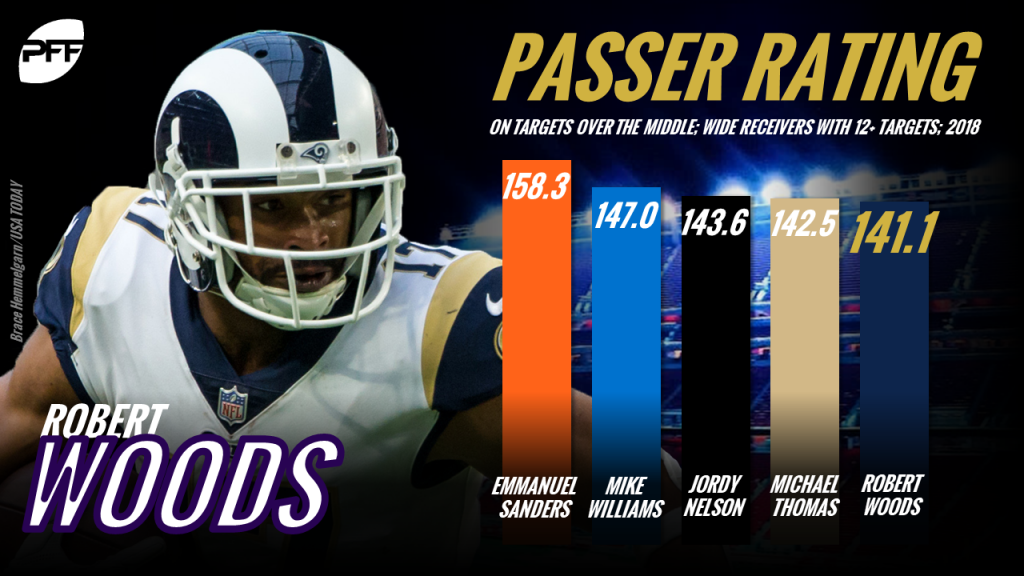 Robert Woods is fast, really fast
All three of Robert Woods' touchdowns this year have come when Jared Goff has thrown in 2.5 seconds or less, indicating Woods' ability to get open quickly and act as a safety option should his quarterback be under pressure. Cooper Kupp is the only other Los Angeles Rams wide receiver to have a touchdown when Goff throws in 2.5 seconds or less.
Dee Ford is playing like a man possessed on third down
Playing a part in what has been a career year for the former Auburn standout, Kansas City Chiefs' Dee Ford leads all defensive linemen in pressure percentage on third down (32.6) this season.

Calvin Ridley is the cream of the NFL's young crop of receivers
Slotted as PFF's No. 1 wide receiver entering the draft, Atlanta Falcons' Calvin Ridley is living up to the billing. He leads all rookie pass-catchers with 15-plus targets in passer rating when targeted (154.3) through Week 7.
Jarrad Davis is the king of the blitz
Through Week 7, Detroit Lions second-year linebacker Jarrad Davis leads all non-defensive linemen with at least 25 pass-rush snaps in pressure percentage (37.1), logging 13 pressures across his 35 pass-rush snaps.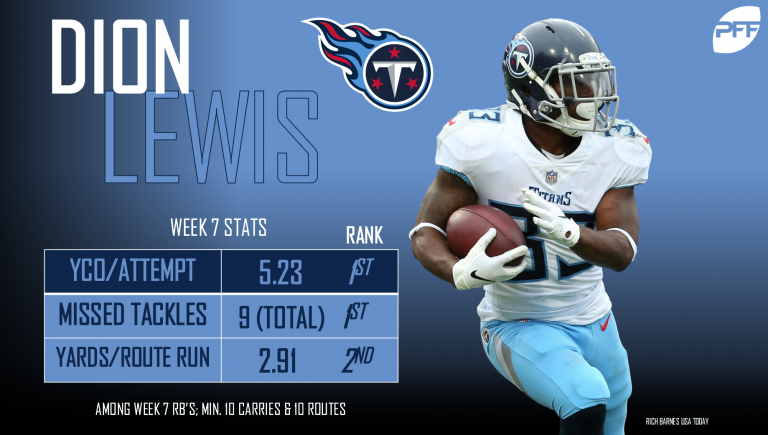 London brings out the best in Dion Lewis
Taking a trip across the pond in Week 7, Tennessee Titans' Dion Lewis forced nine missed tackles as a runner and a receiver and averaged 5.23 rushing yards after contact per attempt, which led all running backs with at least 10 attempts this past week. Lewis is proving why he, not Derrick Henry, deserves the lion's share of touches in the Titans' backfield.
Saints offensive tackles are dominant in pass protection
Saints' Ryan Ramczyk and Terron Armstead rank first and second in pass-blocking efficiency on throws made 2.6-plus seconds after the snap. The duo has allowed just three total pressures in said situations this season.

Matt Breida getting it done against loaded boxes
Running into defenses with eight-plus defenders in the box, Breida has totaled 195 rushing yards on 30 carries. His 6.5 yards per carry average in said situations leads all 31 NFL backs with at least 25 attempts against loaded boxes.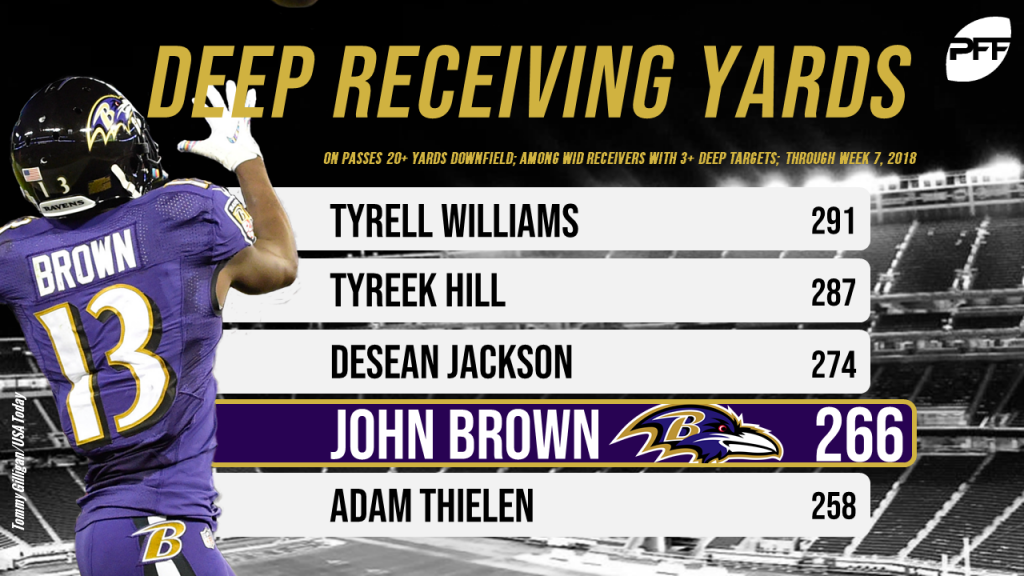 John Brown is the deep threat Joe Flacco needed
New Baltimore Ravens wide receiver John Brown is getting in done in his new digs with Joe Flacco heaving the deep ball his way early and often this season. Much of Brown's value comes downfield. Of his 49 targets, 42.9 percent are on throws of 20 or more yards downfield. He, Willie Snead IV and Michael Crabtree have combined for 64 first down catches. At this time last year, the Ravens receiving corps combined for just 28.