With training camps opening this month, the buzz ahead of the 2018 NFL season is growing and expected to be in full swing very soon. Fans will begin to get excited about the players who can help their teams take the next step in 2018, and there are already plenty of players around the NFL generating buzz ahead of the new season.
It's not just the fans though, we too have our eye on several players who either impressed in limited work last season, saw their seasons cut short by injury or impressed at the college level enough that we still think they can make an impact in the NFL.
With that, here are 10 players we want to see more of in 2018.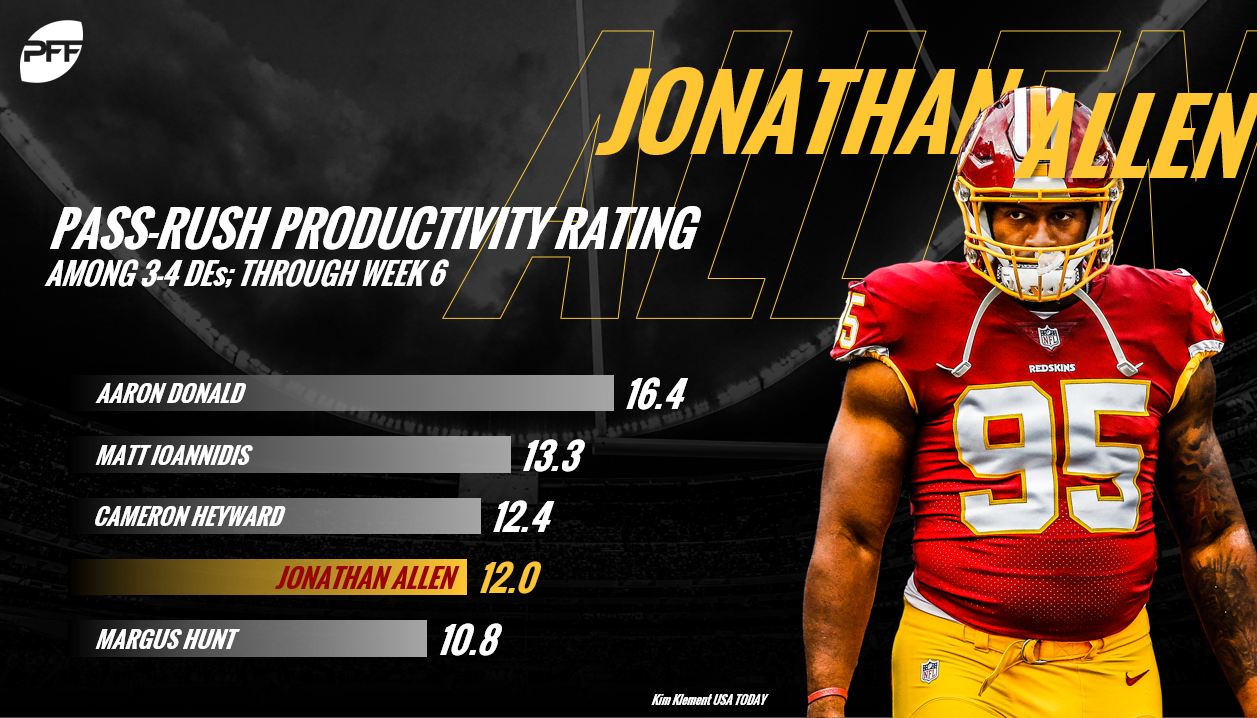 Allen was dominant at Alabama, racking up 13 sacks, 14 hits and 41 hurries in his final season for the Crimson Tide. His first season in Washington was cut short due to injury, but he flashed some of what we saw in Tuscaloosa, producing three sacks, three hits and 10 hurries on just 112 pass-rushing snaps as a rookie. A healthy Jonathan Allen in 2018 would give Washington a potential dominant interior defensive lineman to wreak havoc against their NFC East foes.
Taylor played just 245 snaps as a rookie in Tennessee, catching 18 passes for 240 yards with one touchdown and one drop including the playoffs. While that doesn't blow you away, we are still intrigued by the production he offered at Western Kentucky. Showcasing a safe pair of hands, Taylor dropped just 14 of the 243 catchable passes thrown his way between 2014 and 2016.
A second-round draft pick out of Ashland, the learning curve for Shaheen was always going to be steep, but he gave a good account of himself on 239 snaps, picking up 12 receptions from 14 targets including three touchdowns. Perhaps most impressive was that he generally looked solid as a run blocker, no small feat considering the step up he was facing.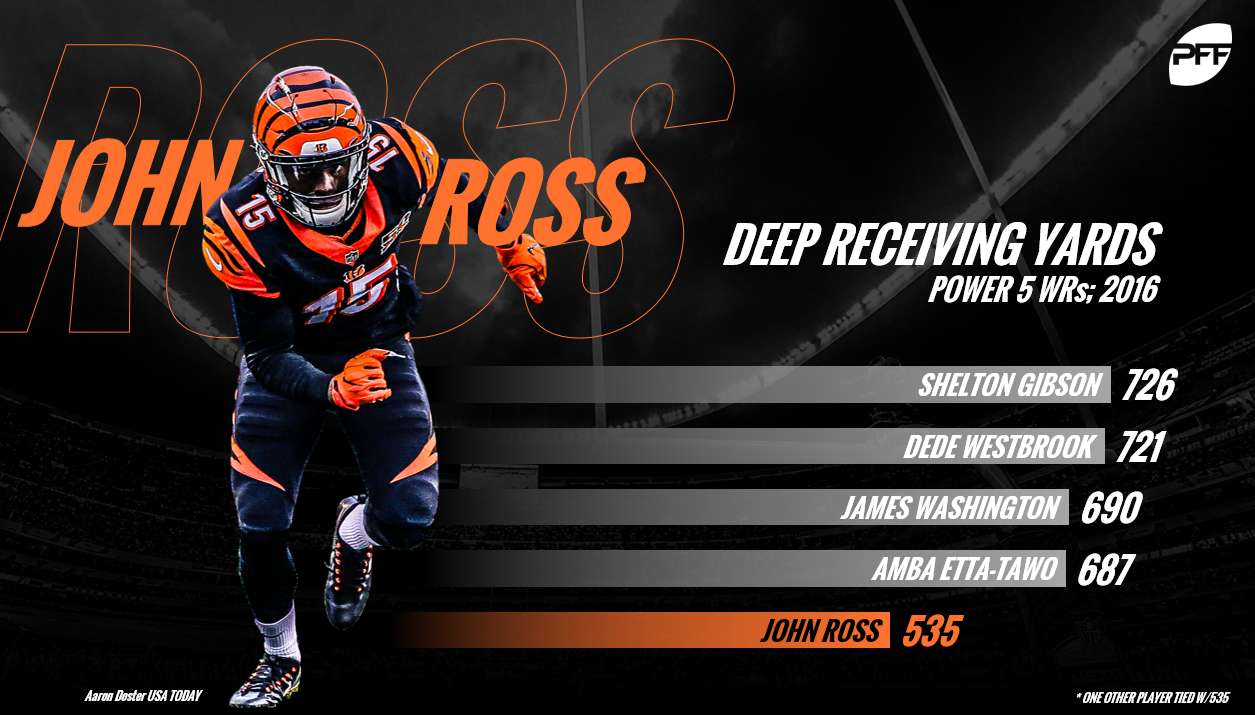 Ross' rookie season in Cincinnati is not what you want to see from a top 10 draft pick. Playing just 17 snaps, he finished the year with no receptions from two targets, and fumbled on his only carry. While that is concerning, injuries limited his opportunity to redeem himself but lest we forget, he was a dynamic deep threat at Washington in college. Ross racked up 535 yards from 13 receptions on 20-plus yards downfield, including seven touchdowns.
Drafted by the Jacksonville Jaguars in the fourth round of the 2016 NFL Draft, Day was cut midway through the 2017 season, with his release coming after an impressive performance against the Indianapolis Colts where he delivered as a pass-rusher and against the run. With 12 tackles resulting in a defensive stop, he will look to make an impact for the 49ers in 2018, with his biggest struggle perhaps coming with where he fits on the San Francisco defensive line. With Arik Armstead, DeForest Buckner and Soloman Thomas, the 49ers are stacked with players of a similar physical stature.
Jones was recently suspended for the first two games of the 2018 season, but we are still very much excited to see how he can perform for the Packers when he gets back on the field. From just 81 carries as a rookie out of UTEP, Jones forced 13 missed tackles and averaged 2.9 yards after contact per carry. When he returns early in the season, those numbers mean he has the potential to make a big impact for the Packers.
Potential is the key word when it comes to much of the Browns roster, and interior defensive lineman Caleb Brantley fits that description well. In just 217 snaps as a rookie, after being drafted in the sixth round out of Florida, Brantley was solid against the run. However, he has shown in the past to be more well rounded in college, racking up seven sacks, 16 hits and 41 hurries between 2014 and 2017 as a member of the Gators' defensive front.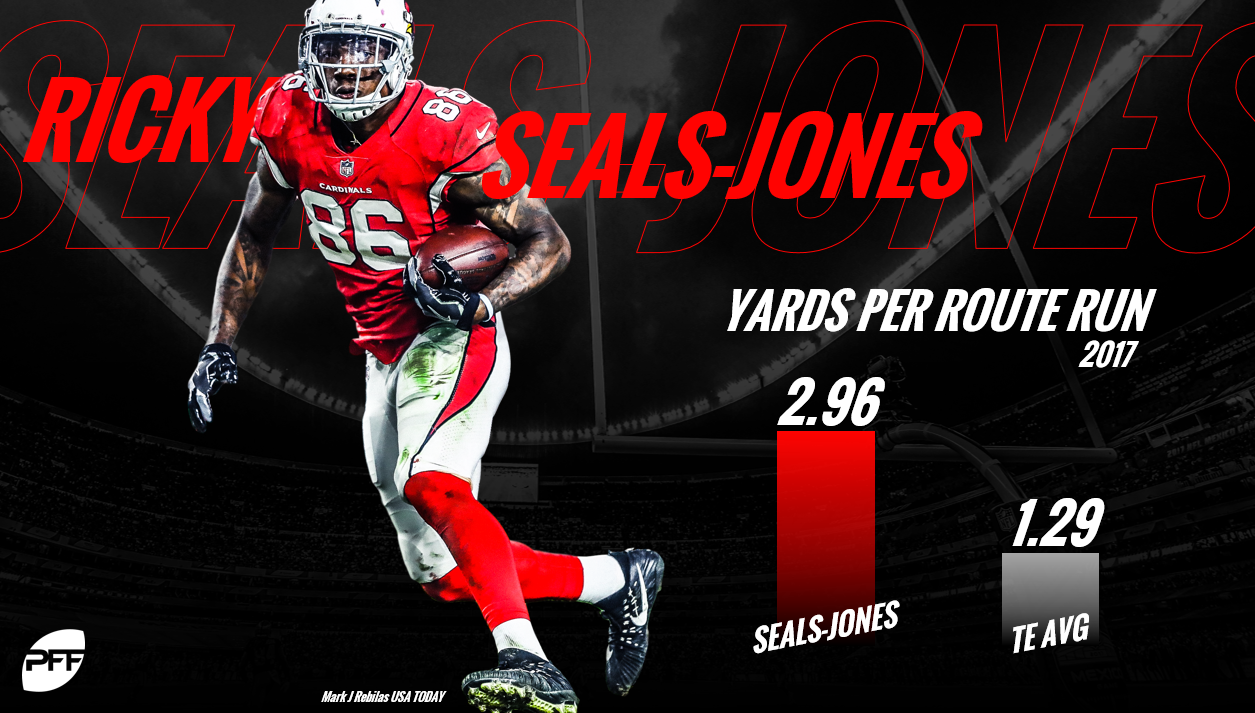 An undrafted free agent out of Texas A&M, Seals-Jones flashed with 201 yards on just 12 receptions from 28 targets in his rookie season. While he did have three drops, his 2.96 yards per route run was second in the NFL. Admittedly, that came on a limited snap count, but that level of production is enough to get our attention heading into 2018. With Sam Bradford and Josh Rosen looking for all the help they can get when it comes to playmakers alongside Larry Fitzgerald, Seals-Jones could make an even bigger impact in his second season in the league.
Another player who saw their rookie season cut short, Conley flashed in his first career game against the New York Jets in Week 2. Targeted five times between that game and the following week against the Redskins, Conley allowed four receptions for just 35 yards and had a pass breakup. His stingy coverage was just par for the course as he was one of the toughest cornerbacks to find success against in his final season in college, surrendering an NFL passer rating of just 14.0 on throws into his coverage in his final season at Ohio State.
A star at San Diego State between 2014 and 2017, Kazee allowed an NFL passer rating of just 46.5 over that span, surrendering 96 receptions for 1,256 yards and six touchdowns over the course of three seasons. Over the same period of time, he picked off 16 passes and broke up 10 more. Moving to safety in his first season in Atlanta, Kazee saw just one start and was solid both against the run and in coverage.