With the franchise tag deadline come and gone, we now take a look at those who will likely hit the free-agent market. Here are 10 players set to become free agents who can make immediate impacts next season.
1. Calais Campbell, DI, Arizona Cardinals
Calais Campbell has long been a mainstay of the Arizona front-seven. He plays run defense as well as any interior lineman. Campbell is coming off his best year as a pass-rusher, and has tallied at least 48 QB pressures in each of the past four years. One also knows what to expect from Campbell week-in and week-out as one of the most consistent defenders in the league. His last below-average performance in the regular season came way back in Week 4 of the 2013 season. Campbell has also shown that he can play in any defensive scheme and make an impact.
2. Andrew Whitworth, T, Cincinnati Bengals
It's tough to tell when age will start affecting a given player's performance, but at 35, Andrew Whitworth has showed no signs of slowing down. He has graded among the top-10 offensive tackles for eight-straight seasons, including in the top-five the past four years. He is one of the best pass-protecting players in the league, and allowed just 14 total QB pressures last season. Whitworth would without a doubt help many offenses in pass protection, and could be a difference-maker for a playoff contender.
3. Kevin Zeitler, G, Cincinnati Bengals
Zeitler is not often mentioned in discussions about the top offensive linemen in the league, but he's been among the top-graded guards for a few seasons now. He's earned above-average grades as a run blocker for Cincinnati's offensive line in each of his five season, and excels in zone schemes. He has improved in pass protection each of the last three seasons, and has allowed just one sack since the beginning of the 2015 season.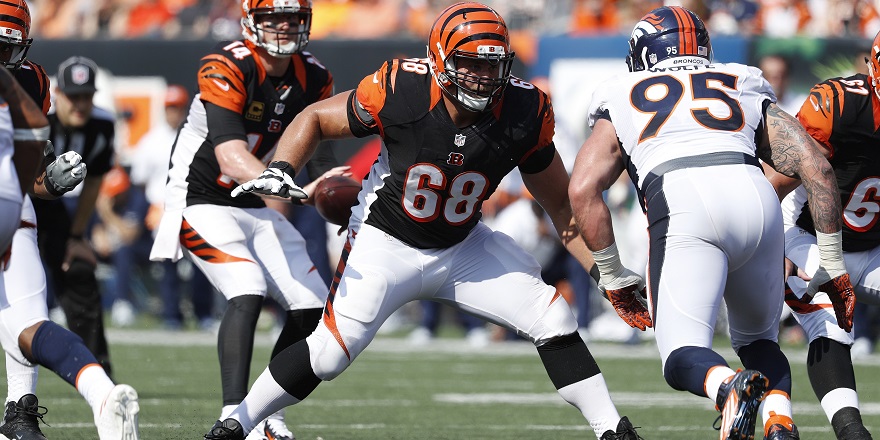 4. T.J. Lang, G, Green Bay Packers
What Lang lacks in consistency as a run blocker compared to Zeitler, he more than makes up for in pass protection. Lane was one of just three guards in the league to not allow a sack or hit last season, and was tied for third in pass-blocking efficiency. With some guards allowing an upwards of over 40 QB pressures last year, Lang, who allowed just 11 all year, could have a noticeable impact on a team's pass protection, and potentially quarterback play.
5. Dont'a Hightower, LB, New England Patriots
Few players have as big of an impact rushing the quarterback from the inside linebacker position as Don't'a Hightower. His 26 total QB pressures were second to only Seattle's Bobby Wagner, and tied for the lead in sacks, with five. He's also a stout run defender who has earned good grades in run defense in each of his five seasons. There are better players in coverage, but if he's not asked to do too much, Hightower can be effective in that role, too.
6. Alshon Jeffery, WR, Chicago Bears
This past season was a bit of a down year for Jeffery, as he was forced to play with three different quarterbacks during the year. One only has to go back to the 2015 season to see the kind of impact he can have on an offense. Despite playing only half the season due to injury, Jeffery racked up over 800 yards, a top-five receiving grade among wide receivers, and a third-ranked 2.87 yards per route run. The only question with Jeffery is if he can stay healthy enough to remain effective and to play an entire season.
7. A.J. Bouye, CB, Houston Texans
Bouye is coming off a breakout year for the Texans' defense, and his upside is No. 1 cornerback potential. Bouye's combined 16 interceptions and pass breakups were tied for fifth-most in the league. He allowed just 51.1 percent of passes thrown into his coverage to be completed for a passer rating of 59.5, both of which ranked in the top 10. He's only produced for one season, but his level of play has room for regression while continuing to be an upgrade for many teams.
8. Nick Perry, EDGE, Green Bay Packers
In his first four seasons, Perry was a good run defender and a slightly-above average pass-rusher in a limited role for the Packers' defense. In an expanded role this past season, Perry put together the type of season the Packers had envisioned when drafting him in the first round. He led all 3-4 outside linebackers in run-stop percentage, while posting career highs in sacks (12), hits (6), and total pressures (51). Prior to a hand injury late in the year that hindered his effectiveness, Perry was grading among the top-10 edge defenders in the league.
9. Brandon Williams, DI, Baltimore Ravens
Williams could be a good fit for a team that needs a nose tackle and wants to shore up its run defense. Over the past few years, Williams has been an excellent run-stopper. His performance in 2015 was on par with New York's Damon Harrison as one of the top-graded run defenders among interior defensive linemen. He took a step back this past year from the elite-tier, but still had a top-15 grade against the run. He's not going to be much of a pass-rusher, but he's more than capable of making an impact in the running game.
10. Terrelle Pryor, WR, Cleveland Browns
Pryor may still need some fine-tuning after transitioning to wide receiver from quarterback, but he showed last year that he is capable of being a productive receiver. Despite working with the revolving door that was Cleveland's quarterback position, Pryor reached the 1,000-yard mark. His play dipped toward the end of the season as he dealt with a torn ligament in his hand, and also coincided with Robert Griffin III's return to the starting lineup. If he lands somewhere with a steady quarterback spot and has a better opportunity to work on route and pass timing for a full year, he could be poised to have an even better season than in 2016.