Liverpool's chances of finishing in the Premier League's top four appeared to hold a very small glimmer of hope when they were beaten 3-0 by Wolves a month ago at Molineux. At that point in time, nobody could envisage that they would hand a resurgent Manchester United their worst defeat in the history between the two rival clubs.
Erik ten Hag called it a 'reality check', Jürgen Klopp hailed it as 'really top performance from the start', as Liverpool won 7-0 at Anfield. The victory was emphatic and moved Liverpool to three points off the Champions League qualifying spots with a game in hand to play.
It was a game which saw many records broken, the heaviest defeat suffered by Manchester United to Liverpool was 7-1 loss in 1895 when the club played under the name Newton Heath FC. Anfield also witnessed Mohammed Salah affirm his icon status as he passed Robbie Fowler's tally of 128 goals to become Liverpool's all-time leading Premier League scorer — doing so in 61 fewer games.
• David de Gea faced 8 shots on target, just two were deemed saveable.
• Manchester United were still able to create ten goal-scoring chances. In the seven matches this season in which they have recorded fewer, they have lost three with two of those defeats at the hands of Manchester City and Arsenal.
• In the four matches after losing to Wolves in February, Liverpool have created 45 goal-scoring chances. In the four previous games before that they had created 49.
From collecting one point from 12 after the Wolves game to now having won 13 from a possible 15, the sharp turnaround by Liverpool has come to be by the virtue of three of factors: Fabinho re-finding his form, Ibrahima Konaté re-gaining his fitness to partner Virgil van Dijk, and Cody Gakpo coming up to full speed.
Fabinho v Casemiro: The midfield battle
As the nucleus of Liverpool's midfield for the last five years, Fabinho has made significant contributions to Liverpool being able to put together any sense of consistent competition to Manchester City's yearly title push.
But often when Liverpool's midfield has been accused this season of being in 'decline', the performances of Fabinho have been raised as a key reason why the club finds itself off the pace in the Premier League title race.
In the usual No.6 role in Klopp's 4-3-3 system, his challenge grade is worse off than it was last season at 66.6 compared to 70.2. But against fellow Brazilian and the catalyst for change at United, Casemiro, Fabinho barely put a foot wrong as he ended the contest with a 73.7 challenge grade while Casemiro's grade of 60.8 is his third-worst of the season.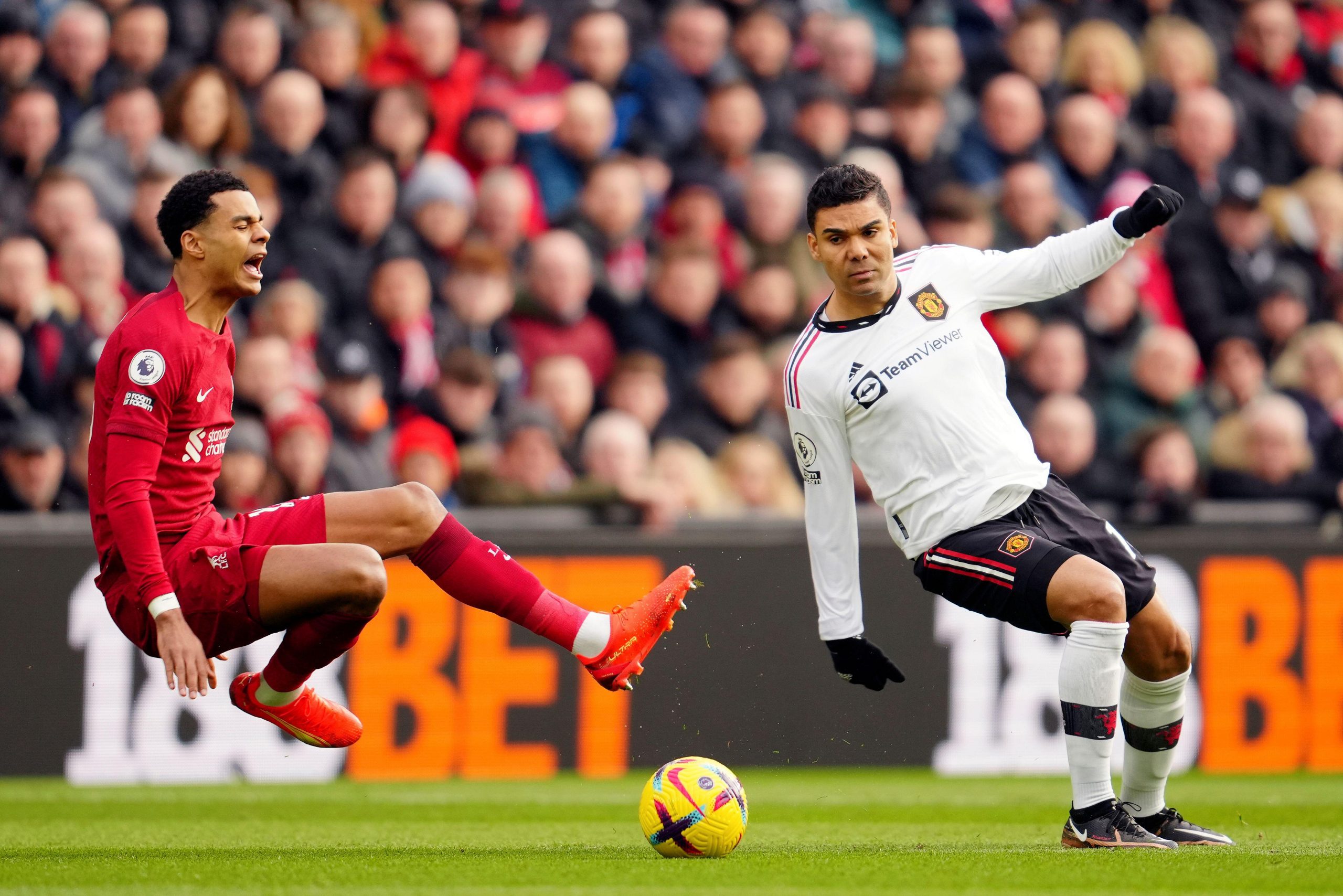 Fabinho was also on top in the competition between the two when it came to passing. Casemiro completed just 17 of his 31 pass attempts to finish with a grade of 58.2 and a true pass completion rate of 48.3% — the worst in the league among all central midfielders this past week.
For context, of the 35 other midfielders to make 30 or more pass attempts, Everton's Abdoulaye Doucouré had the second-worst true pass percentage of 70.1%.
Fabinho ranked 27th in this metric (77.5%) but with the quality of some of his accurate passes, he still graded out at 74.9 – his best passing grade in five games.
Ibrahima Konaté: The steady hand back to partner Van Dijk
If only Konaté could remain free from injury, his presence in defense may have helped to sway games in which Liverpool were left to take a share of the points or succumb to defeat.
Out of 26 Premier League games, Konaté has featured in just seven as a knee injury kept the Frenchman sidelined for August and September. And the win over Manchester United marked his second game back after missing all four of Liverpool's matches in February with a hamstring issue.
His grade against United was by no means close to his usual standard at 60.6, but in games in which he has started Konaté has generated challenge grades of 84.2, 91.5, 78.5, 87.8 and 72.2.
Cody Gakpo produces elite shooting ability
Two shots, two goals for Liverpool's January transfer signing from PSV Eindhoven. Gakpo kicked off the rout of Manchester United with a well-taken opening goal as Klopp found results in his front three comprised of the Dutchman summer signing Darwin Núñez and Mohammed Salah, with Luis Diaz injured and Roberto Firmino set to leave in June.
As a trio, Gakpo, Núñez and Salah wreaked havoc on the United defense, with each scoring two goals, but neither Núñez (73.8) nor Salah (78.0) had shots which graded as high in quality as Gakpo.
Gakpo's finishing earned him PFF's top shooting grade of any Premier League player, 91.2, and was just the fourth time this season a forward has registered a shooting grade over 90.0.