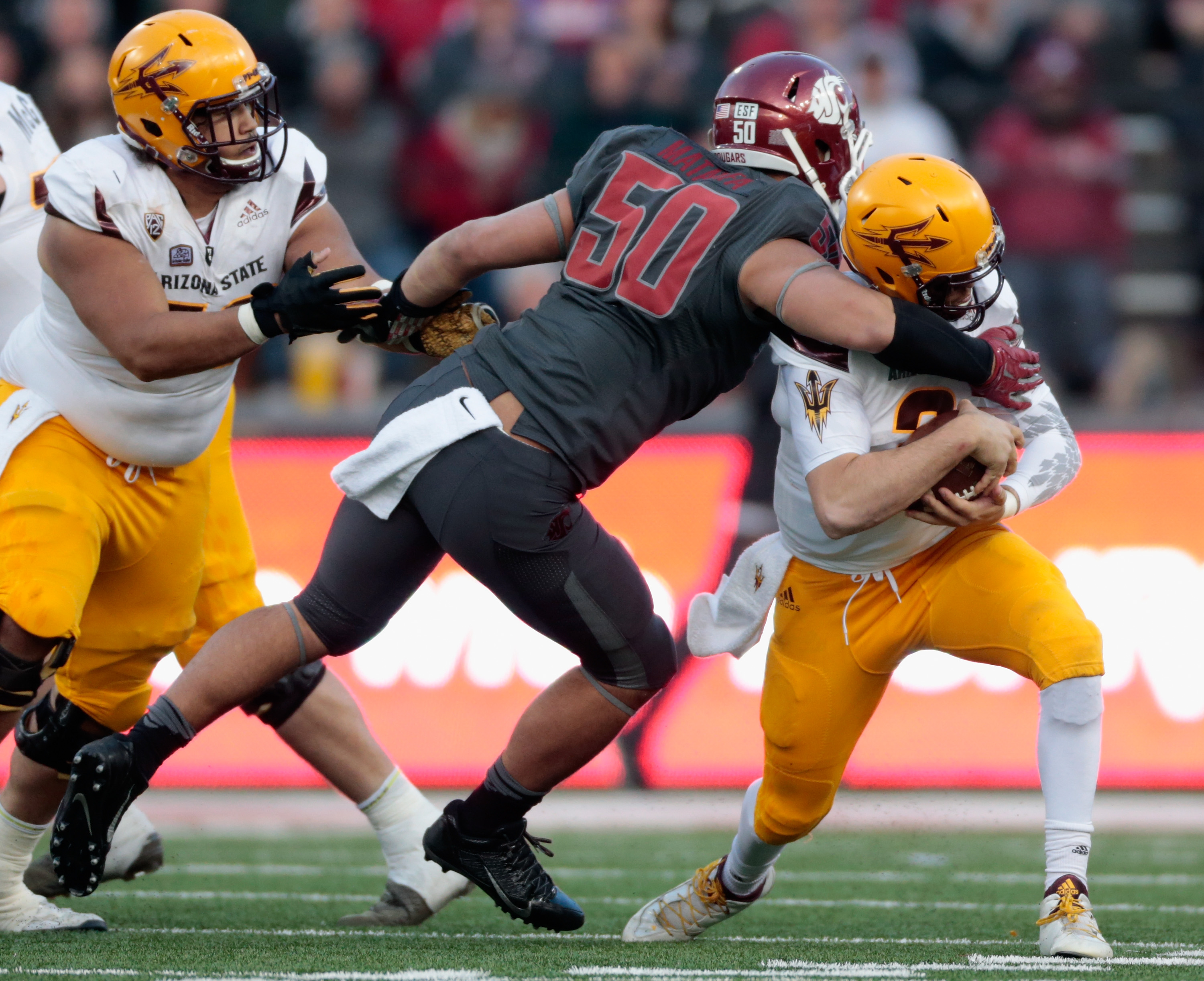 PULLMAN, WA - NOVEMBER 07: Mike Bercovici #2 of the Arizona State Sun Devils is sacked by Hercules Mata'afa #50 of the Washington State Cougars in the second half at Martin Stadium on November 7, 2015 in Pullman, Washington. Washington State defeated Arizona State 38-24. (Photo by William Mancebo/Getty Images)
Washington State defensive lineman Hercules Mata'afa has been a favorite of PFF analysts since the 2015 season. Mata'afa uses quickness and strong hands to rack up pass-rush production that a 255-pound interior defensive lineman shouldn't be able to generate. Mata'afa can get pressure rushing outside on the edges but Mata'afa can also provide a hard interior pass-rush. Entering the 2017 season, he was the best in the draft class at picking up pressure to his opponent's inside shoulder, generating a pressure once every 15.7 pass-rushes.

Mata'afa has lined up at defensive end on 44 snaps and defensive tackle for 165 snaps thus far this season. He's generated six sacks, two QB hits and 11 hurries on 121 pass-rush snaps and his pass-rush productivity rating of 13.2 ranks No. 1 among all FBS defensive tackles with at least 70 pass-rush snaps.

In 2016, Mata'afa played over 90 snaps at six different positions so NFL teams have had the opportunity to see him employed and productive in numerous ways which gives them a clear idea of what he can do for their defense.

Mata'afa has played numerous positions for the Cougars' defense but his interior pass-rush production has always been his best contribution. His pass-rush productivity of 11.8 ranked fourth among interior defensive linemen last season and entering this season he had a two-year total of 13 sacks, 24 QB hits and 56 hurries on 621 career pass-rushes. Mata'afa's lack of ideal size, along with his quickness and surprising pass-rush production are very reminiscent of Tedy Bruschi as an undersized nose tackle at University of Arizona. Mata'afa could likely be moved off the ball at the next level in the mold of Bruschi as well.