Below is the Week 6 edition of our PFF ELO rankings for college football. Like all ELO systems (including our version for the NFL), PFF ELO is an iterative system that updates each team's rating after each game based on two things: how well they played against their opponent and how well they were expected to play against their opponent. The PFF ELO rating system measures the former using our unique offensive, defensive and special teams grades, while the latter is determined by the PFF ELO ratings leading up to the game and where the game is played.
For example, a heavy favorite playing at home is expected to outplay the visitor, so a victory would result in only a small rise in their PFF ELO rating and a similarly-small decrease in the defeated team's, but if an upset were to happen, the visiting team would see their PFF ELO rating rise substantially, and the home team's see a similarly-sized drop.
In the matchup of top-10 teams, Ohio State scored two late touchdowns to come from behind and beat Penn State on the road. Clemson survived a scare at home in their toughest matchup of the regular season. The rest of the top-10 rolled with Notre Dame securing a convincing victory against 11th-ranked Stanford.
Sometimes in football, the best team does not win, and PFF ELO accounts for these oddities by using our grades. Hence there will be teams rated higher or lower in this system than their win-loss record would suggest. Since PFF began charting college football in 2014, the difference in PFF ELO values alone has been able to explain over three-fourths of the variance in the closing Vegas line. Check back to profootballfocus.com for weekly college spread picks using this model (which were 28-19-1 last week) and check out PFF Greenline for our NFL version of the product.
The PFF ELO College Power Rankings are brought to you by Eckrich, the Official Smoked Sausage of the College Football Playoff.
1.

It is difficult to provide fresh insights on a team that has looked as dominant as Alabama has through five games. Nick Saban has never been assisted by an offensive juggernaut close to what he currently has available. The combination of Tua Tagovailoa and Jalen Hurts have combined to generate 0.83 EPA per dropback. Through five games in 2017, they did not even generate half that which previously had been a highlight of the Saban era. Saban hasn't exactly turned into Mike Leach but this is still an enjoyable offense to watch. 
| | | | |
| --- | --- | --- | --- |
| Season | Pressure % | EPA Per Dropback | Passer Rating |
| 2018 | 40.09% | -0.40 | 56.39 |
| 2017 | 43.53% | -0.39 | 58.73 |
| 2016 | 44.18% | -0.43 | 69.66 |
| 2015 | 40.50% | -0.38 | 66.65 |
| 2014 | 31.79% | -0.10 | 79.66 |
2.

Georgia rolled through Tennessee at home and follows with a matchup against Vanderbilt before a showdown with LSU on the road. Justin Fields continues to receive sporadic snaps but a full-blown quarterback controversy would only occur if Jake Fromm falters in Death Valley. Through five games, Fromm has done everything asked of him, posting a passer rating of 144.5 when kept clean (fifth in FBS). Their passing defense from an EPA standpoint is the best in college football and against the run, they have missed a tackle on eight percent of attempts which is the lowest rate in the SEC.
3.

The Sooners flashed their offensive prowess at home against Baylor in a tune-up for the Red River Showdown against 21st-ranked Texas. Kyler Murray continues to turn in Heisman-worthy performances as he has a big-time throw on 8.5% of dropbacks. His decision-making has been superb as he has exactly one turnover-worthy throw in 2018. Tua Tagovailoa is the only quarterback to generate a higher EPA per dropback than Murray.
Oklahoma's pass defense continues to be the lingering question standing in the way of national title hopes. On early downs, the Sooners have allowed a successful pass on 48.3% of attempts. Weaker opponents have lingered in games longer than they should due to the Sooners poor coverage unit.
4.

Ohio State was lucky to get out of State College with a win this weekend. That said, with just Michigan State and Michigan remaining on its schedule, they may very well have dodged a bullet, and are as likely as anyone outside of Alabama to make it to the playoffs they were excluded from a season ago.  
To be significant contenders, though, they'll have to improve their protection of Dwayne Haskins, whose passer rating drops over 90.0 points when pressured. It showed up against the Nittany Lions, where he completed just one pass over 10 yards downfield and generated just 82 total passing yards when pressured. He's not likely to get 235 of his 270 passing yards after the catch against some of the country's elite teams, so that will be something to monitor moving forward.
5.

So Penn State lost to Ohio State, but in terms of our numbers, they came away the better team.  Trace McSorley easily outgraded Haskins the entire game, as the latter completed just one pass more than 10 yards in the air, while the former was 3-of-6 for 95 yards and a touchdown throwing deep, and added 189 yards on the ground.  
Missed tackles on their last defensive drive were certainly an issue, but the most egregious issue was their decision to run the ball on 4th & 5 from Ohio State's 43. Run plays on third or fourth down and five or more are more than 10 times less valuable than pass plays across all of college football the last two seasons. Moving forward, it will be interesting to see how the Nittany Lions bounce back from this loss and how they make this rating system look moving forward.
6.

We were higher on Notre Dame than most coming into the season, and they have not let us down. Ian Book was terrific in his second start for the Irish, generating a 135.2 passer rating when clean and over a third of an expected point every time he dropped back. They held Stanford to 83 yards rushing (Stanford!), and K.J. Costello was only able to attempt five passes further than 10 yards downfield all night.
They are great on every level of the defense. Jerry Tillery has been a force up front, with 22 total pressures so far while Te'Von Conley has chipped in 22 stops and graded very well in coverage, and defensive back Julian Love has broken up six passes of the 27 passes he's been targeted with this year. Virginia Tech is next on the docket for the Irish, but their remaining schedule consists mainly of disappointing teams, meaning their path to the College Football Playoff is one paved with possibility.
7.

Trevor Lawrence started and played 35 snaps before exiting with a neck strain. With the mid-week transfer of Kelly Bryant, Chase Brice was called in for relief. His performance was adequate as the Tigers rode Travis Etienne to a come from behind win over Syracuse. Etienne forced eight missed tackles and averaged 5.0 yards after contact per attempt. As a rushing unit, they have now generated a successful rushing attempt on 61.5% of early-down attempts (first in the ACC). Depending on how long Lawrence is out, the Tigers may have to ride their defense and rushing attack through their weak remaining schedule.
8.

After a bye week, the Badgers remain in our top 10 despite some fundamentals that likely need to change. For example, their EPA allowed on early downs in the passing game is fourth-worst in the Big Ten so far, while they are middle-of-the-pack in terms of passing offense, generated 0.0 expected points added each time they drop back to pass on early downs.  
If they get ahead, their 57.9 success rate, best in the conference, allows them to lean into leads better than anyone else. However, they'll need some improvement from their defense to combat the likely regression of Alex Hornibrook on the other side of the ball – whose brilliance on third down is going to be difficult to repeat moving forward.  
9.

Auburn eeked out a victory against Southern Mississippi amid lightning delays. In what is becoming a common theme, Auburn relied again on their excellent defense and rushing unit. Their coverage unit continues to boast the lowest percentage of successful pass attempts allowed on early downs in the FBS while their rushing defense has been just as dominant from an EPA standpoint. The Tigers defense can keep them in a game with anyone in the country but if they want to compete with Georgia and Alabama on the road, Jarrett Stidham has to provide above-average quarterback play. His 70.3 PFF passing grade through five games doesn't foreshadow this occurring against the tough SEC defenses.
10.

UCF leaps into the Top 10 as McKenzie Milton laid claim to his Heisman candidacy. Milton now has had over 30% of his passes receive a positive grade with twice as many big-time throws to turnover-worthy throws. He has been potent from a clean pocket posting a passer rating of 114.5 with nine touchdowns. Gabriel Davis has emerged as Milton's preferred target, scoring a touchdown in every game and posting a passer rating of 114.7 when targeted. As a coverage unit, UCF has performed well with less than 40% of early-down pass attempts being successful from an EPA standpoint.
11. LSU (-1)
12. Washington (+1)
13. Miami (Fl.) (+1)
14. Stanford (-2)
15. Iowa (+3)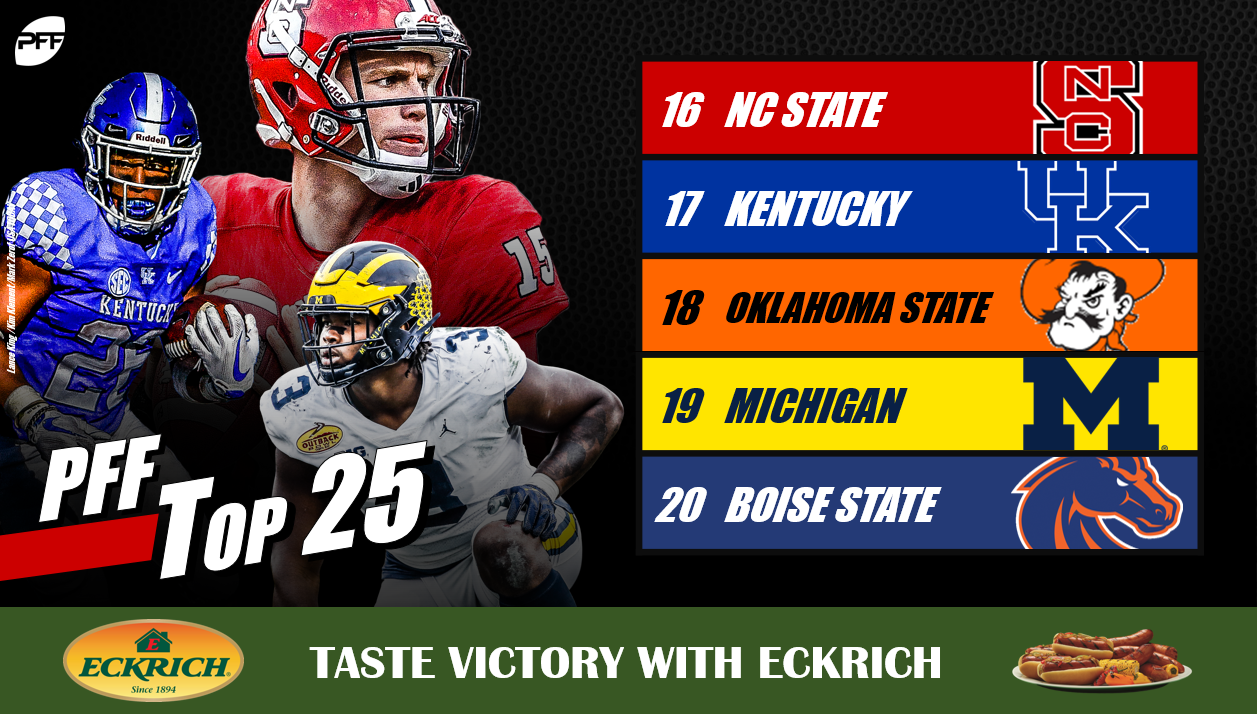 16. NC State (+3)
17. Kentucky (+6)
18. Oklahoma State (-3)
19. Michigan (-3)
20. Boise State (+6)
21. Texas (no change)
22. USF (-5)
23. Mississippi State (-1)
24. Virginia Tech (+5)
25. Washington State (+8)