PFF Senior Analysts Sam Monson and Steve Palazzolo reviewed the film, advanced stats and grades to offer their key takeaways from the Wild Card Round of the NFL season.
[Editor's Note: All ELITE subscribers have access to PFF's advanced statistics and grades referenced below. Subscribe today to gain access!]
Sam Monson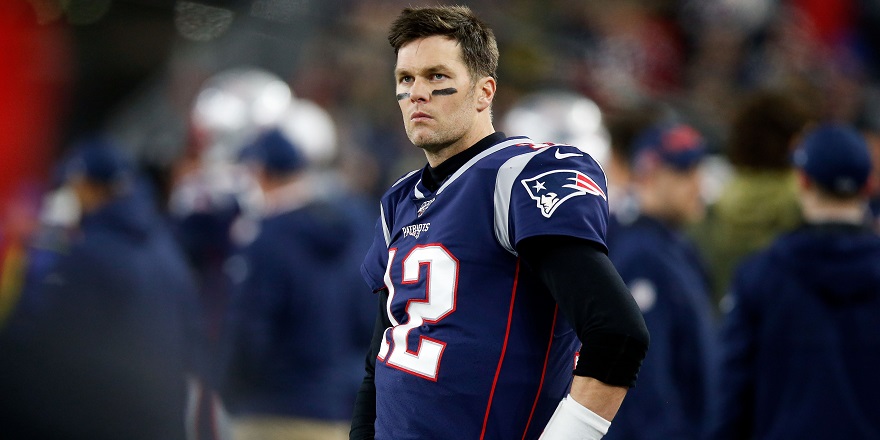 © Greg M Cooper-USA TODAY Sports
OK, so I was like five years early the first time, but I think we've finally reached the point where Brady can't reverse time again and once again become the best quarterback in the NFL. He made some big throws in that Wild Card game (the best of which largely fell incomplete) but couldn't come out of it with a better grade than 58.0. Brady started the season with three straight PFF grades of 80 or above, but then couldn't break that mark since. The problems with the Patriots offense were more widespread than just Brady, so the prospect of bringing him back if they had a plan to legitimately re-tool the skill position players is far from crazy, but this looks to be a natural separation point for the franchise and their greatest player ever. Brady, likely in no mood to sign off his NFL career on that kind of sour note, will want to play in 2020 for somebody, even if it's not New England, and if he can find a team with a good situation and supporting cast, he can still perform at a high level, but the days of Brady being the best in the NFL are probably gone (again).
The Bills are primed to regress in 2020
Josh Allen looks like what would happen if Ryan Fitzpatrick won a free wish from a genie and asked for all the physical tools he never had.

— Sam Monson (@PFF_Sam) January 5, 2020
Much like we predicted the decline of the Chicago Bears, the writing may be on the wall for the Buffalo Bills in largely the same manner unless they can improve in certain areas. Josh Allen may not be Mitchell Trubisky (though the similarities were there Saturday), but he makes too many poor plays for this offense to be as efficient as it should be. The defense has been excellent for three straight seasons, but as a collective they don't have an overabundance of talented players performing exceptionally well — it's heavily driven by scheme and coaching. Don't get me wrong, this is a talented team potentially on the rise, but so much rests on the development of Allen at quarterback, and if he can't make significant jumps forward, the Bills next step may be one back before they move forward again.
Defenses … matter?
This is a take going against all of the analytics data, and may be nothing more than a four-game sample size, but on Wild Card weekend at least, defense absolutely mattered. None of the eight teams playing this weekend was able to top 30 points, half of the teams couldn't even hit 20, and the hapless Eagles stripped of their quarterback through a concussion during the game managed just 9. Some of the better defensive minds in the NFL this weekend showed they can still craft a game plan to slow down NFL offenses in a one-off game, even if they can't do it 16 times in a row during the regular season. Next week will be interesting to see if they can repeat the trick, or if defense really is just a product of the offenses you face, and I'm merely a sucker to recency bias.
Taysom Hill is more than just a gimmick
At a time when the NFL is remembering players from bygone eras of football, where stars played offense, defense, and special teams, Hill makes a fitting point of focus. He accounted for 38% of the Saints' offensive yardage against the Vikings, and did that despite playing just 23 snaps on offense. When he caught his touchdown pass from Drew Brees, he then lined up to run down field and chase up the kickoff. He initially seemed like just an offensive gimmick, a way of unnerving a defense, but Hill has been productive, and he's grading better as time goes on. Hill can run the ball well, catch, block, play special teams, and pass well enough to be effective in limited use there, if not necessarily an every-down quarterback. With the Baltimore Ravens and Lamar Jackson showing the NFL that the quarterback position and offense generally can be done a little differently, I for one would love to see a bespoke Hill offense.
Steve Palazzolo
The Texans' secondary comes through against the Bills
The Houston secondary has been a roller coaster when it comes to weekly performances, and there has been a revolving door of players at both cornerback and safety this season. Saturday's version saw midseason acquisition Gareon Conley break up three passes on 15 targets, CB Bradley Roby break up two passes, and 38-year-old safety Mike Adams play 57 solid snaps, the longest he's been on the field since Week 15 of last season. The Texans even got a solid game out of solid cornerback Vernon Hargreaves, whose 67.6 overall grade is the second-best he's posted since arriving in Houston in Week 12. The Texans' secondary has gone through many iterations with varying degrees of success this season, but they held strong against the Bills and any extended playoff run will hinge about their success, paired of course with QB Deshaun Watson's playmaking.
Titans need the pass game if they're going to pull another upset
While running back Derrick Henry came out of Saturday night as the top story, the Tennessee Titans need their passing game if they're going to upset the Baltimore Ravens next week. Henry was fantastic, picking up 142 yards after contact and imposing his will on the Patriots defense, but the Titans offense still scored only 14 points, and their win had just as much to do with a goal-line stand and inefficient offense from New England. QB Ryan Tannehill didn't have to do much Saturday, but in order to keep up with the explosive Ravens' offense, the Titans need the regular-season Tannehill, who posted the best overall PFF grade in one of the most efficient seasons from a quarterback in recent years.
The Vikings paid Kirk Cousins to come through in crunch time, and he did it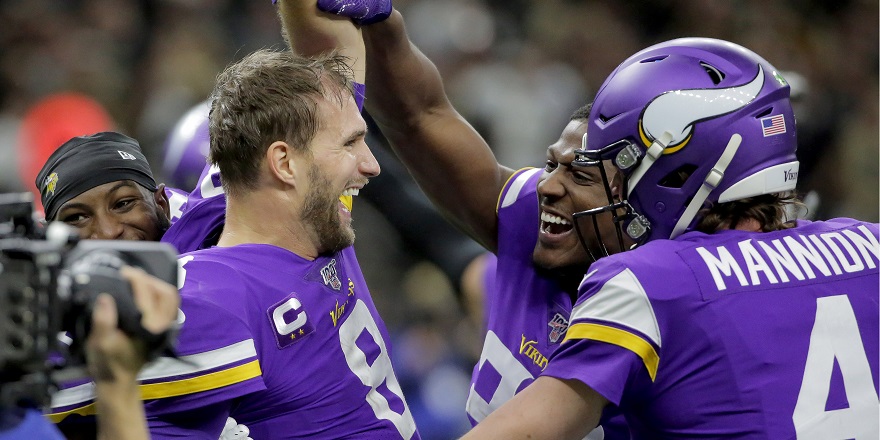 © Derick Hingle-USA TODAY Sports
This may be the story everyone discussing this week, but it's significant. The Vikings have gotten solid quarterback play during Mike Zimmer's time as head coach, from Teddy Bridgewater to Sam Bradford to a career year from Case Keenum. All three quarterbacks played the game manager role well in Minnesota, ranking in the top 10 in avoiding turnover-worthy throws in each season from 2014 to 2017. However, the Vikings signed Cousins in order to take the next step offensively, and this was a game where they needed Cousins' ability to attack down the field. He played a clean game overall, but his overtime 43-yarder to Adam Thielen put Minnesota in position to win the game, and it was the kind of play the Vikings envisioned when signing Cousins to his three-year contract in 2018.
Seattle's deep passing game gives them a chance
The Seahawks could get almost nothing going on the ground against the Eagles, but QB Russell Wilson and the deep passing game bailed them out. Whether it was Wilson hitting rookie WR D.K. Metcalf with the game-clinching bomb or the deep post off play action for a touchdown, Seattle's offense is capable of flipping the field with one play. Wilson went 4-for-7 for 141 yards and a passer rating of 141.4 on 20-plus yard throw against the Eagles, and the explosive offense must continue if Seattle is going to continue their playoff run. The Seahawks may be the most flawed remaining team in the NFC, but with Wilson, Metcalf, and Tyler Lockett, they have the big-play ability to put points on the board from anywhere on the field.