"Desperate" is one of the last adjectives that NFL teams want to be assigned entering an offseason. Desperation leads to sacrificing long-term progress for any minuscule chance of short-term gains and often results in a new regime starting from scratch after those big swings of the bat fail to connect.
The Carolina Panthers could be more desperate to make a big move than any other team in the NFL in the coming weeks.
---
Click here for more PFF tools:
Draft Guide & Big Board | Mock Draft Simulator
Dynasty Rankings & Projections | Free Agent Rankings | 2022 QB Annual
Player Grades
---
Sources told The Athletic's Joseph Person toward the end of last season that owner David Tepper was unhappy and embarrassed after giving head coach Matt Rhule a seven-year, $62 million deal prior to the 2020 season. Another Panthers source characterized the team's regression in Rhule's second season as a huge mess.
Carolina's 3-0 start to the 2021 season pointed to a team that could potentially be competitive in the NFC sooner than anticipated, but that hope quickly dissipated.
Sam Darnold — who the Panthers traded second-, fourth- and sixth-round picks for last offseason — ended the year with the lowest PFF grade of his career (55.2) despite a surprisingly strong start to the season. The Panthers' defense dropped from third in expected points allowed (EPA) per play during the first half of the season to 20th down the stretch. By Week 18, Carolina looked like the team that entered the season with the league's 27th-best roster.
The obstacle that the Panthers face this offseason is that there are big roster changes needed for Carolina to take a significant step forward in 2022, and Rhule needs the team to take that step forward to get off the hot seat. The Panthers aren't well-positioned to make those improvements with the resources at their disposal this offseason, though.
The Panthers were bad in 2021 and have few avenues to improve the roster
Earlier this month, PFF's Arjun Menon combined effective cap space, proratable money and draft capital to create an offseason resources score for all 32 NFL teams with the help of our friends at Over the Cap. That score, plotted against their 2021 win percentage, doesn't paint a pretty picture for the good people of Charlotte.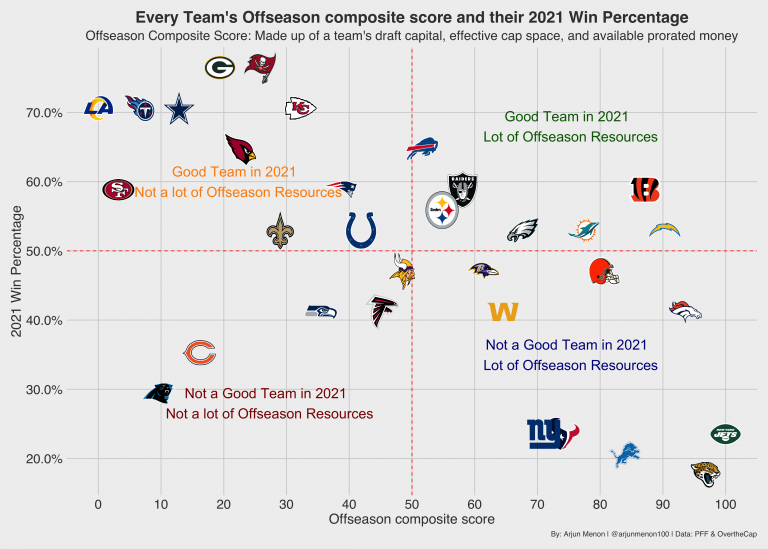 Subscribe to PFF Edge to continue reading
Already have a subscription? Sign In