Las Vegas Raiders' new QB: The team replaced

Derek Carr

with

Jimmy Garoppolo

this offseason.
Garoppolo a better fit: Given his familiarity dating back to their time in New England, Garoppolo should fit Josh McDaniels' offense better than Carr did last season.
Garoppolo's presence gives the Raiders fighting chance next year: Even though they disappointed last season, the Raiders do have a path to the playoffs with Garoppolo under center.
Estimated reading time: 8 minutes
---
On the surface, the Las Vegas Raiders' acquisition of Jimmy Garoppolo to replace Derek Carr seems like a lateral move. Given that Garoppolo's contract is far cheaper than Carr's and with only one season fully guaranteed, he is seen by many as a bridge option to a potential incoming draftee.
Head coach Josh McDaniels and the Las Vegas Raiders are unlikely to view 2023 as a throwaway season, though. They've declined to dive into the Aaron Rodgers or Lamar Jackson sweepstakes while their seventh overall pick in the draft could exclude them from the consensus top four quarterbacks in the draft.
In any case, Garoppolo is going to be the Raiders' starter in 2023 and possibly beyond that if he performs well. Let's take a look first at his upside. He's a two-time Super Bowl champion as a backup and started in a Super Bowl and an NFC title game with the 49ers. His experience is plentiful, and some of his numbers compare well with the best QBs of this era:
Jimmy Garoppolo's performance in key metrics (regular season since 2006, min. 1,000 dropbacks)
| | | |
| --- | --- | --- |
| Metric | | Rank |
| Passing grade | 79.6 | 28th of 91 |
| Yards per attempt | 8.3 | 1st of 91 |
| Passer rating | 99.6 | 7th of 91 |
| Completion % | 67.6% | 3rd of 91 |
| Adjusted completion % | 76.4% | 10th of 91 |
These numbers paint Garoppolo as a well above-average passer with incredible accuracy and efficiency. His name in these categories is surrounded by Drew Brees, Joe Burrow, Rodgers, and so forth. As we know, though, he has some shortcomings. His extensive injury history combined with his physical limitations bring those to light:
| | | |
| --- | --- | --- |
| Big-time throw % | 2.9% | 90th of 91 |
| Turnover-worthy play % | 3.4% | T-38th of 91 |
| Air yards % | 46.5% | 91st of 91 |
| Yards after catch % | 54.7% | 1st/91 |
| Short of sticks % | 53.5% | 1st of 91 |
| Average depth of target | 7.7 yards | 90th of 91 |
This set of metrics gives serious "game manager" vibes. Garoppolo is as conservative as any quarterback who has played in the NFL. His turnover-worthy play percentage is average despite the conservative approach. It also ironically ties him in the rankings to the man he is replacing, Carr.
Garoppolo and Carr, both second-round picks in 2014, have produced similarly across their careers:
| | | |
| --- | --- | --- |
| Metric | Jimmy Garoppolo | Derek Carr |
| Passing Grade | 79.6 | 83.6 |
| BTT % | 2.9% | 4.5% |
| TWP% | 3.4% | 3.4% |
| YPA | 8.1 | 6.9 |
| Passer Rating | 99.6 | 91.8 |
| Comp % | 67.6% | 64.6% |
| Adj. Comp % | 74.9% | 73.1% |
Generally, there's nothing here that we don't already know. Garoppolo is more conservative and accurate, while Carr offers more upside when it comes to downfield passing.
Garoppolo also lacks durability, playing in at least 12 games just twice in a season while Carr has only missed four starts in his career. Two of those four missed starts came at the end of the 2022 season when Carr and Josh McDaniels mutually agreed that the QB should be away from the team, given his imminent departure.
That last point gives us the primary issue. How could the Raiders make things work with Garoppolo instead of Carr when they seem so similar? It all comes down to familiarity and schematic fit.
Zoning in
McDaniels has run a very creative offense for years, but there are several staples that are consistent:
Power run game

Heavy screen usage

Attack zone windows with timing throws

Big plays up the seams

Heavy motion usage
The latter three points will be the primary focus here. Timing is a huge element to McDaniels' offense. Carr struggled with the offense's rhythm and timing, as displayed by his 71.8 passing grade when in rhythm in 2022 — the worst in the NFL among 24 QBs with at least 200 such dropbacks.
Part of this came from the inability of Raiders receivers, other than Davante Adams, to consistently separate. Carr's best throws came when Adams was isolated outside, but he also made a habit of forcing these throws instead of making his reads: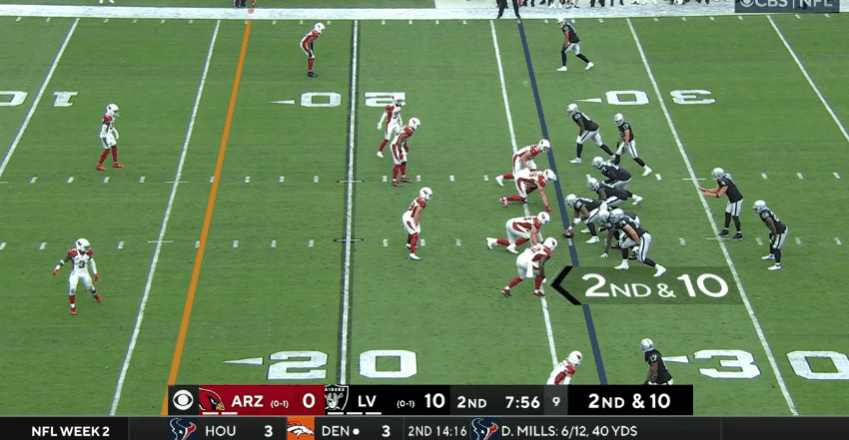 The concept on the top is a McDaniels staple, with Darren Waller running the deep in and Hunter Renfrow curling underneath to create a high-low read on the linebacker. Carr has good protection and Waller for an easy first down if he checks that way. He forces a ball into good man coverage instead of reading through the rest of the zone defense.
Another issue was poor timing:
Adams has a step on his man here, but Carr takes just one extra hitch at the top of his drop. The throw ends up late and behind for an incompletion.
Garoppolo has always been comfortable making these types of throws. McDaniels won't have any issue getting Garoppolo to throw with timing: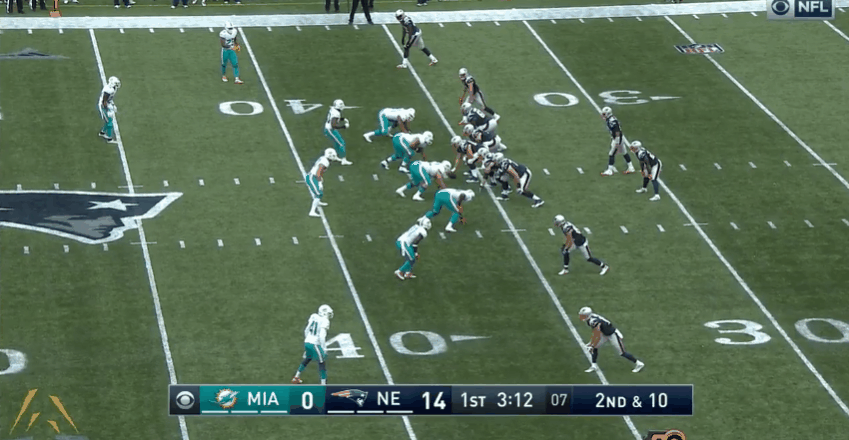 The back foot goes down and the ball comes out, with Garoppolo knowing how quickly the window is closing. 
Garoppolo's ability to read zone coverage continued while he was away from McDaniels and certainly will be welcomed back: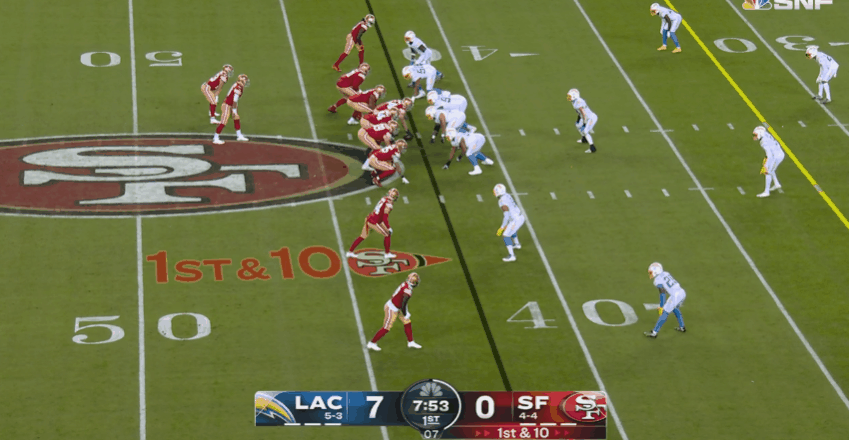 Garoppolo's 78.8 passing grade against zone coverage in 2022 was the ninth-best in the NFL. Carr, meanwhile, posted a 64.8 that ranked 30th. While Carr was much better than Garoppolo when throwing into man coverage, passing grades against zone carry more weight. Man coverage was used on less than 30% of plays in the NFL last season.
McDaniels wants to improve the Raiders' passing game by improving against zone defenses that gave them problems. Garoppolo should be able to help that cause.
Ripping the seams
McDaniels has long preferred to create big plays up the seams instead of outside the numbers. Under his watch, Tom Brady threw more balls up the seam than anybody and excelled. 
Garoppolo also proved adept at it during his time in New England:
Over the last four seasons, Garoppolo owns a 96.7 passing grade on seam routes, third-best in the NFL. 
Carr posted a 62.2 passing grade on seam routes in his lone year under McDaniels, one of the worst marks in the NFL.
Too often, there seemed to be a disconnect on these routes for Las Vegas: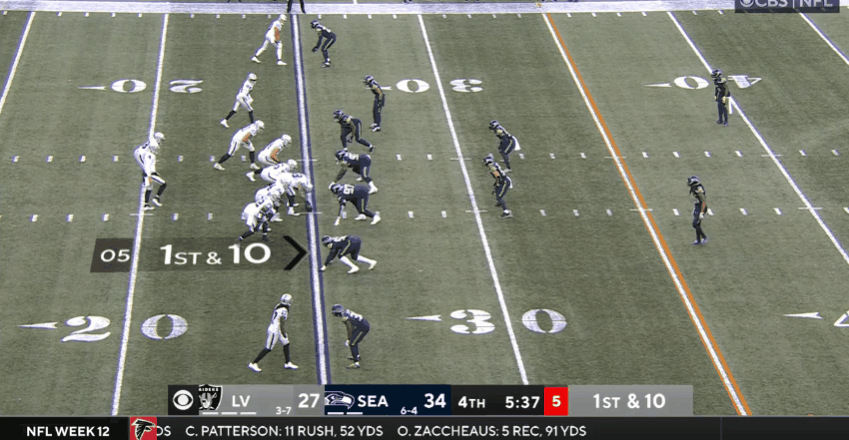 The disconnect won't last much longer if Garoppolo continues to make throws like this: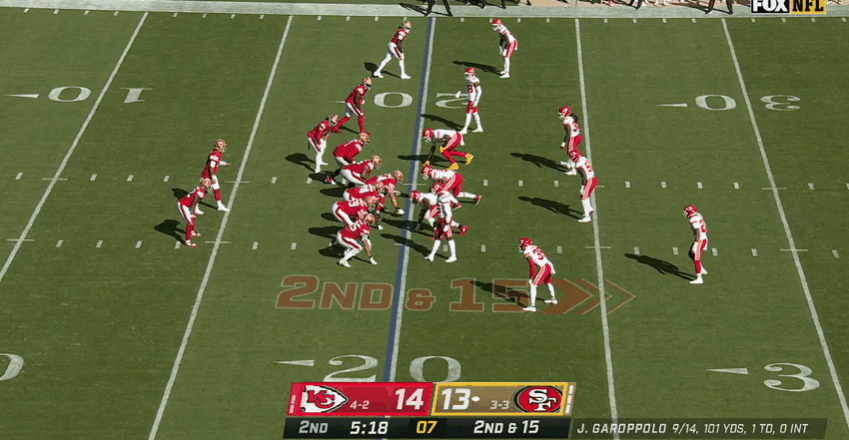 This throw highlights everything that Garoppolo can do when healthy. He's a high-level processor who can rip apart zone defenses over the middle when protected. This is exactly what was missing from the Raiders' offense last year that may have made the difference in their season.
More motion
McDaniels' offenses have been a little more stagnant the past few seasons than he's used to. Ideally, he would like to run his offense with a ton of pre-snap movement and window dressing. Lately, that hasn't been quite the case.
McDaniels' rank in total number of plays with motion (regular season only)
| | |
| --- | --- |
| Year | Rank |
| 2014 | 1st |
| 2015 | 4th |
| 2016 | 4th |
| 2017 | 2nd |
| 2018 | 2nd |
| 2019 | 3rd |
| 2020 | 14th |
| 2021 | 20th |
| 2022 | 13th |
The drop in 2020 is significant because that's, of course, when Brady left New England. The last three years have involved a post-prime Cam Newton, rookie Mac Jones and Carr, who especially was not used to playing with so much pre-snap movement.
Las Vegas Raiders rank in total number of plays with motion (regular season only)
| | |
| --- | --- |
| Year | Rank |
| 2014 | 20th |
| 2015 | 18th |
| 2016 | 22nd |
| 2017 | 32nd |
| 2018 | 31st |
| 2019 | 29th |
| 2020 | 12th |
| 2021 | 25th |
| 2022 | 13th |
Given the Raiders offense's lack of rhythm and stagnation in 2022, it's possible that McDaniels felt handcuffed, as he was forced to dial back the pre-snap movement in his offense. While running the 13th-most motion plays isn't low, it is nowhere near what he used to run with Brady. Carr was acclimated to simpler offenses throughout his career, and it may just not have been a good schematic match.
Garoppolo's experience with McDaniels and Kyle Shanahan means that he has run an offense that has ranked top four in plays with motion in every year of his career. He can handle the mental load that comes with running motion on the vast majority of plays.
Garoppolo won't match Carr's arm strength and ability to threaten defenses outside the numbers, but he may be able to diversify the Raiders' offense in a way McDaniels has not been able to since he lost Brady.
What's next?
The Raiders could contend for a playoff spot next year despite playing in a tough division. Nine of their 11 losses last season were by one score. Josh Jacobs was the league's leading rusher, and Adams is still a top-five receiver.
They still have Renfrow, who battled injuries in 2022 but has the same skillset as the slot receivers that succeeded in New England over the years. Jakobi Meyers was brought in as a familiar face who is a better second option than anyone on last year's roster.
Las Vegas carries 12 picks in the draft, including four in the top 100 picks. The Raiders could bolster their defense, offensive line or tight end room. They could also take their quarterback of the future at seventh overall, if available, or even trade up as high as third if they like someone enough.
Signing Garoppolo created a win-win situation. On the surface, he and Carr are roughly the same; however, the Raiders were looking for a better schematic fit for their offense. If it works and they hold leads better than they did in 2022, they could easily be a playoff contender. If it crashes or Garoppolo gets hurt again, they may be in the Caleb Williams race.