• Bet Bears QB Justin Fields u167.5 pass yards (-120) at Patriots: 29% of Fields' throws are deemed uncatchable by PFF — the highest rate in the NFL.
• Fields has NFL's second-lowest EPA per play against man coverage, which New England plays at the second-highest rate (52.1% of all passing downs).
• Bet Bengals QB Joe Burrow u37.5 yards longest completion (-110): At 25%, Atlanta plays the most cover 2 in the NFL, the coverage that has given Burrow the most trouble (-0.09 EPA).
Last updated: Fri. Oct. 21, 2:00 p.m.
Estimated reading time: 3 mins

---
In Week 6, we went 2-1 using QB data to bet on various types of passing props. Josh Allen cashed in over 2.5 passing touchdowns at +165, and Marcus Mariota went under 17.5 completions (-115). We lost Matt Ryan under 1.5 passing touchdowns (-130), as he enjoyed his highest graded game of the season. Overall, we were up 1.3 units in Week 6 and are looking to follow a similar process when betting passing props in week 7.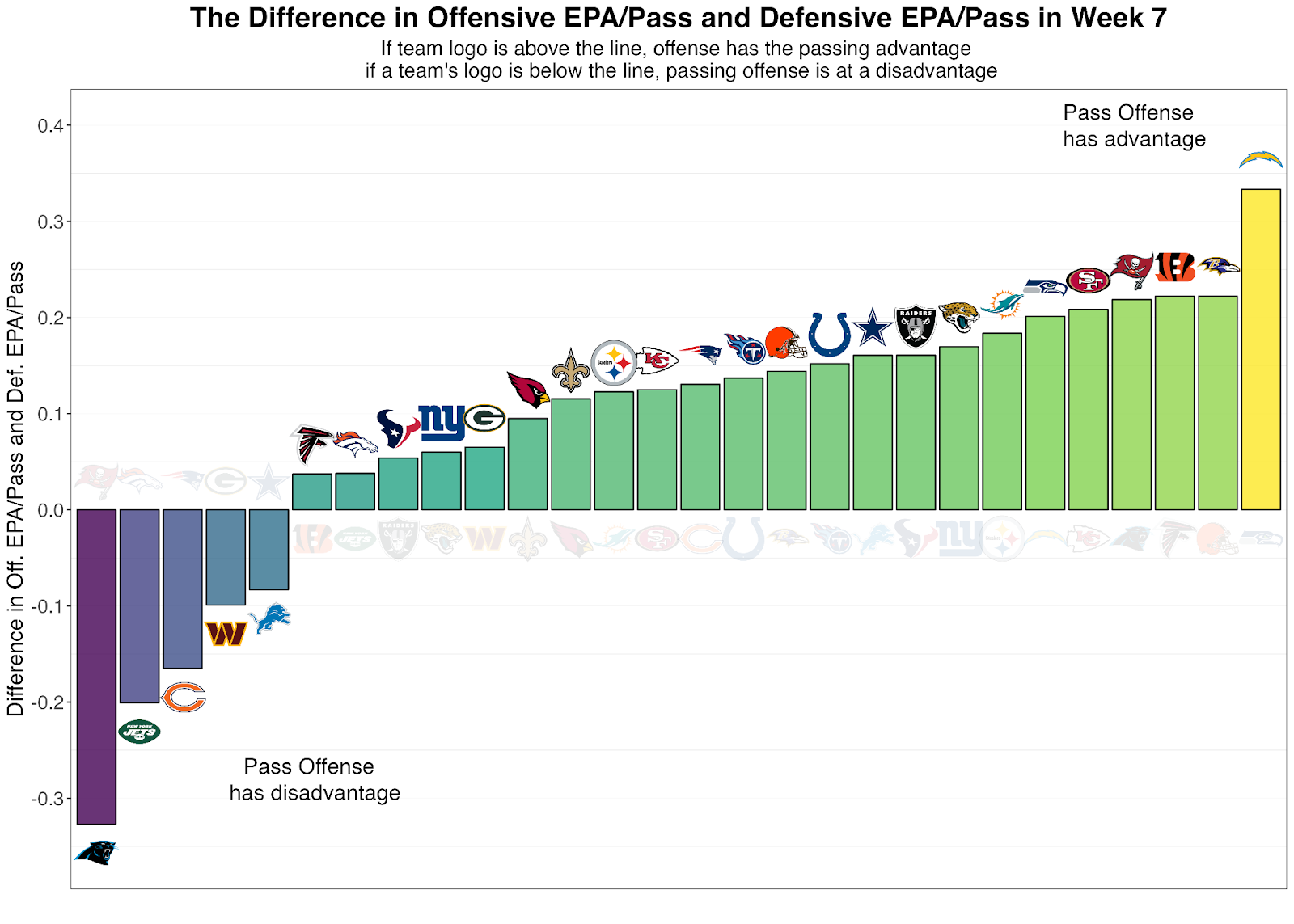 • Detroit has a Big Passing Disadvantage: The Lions rank 22nd in Expected Points Added (EPA) per pass this season. The Cowboys rank 8th in EPA per pass allowed. This is the 5th-greatest passing game disadvantage of the weekend, decidedly in favor of the Cowboys' defense.
• Goff Doesn't pass Much: This season, the Lions have the 10th-lowest pass rate over expected in the league, passing 3% less than an average team in their situation. Since Jared Goff has arrived in 2021, the Lions pass 6% less than expected.
• PFF's Player Props Tool sees this as a +6.6% edge.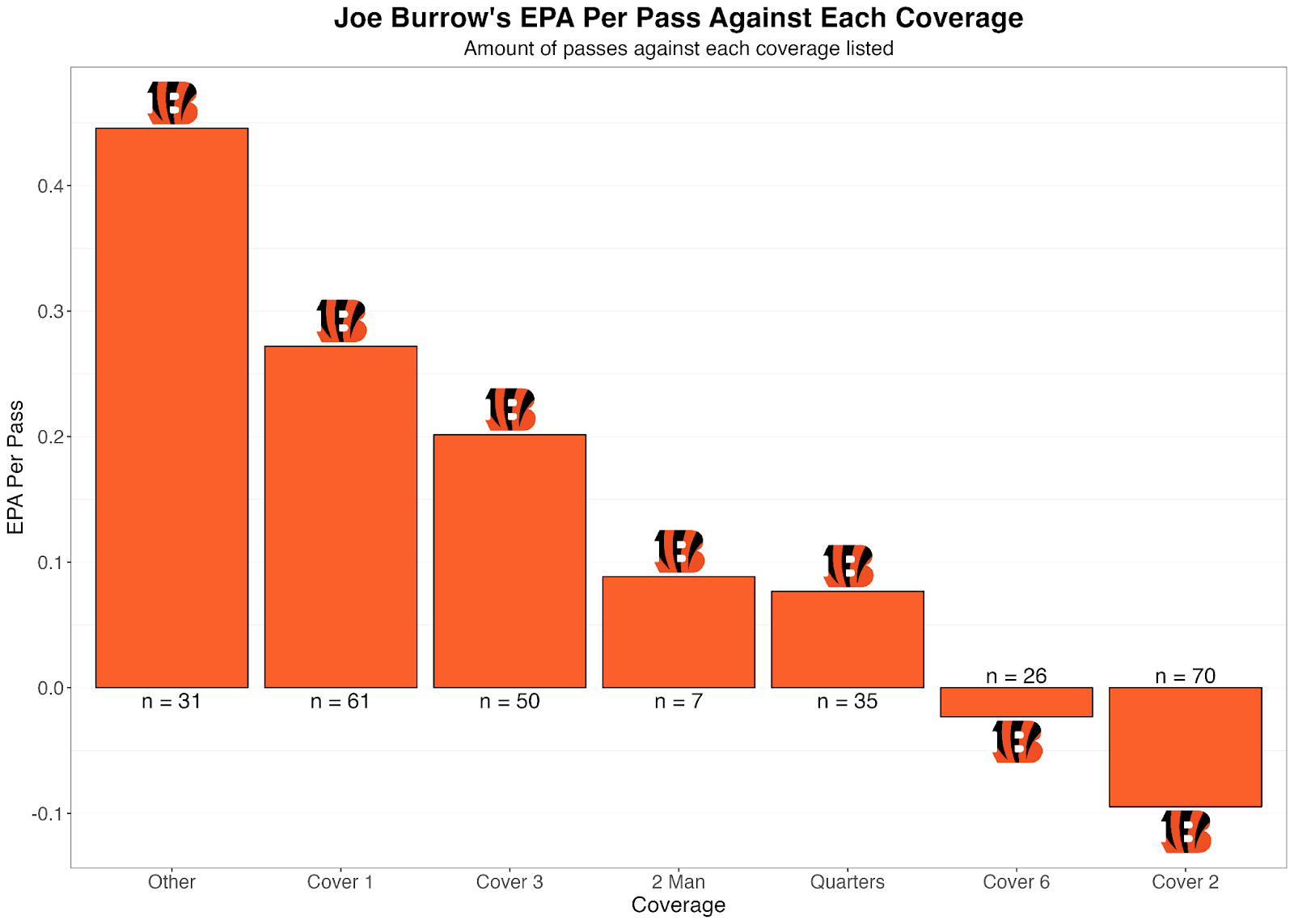 • Falcons Play Cover 2 Frequently: The Atlanta Falcons play Cover 2 at the highest rate in the NFL (25%). Joe Burrow has a -0.09 EPA per pass against Cover 2 this season — his worst vs any coverage.
• Burrow Goes Under vs Cover 2: We saw Burrow go under on his longest completion prop early in the season, when the Steelers (24 yards) and Cowboys (19) ran cover 2 more often than any other coverage. We can expect the Falcons to emulate that gameplan on Sunday. Burrow has gone over more recently with the Jets and Dolphins playing more single-high coverages, but that's not how the Falcons will play it.

Bet Chicago Bears QB Justin Fields — Under 167.5 Passing Yards @ New England Patriots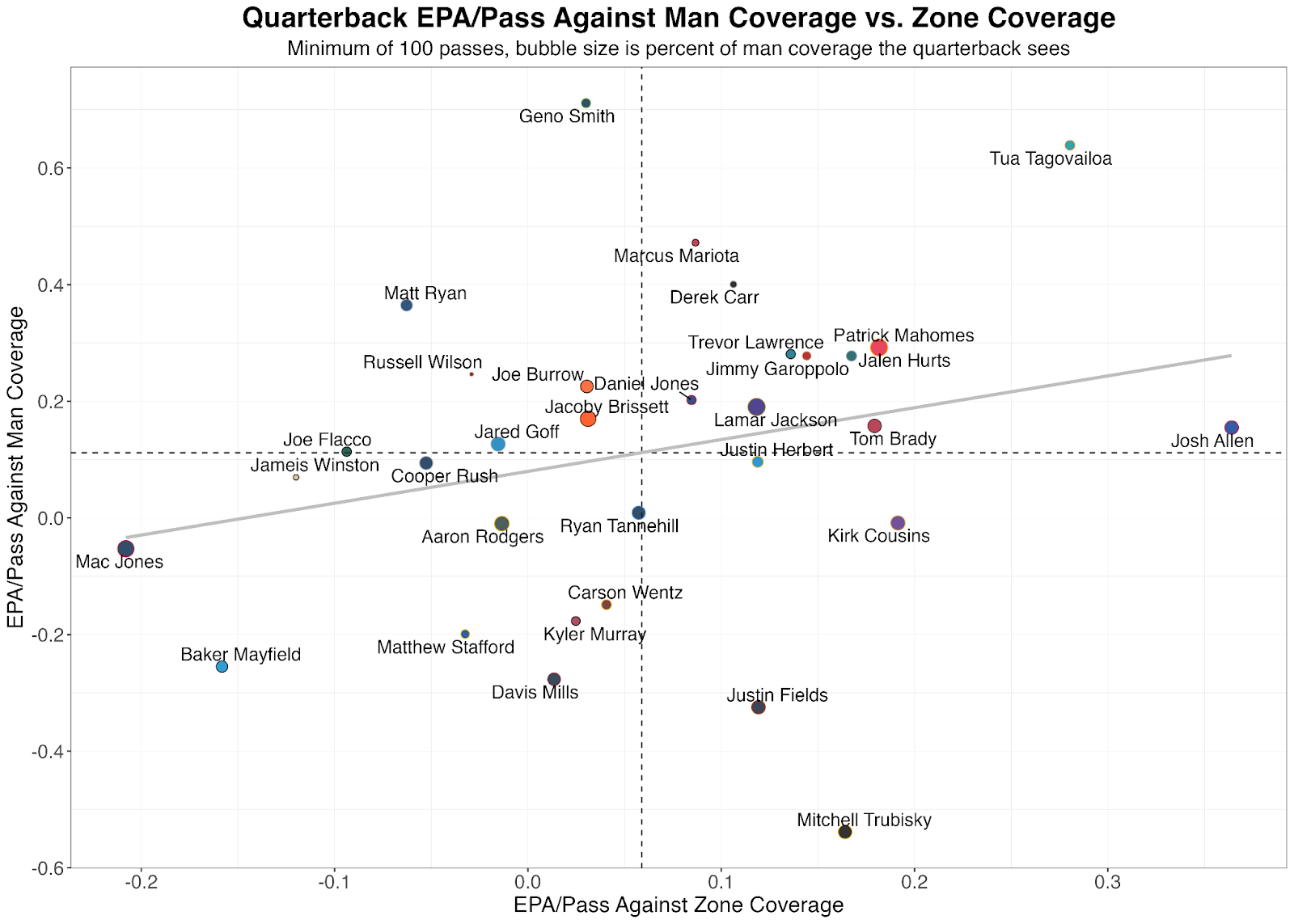 • Fields Struggles Against Man Coverage: Because of poor play and the lack of high-end receiving options, Justin Fields has the 2nd-lowest EPA per pass against man coverage this season. Fields has the highest rate of passes deemed uncatchable by PFF (29%). 
• The Patriots Play Man Frequently: The New England Patriots play man coverage on 52.1% of all passing plays, the second-highest rate in the NFL. This is an advantageous matchup for them, as they'll frequently play man coverage, where the Bears offense has struggled this season.
---
Tej's QB props went 2-1 in Week 6, bringing his overall season record to 20-18 (-0.06 units).