There were some wild finishes in the Week 7 Sunday slate, including last-second, game-winning touchdowns, a few costly missed field goals in the waning moments and an overtime comeback on Sunday Night Football that might just go down as the best game of the 2020 season.
PFF is here to break NFL Week 7 down for you in greater detail using advanced data and our unique play-by-play grading. Here, we present to you the PFF Team of the Week, big takeaways and player awards from Week 7 of the 2020 NFL season.
ELITE subscribers can view player grades, advanced statistics, positional snap counts and more in Premium Stats 2.0.
PFF TEAM OF THE WEEK
Offense
QB: Drew Brees, New Orleans Saints
RB: Chase Edmonds, Arizona Cardinals
WR: Davante Adams, Green Bay Packers
WR: Tyler Lockett, Seattle Seahawks
TE: Harrison Bryant, Cleveland Browns
FLEX: Rashard Higgins, Cleveland Browns
LT: Garett Bolles, Denver Broncos
LG: Laken Tomlinson, San Francisco 49ers
C: Corey Linsley, Green Bay Packers
RG: Lucas Patrick, Green Bay Packers
RT: Bobby Hart, Cincinnati Bengals
Defense
DI: Poona Ford, Seattle Seahawks
DI: William Gholston, Tampa Bay Buccaneers
EDGE: T.J. Watt, Pittsburgh Steelers
EDGE: Brandon Graham, Philadelphia Eagles
LB: Azeez Al-Shaair, San Francisco 49ers
LB: Vince Williams, Pittsburgh Steelers
CB: Bashaud Breeland, Kansas City Chiefs
CB: Jamar Taylor, San Francisco 49ers
S: Daniel Sorensen, Kansas City Chiefs
S: Jordan Poyer, Buffalo Bills
FLEX D: Marcus Maye, New York Jets
3 BIG TAKEAWAYS
Quarterbacks Russell Wilson, Aaron Rodgers and Patrick Mahomes are often the first players brought up in NFL MVP discussions as the halfway point of the 2020 season approaches  — and understandably so. But one player who needs to be widely considered as a favorite is being left out: Tom Brady.
It's quite remarkable what the 43-year-old future Hall of Famer is doing right now. Just a year removed from posting the worst single-season passing grade of his career in the PFF era (since 2006), Brady is among the highest-graded quarterbacks in the NFL.
Against the Las Vegas Raiders in Week 7, Brady posted an 89.3 passing grade with four big-time throws and no turnover-worthy plays. That brings his season passing grade to 90.8 (third), big-time throw total to 24 (first) and turnover-worthy play total to three (tied for first). Those are MVP-like numbers, and this is an MVP-level throw that we saw from him Sunday: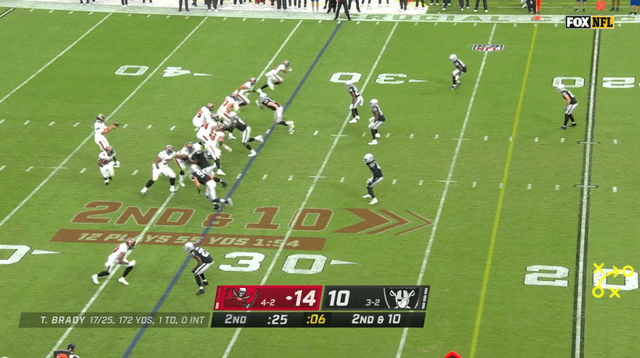 Let's not forget that he has put up most of these numbers with a banged-up receiving corps, too. Oh, and he has Antonio Brown, who still is the most valuable wide receiver in the NFL since 2010, per PFF WAR, coming to town after Week 8. I would expect Brady to maintain these MVP numbers with a healthy Chris Godwin and Mike Evans in addition to Brown joining the team. And if he does that, there's no reason he shouldn't be considered a frontrunner for the 2020 NFL MVP.
2. The Detroit Lions' passing offense has been rolling with Kenny Golladay back in the lineup
Detroit was a hot topic entering the 2020 season, with many viewing the team as a dark horse candidate to win the NFC North. This was due to the new-look, aggressive Matthew Stafford we saw in 2019 before he got hurt — he was the eighth-highest graded passer in the league and led Detroit to the fifth-most efficient passing offense when on the field.
To start the year, though, the Lions' passing offense looked far from dangerous. They were without wide receiver Kenny Golladay the first two weeks of the season, ranking 25th in expected points added (EPA) per pass play generated in that span.
But since his return in Week 3, Detroit's offense has started to look as expected. The unit has the most efficient passing attack in the NFL since Golladay returned, and Week 7 was the best game of the year for both Stafford and the wide receiver.
Stafford posted a 90.3 PFF grade in the Lions' comeback win over the Atlanta Falcons, the fourth-best mark of the week. He was near-automatic downfield, completing 14 of his 16 attempts that went 10-plus yards for 279 yards, one touchdown and two big-time throws. Golladay was Stafford's top target on these throws, and it clearly paid dividends. On targets of 10 or more yards, Golladay posted the best receiving grade of the week, going a perfect 5-of-5 on contested targets for 107 yards.
Atlanta's secondary isn't anything special, and the connection between Stafford and Golladay makes this sneakily potent passing offense one that won't be easy to face for playoff teams like Tampa Bay, Tennessee, Green Bay and Chicago.
3. Dallas may not win more than one game the rest of the year
In their blowout loss to the Washington Football Team, the Dallas Cowboys generated positive EPA (i.e., had a successful play on offense) on 35% of their plays — the worst in the NFL by over 2 percentage points and 13 percentage points worse than the average. That brings their league rank in that metric to 31st over the past two weeks without Dak Prescott. With Andy Dalton suffering a concussion in the Cowboys' Week 7 loss to the fourth-worst team in our power rankings, Ben DiNucci — a 2020 seventh-round pick — slots in as the starting quarterback for now.
Whether it's Dalton or the inexperienced rookie, this Cowboys offense is looking meek without Prescott. And when you consider the fact that they have the lowest-graded coverage unit in the NFL, which has allowed a league-worst 141.4 passer rating on throws of 10 or more yards downfield and a league-high six 25-plus-yard passing touchdowns in 2020, it's looking really bad for the Dallas Cowboys.
At this rate, I wouldn't be surprised if Dallas wins just one game the rest of the season — or possibly even none.
OFFENSIVE PLAYER OF THE WEEK
It was a close one, but Green Bay's Davante Adams took home the PFF Offensive Player of the Week award for Week 7 for his stellar day that ended in a career-high 93.7 PFF grade. He was incredibly productive on a per-route basis, averaging 5.94 yards per route run. That trails only Justin Jefferson's Week 3 breakout for the most in a single game this year (minimum 25 routes). He had his way with one of the worst coverage units in the NFL, putting up 60 yards receiving on three different defensive backs.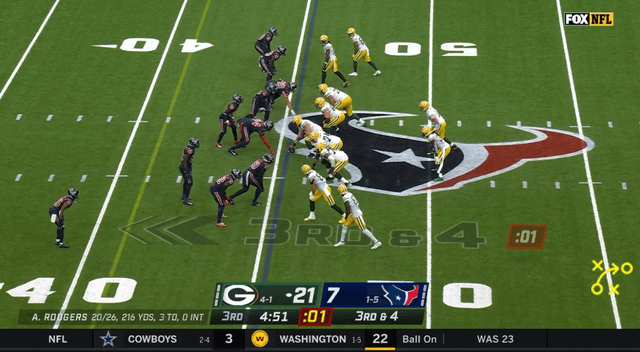 Adams stunned Eric Murray on that release. He racked up 145 yards against single coverage on Sunday, the most in a single game this season. The Rodgers-to-Adams connection is in the conversation for best tandem in the NFL.
DEFENSIVE PLAYER OF THE WEEK
Watt put up a 91.8 PFF grade against the Tennessee Titans in Week 7 — his fourth game this year above 90.0. It's also his 13th game since the start of 2019 in which he earned a grade above 80.0 — four more than second and six more than third. Pittsburgh blitzed far less than they normally had to start out the year. In fact, their blitz rate dropped nearly 20 percentage points from their first six weeks compared to Week 7. That played a part in some production dips by various pieces along the defensive front, but not Watt. He was the only one to make a major dent as a pass-rusher as he came away with a 28.6% pass-rush win rate. That brings his season-long rate to 26.7%, which is 4.5 percentage points higher than any other edge rusher. Oh, and he had the highest single-game run-defense grade of his career at 90.7.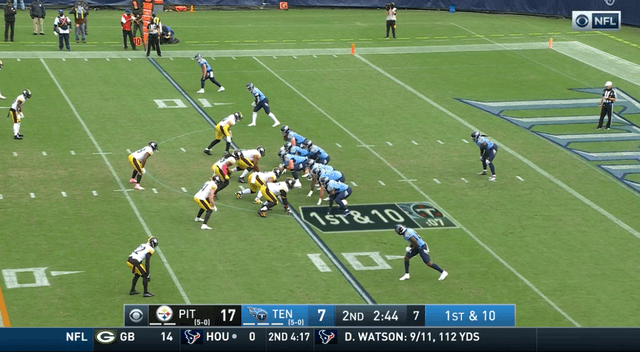 It might be time to start deeming the younger Watt brother the best edge rusher in the NFL.
ROOKIE OF THE WEEK
With starting tight end Austin Hooper out with appendicitis, fourth-round rookie tight end Harrison Bryant saw an increased role in Week 7 and made the most of it. He earned a 90.8 PFF grade for the day — the best at the position — while hauling in four of his five targets for 56 yards and two touchdowns with a couple of broken tackles after the catch. Overall, Bryant averaged 3.29 yards per route run and generated a 152.9 passer rating on his targets.
It is worth noting that while he was a Day 3 pick, Bryant was actually our highest-graded tight end in college football in 2019 at 92.5 — seven grading points higher than the next best. The biggest knock on him coming out of college was the fact he was in no man's land with his athleticism and size. The backbone of his success in college was his after catch ability, and that might just be the same case at the NFL level.
OFFENSIVE LINE OF THE WEEK
Green Bay Packers
The Packers offensive line entered the week as one of the three highest-graded units in the NFL, but against the Houston Texans, they were going to be without their star in the line, left tackle David Bakhtiari. That was clearly bad news, especially with the opposition having future Hall of Famer J.J. Watt on the other side. But somehow, the Packers' offensive line found a way to maintain their top three status and had the best outing of any unit of the week. Combined, they lost just five pass-blocking reps — the lowest of the week. For perspective, the most lost reps by an offensive line in Week 7 sat at 33. They were helped out some by Rodgers getting the ball out swiftly, but they still had a true pass set on 34% of their pass-block snaps (12) and allowed just one total pressure on those.
Tackles Billy Turner and Rick Wagner were no doubt the stars of this line. Turner flipped from right tackle to start for Bakhtiari and had a bounce-back game after allowing six pressures the week before to the Buccaneers. Turner was the second-highest-grade tackle in pass protection in Week 7. As for Wagner, he had seven true pass sets against Watt and didn't lose a single one.
SECRET SUPERSTAR OF THE WEEK
CB Dane Jackson, Buffalo Bills
Buffalo had to call on seventh-round rookie Dane Jackson — who was on the team's practice squad until Saturday — to step in and start opposite Tre'Davious White on Sunday against the Jets. Even with facing the worst offense in the NFL, having to start an inexperienced rookie like Jackson last minute would be a concern for any team. But Jackson rose to the occasion and eliminated any worry, as he had one of the top games at his position for the week. Jackson earned a 75.4 PFF grade for the game, ranking fourth among 58 qualifying outside corners for the week. Jackson saw four targets in coverage and allowed two catches for 33 yards while picking off one pass and forcing another two incompletions.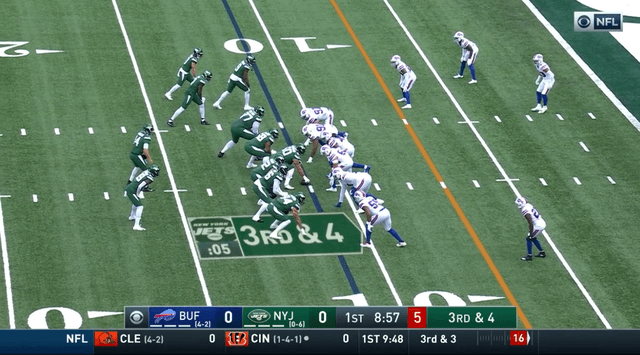 Obviously, you want to be cautious when handicapping expectations for Jackson moving forward since it was just one game, but it was a great NFL debut that was the easy choice for PFF Secret Superstar of the Week.
PLAY OF THE WEEK
After throwing an interception on each of their opening drives, the Cleveland Browns and Cincinnati Bengals would go on to have an offensive shootout. They produced the second- and third-best offenses of the week in the percentage of total plays generating positive EPA (successful plays) and had an incredible back-and-forth to close out the game. Down by four with just under five minutes to play, first overall pick Joe Burrow got the ball back on his own 25-yard line and marched Cincinnati all the way down to the Cleveland 3-yard line. On fourth and one with a minute to go, Burrow hit Giovani Bernard for a touchdown pass to put the Bengals up by three. It looked like the rookie had won Cincinnati the game. That was until Baker Mayfield managed to get the Browns to the Bengals' 24-yard line after three pass plays and subsequently delivered this absolute dime to rookie Donovan Peoples-Jones for the game-winner:
FEELING DANGEROUS ????????????
pic.twitter.com/kYUkDSlPh0

— PFF (@PFF) October 25, 2020
That was his second deep passing touchdown for the game — eclipsing his previous season total in six games of one. This was a huge bounce-back game for Mayfield, who was coming off a 32.7 passing grade in Week 6 against the Steelers and responded to that by posting a single-game career-high 91.2 grade against the Bengals.
AN EARLY LOOK AHEAD TO WEEK 8…
Through Week 7 of the 2020 NFL season, there is just one undefeated team that remains: The Pittsburgh Steelers. And next week, they'll get their toughest test yet as they face division rival Baltimore Ravens. 
Pittsburgh had the second-easiest schedule entering their Week 7 matchup against Tennessee, and this past week they got a Titans team that didn't look anything like they had before in recent weeks. The daunting Steelers pass rush didn't get pressure on Ryan Tannehill nearly as much as they have in the previous weeks, but the quarterback couldn't take advantage of the clean pockets he had. His passing grade on such dropbacks was the second-lowest of the week. Ben Roethlisberger actually wasn't much better, as he sat in third-to-last in that same metric. He and the Steelers offense will be going toe-to-toe with the second-best defense in the NFL in terms of EPA per play allowed. Baltimore also added a new weapon on the defensive line in edge rusher Yannick Ngakoue last week. Baltimore's offense hasn't been performing up to expectations so far in 2020, as they rank 19th in EPA per play generated in non-garbage time, and they'll be looking to get back on track against the highest-graded defense in the NFL.
This ought to be a great one to watch.