The Dallas Cowboys continue to struggle on both sides of the ball, and the Washington Football Team has suddenly put itself in position to contend in the NFC East with a 25-3 home victory.
Editor's note: All of PFF's grades and advanced stats from this game will be finalized and made available to ELITE subscribers within 24 hours of the final whistle.
The NFC East continues to look like the most miserable division in football, and this time the misery took Andy Dalton as its latest victim. Dalton was already having a bad day before he was knocked out of the game — and seemingly knocked from unconscious — by Washington linebacker Jon Bostic on a bad hit while giving himself up on a slide after a run from the pocket.
The game had already been going Washington's way before then, but the Cowboys turning to third quarterback Ben DiNucci effectively ended any hope of a comeback.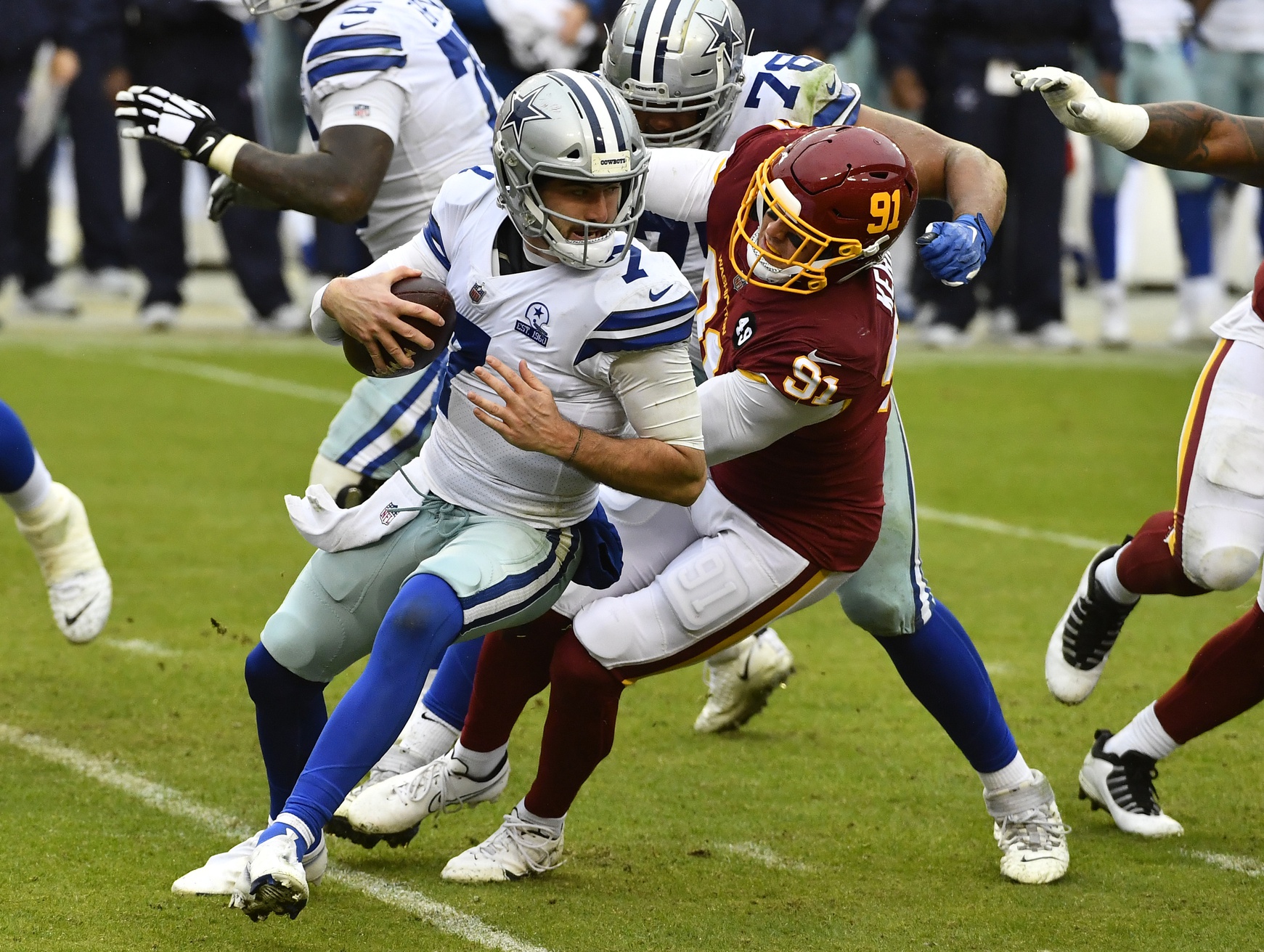 Dallas remains stuck on just two wins this season, with the loss column growing weekly. Whatever their woes at quarterback, the combination of defensive disaster and an offensive line that has crumbled to ruin has left this team unable to beat even the poorest teams in the league.
The Dallas defense was bad enough that Kyle Allen was able to have a quiet and efficient afternoon, with none of the horrendous plays that usually blight his performance. Terry McLaurin racked up 90 yards and a score, running right past Trevon Diggs for a score after the two had gotten into a heated altercation the play immediately prior. Washington has all of a sudden put itself in a position to contend for the division title — such is the state of the NFC East in 2020.
Rookie Watch
Washington running back Antonio Gibson had 128 rushing yards, 56 of which came after contact as he gashed the Dallas defense on only 20 carries. Gibson averaged 6.5 yards per carry, with 2.8 of that coming after contact — the Washington blockers were springing him for more than 3 yards on average before he was even touched.
Despite the disaster of a Dallas offensive line, Chase Young wasn't a massive factor as a pass-rusher, but he did an excellent job against the run with four defensive stops. Cornerback Kamren Curl played 38 snaps and also did a solid job against the run, though that's less important given his primary area of responsibility in coverage, where a missed tackle marred his copy book a little.
For Dallas, rookie offensive linemen Tyler Biadasz and Terence Steele each struggled against a Washington defensive front that simply overwhelmed them. Biadasz in particular couldn't handle the power and size up front and struggled in pass protection, surrendering a pair of pressures.
Ceedee Lamb saw five targets but dropped the only two that were catchable, giving him what will be the lowest PFF grade of his rookie season.
Trevon Diggs had a pair of forced incompletions and wasn't bad overall, but his big lapse led to a huge touchdown from McLaurin that blew the game wide open. On the defensive line, Neville Gallimore played 37 snaps without distinguishing himself.
Lastly for Dallas, DiNucci came in at quarterback and managed to fumble and get sacked twice in the first five snaps. This was pretty much a no-win situation for the seventh-round rookie.
ELITE subscribers can view player grades, advanced statistics, positional snap counts and more in Premium Stats 2.0.