PFF provides every fan with the right information to best prepare for Week 7 of the 2019 NFL season. We offer advanced stats and grades on key players to watch, fantasy football advice and links to PFF Greenline predictions for all 14 NFL games on the schedule for this week.
[Editor's Note: ELITE subscribers have access to all of PFF's fantasy football projections, rankings and lineup tools in addition to PFF NFL and College Greenline, an online dashboard with predictions for the spread, total and moneyline for every FBS and NFL game every week. Subscribe today to gain access!]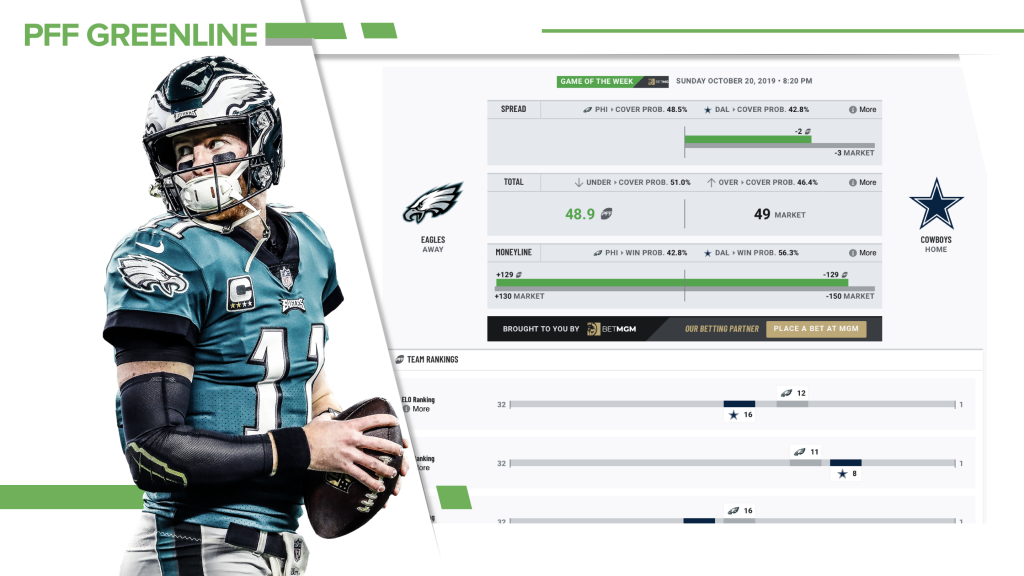 Thursday, October 17
Kansas City Chiefs @ Denver Broncos
Players to Watch
Coming off back-to-back losses, Patrick Mahomes and the Chiefs are in need of a bounce-back win on the road against Denver. Mahomes has missed more throws than he did a year ago, but the high-end of his play is still spectacular. Look for Mahomes & Co. to tear apart the Broncos' defense and get back on track.
Fantasy Football Preview
In 2018, Patrick Mahomes finished outside the top-10 fantasy quarterbacks four times (and only outside the top-14 once). This year, he has three such finishes … in the last three weeks. Mahomes has still been a top-12 fantasy QB every week, but he's offered a lower upside this year than last, in part because of his balky ankle. Against a Denver defense that hasn't allowed a quarterback to reach 20 fantasy points in a game yet on a short week, Mahomes isn't the sure thing he normally is.
The Chiefs have dropped the hook since the opening, with the spread settling at +3 for the Broncos at home. Kansas City has also dropped to fourth in our offensive rating metric while the Broncos check in at 24th. The market may have (over) adjusted to the recent play by the Chiefs, but the total still offers some value according to Greenline. 
Sunday, October 20
Los Angeles Rams @ Atlanta Falcons
Players to Watch
The Falcons' defense has been awful to start the season. Only the Miami Dolphins rank lower in EPA per play allowed, and Atlanta's highest-graded defensive back in coverage is Desmond Trufant with his dismal 57.9 coverage grade. Deion Jones and Grady Jarrett have both earned high grades to start the year, but their efforts haven't been enough to mask the woeful play in the secondary.
Cooper Kupp should have a field day against Atlanta if targeted early and often. He leads all Los Angeles receivers in yards per route run (2.20) and receiving grade (79.8) through Week 6.
Fantasy Football Preview
In Week 1, the Rams had the fifth-highest time of possession (ignoring overtimes) in the league, at 33:16. That number has dropped literally every week since, down to a season-low 21:08 in Week 6 that was fourth-lowest. The team averaged the eighth-highest time of possession in 2018. Less time of possession generally means fewer plays, which means fewer chances at fantasy production. It lowers the ceiling of the entire offense.
Two teams that have underperformed and let bettors down face off in this potentially high-scoring matchup. The market seems to be buying into the Falcons, with the juice sliding toward them, or this spread dropping to +2.5. If +2.5 is available, Greenline thinks this is a good spot to fade the Falcons. 
Miami Dolphins @ Buffalo Bills
Players to Watch
Despite the Bills' early successes, Josh Allen has still vastly underwhelmed out of the gate. Among the 27 NFL quarterbacks with 150 or more dropbacks through Week 6, Allen ranks 24th in passing grade (60.3) and 21st in clean-pocket passing grade (74.6).
Dolphins safety Bobby McCain is the team's highest-graded defensive back in coverage (72.8), but the next-closest defensive back with 100 or more coverage snaps played through Week 6 is cornerback Eric Rowe with a 49.5 coverage grade. Even the team's highest-paid cornerback, Xavien Howard, has struggled, earning just a 45.6 coverage grade in Weeks 1-6.
Fantasy Football Preview
Josh Allen has still never thrown for 260 yards in an NFL game. He has only five touchdown passes this year compared to seven interceptions, and his rushing — his calling card at the end of last year — has been down this year, averaging 31.6 yards a game. Despite all that, he's solidly a QB1 in Week 7 against a Dolphins defense that has allowed the most passing touchdowns and second-most fantasy points to quarterbacks per game so far.
The Dolphins have found some backing in this AFC West matchup. as the spread has crossed the key number 17 after opening at -17.5. Greenline sees some value in this spread but is locked in with the 40-point total in this battle between two bottom-five offenses. 
Jacksonville Jaguars @ Cincinnati Bengals
Players to Watch
The Saints' defense put Gardner Minshew in a stranglehold in Week 6. He entered the week ranked ninth among qualifying signal-callers in passing grade (75.3) but dropped all the way outside the top-15 with his 30.2 passing grade against New Orleans. He's in need a bounceback week against a Bengals defense that has really struggled this season.
Cincinnati's best defender, Geno Atkins, has earned just a 72.5 overall grade and a 72.5 pass-rush grade through the first six weeks of the season. The team's pass-rush has suffered as a result, and so has the secondary. No defensive back has a coverage grade above 66.0 after Week 6.
Fantasy Football Preview
D.J. Chark faced shadow coverage (from Marshon Lattimore) for the first time all season in Week 6 and had his worst game of the season, catching only three passes for 43 yards (both season-lows) and generating only a 23.8 passer rating when targeted. The Bengals have yet to shadow all year and have a 47.0 PFF coverage grade as a team that ranks fourth-worst in the league. Don't be surprised if Chark returns to form.
Minshew mania took another hit as the Jaguars failed to cover for the second straight week. They now find themselves as road favorites fluctuating between -3 and -3.5. Some line shopping is in order but at the right price, Greenline does have a certain lean on a side in this matchup. 
Minnesota Vikings @ Detroit Lions
Players to Watch
Kirk Cousins had himself a day in Week 6. He earned a spot on PFF's Week 6 Team of the Week with his 93.0 passing grade and six big-time throws against the Eagles' defense on Sunday. He finally pushed the ball downfield with success, His 14.1 ADOT in the Week 6 is the highest single-game average for him so far this year.
Despite entering Week 7 at just 2-2-1, Lions quarterback Matthew Stafford has had a strong start to the season. He has earned 70.0-plus overall grades in each of the team's past five games and finished Week 6 as the NFL's 11th-ranked quarterback in passing grade (74.7).
Fantasy Football Preview
Both the Vikings' losses so far have come against teams with a PFF coverage grade over 75.0, and Kirk Cousins has a 73.4 passer rating in those games. Their four wins have all been against teams with a sub-61.0 coverage grade, and Cousins' passer rating is 135.8 in those bouts. The Lions' coverage grade? 76.9. It's just one data point, but it's an anti-Cousins one.
After opening as a pick 'em spread, this line has been on the move after the Lions' controversial defeat on Monday night. The Vikings appear to have righted the ship and have an equal run/pass split in 2019. With Detroit continuing to settle for field goals, Greenline offers a certain lean but has to be monitored to see if a price becomes available to beat the vig in this divisional matchup. 
Oakland Raiders @ Green Bay Packers
Players to Watch
While some are quick to point to rookie running back Josh Jacobs as the primary driver for the Raiders' early successes, quarterback Derek Carr is clearly the biggest reason why the team is still a playoff hopeful after Week 6. It may be a conservative brand of football in Oakland, but Carr is executing it almost flawlessly. He enters Week 7 as the NFL's sixth-ranked quarterback in passing grade (79.4) and leads all at his position with the lowest percentage of uncatchable inaccurate passes thrown at 10.3%.
Aaron Rodgers, of course, still enters the Week 7 bout as the better quarterback between the two. After a stunning performance against the Lions in Week 6, Rodgers ranks third in passing grade (81.1) among all qualifying quarterbacks.
Fantasy Football Preview
The last time we saw Josh Jacobs, he had his second game of the year with multiple touchdowns and topped 100 yards for the first time (with 123). Perhaps more importantly for his overall fantasy stock, he set career-highs in receptions and targets (at only three, but a high is a high). The Packers have been gashed by running backs for most of the season, so Jacobs could have a chance to build on his pre-bye performance.
The Packers find themselves at 5-1 but scorned from their backing community with Jamaal Williams costing Packer-backers a win on Monday. Green Bay is now 4-2 against the spread. After opening at -7, this spread has dropped off with the key number down to -6 point favorites this weekend. These offenses are surprisingly ranked right next to each other in the middle of the pack, with Green Bay's defense being the key unit separator in this matchup. Greenline falls in line with the market on both the spread and total but is intrigued by a certain moneyline side if found at the right price. 
Houston Texans @ Indianapolis Colts
Players to Watch
JJ Watt has been nothing short of fantastic to start the 2019 NFL season. He enters Week 7 ranked fourth among all defenders with 120 or more pass-rush snaps in pass-rushing grade (87.3) with 24 hurries, 10 hits and five sacks. Going against Colts' Braden Smith in 2018, Watt totaled seven pressures in 62 one-on-one matchups.
Fantasy Football Preview
In a lot of ways, Jacoby Brissett is a different quarterback in 2019 than he was as the Colts' emergency starter in 2017. With 10 passing touchdowns, he's already almost to his total of 13 from that year, his passer rating has climbed from 81.7 to 94.9, and his fantasy points per game have gone from 13.7 to 18.4. This week, he and the Colts draw a Texans defense that has allowed strong fantasy performances in four of six weeks so far.
This game opened as a pick 'em before siding with the hometown Colts, making them -1 favorites. The total has dropped from an opening 48 down to 47 or 47.5 in certain spots. With both numbers on the move, it is worthwhile to monitor Greenline to see if either number becomes playable if the market hasn't found consensus. 
Arizona Cardinals @ New York Giants
Players to Watch
Kyler Murray is starting to look like the electrifying player Arizona drafted him to be when they took him No. 1 overall in April's draft. In Weeks 5 and 6 combined, Murray earned the fifth-best passing grade (83.2) among signal-callers with 50 or more dropbacks in the two-week span. He recorded six big-time throws and zero turnover-worthy plays in the two games, as well. Murray should continue his hot streak against a Giants defense that has struggled significantly in coverage to start the year. New York ranks 31st in yards per pass play allowed (9.0) through Week 6.
Fantasy Football Preview
The Cardinals have allowed the most passing touchdowns in the league (16) and are the only team without an interception so far. Daniel Jones had his huge starting debut, with 36.2 fantasy points, but he hasn't even combined for that many since, with 34.0 points in three games. Facing the Cardinals' porous defense (and with the Giants equally porous, offering shootout potential) could be just the salve Jones needs.
This matchup pits the third-worst team in the NFL against the fourth-worst team in the NFL. The spread and total have held steady throughout, with Greenline giving the Giants almost a 59% win probability. This total has found little agreement throughout the market and could offer some value at the right price. 
San Francisco 49ers @ Washington Redskins
Players to Watch
Jimmy Garoppolo and the 49ers have an opportunity to improve to 6-0 with a win over the hapless Redskins on the road in Week 7, but the team's lead signal-caller still has yet to wow under center. Garoppolo has earned a 69.1 passing grade to start the season, and he has logged just four big-time throws and six turnover-worthy plays in the process. If San Francisco is going to go toe-to-toe with the NFL's best, Garoppolo needs to be better.
Fantasy Football Preview
Tevin Coleman returned from injury in Week 5, and he also returned to the top of the pecking order in the San Francisco backfield. He has 10 more carries than Matt Breida the last two weeks (and 23 more than Raheem Mostert, for what it's worth). Breida has out-targeted Coleman 7-to-3 over those two weeks, and both are top-25 in the league in carries in those two weeks, with the 49ers slotting in as the league's run-heaviest offense. This week, they should be heavy favorites against a Washington defense allowing the fifth-most points to opposing running backs, so both guys are in play.
Our third-ranked 49ers travel across the country to play an early slated game against the 27th-ranked Redskins. This line has dropped since the opening 10.5 down to 10 or even 9.5 in places. The steam appears to be warranted, with Greenline leaning toward the Redskins covering this wide spread as home dogs. 
Los Angeles Chargers @ Tennessee Titans
Players to Watch
It's Ryan Tannehill #szn in Tennessee. The Titans have opted to bench former No. 1 overall pick Marcus Mariota in favor of Tannehill after the team's disappointing loss to Denver in Week 6. Tannehill doesn't have to clear a high bar to be an improvement over Mariota. The former Oregon phenom ranked just 22nd in passing grade (62.9) among qualifying quarterbacks before taking his talents to the bench.
Fantasy Football Preview
The Titans, who just got shut out and benched their starting quarterback, are favorites against a team that went 12-4 last year, in case you were wondering how things were going for the Chargers this year. There is plenty of blame to go around in Los Angeles, but one of the main culprits is the banged-up offensive line, which has been a sore spot for the Chargers for years now, but is nonetheless putting up generation lows in pass- and run-blocking grades. Melvin Gordon and Austin Ekeler are averaging only 0.56 yards per carry before contact. Both backs rank in the bottom-11 in before-contact yardage among backs with at least 20 carries.
After losing to a third-string quarterback in primetime, the Chargers are losing backing from the betting community. They now find themselves priced as two-point dogs to our 19th-ranked Titans. Greenline actually thinks this spread is correctly priced but has identified a play on the total after seeing it drop from the opening line. 
New Orleans Saints @ Chicago Bears
Players to Watch
The Saints are starting to take the training wheels off of Teddy Bridgewater, and it's a sight to behold. Among the 25 NFL quarterbacks with 75 or more dropbacks in Weeks 4-6, Bridgewater ranked fourth in PFF passing grade (83.0) with six big-time throws and just one turnover-worthy plays. He'll lose his spot to veteran Drew Brees as soon as he's healthy, but Bridgewater is undoubtedly playing himself a handsome deal in free agency this offseason. The Bears will be a tough test for Bridgwater. Khalil Mack is a game-wrecker and enters Week 7 as the NFL's top defender in pass-rush grade at 91.5.
Fantasy Football Preview
Is Anthony Miller time coming? He's seen his usage gradually climb this year, with a season-high in snaps (43), targets (7) and yards (52) the last time we saw the Bears in Week 5. In Week 7, Miller and the Bears face the Saints, who have a notoriously burnable slot cornerback in P.J. Williams, while Miller has run the most slot routes on the team so far (82, just ahead of Allen Robinson's 76).
With Teddy and the Saints continuing to win and cover in Brees' absence, bettors and the Pope seem to be loving the Saints. After opening at -4, this spread has slid down to the key -3 with Chicago getting little backing from bettors. This total has dropped to 38.5, with Greenline anticipating enough points are scored to get over in this matchup. 
Baltimore Ravens @ Seattle Seahawks
Players to Watch
The Lamar Jackson show in Baltimore is off to a fiery start this season. He and Mark Ingram have been a stellar dynamic duo and currently lead an offense that ranks third in the NFL in EPA per play. The Ravens' defense, however, has stumbled out of the gate. The unit ranks just 26th in EPA per play allowed.
Russell Wilson very well could roast the Ravens' defense and improve what is already an NFL-high 90.1 passing grade considering just how bad it's been for Baltimore. Wilson is well on his way to taking home league MVP honors with his play this season, and we dont' see that changing anytime soon.
Fantasy Football Preview
Lamar Jackson has thrown five interceptions so far this year. Of those, four have come when targeting tight ends. That's not as damning as it might look at first blush, because the Ravens have far and away the most tight end targets so far this year (79; second-most is 68), but it's still worth noting. Jackson's passer rating when targeting tight ends is 94.2, compared to 117.0 when targeting receivers. Nobody is dinging Mark Andrews for this — he has the No. 2 overall grade at the position through six weeks — but it might make for just the tiniest of upgrades to Jackson's wide receivers.
Greenline finds agreement with the betting market on this spread, as it appears perfectly priced with the Seahawks as 3.5 point favorites. This total is the second-highest on the slate, as this game features our first (Seahawks) and 15th ranked offenses. Only Greenline can tell you if this is enough to bet the over in this matchup showcasing two of the most exciting quarterbacks in the NFL. 
Philadelphia Eagles @ Dallas Cowboys
Players to Watch
After starting 3-0 in 2019, Dak Prescott and the Dallas Cowboys have fallen to 3-3. And while Dak still ranks inside the top-five in PFF passing grade, the offense has taken a step backward from an efficiency standpoint over the past three weeks. Dallas' offense ranked third in EPA per play in Weeks 1-3; the same unit ranked ninth in EPA per play in Weeks 4-6.
The Eagles' defense very well could help Dak & Co. get back on track in Week 7 considering just how bad the team's secondary has played to start the season. Philly ranks outside the top-20 in yards per pass attempt allowed (7.5) and has zero defensive backs with 100 or more coverage snaps played and a coverage grade above 70.0.
Fantasy Football Preview
It's fair to say Zach Ertz has been a fantasy disappointment this year. After all, he's averaging only 12.6 PPR points per game after averaging 17.6 a year ago. His yards per game have fallen from 72.7 to 61.0, and his targets have dropped from 9.6 to 8.5. All that said, he's not been much of a disappointment. He's TE5 so far this year, on pace for 136 targets and 976 yards. He's only scored once, which is coloring impressions of his overall production. One good scoring game and nobody will blink twice at his line.
Greenline Preview
Both teams in this NFC East matchup are coming off of a tough Week 6 loss. This spread has held steady, with the total rising by a full point up to 49.5. With key offensive players questionable for this matchup, Greenline offers a certain lean on the total but this price could continue to move. 
Monday, October 21
New England Patriots @ New York Jets
Players to Watch
Returning to action in Week 6, Jets quarterback Sam Darnold pulled off an upset win over the Dallas Cowboys at home, picking up a handful of big-time throws and a 74.5 single-game grade in the process. It's unfortunate that he'll have little opportunity to build on his strong performance in Week 7 because he'll be running into a buzzsaw in New England's defense.
The Pats' defense has been nothing short of incredible in Weeks 1-6. It's hard to find a metric, advanced statistic or grade New England's defense doesn't lead the league in, to be fair. The unit enters Week 7 ranked first in EPA allowed per play and scoring drive allowed percentage. Good luck, Darnold.
Fantasy Football Preview
Sam Darnold's first start after returning from mononucleosis was a roaring success despite fairly daunting circumstances; the Jets were 0-4 and the Cowboys hadn't allowed an opposing quarterback to even reach 17 fantasy points in a game all year. If Darnold can do it again in Week 7, though, we'll really have something to talk about, because there is no tougher matchup than a Patriots team that has allowed one passing touchdown all year and hasn't allowed a quarterback to reach 12 fantasy points in a game.
Sam Darnold is back, and the Jets have found some backing after their phenomenal Week 6 performance. This line opened at +10.5 but has been bet toward the Jets with the current market price sitting at +9.5. This may be a slight overreaction to one week's worth of data, as Greenline has the Patriots win probability at 80%.