Both the Tampa Bay Buccaneers and Chicago Bears came into Thursday Night Football at 3-1, but it was the Bears who erased an early 13-point hole and extended their record to 4-1 to start the season. 
It wasn't the prettiest of wins, but Chicago will take the victory against a team that it could be jockeying with for playoff seeding down the road.
Editor's note: All of PFF's grades and advanced stats from this game will be finalized and made available to ELITE subscribers within 24 hours of the final whistle.
STORY OF THE GAME
This game got a little ugly. As a fan, there are few worse games to watch than one where penalties consistently chop up the action, keeping either team from getting into any kind of rhythm. That's what broke out in the second half — flags and untimely sacks stalled quite a few drives, and defensive penalties bailed out several bad stretches of offensive play.
Ultimately, the Bears escaped with their fourth win of the season after Cairo Santos hit a 38-yard field goal with 1:13 remaining and the Bears defense kept Tom Brady from orchestrating a game-winning comeback. 
It's unlikely that either team truly feels great about its performance in this one. Tampa Bay was well below full strength in this contest because of injuries in the receiving department.
The Buccaneers will have to get accustomed to not having O.J. Howard on the field after he tore his Achilles last week, but the injuries didn't stop there. Chris Godwin missed his third game of the season; Justin Watson was ruled out with an injury; and Mike Evans and Scotty Miller were clearly limited. 
That definitely hurt the Buccaneers, particularly when Brady looked to push the ball down the field. Brady came into the game tied for the league lead in completions on passes 20 or more yards downfield with 13, but he didn't complete any in this game on six attempts.
The Bears had something to say about that, though. Khalil Mack made his presence known on multiple occasions, and Chicago's pass rush as a whole did a good job against an offensive line that was playing really well coming into the week.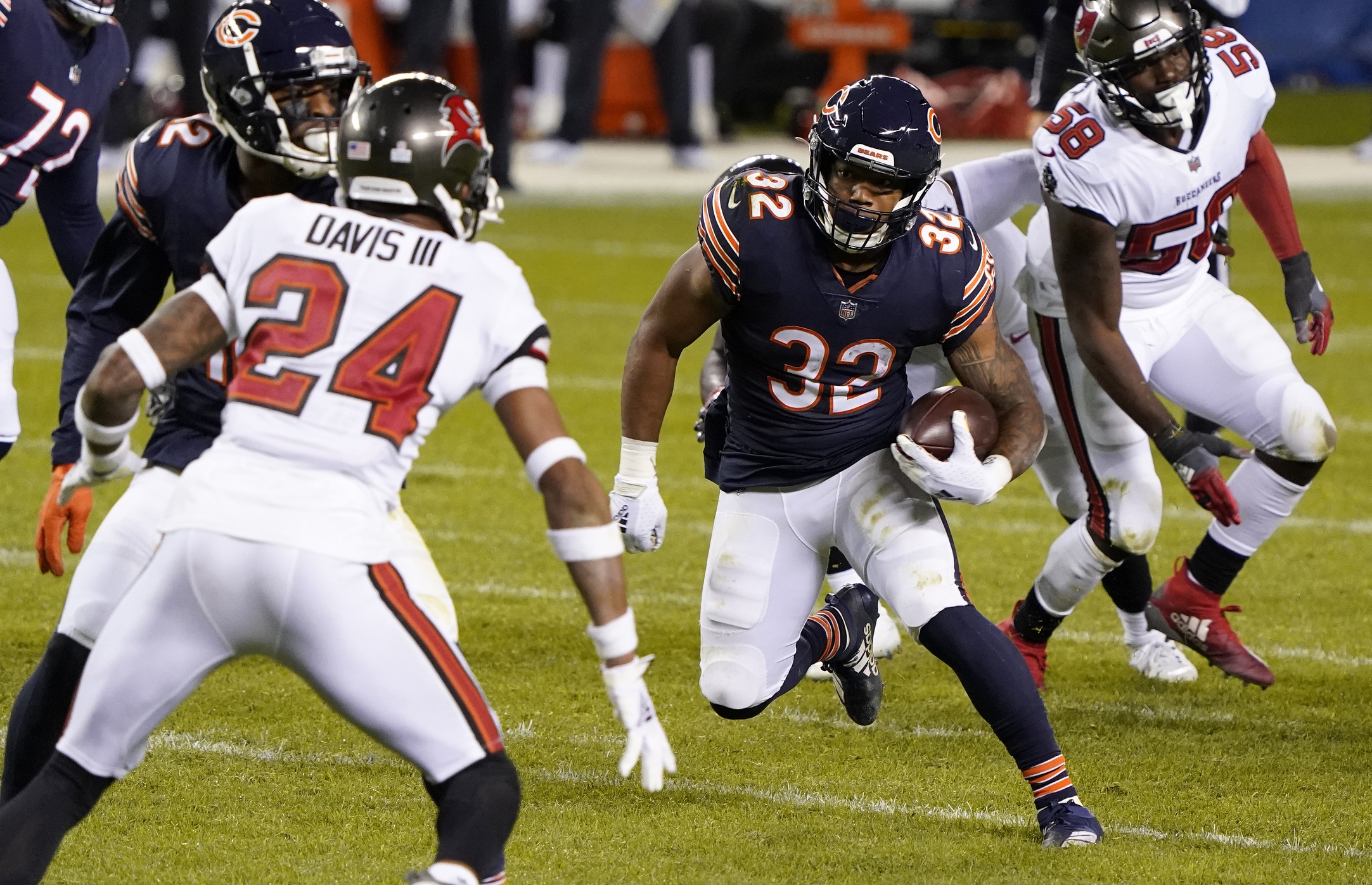 On the other side of the field, it was the quintessential Nick Foles experience. He missed some wide open receivers and made some questionable decisions that put the ball in harm's way, but he also led scoring drives when the team needed them. It's going to be hard to predict what you're going to get from him on any given week. More often than not, it will be a mixed bag like we saw tonight. 
ROOKIE WATCH
Tristan Wirfs has been impressive early in his NFL career, but matchups don't get much tougher than having Mack across the line of scrimmage. That showed at times tonight. The rookie did a good job of holding his own early, but multiple sacks and a holding penalty on his watch in the second half tarnished his night. Signs still point to Wirfs being very good in this league for a long time, though. 
We've seen some rough performances from rookies in the secondary across the NFL, but there has been a lot to like from Jaylon Johnson and Antoine Winfield Jr. through the first four weeks of the season. Winfield kept that momentum rolling with a pass breakup and no big blunders, but this certainly wasn't Johnson's best performance of the season. On initial count, he was charged with five receptions allowed for 76 yards — a figure that doesn't include his pass interference penalty. 
At wide receiver, Tyler Johnson had seen the field in each of the past two weeks, but he went without a target in games against the Denver Broncos and Los Angeles Chargers. Tampa Bay's injuries thrust him into the spotlight a little bit here, however. Johnson flashed in the first half with four receptions for 61 yards but was held without a catch after halftime. His 37 routes were second on the team to Evans (38), and most of those came from the slot.
Fellow fifth-round rookie wide receiver Darnell Mooney caught just two passes for 15 yards, but Foles missed him early in the game on what should have been a big play on a nice route. The noteworthy takeaway here is that Mooney was the clear WR2 for the Bears. His 33 routes were 13 more than Anthony Miller. It's easy to see him making some big plays for the Bears' offense as this year progresses. 
Cole Kmet and Ke'Shawn Vaughn both had small roles on offense. Most of Vaughn's action came as a receiving back on third downs, and his most notable play was a fumble on a big hit by Kyle Fuller in the second quarter that seemed to shift momentum in the game. Seventeen of his 18 offensive snaps in the game were pass plays. Kmet wasn't targeted on nine routes, but he was flagged on a holding call. It was a forgettable night for both. 
ELITE subscribers can view player grades, advanced statistics, positional snap counts and more in Premium Stats 2.0.