Many expected the winless matchup between the Denver Broncos and the New York Jets to be ugly and a snoozefest. While the former proved correct, the latter couldn't have been more wrong — it was an entertaining game from start to finish. 
This game actually had big implications — not for the division title or the playoffs but, rather, for the order of the 2021 NFL Draft. Both of these teams are on a path to picking early in April's draft, and each has a shot at securing one of the most coveted No. 1 overall picks in history.
Realistically, the loser of this game is a winner in the end once the draft order starts to come to fruition, and that team was the Sam Darnold–led New York Jets. Nonetheless, here are five takeaways from the Broncos' 37-28 victory over the Jets in the Week 4 edition of Thursday Night Football.
DARNOLD WAS FEARLESS UNDER PRESSURE AND ON THE GROUND, BUT HE FAILED TO EXECUTE FROM CLEAN POCKETS
Darnold opened up this game with two big plays on the ground, including a 46-yard touchdown scamper that was perhaps the most impressive run of any quarterback not named Lamar Jackson in the past few years. It was a fearless run on Darnold's part, and we saw that same aggressive play on this big-time throw he had outside the pocket: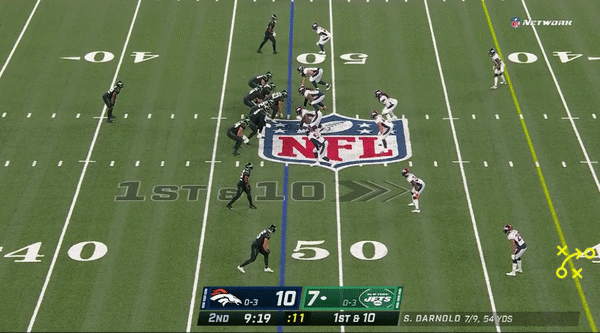 That said, he did have a bevy of self-inflicted pressures due to not getting rid of the ball quickly enough and neglecting open receivers. We charged Darnold with two sacks and four pressures overall on the night. And as impressive as the plays he made off structure were, they are not stable. Clean-pocket passing, on the other hand, is stable. And Darnold has significantly struggled in that area throughout his NFL career.
When in a clean pocket against Denver, he produced a 44.0 passing grade while throwing as many accurate passes as uncatchable ones (42.9% each). On Darnold's 11 throws of 10 or more yards when kept clean, his uncatchable pass rate jumped to 81.8%. 
This was one of many concerning performances in Darnold's NFL career, and the Jets are now in the driver's seat for the No. 1 overall pick after losing to one of the worst offenses in the NFL. Assuming they continue on this path, Darnold's performance in this game should make that pick an easy choice.
THE MOST UNDERRATED PLAYER OF 2018 IS BACK AND AT IT AGAIN
One of the most underappreciated and valuable positions on the field is slot corner. A few years ago, Bryce Callahan of the Broncos, who at the time was playing for Fangio and the Chicago Bears, was one of the most underrated players at the position. In 2017 and 2018 combined, he produced the fifth-best coverage grade at the alignment among 63 qualifying defensive backs. In 2018 alone, he allowed just 0.69 yards per slot coverage snap, which was the lowest mark among defensive backs with at least 200 slot coverage snaps that year.
He left the Windy City with Fangio to come to Mile High following that season but missed all of 2019 due to injury. And he then played on the outside to start the 2020 season due to a depleted unit. Through the first three weeks, Callahan played 164 snaps at outside corner as opposed to 11 snaps in the slot. While he performed admirably, he didn't produce at as high of a level as he has on the inside. Last night, Callahan kicked inside in the second half after playing on the outside for the first couple of quarters, and his slot prowess shined through.
Callahan manned the slot for 26 coverage snaps against the Jets and allowed two catches on five targets for 14 yards while forcing an incompletion. That led to a 47.9 passer rating when targeted. Callahan also made a huge stop in the fourth quarter that forced the Jets to kick a field goal (however, they should have gone for it on fourth down):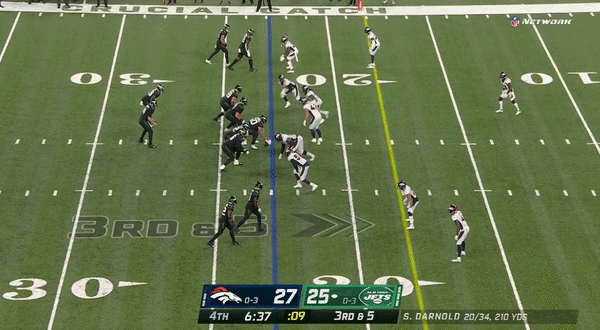 On top of that, he played an integral role in sealing the win by locking up Darnold's first read in Jamison Crowder on the final play, which ended in a sack. It's unknown whether Fangio will move Callahan inside permanently, but it looks like it might be the best decision.
THE QUINNEN WILLIAMS BREAKOUT HAS OFFICIALLY COMMENCED
Williams was one of the best defensive players we have ever graded in the PFF College era. He produced a 96.0 PFF grade in his first and last full season as a starter at Alabama in 2018, which is now tied with Chase Young's 2019 campaign for the best recorded. Williams never had that same dominant level of play at any moment in his 2019 rookie campaign. He never earned a game grade higher than 75.7 and failed to notch more than three pressures in a game.
The 2019 third overall pick gave us a sign that a breakout year might be in the works against the San Francisco 49ers in Week 2, as he posted a career-high 81.6 PFF grade. And last night against the Broncos, he had an incredible performance from a pass-rushing standpoint, which was reminiscent of his days with the Crimson Tide.
Williams posted an 82.9 pass-rush grade for the night — significantly better than his previous career-high, which also came a couple of weeks ago against the 'Niners (69.6). He won on 25.9% of his pass-rush reps, which was also the best rate of his career and just the second time he won more than 11.5% of his reps in a single game. He terrorized Dalton Risner and Lloyd Cushenberry III all game long.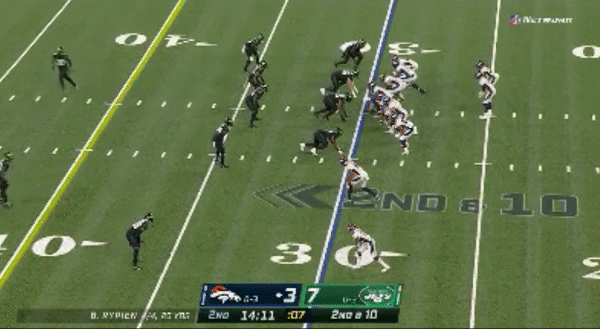 This is the version of Quinnen Williams we all expected him to be. With two career performances within three weeks, a breakout appears to be on the horizon for the second-year interior defensive lineman.
THE RETURN OF THE BOAT NEXT WEEK?
Brett Rypien was all over the place for the Broncos last night. He had a few really nice throws, such as this seed for a touchdown to Tim Patrick: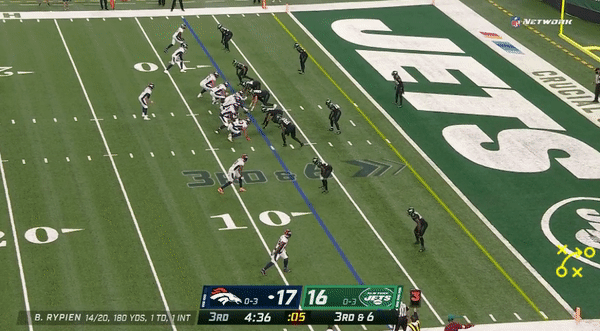 But he also had multiple really bad ones, such as this interception that the Jets returned for a score: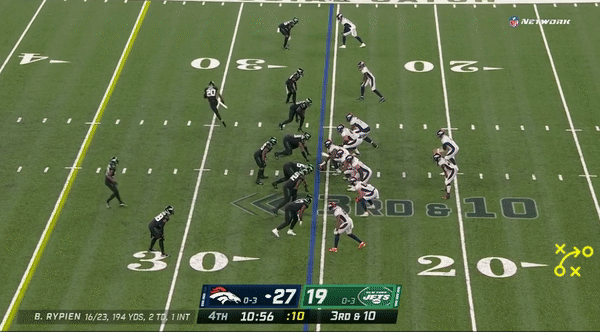 The Broncos may have gotten the win, but the Rypien's play didn't do much for that. He posted a 40.6 passing grade for the game, featuring four big-time throws and four turnover-worthy plays. He finished with more negatively graded throws than positively graded ones. It's not like anyone expected Rypien to ball out in his first NFL start, but it's quite clear from his performance last night that he isn't ready to be thrown in with the wolves.
As great of an idea as it might be, Denver isn't throwing in the towel on its 2020 season — the team is going to try and win at all costs. This past week, the Broncos signed former Jaguars starter and Rams backup Blake Bortles (aka The BOAT), and as poorly as he played throughout his NFL career (career-high passing grade of 66.7), Denver might resort to him until Drew Lock recovers from injury. Regardless, the Broncos' quarterback situation is in a shaky state.
Only one cornerback in the PFF era (since 2006) had allowed over 125 yards and two touchdowns in a single game while also picking off two passes entering Thursday night. By the conclusion of the game, Pierre Desir made it two.
Desir capitalized on two really poor throws from Rypien, one of which he took to the house for a score and the other being this exceptional toe-drag: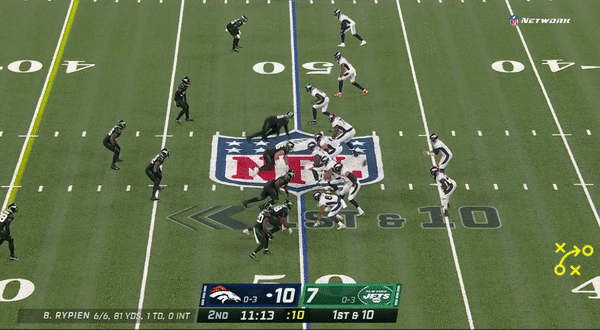 Desir took clear advantage of Rypien's mistakes and had a couple of nice stops in coverage in addition to those interceptions, but he negated pretty much all of that with multiple poor plays. He allowed eight catches on nine targets in coverage for a total of 134 yards. The worst of those occurred on Jerry Jeudy's first career touchdown: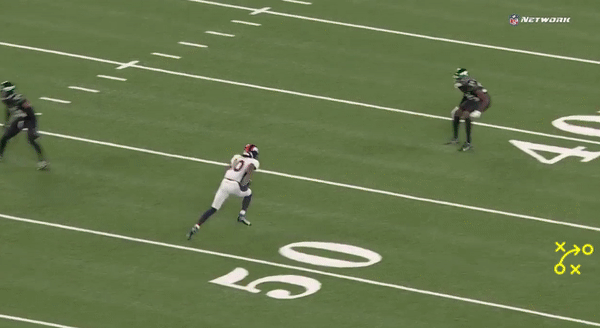 While Jeudy made a great play, his catch had more to do with Desir's poor coverage than anything. That was an easy turnover-worthy throw that should have been picked off, but the ball hit Desir right off the helmet, allowing Jeudy to snag it from him. 
This was one of the most up-and-down performances from a cornerback we have seen in the PFF era, and it's a prime example as to why the Jets might have one of the league's worst secondaries. It's no secret at this point that the Jets need corners — they entered this game ranked last in coverage grade and still managed to give up 0.25 expected points added per pass play to Rypien and the Broncos despite coming away with three interceptions.
The good news is that they have two first-round picks next April. The bad news is that they need multiple new bodies in the secondary and almost everywhere else on the field.