The Philadelphia Eagles looked in trouble early but bounced back to keep their unbeaten record intact, ending Week 4 with a 29-21 win over the Jacksonville Jaguars.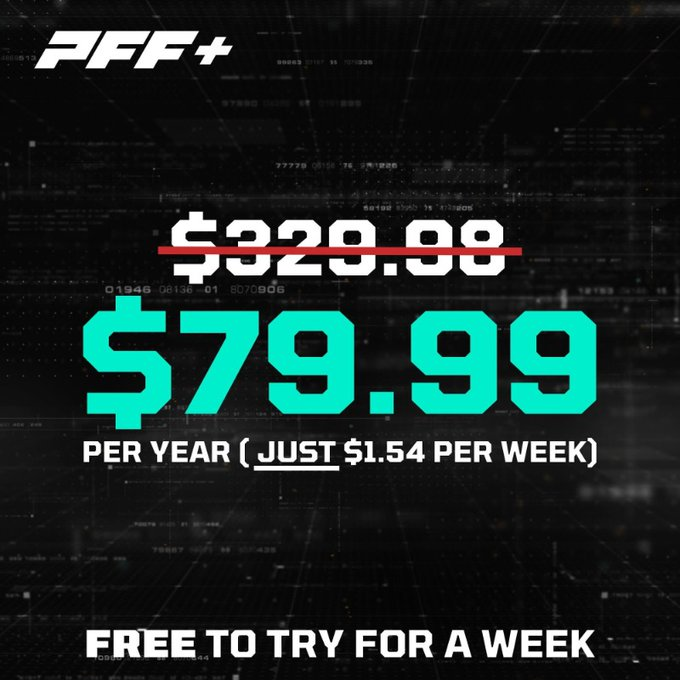 Offensive spotlight: Jags QB Trevor Lawrence may have finished this one with the higher passer rating, but that tells very little of the true story. In all, the second-year passer went 11-of-23 for 174 yards, two scores and one interception, but he also lost four fumbles and failed to record a single big-time throw. If his passing grade holds up under review, it'll be the lowest single-game mark of his career to date.
Defensive spotlight: Philadelphia's Haason Reddick was a menace in the pass rush today, racking up two sacks — including a game-changing strip sack — and a hurry from 22 rushes.
Rookie spotlight: First overall pick Travon Walker managed just one hurry from his 20 pass-rush snaps, but even that was a gimme — a player where he was left completely unblocked.
Offensive line spotlight: Lawrence may have taken four sacks on the day, but the Jaguars line was responsible for just two of them, according to PFF's first review. They allowed two sacks and five hurries from 27 snaps, and only Jawaan Taylor graded below 60.0.
Box Score
Passing
Jacksonville Jaguars
Player
Fantasy
Comp/Att
Yds
YPA
TD
Int
Rtg
Trevor Lawrence
10.7
11/23
174
7.6
2
1
84.3
Philadelphia Eagles
Player
Fantasy
Comp/Att
Yds
YPA
TD
Int
Rtg
Jalen Hurts
17.0
16 / 25
204
8.2
0
1
72.8
Rushing
Jacksonville Jaguars
Player
Fantasy
Car
Yds
YPC
TD
Long
Fum Lost
Trevor Lawrence
10.7
2
7
3.5
0
7
4
Christian Kirk
8.3
1
3
3.0
0
3
0
Travis Etienne Jr.
3.2
8
32
4.0
0
11
0
James Robinson
2.9
8
29
3.6
0
9
0
Philadelphia Eagles
Player
Fantasy
Car
Yds
YPC
TD
Long
Fum Lost
Miles Sanders
32.6
27
134
5.0
2
35
0
Jalen Hurts
17.0
16
38
2.4
1
13
0
Kenneth Gainwell
8.7
5
19
3.8
1
10
0
Trey Sermon
1.9
2
19
9.5
0
14
0
Receiving
Jacksonville Jaguars
Player
Fantasy
Tgt
Rec
Yds
YPT
TD
Long
Jamal Agnew
21.0
6
4
50
8.3
2
24
Christian Kirk
8.3
9
2
60
6.7
0
45
JaMycal Hasty
4.2
2
2
22
11.0
0
15
Dan Arnold
3.6
1
1
26
26.0
0
26
Travis Etienne Jr.
3.2
1
0
0
0.0
0
0
Evan Engram
2.6
1
1
16
16.0
0
16
Chris Manhertz
1.0
1
1
0
0.0
0
0
Marvin Jones Jr.
0.0
1
0
0
0.0
0
0
Tim Jones
0.0
1
0
0
0.0
0
0
Philadelphia Eagles
Player
Fantasy
Tgt
Rec
Yds
YPT
TD
Long
Miles Sanders
32.6
3
2
22
7.3
0
16
A.J. Brown
14.5
7
5
95
13.6
0
31
Dallas Goedert
12.2
6
5
72
12.0
0
26
Kenneth Gainwell
8.7
2
1
-2
-1.0
0
-2
DeVonta Smith
4.7
4
3
17
4.2
0
7
Zach Pascal
0.0
1
0
0
0.0
0
0
Quez Watkins
0.0
1
0
0
0.0
0
0