In a game that featured two teams that will likely be in the hunt for the AFC's top playoff seed, the Buffalo Bills claimed a hard-fought 23-20 win over the Baltimore Ravens in Week 4.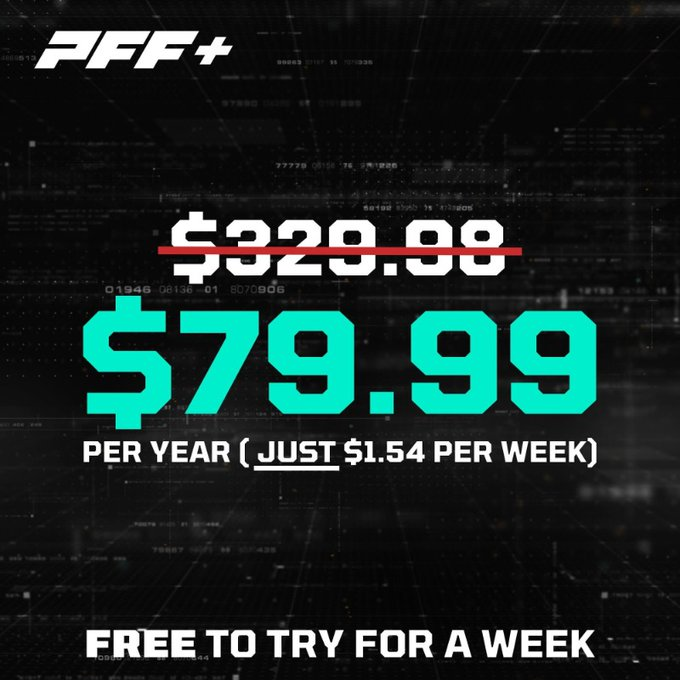 Offensive spotlight: It was a slow start for the Bills on offense, but as the game went on, they leaned more and more on Josh Allen, and the MVP-calibre QB delivered time and time again. He passed for 213 yards, but what meant more in the end for the Bills was his 70 yards rushing on 10 carries — 69 of which came after contact. It seemed like the Ravens couldn't contain Allen in crucial situations and kept drives alive, and led to points.
Defensive spotlight: The Ravens defense showed up strong to start the game, but the ball-hawking play of Bills veteran safety Jordan Poyer was the difference in this one. Poyer snagged two interceptions on the day, the second of which came in the red zone as the Ravens attempted to win the game on their final drive.
Rookie spotlight: Bills rookie wide receiver Khalil Shakir didn't get a ton of targets, but he made the most of them when they came his way. He caught both passes thrown his way, and both were for first downs. His 68.0 receiving grade was the best on the team on first review.
Offensive line spotlight:  It wasn't the best day for either offensive line — there's a lot of talent on both defensive lines, too — but the Bills offensive line had the better day. They only allowed seven pressures and a pressure percentage of 17.1%.
Box Score
Passing
Buffalo Bills
Player
Fantasy
Comp/Att
Yds
YPA
TD
Int
Rtg
Josh Allen
24.5
19 / 36
213
5.9
1
1
68.4
Baltimore Ravens
Player
Fantasy
Comp/Att
Yds
YPA
TD
Int
Rtg
Lamar Jackson
15.1
20 / 29
144
5
1
2
63.0
Rushing
Buffalo Bills
Player
Fantasy
Car
Yds
YPC
TD
Long
Fum Lost
Josh Allen
24.5
11
70
6.4
1
20
0
Devin Singletary
12.6
11
49
4.5
0
18
1
Zack Moss
0.6
3
6
2.0
0
5
0
Baltimore Ravens
Player
Fantasy
Car
Yds
YPC
TD
Long
Fum Lost
J.K. Dobbins
22.3
13
41
3.2
1
16
0
Lamar Jackson
15.1
11
73
6.6
0
18
0
Justice Hill
7.7
8
45
5.6
0
14
0
Patrick Ricard
5.0
1
3
3.0
0
3
0
Receiving
Buffalo Bills
Player
Fantasy
Tgt
Rec
Yds
YPT
TD
Long
Devin Singletary
12.6
5
4
47
9.4
0
16
Isaiah McKenzie
12.1
6
4
21
3.5
1
8
Stefon Diggs
10.2
6
4
62
10.3
0
23
Dawson Knox 

P

7.0
6
3
40
6.7
0
20
Khalil Shakir
4.3
2
2
23
11.5
0
14
Gabe Davis 

P

2.3
3
1
13
4.3
0
13
Jamison Crowder
1.7
4
1
7
1.8
0
7
Quintin Morris
0.0
1
0
0
0.0
0
0
James Cook
0.0
1
0
0
0.0
0
0
Baltimore Ravens
Player
Fantasy
Tgt
Rec
Yds
YPT
TD
Long
J.K. Dobbins
22.3
4
4
22
5.5
1
20
Devin Duvernay
9.1
5
4
51
10.2
0
21
Justice Hill
7.7
2
2
12
6.0
0
10
Patrick Ricard
5.0
3
3
17
5.7
0
7
Rashod Bateman
4.7
6
3
17
2.8
0
13
Mark Andrews
3.5
5
2
15
3.0
0
9
Demarcus Robinson
3.0
3
2
10
3.3
0
7