We are now two full weeks into the 2019 NFL season, which of course means that the takes are already flying! We've seen former first-round draft picks excel and others struggle, and training camp darlings fail to produce in the regular season. So who has impressed and seen their stock rise through the opening two weeks of the season and who has failed to live up to expectation?

Stock Up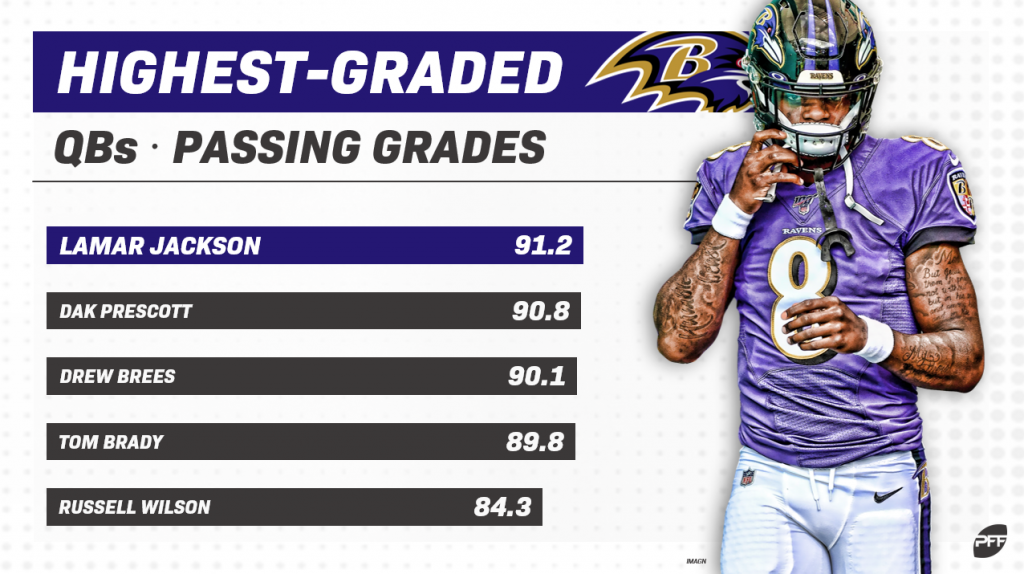 QB Lamar Jackson, Baltimore Ravens
Among quarterbacks with at least 100 dropbacks in the 2018 regular season, Jackson produced just the 33rd-highest PFF passing grade. He helped the Ravens reach the playoffs with his legs, but inaccuracy as a passer hurt them and him and ultimately proved to be their downfall in the postseason. Through two weeks of the 2019 season, Jackson has the highest PFF passing grade in the league at 91.2. He has thrown for 224 yards on throws 20-plus yards downfield, including effectively sealing the win over the Arizona Cardinals on Sunday with a dime to Marquise Brown down the right sideline. And he ran for 120 yards and forced three missed tackles in the same game.
WR Chris Godwin, Tampa Bay Buccaneers
Godwin was impressive in his first two seasons in the NFL, but the arrival of Bruce Arians as the Buccaneers head coach prompted many to expect an even bigger season from him in their new offense. So far he hasn't disappointed and is coming off a big game against the Carolina Panthers on Monday Night Football. Among wide receivers who have seen at least 10 targets through two weeks, Godwin's 2.56 yards per route run average ranks 12th.
Edge T.J. Watt, Pittsburgh Steelers
It has been a disappointing start to the season for the Pittsburgh Steelers, but not when it comes to T.J. Watt. Through two games, he ranks second among edge defenders with at least 30 snaps with a PFF grade of 89.8 and is impressing both against the run and as a pass-rusher. So far this season, all four of his solo tackles have resulted in a defensive stop. His impact getting after opposing quarterbacks has been clear to see, with a sack, three hits and five hurries from 71 pass-rushing snaps. The cherry on top is that he has added a forced fumble. If this keeps up, don't be shocked if he finishes the season as the highest-graded Watt in the NFL.
RB Josh Jacobs, Oakland Raiders
We might not have been a fan of the value in selecting a running back in the first round, but Jacobs is proving why he was our top running back available in the 2019 NFL Draft with his performances so far in Oakland. He is averaging 5.3 yards per carry through two games, with a whopping 4.2 of those yards coming after contact. He leads all running backs with a PFF overall grade of 89.8 and has proven tough to bring down, forcing nine missed tackles on 35 carries and another three on his lone reception of the year so far.
Stock Down
QB Mitchell Trubisky, Chicago Bears
The second overall selection in the 2017 NFL Draft has struggled mightily in both games so far this season, producing PFF overall grades of 49.1 and 53.1 against the Green Bay Packers and Denver Broncos, respectively. He has been inefficient throwing the ball downfield, going just 6-for-25 for 137 yards and an interception. He has all but fallen apart when under pressure, completing just seven of his 20 attempts for 48 yards and an interception with a PFF passing grade of just 26.9. If the Bears are to have any hope of being contenders in 2019, they need to see a big improvement from Trubisky in a hurry.
WR Donte Moncrief, Pittsburgh Steelers
Moncrief's stock is trending down for a couple of reasons. Despite being targeted 11 times through two games, he has racked up just seven yards on three receptions and has two drops to his name. One of those drops allowed the ball to be picked off against the Seattle Seahawks on Sunday and means that the NFL passer rating on throws where Moncrief is the target has been just 1.7 so far this season. The other reason why his stock is trending down is because with Ben Roethlisberger out for the year and Mason Rudolph taking the helm in Pittsburgh, it stands to reason that his favorite target in college James Washington will likely see more targets than Moncrief going forward.
Edge Bradley Chubb, Denver Broncos
The fifth overall selection in the 2018 NFL Draft racked up 13 sacks a year ago and many people seemed surprised that it has resulted in a PFF pass-rush grade of just 72.7. That's certainly not a bad grade, but when you are tied for seventh among edge defenders in sacks, you'd expect more. When you go beyond just sacks, though, and look at total pressures, Chubb was tied for 19th . Total pressures and pressure rate are much better predictors for future sack totals than sacks alone. So far this season, he has produced just two hits and a hurry from 47 pass-rushing snaps and has missed two of his 10 solo tackle attempts. That has resulted in his PFF grade from the year being just 59.6 through two games.
CB DeAndre Baker, New York Giants
We liked Baker heading into the draft, but he has certainly struggled with life in the NFL through two weeks. He has allowed a league-leading  272 yards in coverage, is one of 11 cornerbacks to allow two touchdowns and is one of six cornerbacks to allow a perfect 158.3 NFL passer rating on throws into his coverage. On the plus side, he has yet to miss a tackle, but with 132 and 140 yards allowed against the Dallas Cowboys and Buffalo Bills, respectively, it's unlikely teams will shy away from going after him anytime soon.