Each week during the 2020 NFL season, I'll be doing a quick lap around the league to preview the rookies and their potential matchups. Very few first-year players hit the ground running in Week 1, which was to be expected with an abbreviated offseason and the lack of preseason games. Let's see if that will change here in Week 2.
I'll include Jonah Williams here because if this were baseball or basketball, he'd still be considered a rookie. The former first-rounder is getting introduced to the NFL by being thrown straight into the deep end — first he got Joey Bosa and Melvin Ingram III, and now he gets Myles Garrett on Thursday Night Football. Williams was certainly not the problem for Cincinnati up front in Week 1, as he excused himself well enough by allowing only three pressures across 45 pass-blocking snaps and earning a PFF pass-blocking grade of 63.1.
No. 1 overall pick Joe Burrow should have an easier time on Thursday night. He was put under pressure on 17 of 44 dropbacks last week, despite the obvious early emphasis on the quick game. The Browns defense overall shouldn't be nearly the test he saw from the Chargers, though.
For the Browns, first-rounder Jedrick Wills Jr. was back at practice despite a minor scare against the Ravens and isn't even listed on the injury report. Wills allowed three pressures on 40 pass-blocking snaps in Week 1 and should see a healthy dose of Carl Lawson, who generated three total pressures (one being a sack) and looked back to himself in Week 1.
The rookie with the more favorable matchup, however, is third-round defensive tackle Jordan Elliott. He quietly looked good last weekend, earning a 76.4 overall grade on 26 snaps. He'll face a Cincinnati interior that combined to allow eight QB hurries in Week 1.
We'll also see more action from tight end Harrison Bryant with David Njoku on the IR.  While Bryant played 31 snaps in Week 1, he only caught one ball for 5 yards.
Going from the ridiculously explosive Bud Dupree to the Bears' combination of James Vaughters and Barkevious Mingo should be a welcome transition for left tackle Andrew Thomas. While Khalil Mack usually lines up over right tackles, he dabbles on the other side from time to time (26 of in 67 snaps Week 1), so those few snaps should be must-see TV for Giants fans.
Speaking of "must-see TV," Bears fifth-rounder Darnell Mooney was electric with the ball in his hands in Week 1. He broke two tackles on three catches for 38 yards. More of that, please.
The rookie corners in this matchup will be intriguing, too. Giants slot corner Darnay Holmes will have his hands full with Anthony Miller while Bears second-rounder Jaylon Johnson looks to build on a Week 1 performance that saw him earn the second-highest grade of any rookie corner (75.6).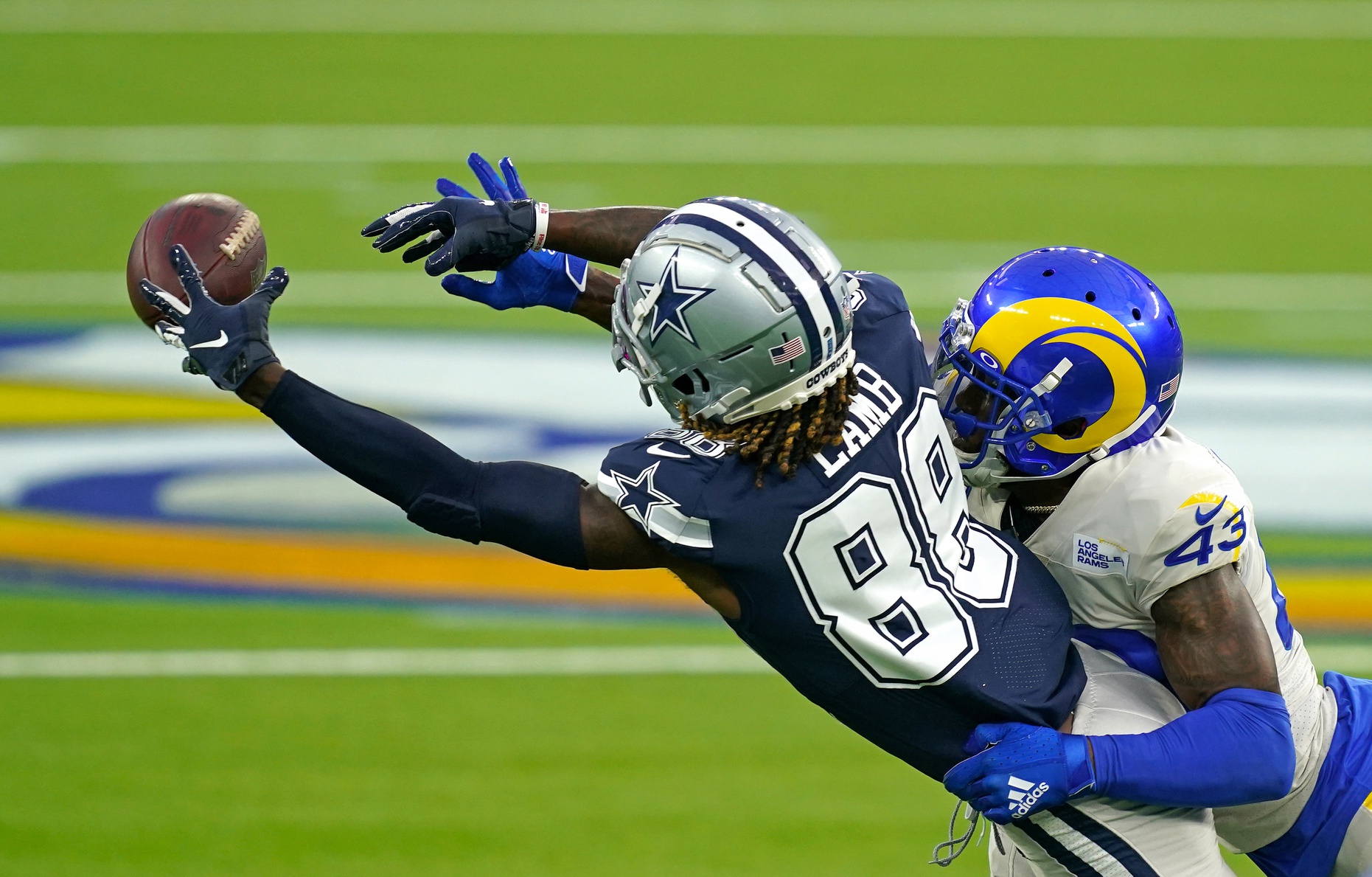 Luckily for UDFA right tackle Terence Steele, he's not facing a murderers row of edge rushers out of the gate. That doesn't mean it's going to get much better, though, especially since he earned a 49.8 overall grade in Week 1. While Dante Fowler Jr. and Takk McKinley switched back and forth last week, we may see Fowler stay over Steele, given the mismatch there. The rookie is going to need some help.
While the battle of these two first-rounders looks fun on paper, wide receiver CeeDee Lamb played 55 of his 61 snaps in the slot last week while A.J. Terrell played exclusively left outside corner. Chances are they won't meet much.
If the Cowboys' rookie corner Trevon Diggs thought he had it rough going up against the Rams' receivers in a Week 1 game where he allowed three catches from three targets for 63 yards, Julio Jones and Calvin Ridley won't make life any easier — the Falcons duo combined for 18 catches for 287 yards and two scores in Week 1.
The Lions will be looking for contributions up and down their roster from rookies all season. Right guard Jonah Jackson (70 snaps), receiver Quintez Cephus (62 snaps) and D'Andre Swift (34 snaps) all saw considerable playing time. The one everyone wants to see, though, is first-round corner Jeffrey Okudah, who was held out with a hamstring last week. The Lions desperately need him against Davante Adams and company this week, especially now that Desmond Trufant's status is up in the air.
On the opposite side of the ball, the man I'm most looking forward to seeing is linebacker Krys Barnes. Truthfully, he wasn't even on my radar as a prospect coming out of UCLA, so I have no college eval to point to. His three stops on only 15 snaps last weekend were pretty dang impressive, though.
Both Vikings and Colts fans have to hope their rookie receivers start to get more involved in their respective offenses. Michael Pittman Jr. only saw two targets against the Jaguars while Justin Jefferson saw three against the Packers. Pittman will be going up against Vikings rookie corners in Cameron Dantzler (64 snaps) and Jeff Gladney (nine snaps). It will be interesting to see if Gladney sees the field more, given the Vikings' coverage woes.
The man who we likely don't have to worry about being involved in the offense anytime soon is Jonathan Taylor, who looks like the top dog in Indianapolis with Marlon Mack on IR. He didn't quite fuel their running game last week, as many hoped he would, as he failed to break a tackle on nine carries.
We'll actually get a better handle on what first-rounder Noah Igbinoghene can do in coverage this week after the Pats' run-heavy attack only threw the ball 14 times with him on the field last week.
The real players to watch for the Dolphins, though, are the offensive linemen. Left tackle Austin Jackson and left guard Solomon Kindley allowed zero pressures and one pressure, respectively, last week. They were also going up against arguably the worst pass-rushing defensive line in the league. We'll see how they fare against a better Bills front.
Bills fans have to hope they can get their skill players on offense cooking a little more this week. Running back Zack Moss split carries with Devin Singletary, with nine carries apiece. Even though Singletary had 30 yards compared to 11 for Moss, Singletary only had 17 yards after contact compared to 16 for Moss.
Receiver Gabriel Davis saw 43 snaps against the Jets, with 28 of those from the slot. That's a massive change from being nearly stuck at left outside receiver running deep routes like he was at UCF.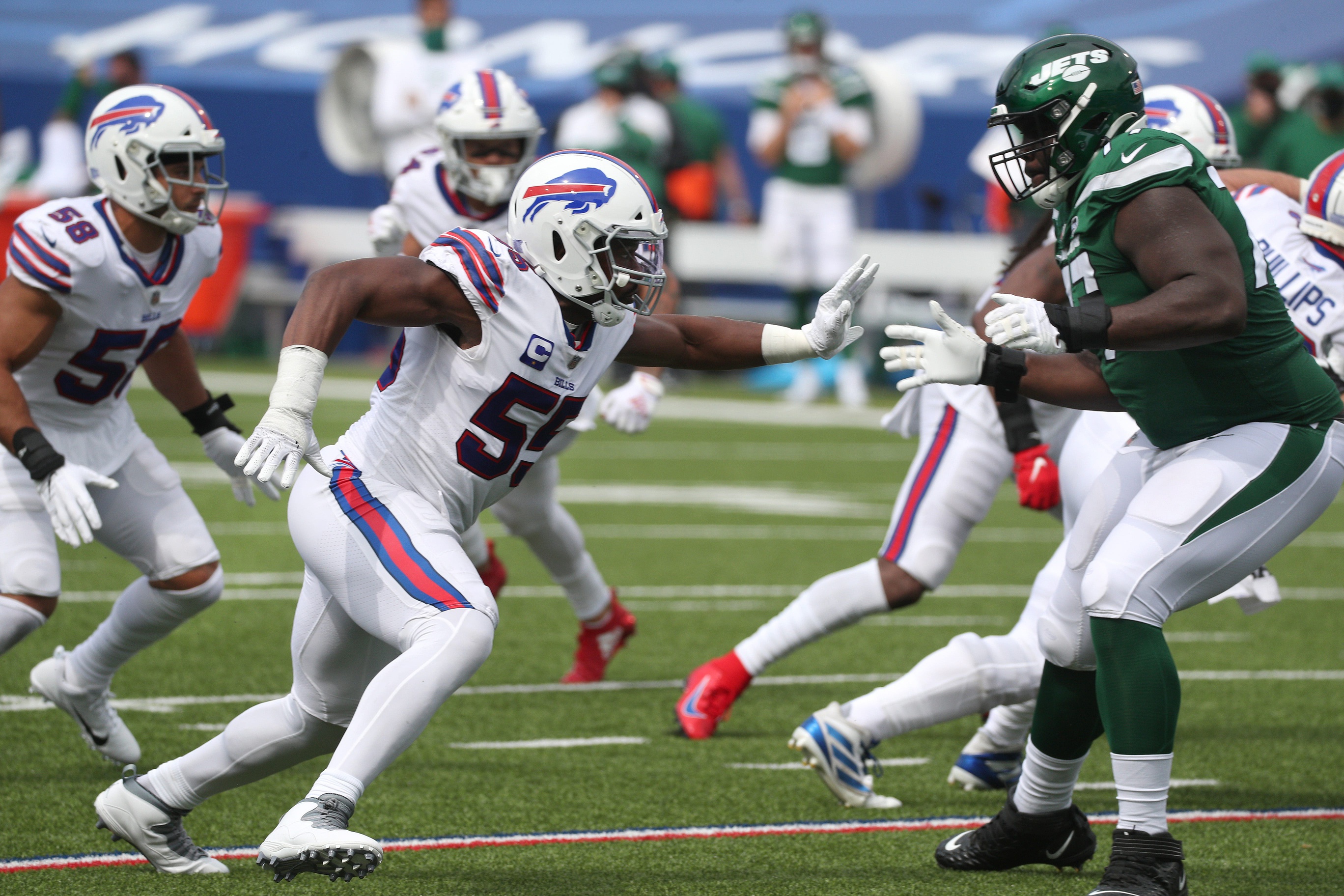 The lone bright spot for the Jets in Week 1 was the play of left tackle Mekhi Becton, who allowed only two pressures on 41 pass-blocking snaps. Now there's word that he's hampered by a knee injury as if blocking Nick Bosa — who rushes almost exclusively over left tackles — wasn't tough enough fully healthy.
The 49ers had their own standout rookie along the line of scrimmage last week, as well. Even though it was against a rough Cardinals interior line, Javon Kinlaw looked like a grown man already, frequently tossing them around. He earned an 81.4 overall grade on 39 snaps.
And as for the two injured rookie receivers, Denzel Mims is still on IR while Kyle Shanahan said he'd be surprised if Brandon Aiyuk didn't make his debut this week.
While Van Jefferson had reportedly won the WR3 job, he was out-snapped by Josh Reynolds (33 vs. 37) Sunday night. He had a big 31-yard catch but also dropped one of his catchable targets.
While sixth-rounder Jordan Fuller received rave reviews throughout camp to the point where he usurped Taylor Rapp's starting role, he struggled last week with three missed tackles on 10 attempts.
For the Eagles, it looks like Lane Johnson is back, so Jack Driscoll will head back to the bench after an encouraging start. That leaves just Jalen Reagor and John Hightower as the only first-year players set to see playing time. Philly had a near-even split of playing time between Hightower (27 snaps), Reagor (40 snaps), JJ Arcega-Whiteside (28 snaps), Greg Ward (30 snaps) and DeSean Jackson (37 snaps). Reagor's speed was evident immediately, and he could have had even more big plays than he did, with his lone catch going for 55 yards.
The Broncos are relying heavily on youth early on in the season— a scary proposition, given the circumstances — but the early returns are solid. Cornerback Michael Ojemudia had a fantastic interception that was unfortunately negated by a penalty. And while he got embarrassed a couple of times by A.J. Brown, he's unlikely to face a receiver of that caliber against Pittsburgh. Ojemudia allowed two catches from four targets for just 16 yards in Week 1. He also came away with a pass breakup.
Essang Bassey handled himself admirably in the slot, as none of the three catches he allowed went for a first down. We'll see if that continues against the very talented JuJu Smith-Schuster, who is coming off a six-catch, 69-yard, two-score performance in Week 1.
Offensively, Denver needs a bounceback from Jerry Jeudy, whose two drops on six catchable passes proved costly on Monday night. He showed he could get open, which is the more important thing, as drops weren't an issue for him at Alabama.
The bigger matchup for the Broncos' sake might just be center Lloyd Cushenberry III, who earned a 65.1 overall grade last week, tasked with a Steelers defensive line that put Daniel Jones under pressure on 54.2% of his dropbacks in Week 1, the highest rate in the league.
As far as Steelers rookies go, well, they had the second-fewest snaps from rookies in Week 1, with only 35.
With four rookies starting on defense, there will be some growing pains in Carolina. Derrick Brown (32.7 overall grade), Yetur Gross-Matos (53.1), Jeremy Chinn (46.5) and Troy Pride Jr. (29.9) all looked like fish out of water as the Panthers defense got thrashed by the Raiders. It won't get any easier against the Bucs.
On the flip side, even though Tampa Bay lost, they have to feel good about the early contributions from their rookies. Right tackle Tristan Wirfs allowed all of two pressures, even though he faced a very difficult matchup in Cameron Jordan almost all game long. He won't face an edge rusher that good again until they face the Chargers in Week 4. Safety Antoine Winfield Jr. also impressed in Week 1, earning a 77.3 overall grade with a forced incompletion in coverage, as well.
A.J. Brown vs. C.J. Henderson is going to be a battle of the titans. Brown never got to face Henderson back in their SEC days, but that finally changes Sunday. Henderson had the best debut of any rookie in the league, as he allowed five catches from 10 targets for 58 yards while picking off a pass and breaking up three others.
The Jags currently lead the NFL in snaps from rookies, with 232 in Week 1. Edge defender K'Lavon Chaisson (46 snaps), receiver Laviska Shenault Jr. (31 snaps) and running back James Robinson (34 snaps) are all expected to play major roles, as well.
The interesting storyline to watch for the Titans comes in the secondary. Seventh-round corner Chris Jackson actually out-snapped second-round corner Kristian Fulton 35 to 24. Now, Jackson was purely a slot and didn't play well at all — he earned a 28.9 overall grade — but we'll see if that changes this weekend.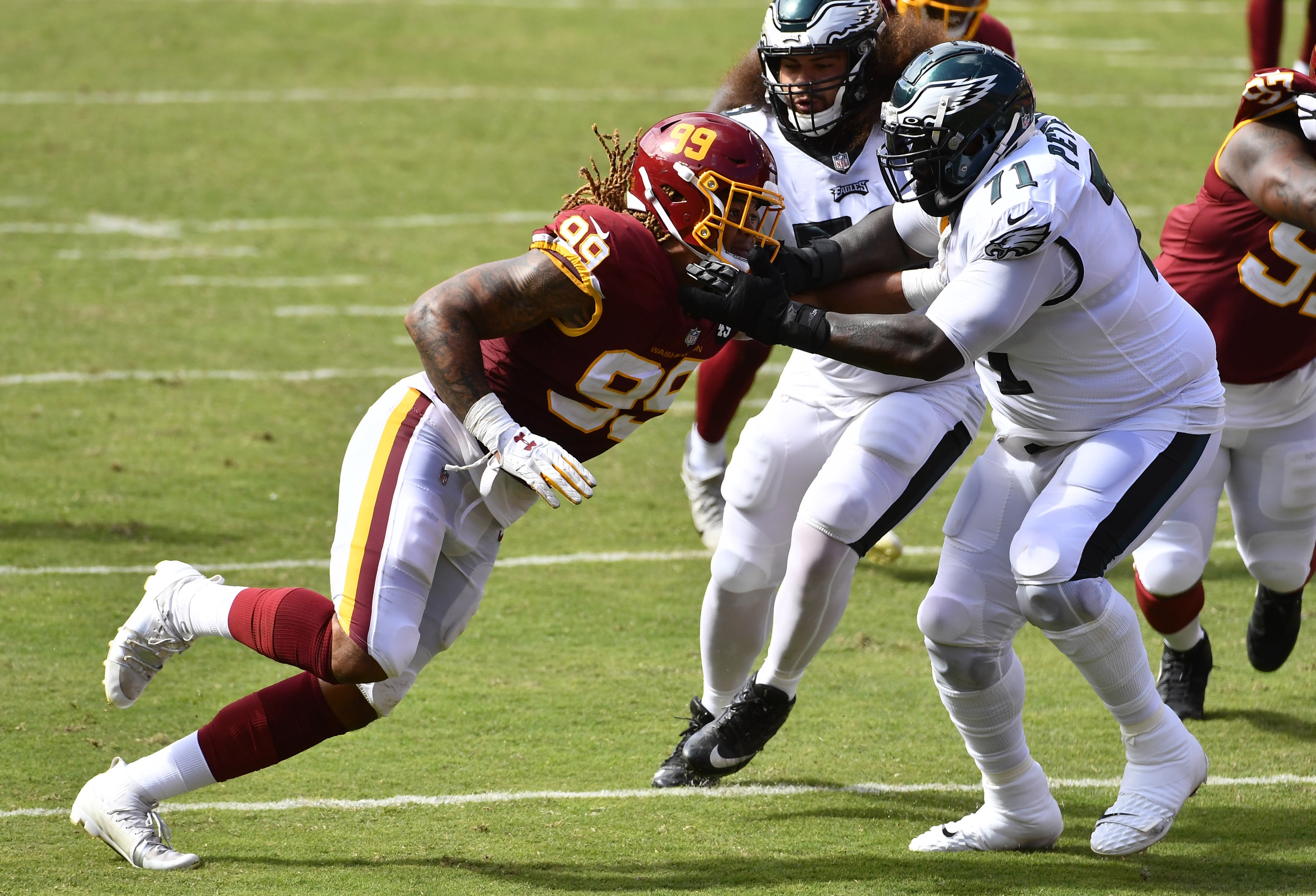 Chase Young was…well…Chase Young. He earned an 86.5 overall grade with two sacks, a hit and a hurry against the Eagles. The Cardinals' pair of tackles shouldn't put up much more of a fight than the Eagles did.
Isaiah Simmons, on the other hand, was not the Isaiah Simmons we remembered from Clemson. He started the game off with a horsecollar tackle, overcommitted disastrously on an angle-route for a 76-yard touchdown and got lost passing off a route against trips at the goal line for another score. He may get matched up against rookie running back Antonio Gibson (18 snaps), and here's hoping it looks better than last week.
For a team as loaded as the Ravens were last year, they'll be counting on contributions from a surprising number of rookies this season. Right guard Tyre Phillips (40.7 overall grade) and linebacker Patrick Queen (45.9) are the only true full-time starters, but J.K. Dobbins (63.7) saw 23 snaps at running back, Broderick Washington Jr. (38.1) saw 28 snaps at defensive tackle and Malik Harrison (74.7) saw 22 snaps at linebacker.
For the Texans, don't expect much from their rookie class without a first-rounder and second-round pick Ross Blacklock unable to win a starting job. Fourth-round slot cornerback John Reid led their rookie class in snaps, with 32, but he gave up all three targets for 33 yards against the Chiefs.
Everyone and their mother knows that Clyde Edwards-Helaire was electric last Thursday night. Expect him to see more than one target this time around against the Chargers' zone-heavy defense. The scary thing is that the Chiefs had relatively unknown rookies making massive contributions, as well. L'Jarius Sneed was a quick study at corner with a pass breakup and pick starting on the left side. The intriguing player to me, though, is rookie defensive tackle Tershawn Wharton from Missouri S&T. On only 14 snaps, he had five positively graded plays for a 76.6 overall grade. The leverage he plays with is outstanding for a defensive tackle, and he's going up against a fairly weak Chargers interior.
For the Chargers, it was a day to forget for Kenneth Murray against the Bengals (41.5 overall grade), and he's only going to have to deal with more window dressing vs. the Chiefs. Linebacker may be the position that's hurt the most without a preseason, as the amount of information they have to process in a short period of time is a massive difference from college.
While first-round linebacker Jordyn Brooks only saw seven snaps last week, third-round guard Damien Lewis was the biggest contributor in the Seahawks' rookie class. He was terrific in the run game, earning an 80.8 grade, but he also allowed four pressures in pass protection. The good news is that New England's interior won't be close to what Lewis saw going against the Falcons' Grady Jarrett.
The Patriots didn't have any rookie starters, but surprisingly rookie guard Michael Onwenu filled in at right tackle for 16 snaps and mauled in the run game. At 6-foot-3, 350 pounds, Onwenu was not on my radar as a tackle-to-guard conversion. We'll see if he's deployed as a run-blocking weapon in the new-look Patriots offense going forward.
This ain't the Marshon Lattimore/Ryan Ramczyk/Marcus Williams/Alvin Kamara rookie class for the Saints, as their 30 snaps from rookies in Week 1 were the fewest in the NFL. First-round interior offensive lineman Cesar Ruiz could be back this week, however.
The Raiders are another team that is relying on rookies early on at valuable positions. Henry Ruggs III's speed immediately added an element to the Raiders offense that they did not have last year. He was targeted three times on deep balls, hauling in one for 45 yards and nearly toe-tapping another. This Saints defense will be a little different animal from what the Panthers were throwing out there, though.
Bryan Edwards, on the other hand, wasn't in on the action whatsoever despite playing 47 snaps. He was targeted once all day, and that came on a screen that went for 9 yards.
The player they'll need to bounce back, though, is cornerback Damon Arnette. He gave up four catches from five targets for 110 yards in Week 1, including a 75-yard touchdown where he bit on a Robby Anderson out-and-up. With no Michael Thomas this week, Arnette should actually have an easier task than the one he had against the Panthers. He just needs to take advantage of it.