The Buffalo Bills put together a dominant performance against the overmatched Tennessee Titans at Highmark Stadium on Monday night, blowing out the visitors 41-7. The Bills dominated from pillar to post, as they led for most of the game, doubled Tennessee's total yards (414 to 187) and forced four turnovers.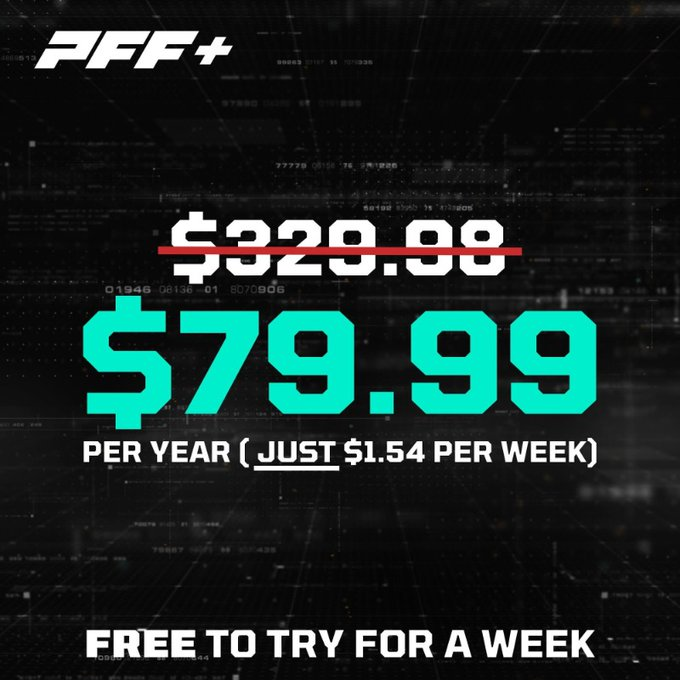 Offensive spotlight: The Bills offense was the Josh Allen and Stefon Diggs show all evening, as the duo thoroughly dominated an overmatched Titans defense. Due to the blowout, Allen and Diggs sat out the fourth, but they still put up numbers that would be impressive even had they played the entire game. Allen finished 26-of-38 for 317 passing yards, four touchdowns, two big-time throws and an 84.4% adjusted completion rate while Diggs secured 12 of his 14 targets for 148 receiving yards, six first downs and three touchdowns. Diggs also forced three missed tackles and finished with a dominant 90.0-plus receiving grade on first review.
With two straight 30-plus-point performances to start the season, the Bills offense looks like a juggernaut that will be tough to stop all season long.
Defensive spotlight: Bills EDGE Von Miller continues to thrive with his new team, as he put together another excellent performance in his second game with Buffalo. Ultimately, Miller's pass-rush ability shined once again, as he totaled four pressures, three pass-rush wins that didn't result in a pressure and a dominant 41.2% pass-rush win percentage. Like Allen and Diggs, Miller sat out the fourth quarter due to the blowout.
Bills LB Matt Milano also had a notable performance in coverage, allowing only one of his three targets to be caught for 16 yards while securing an interception and dropping another. Milano also notched a coverage stop en route to a 90.0-plus coverage grade on first review.
Rookie spotlight: Titans rookie receiver Treylon Burks put together one of the team's only notable performances, catching four of his six targets for 47 yards, three first downs and an 80-plus receiving grade on first review. As a big-bodied receiver, it's important that Burks make difficult catches under contest, so the fact that he caught two of his three contested targets is a good sign.
Offensive line spotlight: The Titans' pass protection unit stood out for all the wrong ways, as the team allowed an abysmal 15 pressures across 28 pass-blocking snaps. Rookie tackle Nicholas Petit-Frere was particularly bad, as he allowed six pressures and four pass-rush wins that didn't result in a pressure.
---
Box Score
Passing
Player

Fantasy

Comp/Att
Yds
YPA
TD
Int
Ryan Tannehill
2.88
20-Nov
117
5.8
0
2
Malik Willis
0.84
4-Jan
6
1.5
0
0
Buffalo Bills
Player

Fantasy

Comp/Att
Yds
YPA
TD
Int
Josh Allen
32.68
26 / 38
317
8.3
4
0
Case Keenum
0.2
0 / 2
0
0
0
0
Rushing
Player

Fantasy

Car
Yds
YPC
TD
Long
Derrick Henry
8.5
13
25
1.9
1
9
Hassan Haskins
4.7
9
37
4.1
0
9
Ryan Tannehill
2.88
1
2
2
0
2
Malik Willis
0.84
4
16
4
0
8
Buffalo Bills
Player

Fantasy

Car
Yds
YPC
TD
Long
Josh Allen
32.68
1
10
10
0
10
James Cook
5.3
11
53
4.8
0
33
Devin Singletary
4.1
6
19
3.2
0
16
Zack Moss
1.7
3
17
5.7
0
17
Case Keenum
0.2
3
2
0.7
0
4
Receiving
Player

Fantasy

Tgt
Rec
Yds
YPT
TD
Treylon Burks
8.7
6
4
47
7.8
0
Robert Woods
7.9
5
4
39
7.8
0
Hassan Haskins
4.7
1
1
0
0
0
Austin Hooper
2.9
4
1
19
4.8
0
Nick Westbrook-Ikhine
2.3
4
1
13
3.2
0
Kyle Philips
0.5
1
1
5
5
0
Josh Gordon
0
1
0
0
0
0
Buffalo Bills
Player

Fantasy

Tgt
Rec
Yds
YPT
TD
Stefon Diggs
47.8
14
12
148
10.6
3
Reggie Gilliam
9.7
3
2
17
5.7
1
Dawson Knox
8.1
5
4
41
8.2
0
Jake Kumerow
7
3
2
50
16.7
0
Isaiah McKenzie
5.7
3
2
37
12.3
0
James Cook
5.3
1
0
0
0
0
Devin Singletary
4.1
4
2
2
0.5
0
Jamison Crowder
2.6
2
1
16
8
0
Zack Moss
1.7
1
0
0
0
0
Quintin Morris
1.6
1
1
6
6
0
Khalil Shakir
0
2
0
0
0
0