The Arizona Cardinals welcomed back quarterback Kyler Murray and wide receiver Marquise Brown this week, but their return was spoiled by the Los Angeles Chargers, who pulled out a thrilling 25-24 victory.
Los Angeles scored what seemed to be the game-tying touchdown with 15 seconds left. However, head coach Brandon Staley decided to go for 2, and quarterback Justin Herbert found tight end Gerald Everett to pull off the victory.
With the win, the Chargers move to 6-5 on the season as they push for a playoff spot. Meanwhile, the Cardinals fall to 4-8, and a playoff berth looks unlikely.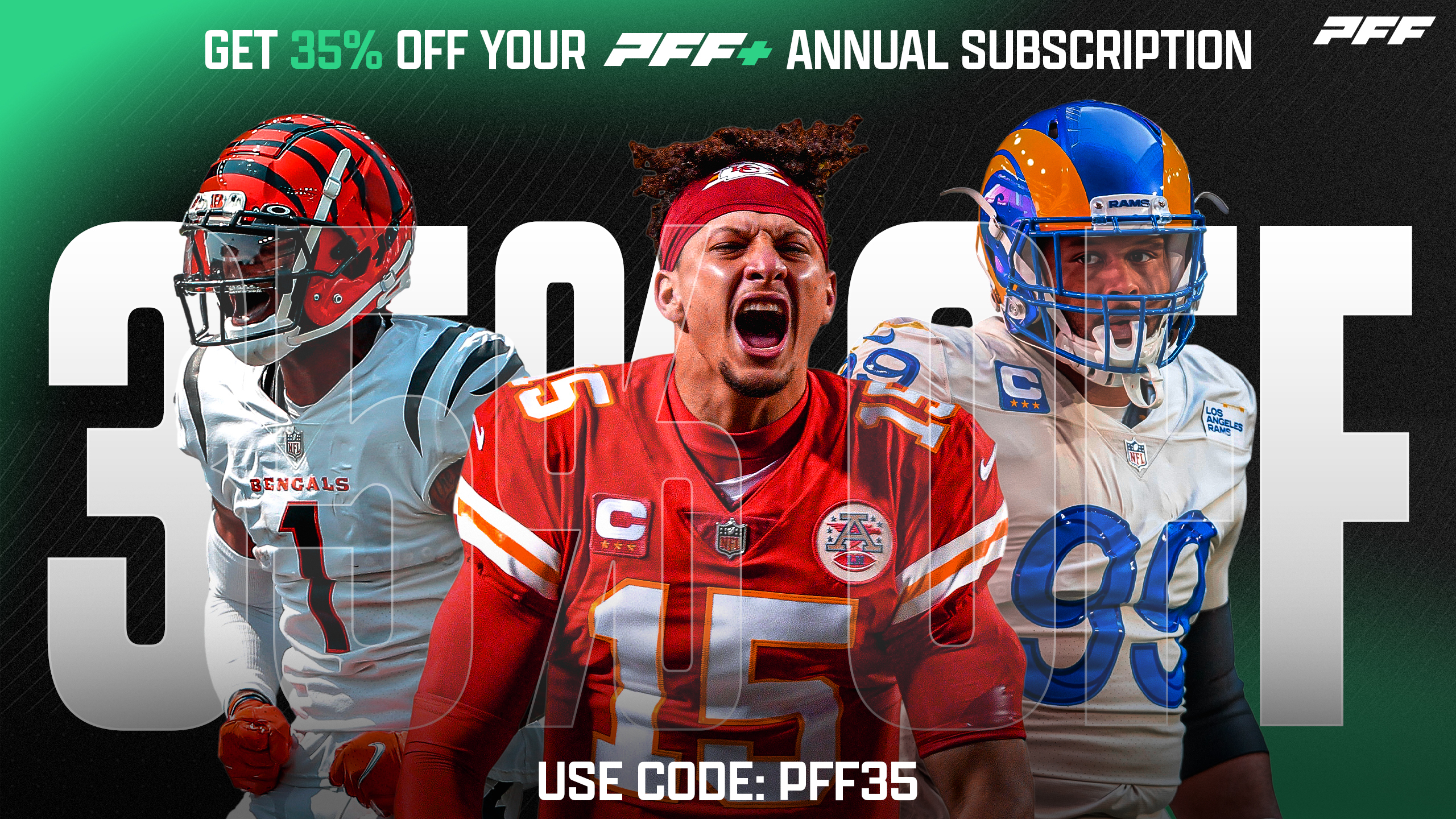 Offensive spotlight: Murray's return may have drawn the spotlight, but Herbert was the better quarterback on Sunday. The third-year signal-caller finished with an 81.3 grade on first review, completing 75% of his passes for 274 yards and three touchdowns, including the game-winner.
Ekeler is in the end zone! #BoltUp

????: #LACvsAZ on CBS
????: Stream on NFL+ https://t.co/zq8Igx8Ckq pic.twitter.com/hLYRT0WtyD

— NFL (@NFL) November 28, 2022
Defensive spotlight: Derwin James caused two turnovers in the win — one interception and one forced fumble that Sebastian Joseph-Day recovered. James allowed only a 58.3 passer rating when targeted on the day. 
Rookie spotlight: Myjai Sanders impressed on limited snaps. Arizona's third-round edge defender picked up four pressures on 21 pass-rushing snaps, good for a 19.1% pressure rate. The former Cincinnati Bearcat also tallied a career-high 23.8% pass-rush win rate against the Chargers.
Offensive line spotlight: On 32 pass-blocking snaps, Arizona didn't allow a single sack and only gave up four pressures. The Cardinals' 12.5% pressure rate allowed was their second-lowest figure all season. Both offensive tackle Kelvin Beachum and center Billy Price kept a clean sheet on 32 pass-blocking snaps.
Box Score
Passing
Player
Fantasy
Comp/Att
Yds
YPA
TD
Int
Sacks
Rtg
Justin Herbert
28.8
35 / 47
274
5.8
3
0
4
109.7
Player
Fantasy
Comp/Att
Yds
YPA
TD
Int
Sacks
Rtg
Kyler Murray
26.2
18 / 29
191
6.6
2
1
1
89.9
Rushing
Player
Fantasy
Car
Yds
YPC
TD
Long
Fum Lost
Justin Herbert
28.8
4
38
9.5
0
23
0
Austin Ekeler
25.0
5
20
4.0
0
9
0
Joshua Kelley
4.0
2
4
2.0
0
4
0
Isaiah Spiller
1.5
2
3
1.5
0
3
0
Player
Fantasy
Car
Yds
YPC
TD
Long
Fum Lost
Kyler Murray
26.2
7
56
8.0
1
18
0
James Conner
25.0
25
120
4.8
0
20
1
Keaontay Ingram
0.5
2
5
2.5
0
4
0
Receiving
Player
Fantasy
Tgt
Rec
Yds
YPT
TD
Long
Austin Ekeler
25.0
15
11
60
4.0
1
12
DeAndre Carter
20.3
10
7
73
7.3
1
33
Keenan Allen
15.9
7
5
49
7.0
1
16
Joshua Palmer
10.6
7
5
56
8.0
0
18
Gerald Everett
7.8
4
4
18
4.5
0
10
Joshua Kelley
4.0
3
2
16
5.3
0
11
Isaiah Spiller
1.5
1
1
2
2.0
0
2
Player
Fantasy
Tgt
Rec
Yds
YPT
TD
Long
James Conner
25.0
3
3
20
6.7
1
9
DeAndre Hopkins
18.7
6
4
87
14.5
1
33
Marquise Brown
10.6
8
6
46
5.8
0
13
Robbie Anderson
2.7
3
1
17
5.7
0
17
Corey Clement
1.8
1
1
8
8.0
0
8
Andre Baccellia
1.7
1
1
7
7.0
0
7
A.J. Green
1.5
2
1
5
2.5
0
5
Trey McBride
1.1
3
1
1
0.3
0
1