Trevor Lawrence and Zay Jones combined to shred the Baltimore Ravens defense when it mattered most, including for a game-winning two-point conversion, to close out a 28-27 Week 12 win for the Jacksonville Jaguars.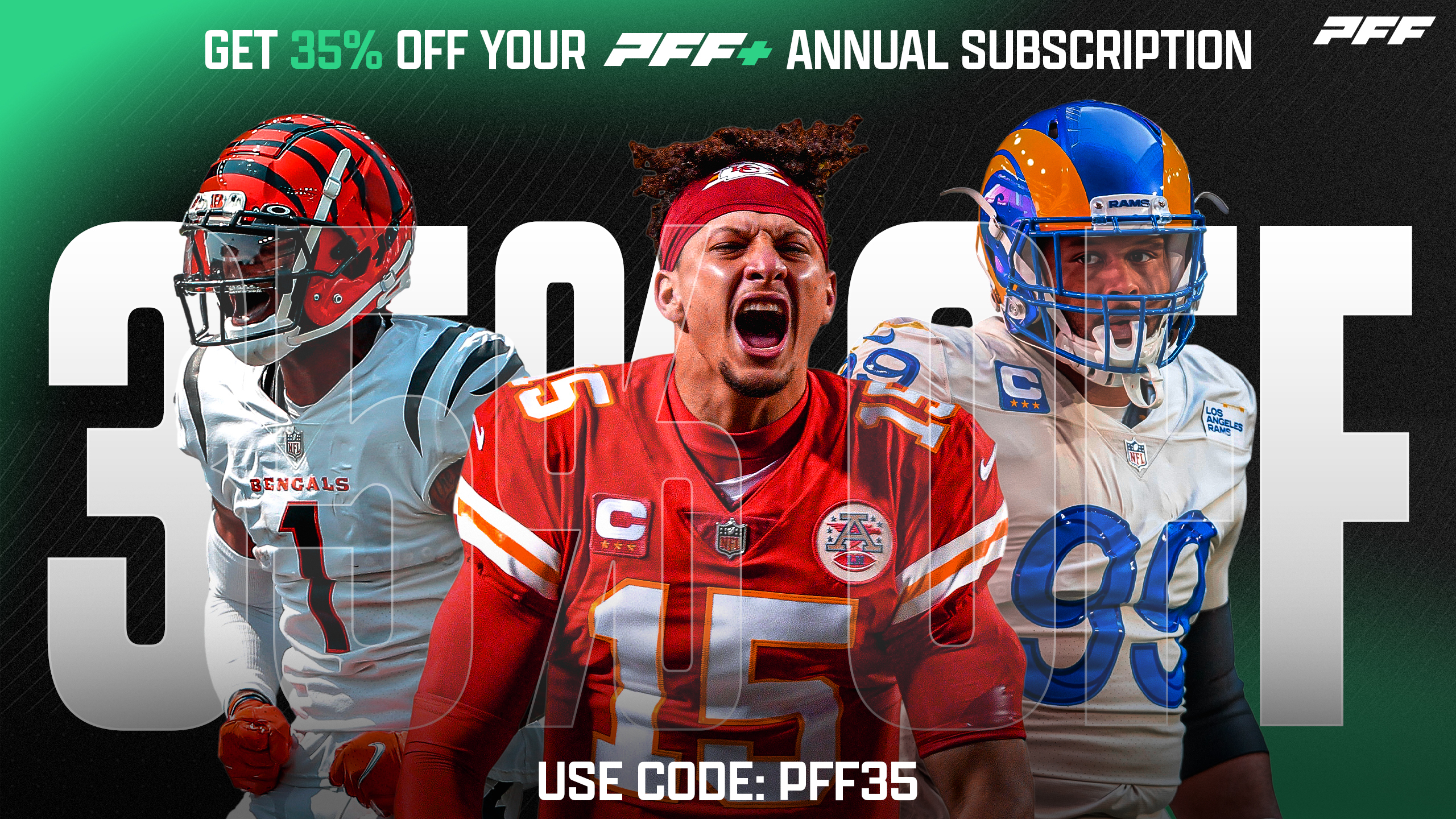 Offensive spotlight: Behind an 83.3% adjusted completion percentage and a season-high four big-time throws, Trevor Lawrence led the Jaguars to a come-from-behind win. He did make three turnover-worthy plays on first review, but it was an impressive performance down the stretch for the former No. 1 overall pick.
Defensive spotlight: Marcus Peters became only the second defensive back this season to allow three touchdowns in coverage. Overall, he surrendered six catches on seven targets for 55 yards and the aforementioned scores.
Rookie spotlight: Chad Muma got the start at linebacker in place of the struggling Devin Lloyd. He made five tackles in run defense and was targeted only once on 36 coverage snaps.
Offensive line spotlight: Four of Jacksonville's five starting linemen stayed clean in pass protection, with Luke Fortner being the lone culprit of pressure on Trevor Lawrence. The center surrendered one sack, two hits and one hurry.
Box Score
Passing
Player

Fantasy

Comp/Att

Yds

YPA

TD

Int

Lamar Jackson

24.06

16 / 32

254

7.9

1

0

Player
Fantasy
Comp/Att
Yds
YPA
TD
Int

Trevor Lawrence

28.94

29 / 37

321

8.7

3

0
Rushing
Player
Fantasy
Car
Yds
YPC
TD
Long

Lamar Jackson

24.06

14

89

6.4

0

12

Gus Edwards

10.2

16

52

3.2

1

16

Devin Duvernay

6.9

2

16

8

0

9

Justice Hill

0.3

1

3

3

0

3

Kenyan Drake

0.2

2

2

1

0

6

Player
Fantasy
Car
Yds
YPC
TD
Long

Trevor Lawrence

28.94

2

1

0.5

0

1

JaMycal Hasty

20.5

12

28

2.3

0

13

Christian Kirk

8.1

1

-5

-5

0

-5

Snoop Conner

1.1

3

11

3.7

0

5

Travis Etienne Jr.

0.3

2

3

1.5

0

3
Receiving
Player
Fantasy
Tgt
Rec
Yds
YPT
TD

Josh Oliver

17.6

6

4

76

12.7

1

Mark Andrews

11

7

4

50

7.1

0

Gus Edwards

10.2

1

0

0

0

0

DeSean Jackson

9.4

3

2

74

24.7

0

Devin Duvernay

6.9

5

3

23

4.6

0

Patrick Ricard

3.4

3

2

14

4.7

0

Demarcus Robinson

2.7

4

1

17

4.2

0

Kenyan Drake

0.2

1

0

0

0

0

Player
Fantasy
Tgt
Rec
Yds
YPT
TD

Zay Jones

30.5

14

11

145

10.4

0

JaMycal Hasty

20.5

5

5

67

13.4

1

Jamal Agnew

14.7

5

5

37

7.4

1

Marvin Jones Jr.

11.2

3

3

22

7.3

1

Christian Kirk

8.1

9

4

46

5.1

0

Evan Engram

1.4

1

1

4

4

0