• Falcons might jump out early, so be prepared to bet alt Saints lines.
• If Colts run game stumbles out of gate, bet on Texans to cover — and possibly pull upset.
• New users who bet $10 or more at BetMGM will receive a free year's subscription to PFF+ — a $79.99 value.
Estimated reading time: 4 mins
Live betting can be one of the better ways to profit, as sports books are slower to adjust to new information than in other markets.
But with 13 games on Sunday, it can be quite overwhelming for the bettor to follow the different markets and capitalize on inefficiencies. The goal in this space is to provide angles to monitor, helping bettors cut through the noise and leave with a gameplan for what to live bet.
---
• If Atlanta starts hot, live bet New Orleans alt spread or moneyline
· Falcons fast start: Scripted plays, more so than plays toward the middle and ends of games, often reflect the quality of coaching and offensive play calling. Pete Carmichael's play design in 2021 had the Saints as one of the worst teams on scripted drives, ranking bottom five in Drive EPA (expected points added per drive). Meanwhile, Arthur Smith's Falcons were league average on scripted drives despite finishing sixth-worst last season in EPA.
· The price should reflect that Atlanta's biggest edge is early and diminishes over time: Yet, we think the line will still move toward Atlanta once the games start, as the Saints aren't huge favorites and lines in this scenario move more off team priors and more toward historical games.
• Don't be distracted by early Falcons lead: It is noise and volatility that should be baked into the current price. New Orleans is still the superior team. If the line moves to below 3, that would be a great time to pounce on the New Orleans side, on the (alt)spread or moneyline.
• Two live-betting scenarios based on game-script variance
• Variance heavily based on game script: Of all the Week 1 games, the range of outcomes here is most game-script-dependent. The 2021 Colts really struggled to mount comebacks, winning only 1 game in which they trailed by more than one touchdown. But the team won 7 of their 9 games last season by or 10 points more. This makes sense considering the Colts have designed their offense to lean on Jonathan Taylor, PFF's highest graded running back, to build and extend leads and do not have the WR talent or depth to consistently  generate explosive plays and come from behind.
The Colts run game is working: they lean on it early and often and blow out the Texans. If Indy is gashing Houston on the runs early, this plays right into the Colts' strengths — and we'd look to bet the alt line for the Colts to win by 2 or 3 scores at + money. 
The Colts stumble out of the gate running or fail to convert in the red zone: Then, the Texans can hang around with the Colts. This is not just selling the Colts; we also think the Texans have sneaky upside against a defense that was bottom 10 in 2021 in Yds/Play allowed, lost key coaches and personnel, and will be without star linebacker Shaq Leonard Sunday. Houston's dependency on the run and a slower tempo would limit the number of drives — and thus create more variance. In this scenario, we see the market anticipating the Colts running away with it at some point and continuing to price them as heavy favorites. Look to bet a Houston cover — or even narrow upset at plus money.
• If/when Bengals jump out early by multiple scores, bet the live under.
· Play a derivative market such as a live or second half total: This means that markets will likely attach the pre-game total to the current score, not building in a team prior. But the Bengals get far less aggressive as the game wears on.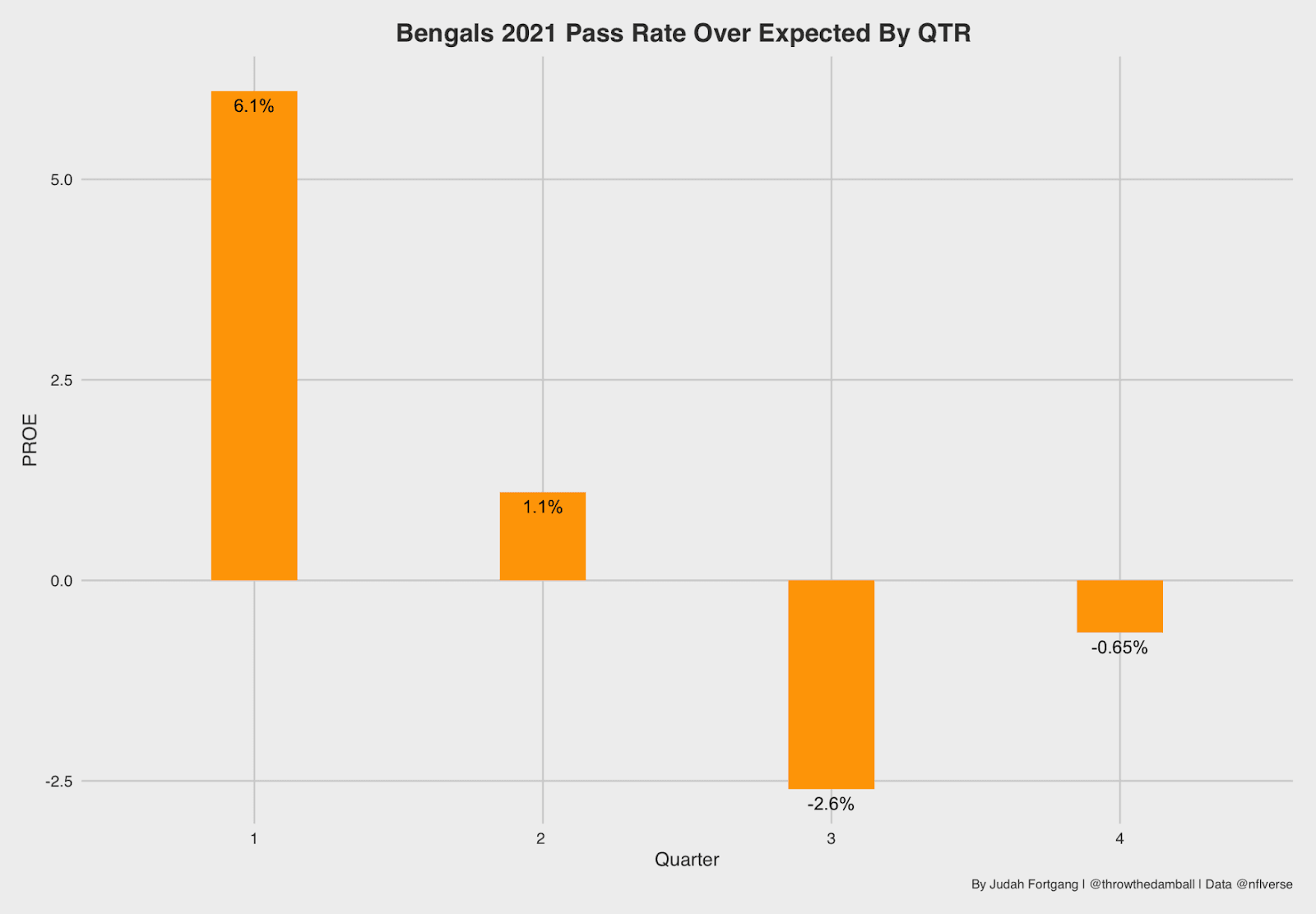 · Cincinnati passes less often as the games goes on: and the Bengals also play at a slow pace. When winning in 2021, the Bengals played at the ninth-slowest pace. Moreover, when trailing, the Steelers also played at the ninth-slowest pace. If this game gets off to a fast start, look for the Bengals to slow it down and ride Joe Mixon on the way to hitting a live under.
New users who bet $10 or more at BetMGM will receive a free year's subscription to PFF+ — a $79.99 value.