Hearing about eras of football's past in relation to the modern game is often groan-inducing. But there are a few threads weaved into almost every facet of the game from play to play.
"Flow" fits that description, originating in a coach's office someplace, in some year that I'll likely never know.
Flow, at its core, is the "distribution" of eligible receiving threats on a particular play, described in terms of strong versus weak. Since there's an odd number of receiving threats and rules that constrain how offenses can align their receivers, there are two classifications of flow that we can use: split flow (3 strong, 2 weak), and load flow (4 strong, 1 weak).
It's most important to identify flow first out of two-back formations because it sets a foundation that carries over into single-back offenses. In the coaching world, you'll often hear someone discussing two-back flow reads as the basis of installing coverages.

Click here for more PFF tools:
PFF Fantasy Draft Kit | PFF Betting Dashboard | PFF Fantasy Rankings
PFF Fantasy Projections | NFL Premium Stats | Win Totals Tracker
---
Before we get any further, let's define some key terms that will be useful in understanding the nuances of flow:
Glossary
Flow: The distribution of eligible receiving threats, expressed as "split" (3 threats strong, 2 threats weak) and "load" (4 strong, 1 weak)
Split Zone: A run concept where the tailback receives the handoff going in one direction, with a fullback or tight end cutting across the action to kick out a defensive end
Insert Zone or Iso: Similar to split zone, with the fullback or tight end now going upfield to kick out a linebacker
GT Counter (or Counter "Trey"): A run action with a pulling guard and tackle, made popular in the 1970s
Buck Sweep: An outside run play with guards and tackles pulling out to the perimeter to block linebackers and safeties
Force Players: Second-level defenders (linebackers or safeties) who are typically aligned outside of the tight end or tackle, trying to keep any run play inside of the box. They set the "edge" (perimeter) of the defense
Hard Joint: Describes a defense that has a defensive end setting both edges and a force player outside of them to reinforce the edge
Pushing Your Fit: Moving your run gap or coverage fit over one space
Falling Back: A linebacker playing a "two-gap" technique based on the flow of the back. If the back is going to the strong side, he fits his strong side gap. And he fits his weak gap if the run goes weak.
---
Now, back to flow.
To start, flow is easiest to see in the run game — split flow in two backs will send the fullback in one direction and the tailback in another. This is typically the starting point for every zone running offense: Day 1 of run game install is usually a "split" zone blocking concept. Weakside "iso/insert" is just a variation of split zone, in my eyes, and "GT" (guard-tackle) counter is a gap scheme version of split flow, as well.
Split Zone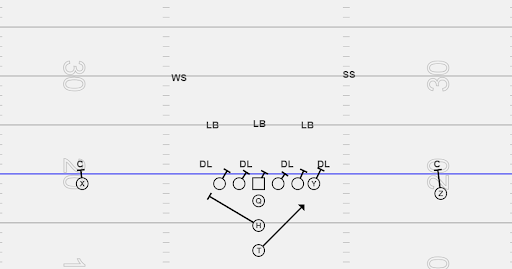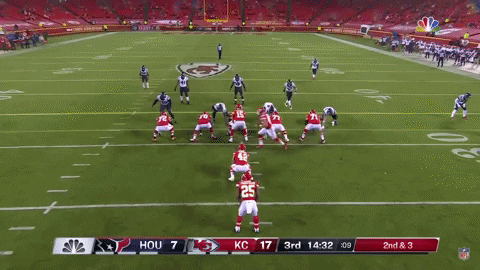 | | | | | |
| --- | --- | --- | --- | --- |
| | Rush Grade | Rushing Attempts | Yards Per Carry | Explosive Run Rate |
| All 2020 NFL Split Zone Runs (21 Personnel) | 71.2 | 193 | 3.9 | 8% |
Load flow is sending the fullback and tailback to the same side of the formation. This is the basis for your "lead" running concepts, such as toss, outside zone/buck sweep (think outside zone with pullers) and the greatest play in the history of football, power.
Power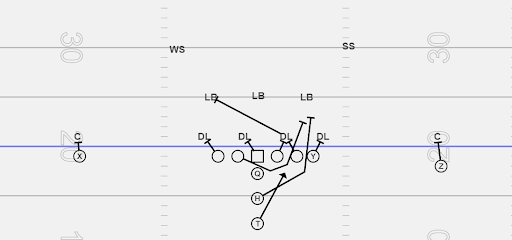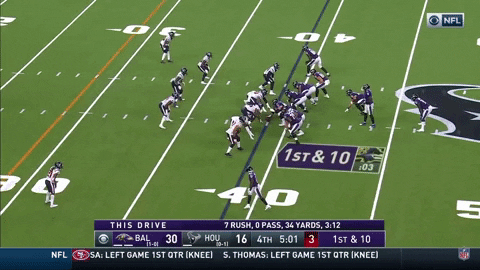 | | | | | |
| --- | --- | --- | --- | --- |
| | Rush Grade | Rushing Attempts | Yards Per Carry | Explosive Run Rate |
| All 2020 NFL Power Runs (21 Personnel)  | 72.8 | 129 | 4.9 | 12% |
Understanding flow in the run game isn't only confined to offense. A defense relies on its flow reads to understand where it needs its run support — the "force" players who fit spaces against the run to keep it confined to "box" defenders fitting specific gaps.