NFL free agency is billed like a Black Friday sale. There is a frantic crowd at the front door for the biggest items that people believe represent the best deals to be had. But the best business almost always happens later on, in the second wave of contracts signed.
The marquee names of free agency often do well, but they come at a premium price. The best business comes on cheaper contracts for players who have some risk attached to them. And if they pay off, they represent outstanding value. That's what really propels a roster forward.
With the NFL salary cap no longer projected to continue its endless ascent due to fallout from the impact COVID-19 has had on revenues, it's important now more than ever to spend money wisely.
With that in mind, here are some of the best under-the-radar free agents teams should be targeting while the rest of the league takes aim at the big names.
Many offensive lines across the league are not in great shape, and even teams that are in a good spot with their starting fives have real problems if they're ever forced to use a bench player. Pass protection is about the weakest link, not how strong the best players are, so there is huge value in having a viable baseline at every position. Teams that don't have one should always be in the market for a player who could change that.
Matt Feiler has started for the Steelers at two different spots along their offensive line over the past two and a half years, and he's been good at right tackle and above average at left guard. He is just 28 years old, and while he can have bad games and will likely never become an All-Pro, he has never earned an overall PFF grade worse than above average in the NFL. That represents a massive upgrade for some teams that haven't been able to find even an average player at certain spots on their line for years.
Feiler is a poster child for a value free agent signing that could prove to be one of the best pieces of business done this offseason.
Mike Hilton represents another potential bargain of free agency because he has a couple of different things working against him. He is hitting free agency coming off the worst individual season of his NFL career, ending 2020 with a mere 62.8 overall PFF grade. Even in a down year, the worst single-game grade he had was in his final contest — a 32.7 mark in the playoff loss to Cleveland.
Hilton is also battling the perception that slot corners are still less valuable than they truly are. Because those players can't play on the perimeter like true boundary corners, they are still thought to be lacking something as opposed to recognizing the unique nature of their position and responsibilities as distinct from outside corners.
Hilton has a track record of excellent play from the slot (PFF coverage grades of at least 72.0 for three straight seasons) and will be only 27 years old at the start of next season. There are teams with a major weakness in the slot, and Hilton would solve that woe.
Troy Hill has shown impressive versatility during his time with the Rams, playing on the outside but then moving inside to the slot to make way for Darious Williams this season.
Hill is a great example of the dynamics at play between size, athleticism and role within a defense. PFF College grading identified him as an extremely capable cover guy coming out of Oregon, but at 5-foot-11 and under 190 pounds, he is just dramatically overmatched against some of the physical freaks at wide receiver in the NFL. A player like D.K. Metcalf has 40 pounds, four inches in height and two-tenths of a second in the forty-yard dash over Hill in advantage, and there's no offsetting that with technique or savvy. 
But if Hill goes to a team that can protect him from those players — a side that already has an established No. 1 corner like Jalen Ramsey — he can be a high-end coverage player against No. 2 receivers. In 2019, Hill allowed just a 54.7 passer rating when targeted as Ramsey took care of the most dominant receivers. He allowed just 45% of passes into his coverage to be caught before moving into a slot role in 2020. From there, he put together a solid campaign despite an explosion of passing league-wide.
While players like Troy Hill and Mike Hilton have limitations in what they can do at the cornerback position, Quinton Dunbar has legitimate No. 1 corner upside. Yet, he has a very small sample size of playing at that level, with significantly more up-and-down play and a lot of missed time.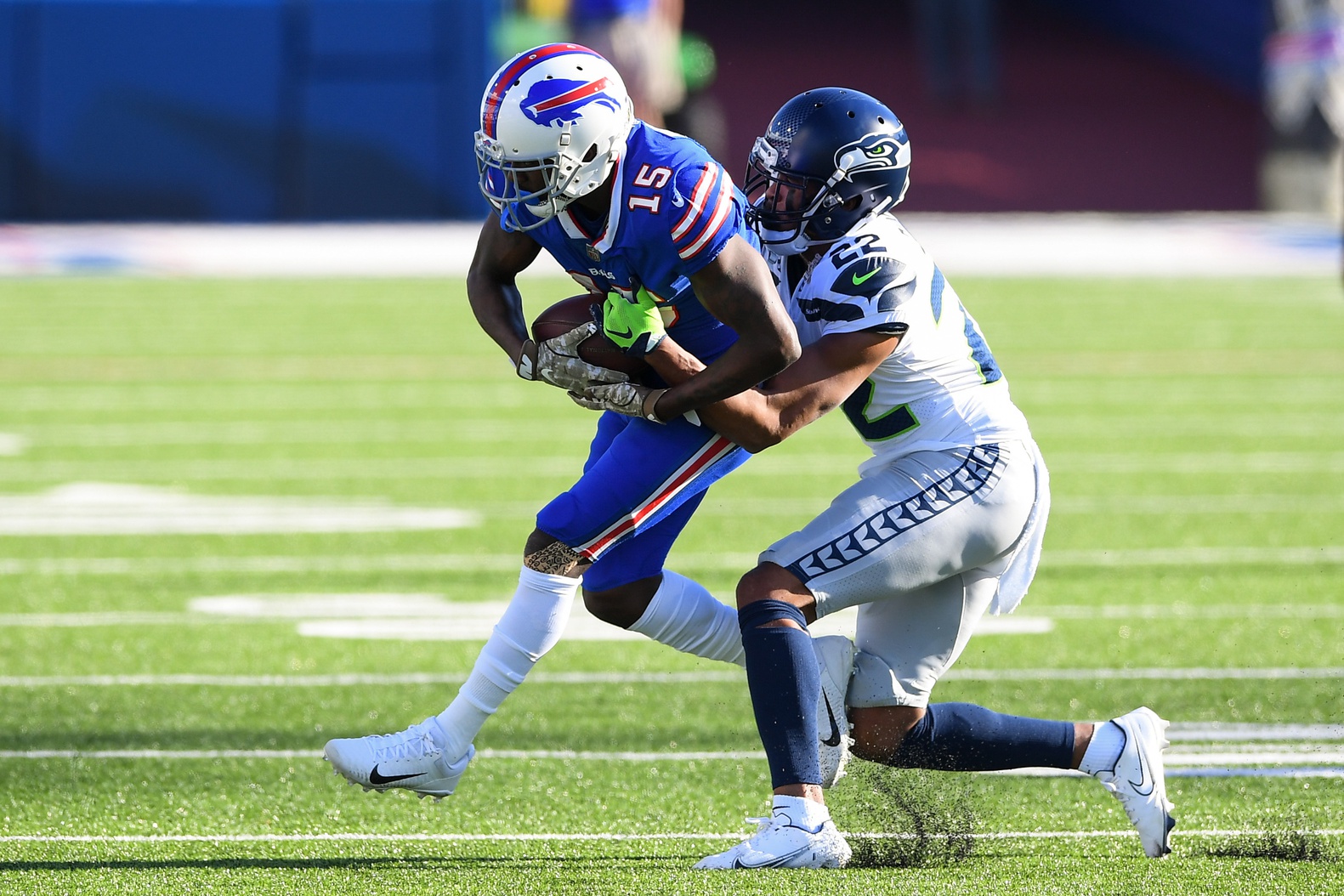 Critically, the one season in which Dunbar posted elite-level play was also the one in which he played more than 400 snaps (2019). That year, Dunbar allowed just a 56.9 passer rating into his coverage, picking off four passes and notching four pass breakups on his way to an 89.5 PFF coverage grade.
He dealt with legal issues and then injuries this season, his first in Seattle, and wound up with the worst PFF grade of his career by some distance despite a scheme that should have been an ideal fit for his skill set. Dunbar will still be only 29 years old by the time next season rolls around, and he would represent a classic case of buying low on a player with significantly more upside than might be obvious. 
The NFL is always chasing dominance on the offensive line, but in truth, solidity is more important — it can lead to excellent value on players that don't tick the boxes the league wants them to, particularly if they weren't high draft picks. 
This sums up Austin Reiter, a seventh-round draft pick by Washington back in 2015. He has been the starting center for the Kansas City Chiefs for the past two seasons and has never had an overall PFF grade worse than solid during his NFL career.
In a league continuing to trend ever-more pass happy, Reiter's pass blocking has also been the stronger facet of his game, with three straight seasons of at least a 77.5 PFF grade in that area. Reiter will likely never be a superstar, but he is assuredly solid at a key pivot point along the offensive line and will be dramatically underrated because he isn't a dominant force inside.
Some teams have endured sub-standard center play for years, and a player like Reiter would likely be a cheap but significant upgrade for them.
I'll be the first to admit that taking a swing on Nelson Agholor is not without risk. We are talking about a receiver who became a viral meme when a Philly bystander threw him under the bus while talking about saving kids from a fire.
Only two of his six NFL seasons have been any good, and even those two years were dramatically different in terms of how he was deployed and used. In 2017, Agholor was primarily a shallow weapon running crossing patterns from the slot. His average depth of target was 9.7 yards downfield. With the Raiders this season, however, he looked more like the player he did in college at USC — a dangerous deep threat. His average depth of target was almost six full yards deeper down the field — even more if you include plays nullified by penalty — and he was significantly more productive because of it, averaging 6.6 yards more per reception and 0.4 yards per route run.
Agholor is 27 years old and coming off a career year, but this is an excellent free agent class and draft crop of receivers, which will likely push him down the pecking order. Add in the uncertainty over the rest of his career and the fact that teams will likely be looking to spend more wisely than in the past, and Agholor could be a cheap gamble for a team hoping to unlock the same player we saw this season.
It often takes pass rushers some time to get acclimated to the NFL level, particularly if they weren't phenomenal prospects coming out of college. Romeo Okwara was an undrafted player back in 2016 before finding his way to the Detroit Lions and seeing some extensive playing time over the past three seasons.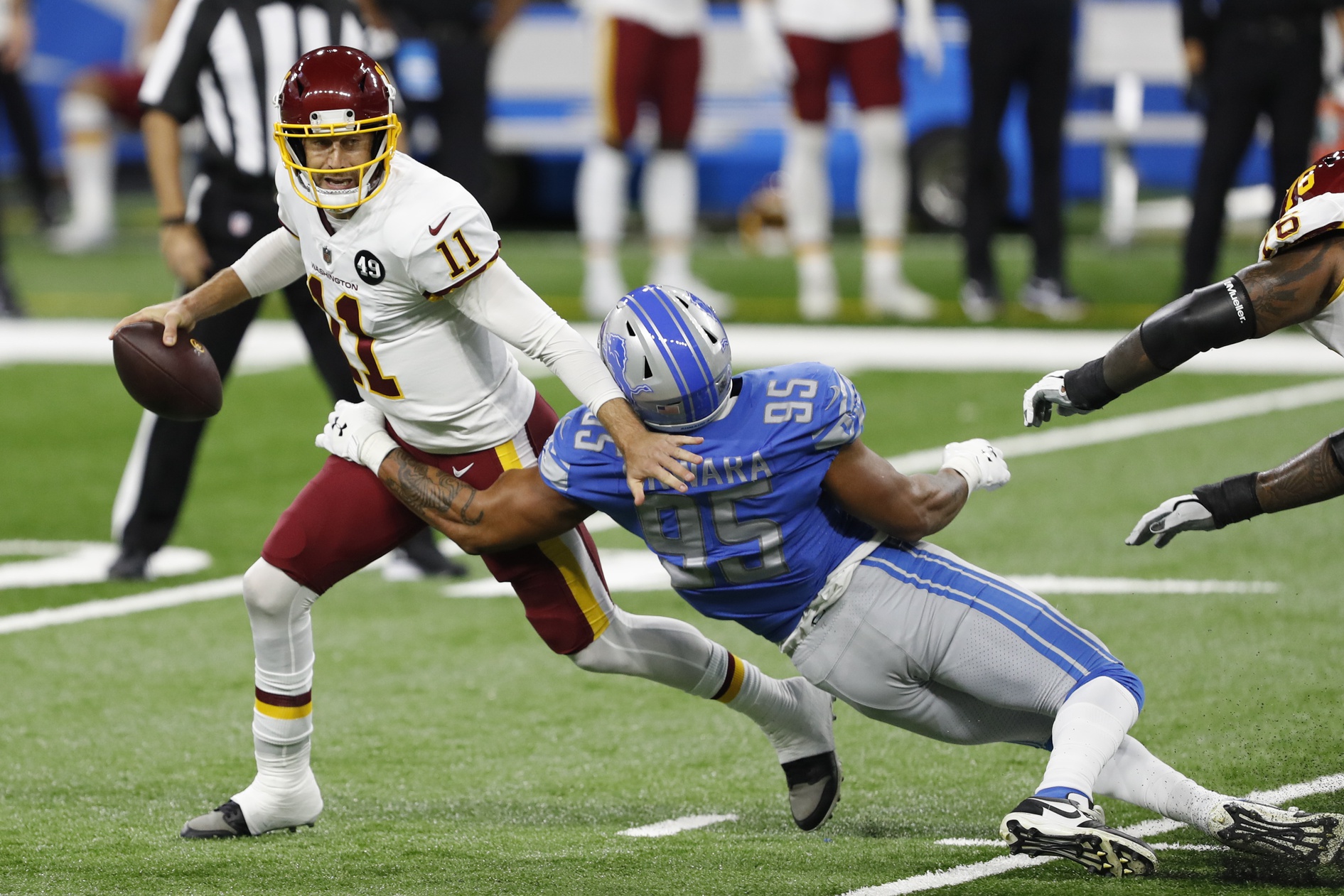 Those seasons weren't spectacular, and he never earned an overall PFF grade above 70.0, but there is certainly reason for optimism looking at his pass-rush stats from 2020. He finished with an 85.4 PFF pass-rushing grade, by far the highest of his career, and his final five outings of the year included three dominant games and a very good one.
Okwara notched 61 total pressures — another major jump from his previous career-high. At 25 years old, he is exactly the kind of player who could have his best football in front of him. And he may not necessarily be as high on the shortlist of some teams as other higher-profile edge rushers.
There are many reasons to shy away from a player like Deatrich Wise Jr. Leading up to 2020, he saw his playing time reduced each year in New England. That was before a spate of injuries and opt-outs effectively handed him more playing time by default, but his career lays out pretty clearly that he can rush the passer effectively. Over the past two seasons, he has 73.0-plus PFF pass-rushing grades and 57 total pressures from 452 pass-rushing snaps.
If Wise played for anyone other than the Patriots, he would likely have been a significantly bigger part of the defense because of the pressure he can generate. However, the Patriots still care about setting a hard edge in the run game and pass-rushing to contain more than they do a player who can just beat his man and attack. Wise has a top-10 pass-rush win rate (19.8%) among all edge and interior defenders over the past two seasons, placing him among the best players in the game. 
Wise likely isn't as good as that, but it's a data point that should have a pass-rush-needy team sniffing around to see if they can uncover a gem.
It briefly seemed as though Aldon Smith's return to the NFL was going to be genuinely spectacular. Through five weeks of the season, he had 25 total pressures, two more than T.J. Watt, and was coming off a nine-pressure game against the Giants.
The rest of his season paled in comparison, and he heads into free agency without much hype or fanfare. We shouldn't let the change in perception change his potential future, however. Smith played his first football since the 2015 season, and to come out of that with an above-average overall PFF grade (66.3) is an impressive achievement in and of itself. That he is still just 31 years old — and now with a year of football under his belt, as well as a year of staying out of trouble — makes him an interesting option for a team needing reinforcements on the defensive line. 
There were several teams in 2020 for whom Aldon Smith would have been a welcome addition, and those squads may want to look to secure him for a bargain price as contingency for 2021.
Run-stuffing linebackers aren't exactly as coveted as they once were. Gone are the days where a 250-pound strongside linebacker would spend all game meeting 250-pound fullbacks in the hole and execute a series of car crashes all afternoon for a living. 
The game has evolved. Fullbacks have virtually died out, and run-stuffing linebackers are an endangered species because of it. But players who can lay the wood will always have a role on an NFL defense, and because of that landscape, it's cheaper than ever before to snag one.
Denzel Perryman hits harder than pretty much any linebacker in the game and is coming off the best overall PFF grade (83.3) of his career. He has never played more than 500 snaps in a season and has been average at best in coverage for most of his career, but he could provide a clear upgrade for one of the several teams with basically no viable rostered linebackers.