The best quarterback prospect since Andrew Luck.
That was the label thrust upon Trevor Lawrence during his freshman year at Clemson. Lawrence lived up to it, going No. 1 overall in the 2021 NFL Draft to the Jacksonville Jaguars. But all it took was a subpar rookie season for that label to shift into something to poke fun at him and his performance. 
Many in NFL circles then wondered if Lawrence would ever become "the guy" in Jacksonville. And even at points in 2022, there were still big question marks surrounding the former national champion. 

Now clear of Week 14 of the 2022 NFL season, we can be sure about Lawrence. There is no longer a question about whether he is the right man for the job for the Jaguars. He is.
His numbers are up across the board, and he's looked more comfortable than ever in Doug Pederson's offense. While there have still been moments and games where he's struggled, his arrow is pointing way up, especially after a month and a half of elite quarterback play. 
Just how much has Lawrence improved from Year 1 to Year 2? More than one would think. He's in the green in every key facet compared to his rookie season and is now comfortably one of the better quarterbacks in the league. That is the type of progress Jacksonville was hoping for in Year 2. Here is a quick snapshot of his progress from 2021 to 2022: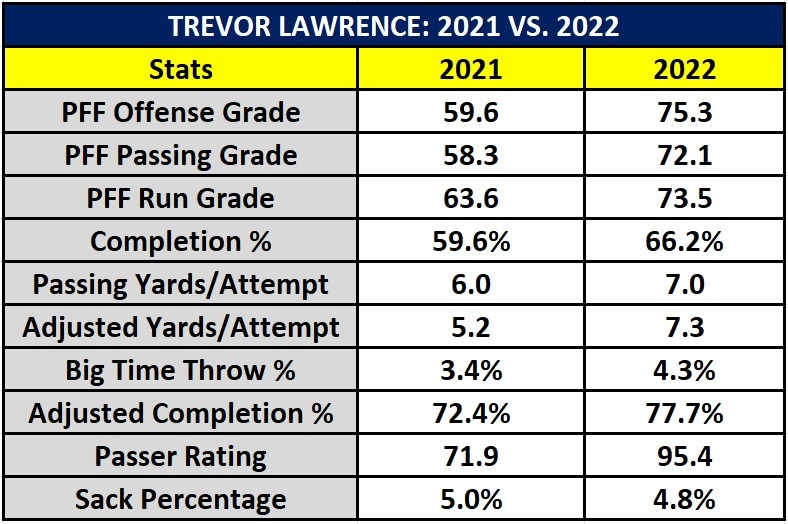 As seen above, Lawrence has not only become more efficient, but he's taking fewer sacks and making more big-time throws. That is a sign of a quarterback understanding how to win in the NFL. He's also playing much better under pressure — a necessity if a quarterback is to reach the elite tier of passers. 
Lawrence has been good for most of the season, but he has really improved over the past six weeks. Since Week 9, he's the second-highest-graded quarterback in the NFL (91.6). The only quarterback with a higher grade is Joe Burrow, at 91.9. 
Jaguars QB Trevor Lawrence since Week 9:

– 91.0 passing grade (2nd)
– 10 TDs / 0 INTs, 7.5 yards per attempt (10th)
– 6.1% Big Time Throw rate (5th)
– 84.3% adjusted completion percentage (2nd)
– 2.41s average time to throw (3rd-fastest)

— Brad Spielberger, Esq. (@PFF_Brad) December 12, 2022
During that stretch, he has a 111.7 passer rating and has scored a combined 11 touchdowns without throwing an interception. He's also averaging over 7.5 yards per attempt.
Just how efficient has he been? He has an 84.3% adjusted completion percentage, as PFF's Brad Spielberger noted in the tweet above. The only quarterback with a higher adjusted completion percentage during that time is Daniel Jones (84.4%), but that's on 27 fewer passing attempts. And Lawrence is dealing with less-than-stellar weapons and an average offensive line. He's elevating the talent around him, and the Jaguars are averaging 24.4 points per game in their past five contests. While that's not an elite number, it's significantly improved from where they were in 2021 and for most of the 2022 season.  
Altogether, the Jaguars have to be encouraged by Lawrence and what it means for the future of the team. Quarterbacks who perform well this early in their careers usually pan out. Here is every quarterback who averaged at least 6.5 adjusted net yards per attempt during their age-23 seasons (or younger) on at least 400 passing attempts: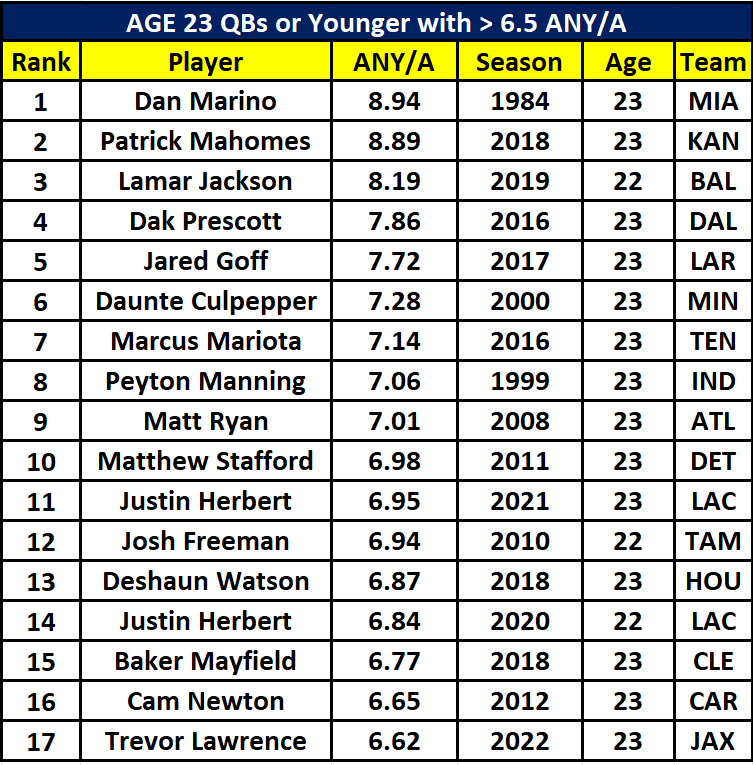 There are obviously a few outliers on this list, but it's a notable list of "who's who" for elite quarterbacks over the past few decades. In Year 2, Lawrence is already playing at or above expectations for someone who is supposed to be the next great young quarterback in the NFL.
The Jaguars still have an outside chance of making the playoffs this season, too. The AFC South remains up for grabs, and their win over the Tennessee Titans in Week 14 has left the door ajar with one more meeting between the squads set for Week 18. In all likelihood, the Jaguars will miss the playoffs, as the rest of the roster isn't quite ready to compete against the best teams in the AFC, but Lawrence clearly isn't going down without a fight.
The good news is that the team can rest assured it has a difference-maker at quarterback. And that should heavily impact how the Jaguars go about the 2023 offseason. With wide receiver Calvin Ridley expected to join the team next year after his season-long suspension, this offense has a chance to really take off. Of course, they could still use help on the offensive line, and it would be ideal if the Jaguars could add a legit No. 1 receiver. But even with their current receiving corps, they can put up points against even the best defenses in the league. 
It took longer than some expected, but Lawrence has officially arrived and is now one of the next great young quarterbacks in the NFL. His toolbox is filled to the brim, and the game is starting to slow down for him. Add him to the mix of AFC signal-callers making their mark on the NFL early in their careers.