A top-tier receiving tight end can transform any NFL offense for the better, but those talents are hard to come by. The gap between the top and the average of the position is rather significant, and PFF's ranking of the top 15 tight ends entering the 2022 NFL season will show that. The rankings are split into three tiers based on a variety of factors, including PFF's play-by-play grading system, PFF Wins Above Replacement (WAR) and more.
Tier 1: Elite
Kelce has been the NFL's most valuable tight end in each of the past four seasons, according to PFF WAR, largely because of his pass-catching chops. He possesses an innate ability to get open, whether in one-on-one situations,  against zone coverage or in attempts to find space on broken plays. He's been on the receiving end of 274 first downs or touchdowns over the past four years, which is 86 more than any other tight end. Ninety-six of those came against single coverage, a position-leading mark by 26.
If Kittle keeps up his current pace, he'll be right there with Kelce as one of the best tight ends PFF has ever seen. The 49ers star possesses an all-around game between his playmaking ability in space and run-blocking prowess. His after-the-catch ability is unmatched, and he leads all tight ends since 2018 in receiving yards after contact (1,171), broken tackles after the catch (58) and yards after the catch per reception (7.7). Over that same timespan, Kittle ranks third at the position in run-blocking grade.
George Kittle is a menace pic.twitter.com/pjy6LY1QMr

— Anthony Treash (@PFF_Anthony) May 23, 2022
Waller battled multiple ailments in 2021, hindering his ability to perform at his elite standard. In 2019 and 2020 collectively, the Raiders tight end ranked second at the position in WAR (0.90), third in receiving grade (91.2) and second in explosive receptions of 15-plus yards (55). Waller's receiving grade then dropped to 73.9 for the 2021 season while he battled back and knee injuries. There's no denying he's a dynamic weapon in the passing game when healthy. He may not have the blocking ability, but the 6-foot-6, 255-pounder is an uber-athlete and can slide in as a big X receiver when needed. Waller's receiving ability is extremely valuable to the Raiders and, with a clean bill of health, will make for a dangerous pass-catching tandem alongside the newly acquired Davante Adams.
Andrews took his game to another level in 2021 and became even more of the go-to option for quarterback Lamar Jackson. He posted a career-high 91.5 PFF grade in 2021, the highest among tight ends. The 6-foot-5, 256-pound tight end boasts top-tier ball skills, provides a physical element as a receiver and makes difficult grabs over the middle in traffic look routine. Andrews ranked top five at the position in drop rate (2.6%) and contested catch rate (60%, 18-of-30) while producing more 15-plus yard receptions than any other tight end in the NFL (33). He's essentially a big slot in the Ravens' offense, as he played over 50% of his snaps on the inside. And Andrews isn't a slouch when blocking inline, either, ranking third among tight ends in run-blocking grade for 2021. 
What Pitts accomplished as a rookie receiver in 2021 was nothing short of remarkable. He turned in an 82.3 receiving grade for the season that ranked sixth among qualifying tight ends for 2021 and third among all rookies at the position in the PFF era. The 6-foot-6, 240–pound specimen also racked up 29 explosive receptions of 15-plus yards, the most by a rookie in the PFF era by 11. He didn't get to that mark just from shredding linebackers and safeties, either. Going up against cornerbacks on the outside as a rookie, the former Florida Gator tallied a position-leading 14 receptions, 290 yards and six explosive receptions of 15-plus yards. 
Pitts' provides rare movement skills at his size to the Falcons' offense. His blocking falls short of expectations, but his pass-catching chops more than make up for it. Pitts finishing as the sixth-most valuable tight end last season backs that up.
Goedert was quietly one of the best tight ends in the NFL last season. His 90.7 PFF grade not only topped his previous career-best by eight grading points, but it tied for the second-highest among tight ends in 2021. The 6-foot-4, 260-pounder led the group in yards per route run (2.33), more than six-tenths of a yard better than his previous career-high. Unlike the players ahead of him on this list, Goedert is an inline player. He generated more than two times the yards per route run when inline than when in the slot or out wide in 2021. While Goedert took his receiving game to another level in 2021, his run blocking has always been a strength. He leads all tight ends in run-blocking grade since 2018. 
Tier 2: Tier 1 capabilities, but either lack consistency or have slipped
Gronk in his prime posted seven straight elite PFF grades above 90.0 from 2011 through 2017, but he's no longer at that level. But that's not to say he still isn't one of the best tight ends in the game. Despite the mounting injuries and time away from the field, Gronkowski has finished as the fifth– and seventh-most valuable tight end in the NFL in his two years with the Tampa Bay Buccaneers. His blocking ability may not be what it once was, but Gronk has still been threatening the seam with Tom Brady and rumbling and stumbling after the catch. He led tight ends with 10 seam receptions while ranking third in broken tackles (16) last season.
Schultz was a bit of a surprise breakout in 2021, considering the Cowboys utilized him solely as a blocker in his first two NFL seasons and he was underwhelming when being integrated into the passing game in 2020. The 2018 fourth-round pick took his 63.8 receiving grade in 2020 to 77.4 in 2021, and while he isn't going to shred single coverage like some of the Tier 1 guys, he can work soft spots against zone coverage and possesses strong hands. He finished top six last year in both drop rate (3.4%) and contested catch rate (63.2%, 12-of-19).
Tier 3: The best of the rest
Hockenson was one of the most reliable tight ends in the NFL before a hand injury ended his season prematurely. The 2019 top-10 pick possesses high-end ball skills that helped him record the second-lowest drop rate among qualifying tight ends (1.6%, tied) and lead the group in contested catch rate (78.6%). Hockenson has been great in working the middle of the field from an inline position over the past couple of years: He owns the fifth-best receiving grade in the NFL from an inline position. Hockenson's blocking, however, is a work in progress. He'll be looking to improve on his 45.1 run-blocking grade from 2021.
Henry may never return to his form from 2016 and 2017, with major injuries since slowing him down. But that doesn't mean he can't still be a top-10 tight end in the league. Last year in New England — his first season with the team — Henry managed to play a full 17-game schedule and turned in the ninth-highest PFF grade at the position. He's adept at fighting through contact, tracking the ball downfield and working as a route-runner. The 27-year-old still has plenty of high-quality football ahead of him.
Freiermuth was known for his play strength at Penn State, and that continued in his first NFL season. The Steelers tight end held up to NFL physicality and finished the regular season tied for sixth in both contested catches (10) and broken tackles after the catch (11). That helped him post a top-10 receiving grade at the position in 2021. Freiermuth's tools don't match up to those of some of the elite pass-catching tight ends, but that's not to say he can't get closer to Tier 1 down the line.
No quarterback found more success targeting a tight end than Josh Allen with Dawson Knox in 2021. That connection garnered a 130.5 passer rating last season, the highest of any QB-TE duo for the year. The 6-foot-4, 254-pound Knox thrived downfield with six touchdowns over 10 yards downfield in regular-season action (second-most among tight ends). And Knox did that despite suffering a broken hand midway through the season, an injury that kept him out a handful of games. While his ceiling is in question and there's reason to believe some of his 2021 production numbers could regress in 2022, Knox brings a well-rounded athletic profile and a known floor to the table.
It almost seems improper to slot Gesicki in with the tight ends considering over 85% of his receiving snaps have either come from the slot or on the outside, but his franchise tag salary and position listing indicate he is a tight end, so alas, here we are. The 6-foot-6, 245-pound pass-catcher is one of the top "big slot" receivers in the league. Gesicki ranks seventh among tight ends in slot receiving grade since 2020. He's been highly effective against single coverage thanks to his massive frame. Over the past two years, Gesicki has racked up the third-most receiving yards against single coverage among tight ends and leads the pack in contested catches on such plays.
Higbee is one of the streakiest players on this list. He ranked 28th in PFF grade from Weeks 1 through 12 (59.2) in 2021 before jumping to fifth (81.4) from Weeks 13 on. That's not the first time this has happened, either: Higbee closed out 2019 with an elite stretch of play over the final five games of the season, improving his grade by over 20 grading points from the previous 12 weeks. He's heavily used as an inline, underneath player, which explains some of the inconsistencies. Higbee's 66 receptions on underneath concepts since 2019 are the third-most at the position.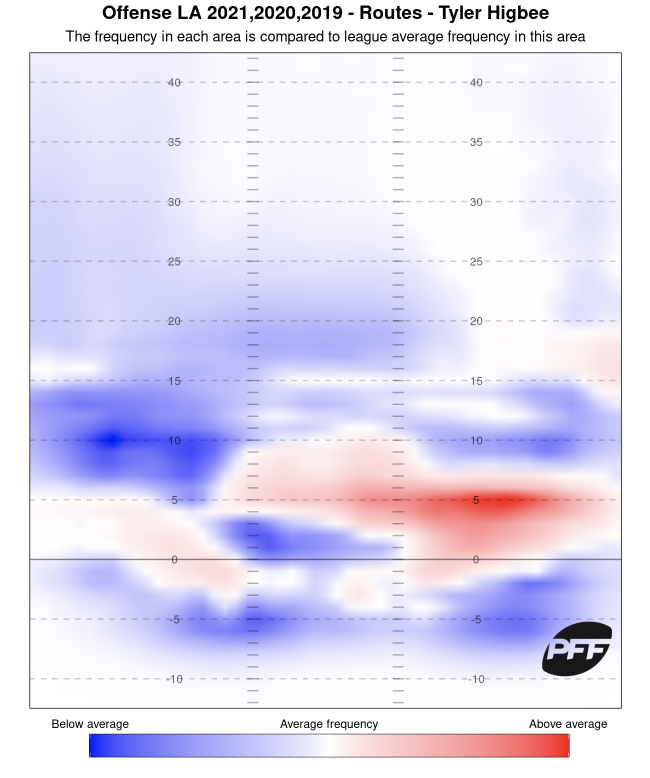 Ertz's production dropped off a cliff in 2020. After finishing as one of the NFL's 10 most valuable tight ends in each season from 2014 through 2019, the former Philadephia Eagle turned in a 57.3 PFF grade for his 2020 campaign. It was the lowest of his career by over 13 grading points. The woes carried into 2021 with Philly, culminating in his trade to Arizona after Week 6. Fortunately for Ertz, he bounced back with a change of scenery. While it was far from his prime form, the 6-foot-5, 250-pounder produced the 11th-best receiving grade at the position from Week 11 on (70.1).