In football, structure and rhythm is everything. In 2019, 23 NFL teams averaged positive expected points added per play when their quarterbacks were able to throw to the first read. After being forced off the first read, only 14 teams averaged positive expected points per play, and almost every team was worse when the quarterback was forced to progress beyond his initial look.
Notable exceptions at quarterback were Russell Wilson, who does this out of structure; Patrick Mahomes, who is great both in and outside of structure; Lamar Jackson, who mostly uses his legs after coming off his first read; and Jameis Winston, whose first read often included the coverage players.
Subscribe to PFF ELITE today to gain access to PFF's Premium Stats and new Player Grades experience in addition to the 2020 NFL Draft Guide, 2020 Fantasy Rookie Scouting Report, PFF Greenline, all of PFF's premium article content and more.
Time to throw and passing efficiency
A great way of measuring structure is to use PFF's time to throw data, which we have been charting since 2006 and is available to all with a PFF Elite subscription.
The following chart illustrates the importance of getting rid of the ball as early as possible.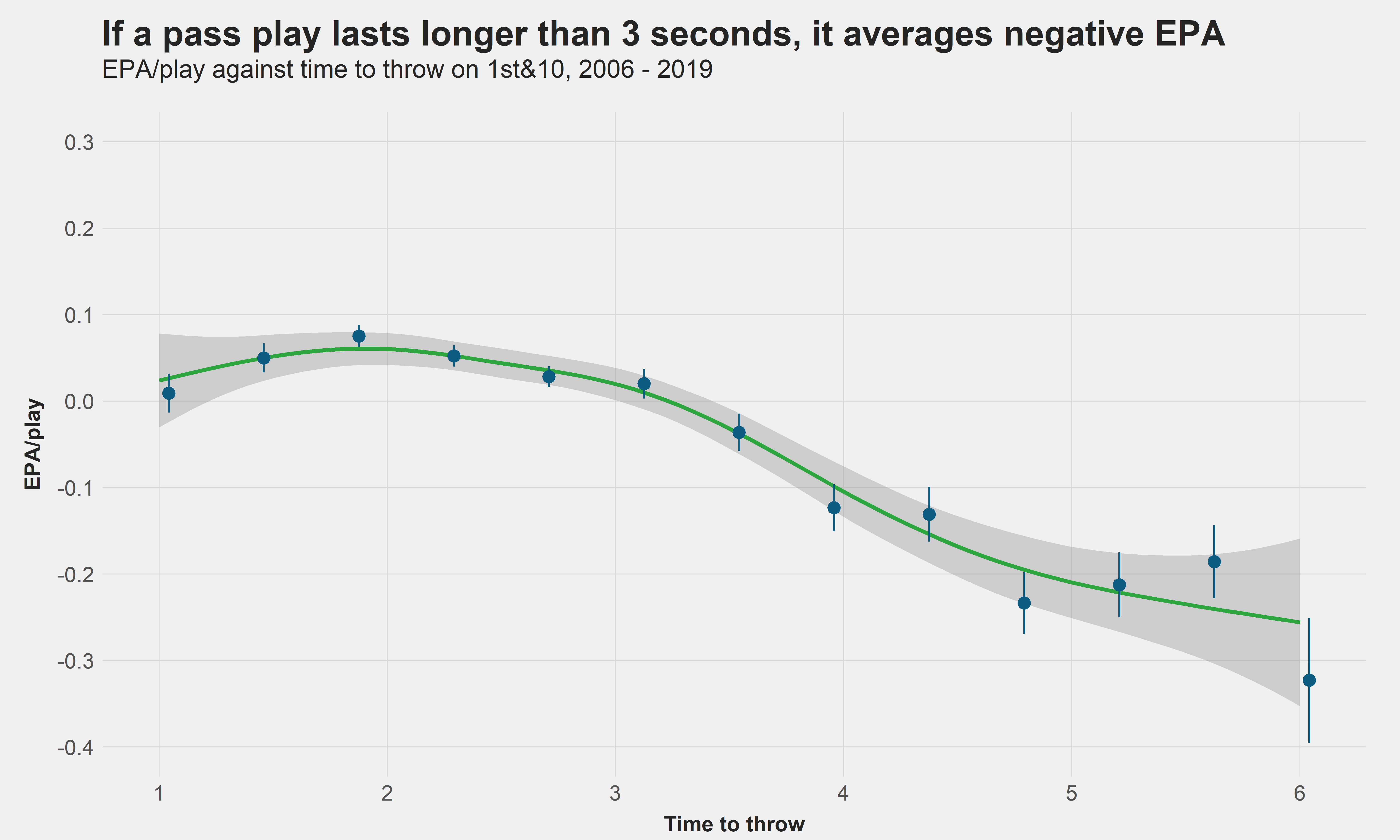 If you watch a random pass play on first down and the quarterback holds the ball longer than 3 seconds, it will help the defense more than the offense on average. Of course, this effect is caused by pressure, as we've learned that a quarterback gets put under pressure more than 60% of the time if he holds onto the ball for 3 seconds or longer.
If we filter to plays that didn't end in a sack, we observe a later peak and also a higher efficiency.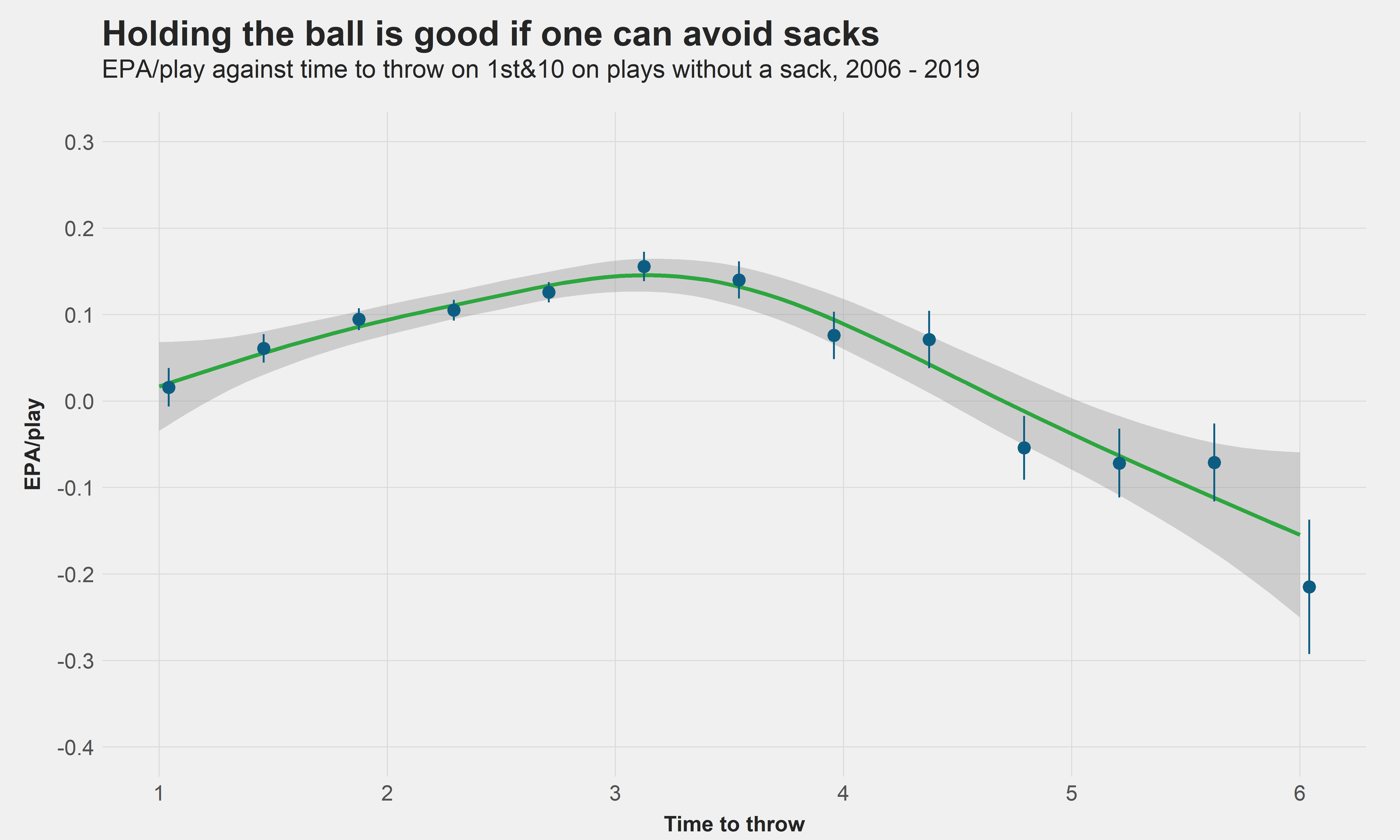 The falling efficiency after 3.5 seconds is surely caused by pressure. So, if we restrict our data to clean pockets, we will see efficiency further increasing with more time elapsed because receivers have more time to get open, right?
While restricting to clean pockets increases efficiency even more so than when we only remove sacks, the peak hasn't moved much farther to the right. If the quarterback doesn't get rid of the ball after 3.5 seconds, it is usually only going to get worse.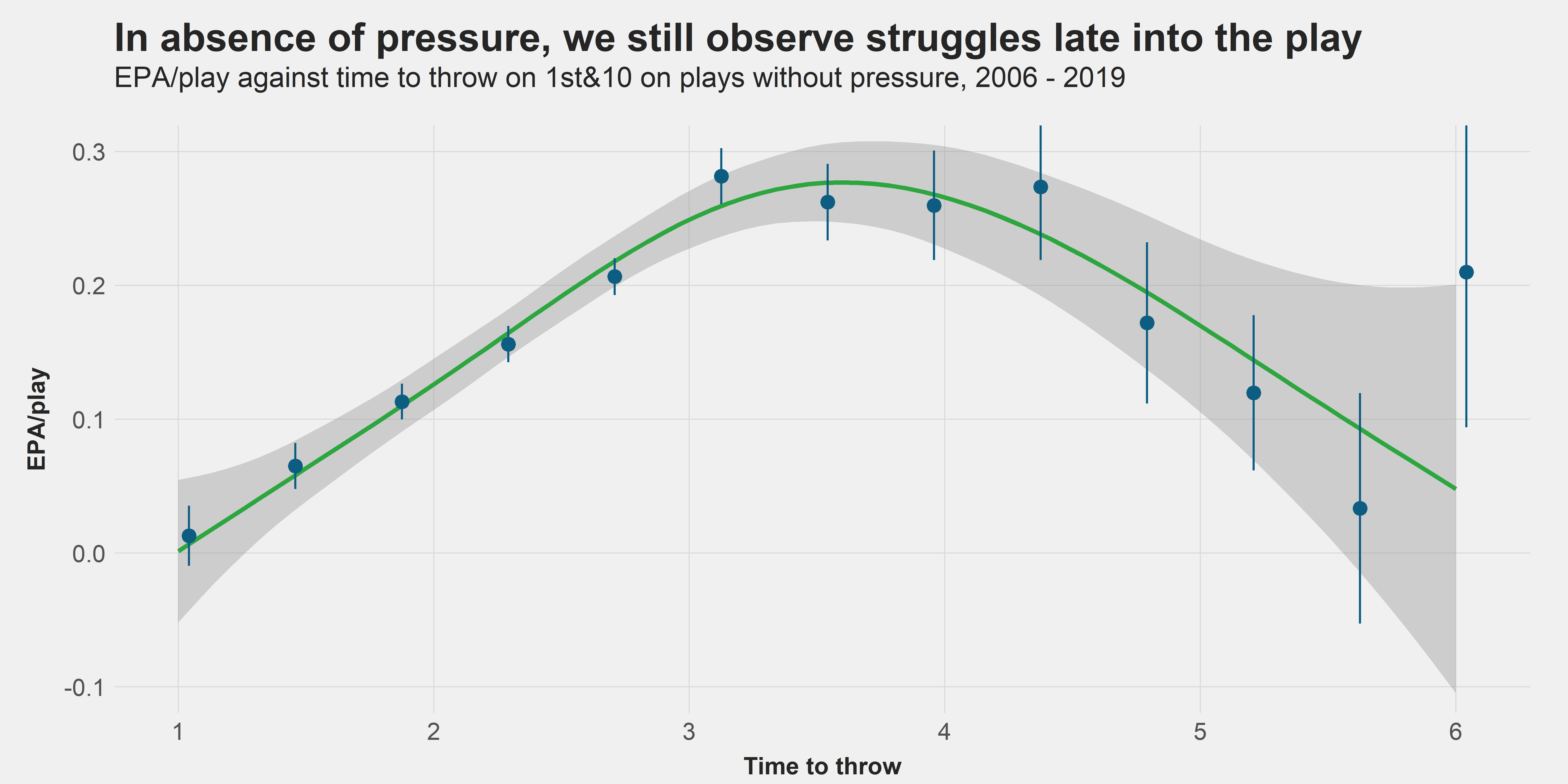 Why is this the case? The answer is most likely the lack of structure and rhythm, which not only allows the defensive line to create pressure but also negatively affects the offense when the offensive line holds up.
One reason for the increasing efficiency up to 3.5 seconds is that the longer time a quarterback has, the farther he can throw — and passes down the field are generally the most valuable throws in the game when they can be attempted without the quarterback getting hit.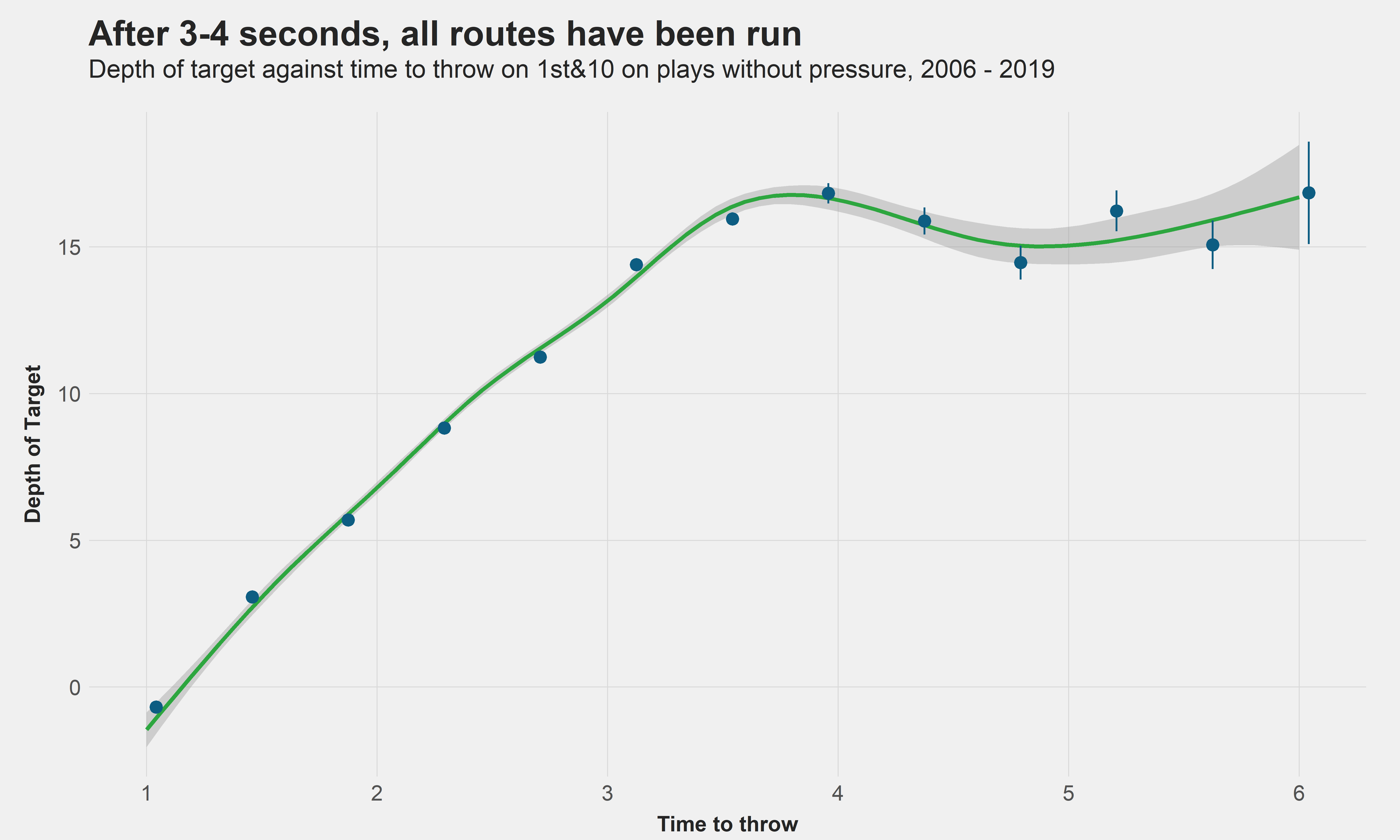 However, the chart above suggests that after 3 or 4 seconds, even the vertical routes have been run. And if those players aren't open, the quarterback might be inclined to check it down, even if he's not yet under pressure.
Subscribe to PFF Edge to continue reading
Already have a subscription? Sign In