Cesar Ruiz coming off the board to the New Orleans Saints at 24th overall was a move that few, if any, saw coming. It was also indicative of a larger break in philosophy from a team at the forefront of the "win-now" movement in the NFL.
[Editor's note: Click this link to see PFF's 2020 NFL Draft grades for all 32 teams. And if you haven't already, be sure to pick up a copy of PFF's 2020 NFL Draft Guide by subscribing to PFF EDGE or ELITE.]
Seriously, go look at the draft trade history for the Saints over the last decade-plus. It's broken down well in this "Sports Illustrated" piece by John Hendrix, and there is quite a lot to break down. Last season, the Saints traded their 2019 second, 2019 sixth and 2020 second to move up in the second round to take Erik McCoy. The Saints then traded their third-round pick in the same draft to bring in Teddy Bridgewater and their fourth- and seventh-round picks for Eli Apple. In 2018, they traded their 2018 and 2019 first-round picks in addition to a fifth rounder to move up to take Marcus Davenport in the first round. That's just in the past two years. There is a history of the Saints aggressively pursuing "their guys" — willing to give up extra draft capital to secure them.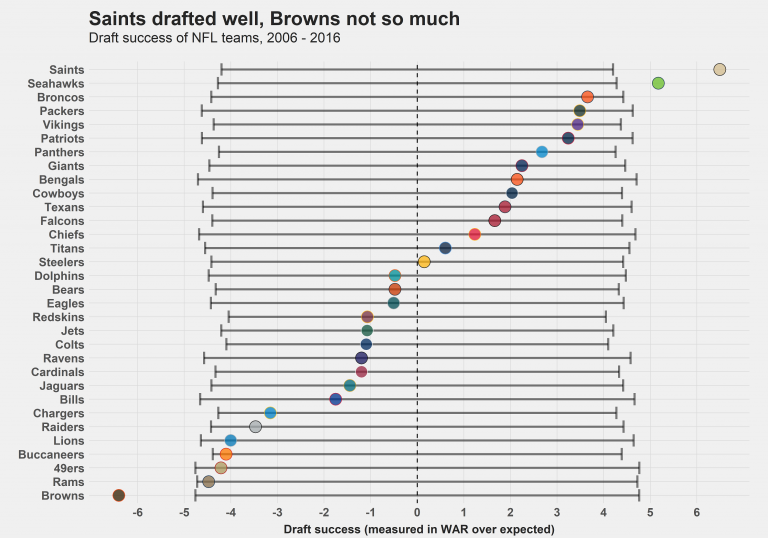 The crazy thing is that strategy has worked for them. PFF's Timo Riske dove into individual team draft success over the course of the PFF era earlier this offseason, and, as it turns out, the Saints have hit on more draft picks relative to the capital at their disposal than any other team in the NFL. In what is largely a game of chance, the Saints have been winning.
That aggressiveness in pursuing their guys goes hand in hand with Mickey Loomis working magic around the margins of the salary cap, restructuring deals to get the numbers to work and showing us all that the salary cap is an illusion. The Saints have a finite championship window with Drew Brees at the helm, and they have done everything in their power to maximize it with moves that make the team better right now.
That's what made the Saints' selections this past weekend somewhat surprising. It's not that I didn't think the picks were sound, because there weren't any massive reaches. They just don't seem like pieces that can make a big impact in 2021.
Subscribe to PFF Edge to continue reading
Already have a subscription? Sign In